You must have heard the name of Tippmann Cronus on the paintball field. It is the most popular paintball gun among paintball companies and beginners and intermediate players. This is the most accurate, highly durable, reliable, and most importantly affordable paintball marker.
When we experienced the marker for the Tippmann Cronus review, it amazed us with its balance and smooth shooting. Its lightweight and reliable paintball marker are specially designed for newbies to handle it easily.
Tippmann Cronus paintball marker has been designed with long life and durability in mind which makes it the ideal choice for budget-conscious consumers.
This marker is made on an ergonomic design that is easy to hold and aim even by a beginner. It is a beginner-friendly paintball gun but several players do not leave it when they become intermediate players. Tippmann Cronus upgrades are unique are matchless which makes it unique and perfect for beginners and intermediate players.
If you are a beginner and looking for the best paintball gun for under 200$. Tippmann Cronus must be your first choice. As a beginner, you would wonder why you should choose Tippmann Cronus when there are numerous paintball markers are available in the market. This is a valid question and we will answer this query in this article with the Tippmann Cronus specs and features.
It is an upgraded version of the widely used and popular paintball gun Tippmann 98. Beginners love the Tippmann Cronus paintball gun due to its easy handling and balance while experienced players prefer it due to its firing efficiency. For further features and specs details, you must read our Tippmann Cronus review till the end.
Tippmann Cronus Powerpack Paintball Gun Kit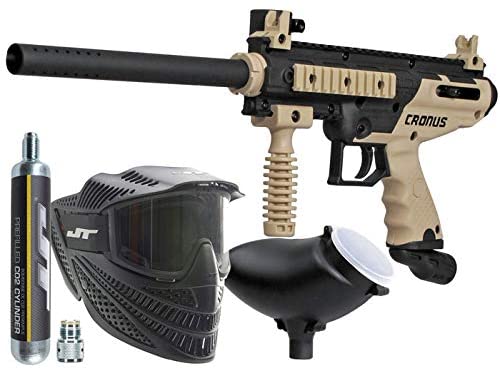 | Specification | Values |
| --- | --- |
| Power Type | CO2 and HPA |
| Frame Material | Metal |
| Barrel Material | Aluminum |
| Shooting Speed | 250 FPS to 325 FPS |
| Effective Range | 150 Feet |
| Bore | .68 Caliber |
| Firing Mode | Semi-Automatic |
| Mounting Accessories | 4 Picatinny Rails |
| Barrel Thread | Tippmann A5 |
Tippmann Cronus has captured a lot of attention of the beginners and intermediate players in the battlefield. Here we are discussing the features of this popular paintball marker.
Semi-Automatic Operation
Semi-automatic is one of the top notch operations of this perfect paintball marker on the battlefield. It means you do not have to load the gun every time you fire the paint bullets on your opponents. Its automatic operation automatically loads the next paintball from the hopper to the chamber of the gun.
The ball goes straight to the back of the barrel after being released from the hopper. This function makes it more popular and effective than other paintball guns in paintball matches. The semi-automatic operation refers to its trigger operation which you need to pull every time you want to shoot the paintball.
With this .68 Caliber paintball marker, you can shoot as fast as you can pull the trigger. Additionally, most of the high quality paintballs are best for .68 calibers which is also an additional quality of this marker.
Inline Bolt System
The most basic and standard feature of Tippmann Cronus is its in-line bolt system. This unique marker's bolt system has the bolt and the rear bolt in the same line which makes it the in-line bolt paintball gun. This technique makes the gun more compact and easy to carry and use on the battlefield.
This compact marker is easy to use by novice and trainee paintball players. This in-line bolt system of Tippmann Cronus improves the overall grip of the paintball gun. Due to the bolt's grip, the marker becomes more comfortable to use in the gameplay and.
With Tippmann Cronus' grip, you will be able to last longer in the battleground without sacrificing the quality of your shots. It is very efficient and accurate but the manufacturing and how you hold the gun in the gun towards the target still affects your game.
Dual Power Capability
Our Tippmann Cronus review includes one of the most interesting features, the dual power capability. Most semi-automatic guns use CO2 or HPA to increase their efficiency of the gun. But Tippmann Cronus has taken a step ahead and use both CO2 and compressed air (HPA).
This dual power capability offers you more flexibility to choose the type of gas you think is better for your current weather conditions. However, Compressed air is often a better choice in almost all weather conditions.
HPA is more consistent and widely used in paintball guns as a primary power source. When you have HPA, you do not have to depend on external factors to supply air to your tanks. Moreover, you can also choose the gas available in your town which makes it convenient.
Tippmann Cronus Electronic Trigger System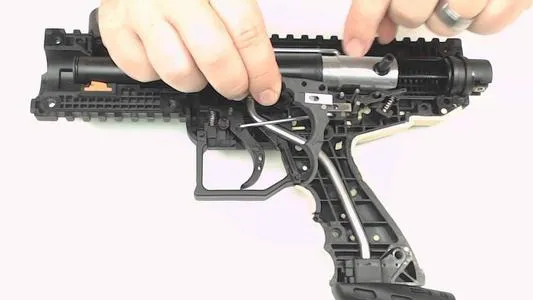 The Tippmann Cronus comes with a mechanical trigger system which makes it more efficient on the battlefield. It works efficiently in all weather conditions without getting jammed or any other problem that electronic guns face in the rainy season.
You have to manually pull the trigger which releases the bolt and allows the rear bolt to push the paintball into the barrel.
Most of the paintball tournaments and arenas allow only mechanical guns in their matches. Since Tippmann Cronus is a mechanical paintball marker you would be in the competition until you are knocked out by an opponent.
Furthermore, Tippmann Cronus's electronic trigger is a myth it works perfectly with the mechanical trigger. It is perfect to have a mechanical paintball gun that works efficiently in all seasons.
Tippmann Cronus Shooting Quality
This paintball marker has incredible shooting quality in comparison to its competitors available in the market. Before writing Tippmann Cronus shooting review we used it and it shoots quite smoothly, 280 to 300 Tippmann Cronus fps is remarkable for a mechanical paintball gun. It can shoot effectively up to 150 feet which is confidently a great distance.
If you want to shoot an enemy from a long distance, this paintball gun could be your best assistant for that. And Tippmann Cronus bps is up to eight balls every second which could be increased by more practice. If you can pull the finger faster than eight times in a second you can rise the capability of shooting more balls.
This shooting range and balls per second are more than enough for a beginner and an intermediate level player. They also need to balance their gun for effective gameplay and to resist the shocks. Paintball marker can also include a Tippmann Cronus shoulder stock which provides you more balance and accurate shot.
Ergonomic Design
Tippmann Cronus comes with multiple competitive benefits over other paintball guns and the most important of them is its ergonomic design. You will discover that this paintball marker is extremely comfortable in holding and operating on the battlefield.
Tippmann Cronus is constructed considering the user's comfort as the top priority. Moreover, this paintball marker is designed to withstand the roughest and tough use on battlegrounds. Its rubber grips are built in a way to allow a strong grip and hold in the rainy weather.
Its lightweight design makes it easier to carry around and run on the ground. It allows you to adjust the shoulder stock and grip size according to your comfort. These special features make it the perfect pick for beginner and intermediate players.
Tippmann Cronus Accessories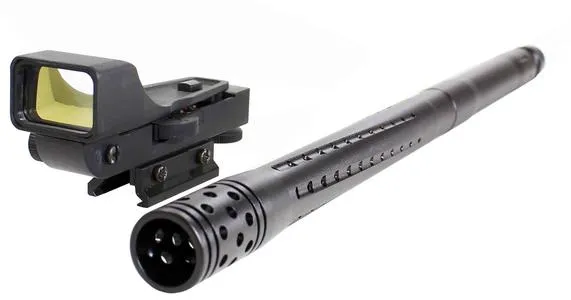 Many paintball guns offer you multiple upgrades and customization options to improve your gun's accuracy and shooting distance.
But Tippmann Cronus stands out in all those markers and allows you to make multiple upgrades according to your ease. You can make changes as you see fit and make it your special customized paintball marker.
There are many aftermarket Tippmann Cronus accessories available which you can use to upgrade your gun. You can upgrade the stock shoulder to adjust according to your physique, and add multiple accessories on its Picatinny rails. Moreover, you can add scopes, flashlights, foregrips, red dot laser, and quad shroud to make it more tactical and awesome.
Rivals on the battlefield also appreciate customized paintball markers and upgrades usually help you in winning the game for your team. Tippmann Cronus barrel upgrades are unique and enhance your shooting range for long distance targets.
This customization feature is very important because you can upgrade the marker when you become a professional from beginner or intermediate.
Besides, you can always improve the carrying handle and stock which increases the capacity of customization. It is already told you in the Tippmann Cronus review that you can make your Tippmann Cronus custom gun for ultimate fun and easy handling according to your comfort.
Tough Design
This paintball gun is robust in design which makes it a lot better than its competitors in the market. This gun looks a little bulky but that is supposed to protect the internal components of the gun from the tough conditions of the battleground. Its durable design can take several falls on the field and the gun would not be affected.
The manufacturers have made sure that the gun will not break even it's used regularly on weekends for a long time. In addition, you can play woodsball with this gun without any tension breaking this gun in the harsh environment of the forest.
The Cronus has already four built-in Picatinny rails but you can add more for additional accessories. You can provide additional security to the barrel by an additional shroud.
Tippmann Cronus Custom
You can buy Tippmann Cronus tactical kit which comes with 20 oz. CO2 paintball tank and an anti-fog paintball mask. Moreover, it includes 4+1 Deluxe Paintball Harness, four standard paintball pods, and a barrel squeegee to clean the barrel. In the end, a 200 round paintball loader is also part of the tactical kit of the marker.
Furthermore, the Tippmann Cronus power pack review described that it includes the basic accessories for the paintball. An anti-fog JT Raptor Goggle which protects from paintballs and a two hundred round hopper which is enough for a paintball match. A 90-gram tank is also included in this Tippmann Cronus power pack paintball gun kit.
If you want to buy the marker separately you can do that too. But if you are a beginner and buying your first paintball gun you must go for Powerpack to get at least some protection and additional accessories. You must go for Cronus tactical kit to get full-fledged accessories to completely enjoy the game.
Tippmann Cronus Barrel Upgrade

The wide barrel of the Tippmann Cronus serves purposes that are essential on a battlefield. At first, it reduces the Jam of the paintball inside the barrel, in this way you will get minimized chopping and better accuracy. So, you should save yourself from a lot of inconveniences.
The second purpose of the wide barrel is surprising and astonishing at the same time. It minimizes the sound of fire which provides you a lot of edge on the ground. A lot of people neglect this little but most important feature of a paintball gun.
A wide barrel usually has enough space to reduce the pressure that makes the sound but does not affect the accuracy of your shots. If you are taking a long distance shot, a quiet paintball gun can give you the upper hand in getting your enemy really quick.
Budget Friendly
The manufacturers had made sure that low price here with high quality. You can buy the amazing, durable, and accurate paintball marker in just a few dollars.
The Tippmann is a poplar paintball brand and making markers since 1986 promises you high quality manufacturing with user friendly design and great customization options. 
Tippmann Cronus is an ideal option for a person who just started paintballing and wants to improve his game. If you want to on the next level of paintballing you can get multiple upgrades and go pro with this astonishing masterpiece.
Ammunition Friendly Marker
Many paintball players encounter almost the same issue that is the damage of ammunition before it reaches the target. Sometimes it is caused due to paintball's quality but simultaneously it depends on the internal design of the body and barrel of the gun.
The manufacturers of Tippmann Cronus have put a lot of thought into that and made a perfect gun. It performs an excellent job in keeping the ammunition in place and prevent damages.
Cronus' smooth internal body and polished barrel protect the paintball from burst inside the barrel. All in all, it's a perfect marker that works smoothly and politely with the paintball and prevents any damage.
Easy Maintenance
One of the major benefits of having Tippmann Cronus is it's a beginner-friendly paintball gun. That is why it gives you an easy time maintaining the gun after using it on the field.
For the new players, it's the best opportunity to get this gun and avoid the hassle at the start of their paintball gaming. When it comes to cleaning, you can do it in a few minutes without investing too much effort.
You can clean the marker with oil which is specified for the smooth and quick maintenance of the gun. If you are a novice or an intermediate player go for this paintball gun and save you time and hassle.
Tippmann Cronus Tactical Kit
When you are looking for a Cronus and want to buy more preinstalled upgrades you should go for the best alternative. Tippmann Cronus tactical review showed you that it's an upgraded version of the basic marker which is semi-automatic and delvers smooth shots on the field.
In addition, an extra grip is preinstalled on the gun which you can easily detach or attach according to your choice.
The tactical gun comes with a folding stock that can be easily modified according to your preferences. The rails on the top protect the barrel's shroud. Moreover, it comes with multiple rails at the side of the gun to install more accessories.
The Tippmann Cronus review of Tactical edition shows that it comes with a distinct barrel of A5 which is the most common upgrade for many players. In short, if you want Cronus with more advanced and tactical features you should go for Tippmann Cronus tactical marker.
Warranty
If you accidentally damage the gun you can return it within 90 days of the original purchase. Moreover, if you found out that any part of this gun is missing you can get that part after complaining without any additional charge. Tippmann manufacturers will also not charge a single buck for repairing your product in the first 90-days of purchase.
Many other manufacturers do not go to these lengths to convince their customers but Tippmann is loyal to their worthy customers and it proved this several times.
Pros
Lightweight, easy to carry on battlefield
Compact and Ergonomic Design
Military Style
Robust Body, last longer than its competitors
Effective shooting range is 150ft
Shoot 8 balls per second
Comfortable rubber grip
Cons
Some player need heavy weight guns
Barrel can be more improved
How far does the Tippmann Cronus shoot?
The effective shooting range of Tippmann Cronus is 150ft which is adorable for a beginner and intermediate level paintball guns. You can increase the shooting range by upgrading the barrel. It works more efficiently with HPA rather than CO2, consider that before going to a match.
How fast does the Tippmann Cronus Shoot?
Tippmann Cronus shoots from 250 fps to 325 fps which is far more than you need. You can adjust the speed to reduces or increase the speed of your marker. Moreover, it shots up to eight balls per second which is an excellent ratio for a beginner paintball marker.
Is Tippmann Cronus Mechanical?
Tippmann Cronus of the most popular paintball guns use a mechanical trigger, that's why it is considered a mechanical marker. Mechanical markers need to operate manually by pulling the trigger. It releases the bolt and the rear bolt push the paintball out of barrel.
Does Tippmann Cronus use compressed air?
Yes, Tippmann Cronus use both CO2 and compressed air (HPA). But for more consistent shots you must go for compressed air on the battlefield.
The Tippmann Cronus is the best option for beginners and intermediate-level players since it's designed to operate easily. The ergonomic design of the marker is light and precise which is the best feature of a paintball gun. Paintball chops can affect the accuracy and require cleaning which can take time on the battlefield. Moreover, to clean this gun you need very little effort and time. It is the high quality, roust, and most budget-friendly paintball gun available in the market and stands out among its competitors. We hope that the Tippmann Cronus review would help you in exploring the features of this amazing product.

Final Verdict