The most important thing to mention in the Tippmann Gryphon review is its design that fits beginners and occasional players. An affordable paintball gun ensures that beginners do not have to spend significant capital on their first gun. It occurs when players aren't sure if they will continue to play the game regularly.
Still, this marker is robust and reliable, and it guarantees years of use without any inconvenience. The Tippmann Gryphon paintball gun review proves that this paintball guns is lightweight and easy to carry with a robust body. It offers you hours of shooting on the battlefield with ultimate range and accuracy.
Paintball of this quality was not released long ago. The Tippmann Gryphon release date is July 1, 2018. And since it is getting popular among beginners as well as occasional players of paintball.
In addition, Tippmann offers several upgrade options in this masterpiece. It allows users to customize their paintball guns to their ideal style and take the lead in the paintball industry, and this gun offers you even more.
It allows beginners to grow with their guns by modifying their markers concerning their advanced skill level. In short, you don't have to spend much money on buying a new gun when you upgrade from beginner to pro-player.
Thanks to the Tippmann Gryphon upgrades option, it is highly recommended as both a first-time paintball marker and an advanced paintball gun. This marker is considered ideal for any scenario game, including woodsball and speedball gaming.
This paintball gun uses the air efficiently in a paintball gun. The top-rated feature of this gun is its dual compatibility, it works efficiently with both CO2 and compressed air. To help you make a well-informed decision, we'll walk through all the key features of this excellent paintball gun.
Specifications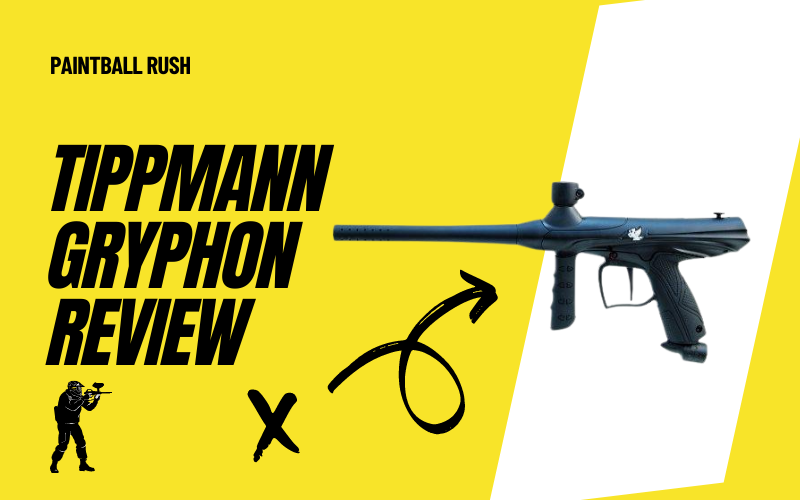 | | |
| --- | --- |
| Model | Gryphon |
| Power Type | CO2 and HPA |
| Shooting Speed | 280fps |
| Effective Range | 150-feet |
| Bore | 0.68 caliber |
| Firing Mode | Semi-Automatic |
| Barrel Thread | A5/X7 |
| Barrel Length | 9.7" |
| Balls per second | 6 to 8 balls per second |
In this Tippmann Gryphon review, we will cover the marker from top to bottom. We will discuss its features, specifications, and detailed analysis of whether this is a perfect gun for beginners.
Just like most of the products under this brand's name, Tippman Gryphon isn't going to disappoint you. With this marker, you can expect outstanding quality at excellent prices. Let's start the review without wasting more time and learn about the best paintball marker for beginners and occasional players.
Performance:
Tippmann Gryphon paintball marker gun is a .68 caliber which is among the highly preferred paintball weapons. While analyzing the gun for the Tippmann Gryphon review, we realize that it is an ideal gun size for both beginners and professionals.
The ideal size and multiple features give this gun a superior performance. In addition, it provides a player with versatility, and you can enjoy various games, including woodsball and speedball.
The ultimate grip of this paintball gun provides you the improved control over your gun. Moreover, it offers high velocity, which shoots the paintball with great speed, which provides the player a competitive benefit.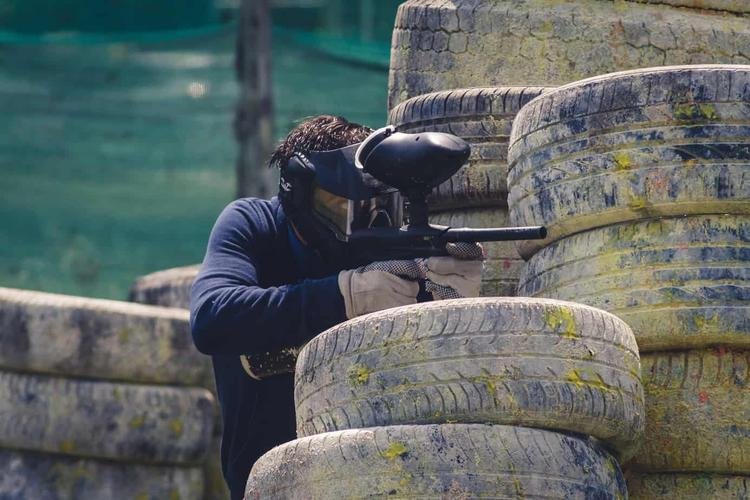 The most crucial feature of this gun is that it comes with a 200 round hopper, allowing the player to shoot maximum paintballs in a paintball match. In addition, the center feed mechanism provides maximum mobility, which leads towards advanced shooting and reliability.
Its quiet and silenced functioning is one of the most prominent features of this paintball gun. In addition, the Tippmann Gryphon barrel has several ports which minimize the sound and enhance the performance.
Furthermore, the low-functioning pressure of this paintball gun also contributes to the silenced performance of the marker. It ensures that you can move around in the arena without anyone noticing you.
Robust Design:
The most crucial feature we included in this Tippmann Gryphon review is the durability of this paintball marker. Its body is made of rugged Aluminum, which is considered the most reliable material to make paintball guns.
If we ignore the lightness that Aluminum has, the rigidity of the material guarantees the overall durability of the gun. The gun can withstand the roughest use possible without getting a single dent.
After the durable outer structure of the gun, let's talk about the solid internal structure of this great paintball marker. Unlike other beginner paintball guns, it has an eternal gas line, making this gun more popular. Moreover, the internal gas line offers a beginner's more sophisticated appearance. As far as material is concerned, Gryphon's body does not raise any significant concerns.
Tippmann Gryphon's paintball gun review highlights the ideal weight of 2.05 pounds of this unique marker. This lightweight and compact marker is significantly more accessible for teenagers and beginners to carry around and use on the battlefield.
With this lightweight, you can carry the gun for long hours in the arena without getting exhausted. Considering these unique features and specs, we can assume that it is the perfect paintball marker for beginners and professional paintballers.
Customization:
As mentioned above, Tippmann Gryphon review, this is the best paintball marker for beginners and seasoned players. In addition, the Tippmann Gryphon upgrades option in this paintball gun makes it more beginner-friendly.
You can make several upgrades to increase the efficiency of the marker. It will be useful for the players to upgrade their playing level from beginner to intermediate or professional.
An essential upgrade in every paintball gun is their barrels to increase the efficiency and accuracy of the gun. The barrel thread of the Tippmann Gryphon is similar to X7 and A5; that's why you can always have the option to upgrade the barrel.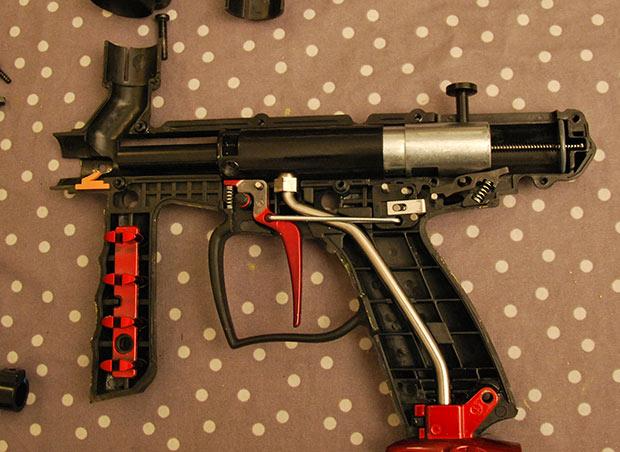 If you are budget sensitive, this is a perfect paintball marker for you because you don't have to buy another marker after some time to play in bigger tournaments. The Gryphon looks different but doesn't get fooled by its look. Internally, it is very similar to the other Tippmann paintball guns. You can have upgraded its O ring and FIT barrel kit.
Moreover, Zero Kick Hammer will make your gun kick less and provide you with even smoother shots. If you add Tech super bolt to the gun, you can minimize the paint breaks and chops inside the barrel.
The Tippmann Gryphon mods are unique and different from traditional upgrades. Like Hairpin trigger kit helps to pull the trigger more efficiently. In addition, it will decrease the trigger travel and sear the contact area for a shorter trigger pull.
These unique upgrades will increase the marker's balls per second, range, and gun accuracy. Moreover, you will get much fewer ball breaks inside the gun. These upgrades will enhance your marker; what more can you expect from a primary gun.
Shooting:
In Tippmann Gryphon's review about shooting quality of this is outstanding in comparison to its price tag. You can hit eight balls per second from a high-quality gravity-fed hopper.
Gryphon offers an in-line gas and central feed design for rapid paintballing. Due to its lightweight, it provides easy handling, which ultimately results in straight shots. Moreover, the gun has a wide trigger area, and pulling the trigger is relatively easy.
This feature provides you with continuous shooting without putting much effort. It would help if you considered that many beginners prefer smooth triggers because they are easy to pull. You need a little bit of practice to get used too of this trigger.
Moreover, rapid-firing can lead to inconsistency. The plus point of having this gun is the low operating pressure which saves both your gas and money.
You gain an advantage of anonymity on the battlefield by making your shots silent. In addition, it minimizes the recoil caused by shooting, which ultimately gives you a perfect shot and reduces and shudder.
Dual Compatibility:
One of the essential, exciting features we encountered while writing the Tippmann Gryphon review is its dual compatibility. Now it does not matter whether you prefer CO2 or compressed air.
Tippman Gryphon works efficiently with both gases HPA and CO2. You can always use CO2 in your gun without any problem. However, compressed air (HPA) is more consistent and preferred by players than CO2.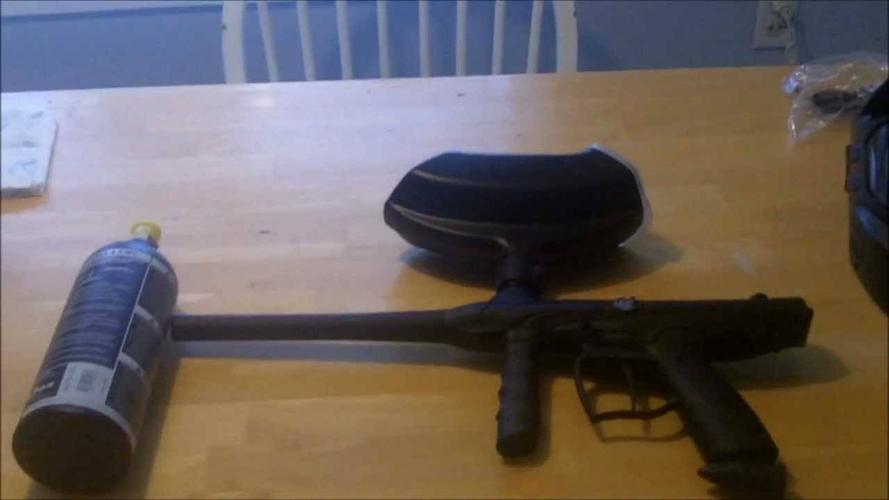 CO2 doesn't work consistently in extremely high or low temperatures; that's why it is not the first choice of professional players. Moreover, the Tippmann Gryphon FX review states that it uses a low-pressure operating system. This system allows it to utilize compressed air efficiently.
A tank of compressed air can last for a long time; that's why there is no need to worry about air in your gun. It will save you a lot of bucks and lots of tanks of HPA in the future. Moreover, the low-operating system provides you a consistent velocity in your whole game, and HPA aids the gun in that.
Ergonomic:
The ergonomic design of the Tippmann Gryphon paintball is a user-friendly marker. As a result, it looks mean and as good as high-tech paintball guns. Moreover, this marker is available in various colors and skull prints.
The in-line bolt allows an increased ability to maneuver, making the gun more comfortable to shoot. No lines to annoy the player is a significant advantage for players in this paintball gun.
The center-fed design of the hopper also helps the player manage the gun easily, and it provides you mobility which enables you to shoot in every direction. The most ergonomic thing about this marker is that left-handed and right-handed players can use it without any changes.
The front and back grip of this gun make sure that you get advanced control over your marker. As a result, you will also shoot more accurately, and you will hit the target more often.
Accuracy and Budget:
Accuracy is the most critical feature that is necessary for every paintball gun. Of course, no one can expect the gun of this price range to be accurate, but the Tippmann Gryphon review leaves you amazed.
The Griffon only has a 7-inch barrel, but a 14-inch Tippmann barrel would make the gun more accurate and longer-range. In addition, the quiet feature of this gun protects a player's locality and raises the chance of winning.
That helps him take a more accurate shot when an opponent doesn't know from where a player is throwing paintballs. The budget or cost of a paintball gun is also one of the most important factors. You will be amazed to hear that Tippmann Gryphon is available at the mere price of 100 dollars in the market.
This beginner-friendly paintball marker is manufactured for the new players willing to buy their first paintball gun. With this revelation that they can get a top-rated gun at a minimal price, they will love it.
Power pack:
Tippmann Gryphon powerpack offers you multiple accessories which are all critical to the paintball game. You cannot play intensive paintball woodsball and speedball without these accessories.
The power pack contains a Tippmann Gryphon paintball gun, a 9 oz. CO2 tank, Kit Mask and a 200 round Gravity Hopper. All of these accessories are essential to play safely.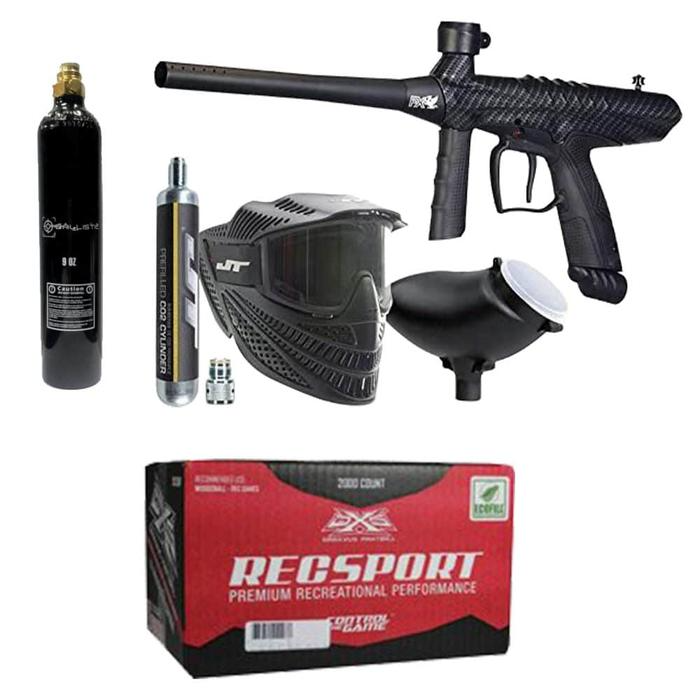 Besides, you need the best paintball knee pads to protect your knees, along with the best paintball elbow pads. These accessories will provide you with an extra layer of safety on the battlefield.
In the end, the Kit Mask, which comes in the power pack, is the most crucial gadget to protect players' faces and eyes from high-velocity paintballs. If you are sensitive, it is recommended to wear the best paintball chest protector for ultimate security.
Maintenance:
Similar to other Tippmann paintball guns, Tippmann Gryphon maintenance is easy. All you need is a little oiling occasionally to keep the marker in better condition. The fantastic thing about this gun is that you don't need professional help.
You can easily find damaged parts if any vicious happens to your weapon and replace it yourself. Moreover, this paintball gun comes with a 2-year warranty which covers everything against any manufacturing defect.
Tippmann Gryphon vs 98 Custom:
Both of these paintball markers are highly rated and have different but efficient features. This article will inform you of both legendary paintball markers' basic pros and cons for beginners and professional players.
The comparisons like Tippmann Gryphon vs 98 Custom increase the level of excitement in paintball lovers like us.
Tippmann Gryphon
| | |
| --- | --- |
| Pros | Cons |
| Firm and comfortable grip on the market. | It does not offer liberties of traditional upgrades |
| Shoots 8 balls per second with maximum speed and higher accuracy. | |
| It supports a 10-inch barrel and gives you a variety of color options. | |
| The triggers of this marker are smooth, which is best for all levels of paintball players. | |
| It comes with an exceptional feed design that provides high mobility. | |
98 Custom
| | |
| --- | --- |
| Pros | Cons |
| It minimizes the cost of gas refills. | The barrel could displace from the receiver. |
| 98 custom has a lightweight construction. | |
| Smooth edges of the marker will save you from blisters | |
| Because of its lightweight, it's very comfortable to hold. | |
| It helps beginners strengthen their gaming skills. | |
Tippman Gryphon's review tells us that it is one of the most delicate paintball markers for beginners and professional players. However, it provides you the durability, reliability, higher accuracy, and easy handling.

It provides you precise target shot of 150-feet, which is best for a primary paintball gun. Moreover, it offers you unique upgrades which enhance the performance of your gun.

The ergonomic design of this Gryphon provides you with a firm grip on your gun, which increases the shooting accuracy. In the end, it gives you the minimum kickback that helps in precise continuous shooting.

Final Words
Is Tippmann Gryphon FX a good gun?
Tippmann Gryphon FX review proves that it is one of the finest paintball guns available in the market. It is most reliable and comes with a reasonable frame which makes it durable.
With its high-impact body, you don't need to worry about getting it damaged. Moreover, the internal structure of this paintball gun is extremely durable like other paintball markers.
What Caliber is Tippmann Gryphon?
The most popular paintball guns are the one which has .68 calibers because the most efficient paintballs come in this size. Similarly, Tippmann Gryphon is also one of the most popular guns among paintball players. That's because it comes in the standard .68 climber, which is excellent for using standard paintballs.
How much is a Tippmann Gryphon?
As mentioned above, several times that Tippmann Gryphon attracts new paintball players who are willing to buy their first paintball guns to play the game. For those beginners to build their interest, this is one of the best paintball guns under $100. You can say that; it is the most significant paintball marker under 100 dollars so far.