Imagine you're on the field and about to take your best shot at the opponent, but you realize your paintball gun has given up, all while the opponent smirks at you with his devilish eyes, and bam, you're dead. So to save from these embarrassing scenarios, please carry paintball pistols with you.
Although they might seem very small, they have an enormous role in that battlefield. They are genuinely your best friend in need of help and play a self-defense role in the paintball arena. 
Self-defense with a paintball gun is getting more popular and practical by the day. For several reasons, a paintball pistol is the most satisfactory solution for self defense in the field. The first is the sheer enormity of it.
The fact that it is significantly smaller than a regular paintball gun is a huge plus. Before going to the paintball arena, you should take the best gear with you to own that game. However, you might get confused about the number of brands available at the market selling the same thing but with ranging qualities.
5 Best Paintball Pistol for Self Defense in Field
We have got you covered all Features and list the 5 best paintball pistols for you to choose from the best.
1) Umarex T4E Walther Best Paintball Handgun
.43 caliber
1.2 pounds weight
The capacity of 8 shots
12g CO2 cartilage
Warns if the CO2 is damaged
Gas efficient with 70 shots
Umarex T4E is a small paintball gun but a stylish one. It is a replica of the original weapon and a typical holister. The features it contains makes it among the best paintball pistols. The metal slide and polymer outer body give it a natural look. It is not just about the eye but also its durability is next level with the material used in its manufacturing.
The size also makes it lightweight and easy to carry. This gun has many uses; it precisely accepts everything from dust and rubber balls to pepper balls – and, of course, paintballs as long as the ammo fits the.43-cal profile. This will give you an edge as you can use it in any field. 
Standard 12-gram CO2 cartridges provide the gun its power. Each magazine has a capacity of approximately eight rounds of ammo, which is a plus point as you will be quick to fire on your opponent. It's powerful, with a firing velocity of up to 360 fps, which you'll need to reduce to make it field-legal. However, the fantastic speed it provides a must-use in the field. 
The long trigger pull is one thing we didn't like about this model, but we believed that was because the pistol was supposed to simulate a double-action trigger. So it wasn't a deal-breaker for you, but it's worth noting because the extended rest mixed with the medium-strength trigger weight may impair your paintball gun experience.
At the bottom of the barrel, housing is a small Picatinny rail for any small accessories you might want to add. There is also a working trigger safety to keep you and others around you safe. All in all, it is a top paintball pistols. 
Benefits:
Excellent replica
Authentic quality
Rail accessory is included in the package
Fronts and rear sight are functional
It contains a safety trigger
Fires are precise
Drawbacks:
The magazine can hold eight rounds only
Trigger pull has been seen too long
CO2 Cartlidge need to tend regularly
2) JT ER2 Pump Pistol for Close Range Paintball Pistol
Shoots .68 calibre paintball
Magazine capacity of 10 round
12-gram CO2 Cartilidge
It has a pump-action reloading system
Smooth handles to shoot
Shoots with high accuracy
Produces sound while firing
JT ER2 Pump pistol is a good find. It can be one of those good paintball guns you own that is very simple to use. Generally, a pump pistol is very easy to understand. Its maintenance is also effortless; open the gun you quickly get your way around the machinery.
A longitudinal barrel is attached with the CO2 and way down through the old-fashioned trigger. It contains nine screws, and it comes with an installed safety measure; the red means it's unsafe, and the black portrays its safe. 
The pump feature makes it effortless and helps in shooting with high precision. The simple machinery of this gun sure makes it among the best paintball pistol. As it is a very budget-friendly price, you get a .68 caliber gun that uses 12 grams of CO2 cartilages is not a bad deal for someone who enjoys playing paintball. 
The pistol's velocity rating is roughly 280 FPS, which isn't bad. However, in order to keep costs down, they have eliminated any automatic firing. So instead, you'll get a slide-action pistol that can only fire one cartridge at a time.  
Although the JT ER2 lacks the firepower and range of the other guns, with a degree of 75 feet and accuracy of 30 feet, pistols are nevertheless utilized in close-quarter warfare. 
It does make a loud sound when fired, but the deafening sound seems pretty negotiable with the other essential features it provides. Paintball players can easily use it just at the entry level as they can handle it with ease. Nonetheless, it would be a little less for the advanced players as they need more high-accuracy speed.
Benefits:
Budget-friendly
Lightweight
Build material is durable
It has efficient accuracy
Remarkable power
Easy to use
Drawbacks:
Produces loud sound when fired
Some complained the CO2 cartilage leaked

Hopper to be bought separately
3) JT Splatmaster z100 For Defense Paintball Pistol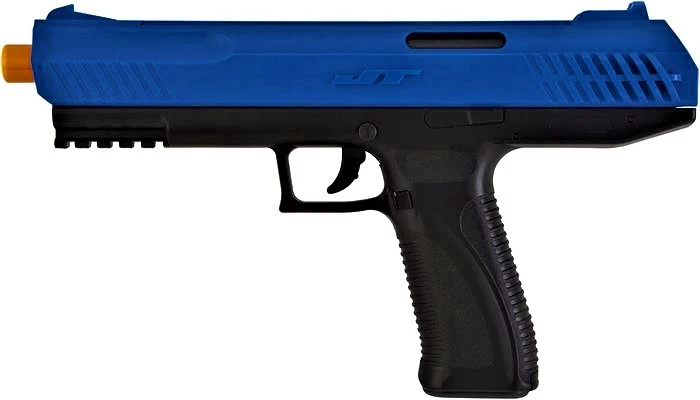 50 caliber
Hand pump doesn't require CO2
It has realistic sliding action
Efficient release magazine
7 round capacity
Ranges up to 75 feet
The JT company is the JT splatmaster z100, which is known for its high-quality guns. It is the smallest paintball gun by the JT manufacturers. The JT splatmaster z100 is an affordable option for entry-level paintball players for self defense. It is easy to use and runs pretty much smoothly.
Though from the way it looks, you might think it's another child gun, it's not. It's ideal for people of all ages and uses a hand-cocking mechanism to shoot without CO2 cartridges or other fuels. While this is convenient, it also means that the Splatmaster's maximum firing speed is only 140 fps. With a 7-round paintball magazine that can be quickly ejected and refilled, this pistol has a robust and genuine feel. 
The guns are small in size that contains a smaller spring firing system which makes them not so powerful. Sometimes the spring might wear out with extended usage of a gun. 
This gun is an incredibly cost-effective option with some good features. It is also easy to handle and very easy to disassemble and clean. 
This handgun easily holds 15 paintball ammo at a time with a .50 caliber. It is affordable and gives you the exact features for your price. It will also be easy to handle for the beginner-level player. 
Benefits:
Easy to handle
The firing rate is excellent
CO2 cartilidge not required
It has smooth cocking action
Highly affordable
Drawbacks:
Comparatively simple design
JT provides plastic body in it
Life expectancy is low
4) Tippmann TiPX Top Paintball Pistol for Defense
.68 calibre
Weights 1.5 lbs
Magazine-fed
Semi-automatic
12 grams CO2 cartilage
Has 25 to 30 fire capacity
Blowback action
Comfortable rubber grip
Tippmann is one of the most well-known names in the paintball world. They are the most renowned and respectable paintball manufacturers. Tippmann is known for consistently producing high-quality paintball pistols and weapons, and this model is no exception.
The Tippmann TiPX pistol is designed to feel and appear like a military weapon. Tippmann TiPX gun seems to be bigger than it is, but rest assured that it is surprisingly light and feels natural in hand. Customers have given the Tippmann a 4.5-star rating, making it the sole gun on the list. 
It's a semi-automatic,.68-caliber, magazine-fed replica that feels and looks like an accurate pistol. It is, however, still surprisingly light, weighing just over 1.5 pounds. 
An external velocity adjuster with an eight balls per second feed rate, a standard threaded barrel with modification options, an under-barrel CO2 12-gram air system, and an ergonomic grip is included. 
Keep in mind that a 12-gram tank will only allow you to fire 20 to 40 shots at a time. This doesn't seem a lousy deal keeping in mind that this all comes at a budget-friendly price. 
In addition, you'll also need spare CO2 canisters. There are three portholes in the grip to monitor how many paintballs are remaining in the magazine. A small flashlight or red dot can also be mounted on the Picatinny rail. It can be beneficial for the paintball player.
This is an excellent paintball gun package for both beginners and experienced players. The gun is light, accurate, and handy, especially when you're in a hurry. It may also be used with riot balls, making it an excellent option for home or self-defense.
Benefits:
Offers great precision & range

Durable and compact design

Ammo check is easier
Customizable features
Provides four more magazines
Drawbacks:
CO2 cartridge is small in size
Some felt safety trigger is complicated
5) HSA PACKAGE T4E Semi-automatic Paintball Pistol
.48 calibre
Semi-automatic gun
12g CO2 cartilidge
Loaded three times (24 shots)
Protective storage gear
It contains a pneumatic blowback system 
Manufactured of metal slides and barrels
HAS package T4E is a semi-automatic paintball pistol. It precisely provides you with12g CO2 and a blowback system. This is an acceptable deal, especially for beginners, although we think this gun is comparatively expensive to the other guns the market provides.
Nevertheless, it provides you with a durable design; you cannot doubt the quality of this gun. It is manufactured from metal that will be an everlasting deal. The exterior skin of the weapon is made up of polymer, which makes the weapon resilient.
However, they provide you with a complete package of gear. That includes a magazine, a protective storage case, three different grips in varied sizes, rubber ball ammunition, and cleaning equipment are all included with the pistol.
The material used to make the best paintball pistols makes it a little on the heavier side. However, the weight might be manageable for some but a problem for others. It only manages .48 caliber paintballs that are way too small for an advanced-level player. 
So again, this gun can be used by entry-level players, but it's a little bit expensive for someone who wants to learn the game. Comparatively, the market is filled with pistols that match the budget of an entry-level player. 
Benefits:
Easy to carry and use
It has a durable design
Provided with protective gear
Drawbacks:
Difficult to dissemble

Comparatively expensive
Purchasing Factors for Paintball Pistol
Shopping for pistols can be a little hefty. You have to look into its bitsy details before going for any gun because it will be a great disappointment if it doesn't work on the field. So before that, one needs to be sure of the pistol from every dimension.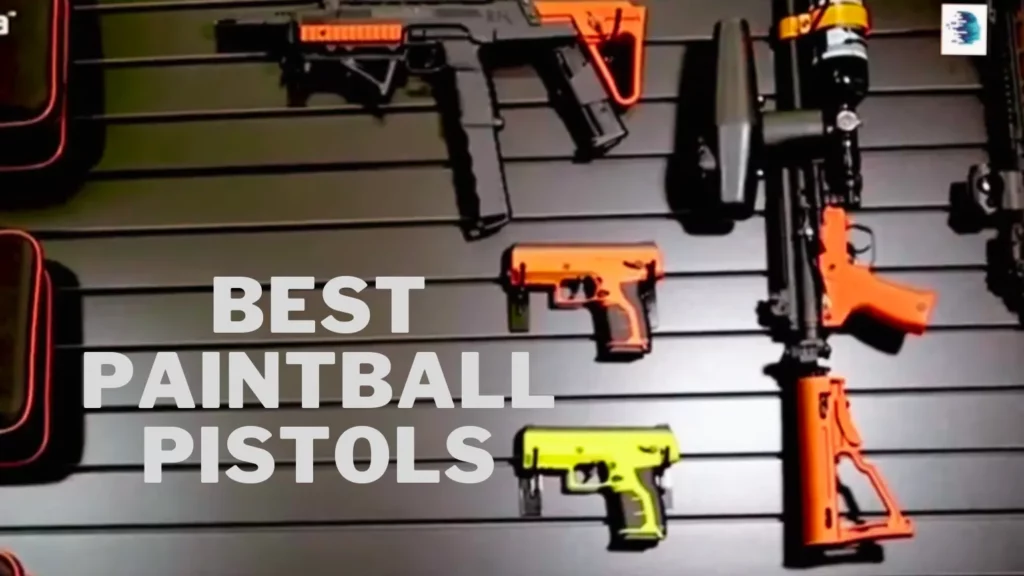 Below are some points that will help you find the best paintball pistols. These points to remember when you go ut a paintball pistol. Let's dive in. 
Weighing up Your Choices
Before buying up a pistol, you need to be very specific, weigh your choices logically, and have a clear-cut idea for exactly what you need. Of course, if you're buying it for a practicing purpose or are just a beginner, the specification you need is also simple. Still, if you're buying for an expert level, the specifications are also upgraded. 
You have just started playing paintball sport then you need a simple and easy-to-handle weapon so that you don't scare your opponent with a .68 caliber pistol.
If you need the paintball pistol for your regular sport, you can easily buy small paintball guns with less advanced specifications. It will efficiently serve the purpose. Also, only a paintball pistol can do its work rather than big guns when just playing for fun. 
The same goes for the beginners who have just started playing and are practicing to level up their game. If you're someone who's into full-fledge paintball tournaments, then you also need an advanced-level paintball pistol. 
Paintball pistol works best for self-defense, and the size does wonder it easier to carry around. So you should be very much aware of the best paintballs pistol 2022 for self-defense.  
Quality of the Pistol
The quality of the pistol is a crucial matter. One should look at what is best because the best always work even in the harshest conditions. You need to be very conscious when selecting the brand of paintball pistol as different materials tend to affect its accuracy, durability, and weight. 
Aluminum material is primarily used in the construction of paintball guns; it keeps them reasonable and lightweight. The downside is that the aluminum is sturdy and easily bend, making the overall quality fall.
Then comes stainless steel; they are harder. They can also withstand wear and tear but are heavy to carry around. Finally comes carbon fiber barrel they are lightweight, durable and their maintenance and cleaning is hassle-free
What is Your Budget?
Always keep in mind your budget, and then look for the top product that fits in with your budget. For example, getting the best paintball pistol might be a little complicated as it is just not the pistol that you're buying; it also has some add-on protective gear and types of equipment. 
It would help if you also considered when buying the paintball pistol at what level you're playing. If yore is playing at an advanced level, you need to get the best paintball pistol that'd be a little expensive. On the other hand, if you're a beginner, you don't need to spend as much as an expert-level player. 
Weight of the Pistol
Weight is an important fact to consider as you have to carry the paintball pistol while carrying many other gears, so it should be lightweight to not bother you much. Also, it should be comfortable to carry it around. 
Kinds of Pistol Gun
There exist many kinds of guns that'll make you a little baffled, but we have got you covered. 
Pump Paintball Pistol: 
The pump gun is the most basic paintball revolver, with a simple construction that is both durable and reliable. Although with their simple design, they are still prevalent among paintball players. They receive their name from the pump mechanism, which uses a backward-then-forward pulling motion to set the next paintball in place and prepare the pistol for the next shot. 
Semi-Automatic Paintball Pistol: 
The semi-automatic variants require pushing the trigger to fire a shot. They are primarily used among entry-level paintballers. These pistols are further classified into two subcategories based on their design and functionality: Manual and electronic.
Ramping Paintball Pistol:
Ramping paintball pistol can also be used in the field. When you continuously press the trigger, it starts firing rapidly. Its firing rate can go up to 20 rounds per second. The beginners mostly find it convenient to use.
Fully Automatic Paintball Pistol:
A fully automatic paintball handgun requires a lot of practice before you use them on the field, so the advanced paintball players could only use it. They can fire rapidly depending on the model. Once you have pulled the trigger, the gun keeps firing at a constant rate. 
Three Shot-burst Paintball Pistol: 
This pistol shots three fires continuously when pulled the trigger once. The more experienced player uses them, but the beginners are not advised to use such a gun that will require practice. 
Our top pick Umarex T4E Walther Paintball Handgun will have to be for one, it has the least weight, and that is 1 lb. At an excellent price, the manufacturer gives you a maintenance kit, a leg holster, and some three magazines which is an outstanding deal. Although the company it belongs to speak for itself provides you with a durable and robust pick. It is no doubt among the best paintball pistols.

The second pick will be the fantastic replica of real gun JT ER2 Pump Pistol ; for one, it provides you with eight rounds of capacity. It is manufactured with hard-wearing material, which will last longer than any gun. It shoots amazingly and gets the opponent. This has to be a good choice for paintballed players.

Recommended Products
What is the average lifespan of paintball guns and pistols?
There's no way to know how long a paintball gun will last. Even within the same make or model, several factors influence how long a weapon will last. The number one factor is the material that the paintball gun is made of.
Previously the manufacturers used plastic, but it didn't last much longer, but now they use aircraft-grade aluminum and aluminum alloy.
Mostly a combination of nylon and carbon fiber is used to make it long-lasting.
The more durable the material of the paintball pistol, the more long-lasting it will be. Maintenance and storage also play a vital role in increasing the lifespan of the handgun.
Is there any recoil in paintball pistols?
A paintball pistol's price is mainly determined by the brand, quality, and features. It usually starts at $50 and goes up from there. A high-quality, heavy-duty model, on the other hand, could set you back hundreds of dollars. So it's a good idea to budget for your paintball equipment.
Is there any recoil in paintball pistols?
Paintball guns contain a certain amount of recoil, although not all of them. However, the kickback or recoil is still substantially less than what you would experience from an accurate pistol. This is because air, spring, or a combination of the two propulsion generates far less force than combustion propulsion.
What is the range of paintball guns?
The operating PSI of a paintball gun determines the speed and range of the gun's shot. Between 260 and 300 PSI is the proposed regulatory threshold for markers. So your paintball will discharge at around 175mph in that PSI range after the trigger is pushed.
Firing range depends on the shooter and some other factors like the weight of the pistol, wind speed, and barrel quality
When a paintball pistol should be used?
The paintball pistol is mainly used as a second chance; for instance, your paintball gun stops working or some other mishaps. This is so because paintball guns have lower ranges, and they can get you killed on the field. It can also be used as a self-defense tactic when the opponent is about to jump on you.