The best way of success in a paintball game is with a long range paintball gun. You can win the ground battles and help your teammates with a sniper rifle from a long distance. If your team is under heavy firing in the battleground, it would be great if you had a powerful marker. Then, you can easily target your opponents and clear the way for your team.
Many paintball gun reviews give eight to ten options and confused you by wasting your time and money at the same time. So, we have selected the three top-notch paintball guns to save your time, money, and effort.
These products are the most powerful and accurate long-distance paintball guns. You can read the features and specifications of each paintball gun along with a buying guide to get what you want for your next tournament.
Top 3 Best Paintball Guns for Accuracy
There are many paintball markers available in the market. No doubt, picking the best long range paintball gun can increase your chances of winning. That's why we have come up with three long distance paintball guns with their features to highlight their functionalities. Scroll down to read the features and specs.
1) Tippmann Stormer Elite .68 Caliber Most Accurate Paintball Gun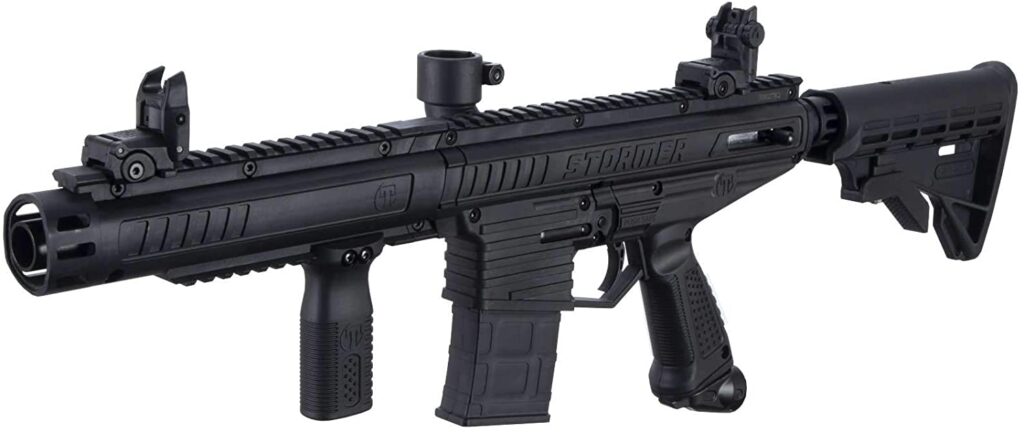 Dual feed Modular with Composite Body
Internal Gas line
Multiple Picatinny Rails
Proven, In-line bolt system
High-performance barrel with Single trigger
Offset Feed-port & Tactical Shroud
| Specifications | Values |
| --- | --- |
| Weight | 7.1 Pounds |
| Caliber | .68 and First Strike Paintball |
| Powered | HPA |
| Collapsible | 6 Position collapsible |
| Barrel | 9.75-inch |
| Range | 150-feet Effective |
Tippmann Stormer is the high quality paintball marker available in the market to date. It is a budget-friendly price, and ultimate precession makes it the best paintball gun for accuracy. Stormer paintball marker can fire up to 150 feet with complete precision and consistency.
Its military-grade and dual-feed design make it perfect for beginners to professional players. In addition, the ergonomic design is easy to hold, and the six-position collapsible stock makes it versatile and easy to store after the game. Above all, this paintball gun is made of high composite material, which guarantees its durability and reliability.
Milsim Look:
Its AR-15 design with the magazine feeder gives it an ultimate real-life military-grade gun look. Its weight and structure feel like you are holding an original paintball gun, which will impact your opponent. Tippmann Stormer is one of the best military paintball guns available in the market.
Not only its design but it's perforce is also not far behind. It provides you the most extended shooting range on the paintball battlefield. You can target your opponent from a great distance without even giving out your location.
Mag and Hopper Feed:
Tippmann Stormer is the most reliable paintball gun available for woodsball and speedball. It offers you the best dual feed system available in the market at the lowest price possible. Its magazine holds up to twenty rounds of paintball which is enough for distance shooting.
If you are up for long duration matches, you can convert it to the hopper for the standard hopper option. The hopper of Stormer elite can hold 200 balls approximately. This paintball gun is equally beneficial for all kinds of paintball players, beginners to professionals.
High Composite Body:
The high composite material of this paintball gun is durable and reliable enough to withstand the harshest game on the battlefield. Furthermore, its internal gas line reduces the gas leakage issue and provides you high speed perfect paintball shots.
Although this paintball gun's durability and reliability are remarkable, you can rely on the robust body in important paintball matches.
The tactical shroud gives it a more tactical look and protects the barrel from getting damage. With multiple Picatinny rails, you can add tactical gears to make it more precise in the shooting. This paintball game can target your opponents at a long distance which can increase your winning chances.
Ergonomically Designed:
Stormer elite is designed ergonomically with the player in mind. This paintball gun comes with a vertical grip, which gives a grasp on your rifle. In addition, it offers you front and rears flip up sights for better aim, which you can upgrade by adding a scope. If you are looking for long range best paintball gun under 200 this is your impeccable pick.
This paintball gun is six-position collapsible that is the key feature of this paintball gun. You can disassemble this gun for cleaning or safe storage after the game. In addition, it comes with a Loader to magazine conversion parts, making it easy to do it yourself without buying extra gears.
Make Your Quick Purchase Decision
Holding the Tippmann Stormer gun in your hands gives you the perfect military-grade look and feel. If you like the best magfed long range paintball guns, it would be the ideal gun for you. It is the most accurate long range paintball gun in the market, with a 150 feet precise shooting range. No other paintball gun of this price range will offer you so many features. If you want to upgrade your gaming, then this gun can help you in achieving your dream.
2) Tippmann A5 Most Accurate Long Range Paintball Marker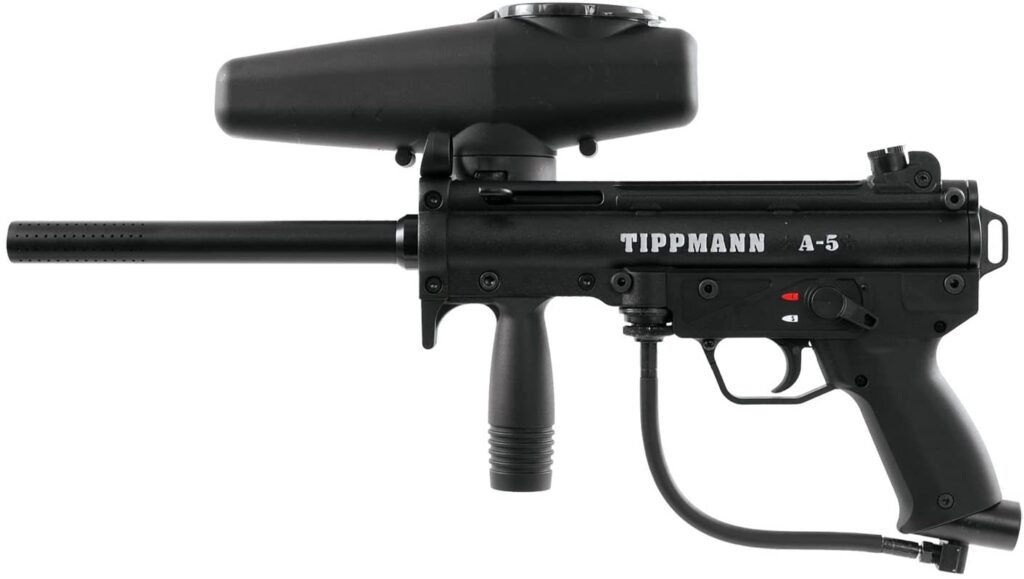 Cyclone Feed System
External selector switch

Redesigned integral bore

Lighter receiver design reduces weight
Tombstone Connections
Removable Sling Mounts
Low-profile hopper & Black gas line
| Specifications | Values |
| --- | --- |
| Weight | 3.1 Pounds |
| Caliber | .68 |
| Powered | Nitrogen, CO2, and HPA |
| Trigger | Mechanical |
| Barrel | 8.5 Inch Stock |
| Range | 150-feet Effective |
| Warranty | 2-year manufacturer warranty |
Tippmann A5 was designed to deliver you the long range paintball marker, including high speed. The patented cyclone system provides you the fastest loading speed as fast as you pull the trigger. In addition, this semi-automatic paintball gun can operate with nitrogen, CO2, and HPA while having 200 standard hoppers.
The aluminum cast low weight receiver makes it a lighter paintball gun which is much easy to manage. It can shoot up to 150ft to 200ft with complete accuracy, while the tough black round-out finish is robust.
This product of Tippmann Gun is already the most popular product of the brand with unique removable sling mounts. This entire paintball marker is remarkably user-friendly, that you can reassemble it within 60 seconds.
Cyclone Feed System:
This semi-automatic beast is a high-speed paintball marker with a cyclone feeding system. It is the most accurate long-range paintball gun, which can load as fast as your fingers can squeeze the trigger. The standard loading speed for this marker is 15 BPS and fires up to 8 BPS without a battery.
With this gun, you can hit several long-distance opponents with maximum consistency. The external selector switch allows you to switch the marker easily from safety to firing mode. Two hundred round wide-mouth hopper keeps you in-game for a long time. The black gas line of marker provides greater on-field stealth and durability.
Ultimate Distance Shooting:
You need the best long range paintball gun to eliminate your opponents from a distance. It is a perfect choice for ultimate distance shooting that can shoot up to 150 feet with supreme accuracy and consistency. The 8.5" stock barrel is stone-honed for advanced accuracy and noise reduction.
If you are shooting from a reasonable distance, your location must remain anonymous to target maximum opponents. Thus, it will help your team in difficult situations on the battlefield. In addition, it provides you a high velocity for speed and longer-range paintball shots.
Ergonomic Design:
Holding your longest-distance paintball gun for a long time on the battlefield is not a child play. It would be best to have a lightweight paintball gun for running and managing the marker in long matches. This ergonomically designed paintball gun offers you a notable grasp on your rifle.
The large front grip and shock-absorbing end cap reduces wear and recoil allowing you the smoothing firing. Due to its lighter receiver design, the gun's overall weight reduces; you can hold it for hours without exhausting. Tombstone for simple maintenance and redesigned bore for wider and faster field stripping.
Highly Customizable:
It is the most powerful paintball gun available in the market with high customization options. You can upgrade its barrel easily because Tippmann A5 barrel threads are most common, by upgrading you will get even longer and accurate shots. While its sling mounts are removable, you can add a sling whenever you want.
It's easy to upgrade its trigger set with electronic triggers, and you can add multiple gears on its Picatinny rails such as scope, red dot laser, etc. Besides, you can add all the aftermarket accessories to this paintball marker. You can also add shroud on it to make it more tactical and having a better experience.
Make Your Quick Purchase Decision
Tippmann A5 is a high-performance long range paintball gun with high quality and ultimate durability. These paintball markers are available at very affordable and budget-firmly prices. In addition, the fastest-growing brand provides you the accuracy and consistency with a limited two-year warranty. Rest assured, you will have the best experience of paintball long range guns with this particular product. This is the best paintball guns under 500 dollars available in the market.
3) First Strike T15 Best Paintball Barrel For Accuracy

Spring Loaded Dual Fed
Retractable charging handle
10" M-LOK handguard
Two-pin Quick disassemble

V2 first strike magazine included

Two pieces cast aluminum construction
1-to-1 AR Rifle design
Aluminum Quad Picatinny Rail
13/3000psi Tank/Stock Combo
| Specifications | Values |
| --- | --- |
| Weight | 4.41 Pounds |
| Caliber | .68 and First  Strike Paintball |
| Powered | HPA |
| Trigger | Mechanical |
| Barrel | 14.5" |
| Range | 150-feet Effective |
A first strike paintball gun consists of Tiberium, which is commonly in war materials. This lightweight, long range best paintball sniper rifle consists of cast aluminum that gives it reliable sturdiness. The product is a long range paintball sniper rifle with Milsim support to deliver accuracy.
Its high-class ergonomic design makes it more convenient in handling gameplay. One of the most exciting features of this paintball gun is the dual feed system, MagFed Gun and hopper-fed. The distance on this marker is remarkable, and you can get 360 fps without adjusting or modifying the gun.
This Paintball gun can effectively give you a 150 to 200 feet shooting range with accuracy and consistency. T15 accepts both .68 calibers and First strike paintballs for a better shooting experience.
Dual Feed System:
Dual feed is one of the latest feeding systems in paintball guns. In this sniper rifle, you can enjoy the best of both features, magfed and hopper-fed, for extended games. Furthermore, you can adjust the feeding system according to your playing style and the situation on the battlefield.
Its magazine allows you to hold twenty rounds, while pro players prefer to have 19 rounds at a time. It gives you the feel of real-life soldier and ammunition when you change the magazine on the battlefield. It is highly advised to keep some extra magazines to avoid loading during a match.
Durable Built-up:
The authentic life look 1-to-1 AR rifle has a durable built-up which can withstand the most brutal playing condition. This paintball rifle has an aluminum lightweight body which guarantees the sturdiness of the gun.
In its manufacturing, a strong Tiberius material is used, ideally used in war equipment, making it more reliable on the battlefield.
It will be a great pick if you look for a military standard paintball gun to smash your opponents. Two-piece cast aluminum construction gives you the trustworthiness you need in your paintball gun. Rest assured your investment is safe with this high-class robust paintball gun.
Best Firing Ability:
This strong and best long range paintball gun is a perfect option for targeting your opponents from long distances. It allows you to fire up to 150 feet with precision and consistency. The T15 can fire .68 Caliber and strong First Strike paintballs with both magazine and hopper.
It uses HPA as its power source for incredibly fast, up to 360 fps without adjusting the gun. You can increase the velocity even more after making few adjustments. Its 14.5-inch stock barrel is more than enough for long range targets.
Modifiable Functionality:
Along with all of these remarkable features, T15 is a highly adaptable paintball marker. In addition, aluminum Quad Picatinny rails allow you to add multiple gadgets to enhance your firing accuracy and perfect aim. For example, you can add a red dot laser, high-quality scope, and other gears for better aim and accurate shooting.
It allows you to fit real-steel or airsoft on the rifle to make it custom-made and fully functional. You can also upgrade its trigger set for an even better and soft trigger pull.
Make Your Quick Purchase Decision
This longest-distance paintball gun is the perfect choice for those players looking for an accurate 1-to-1 AR rifle without compromising performance. This first strike paintball gun offers a dual feeding system, realistic magazine, and regular hopper.
The key feature of this sniper rifle is its Tiberium manufacturing that is usually used in war materials. If you are a committed paintball player and want to take your game to the next level, T15 would be a perfect choice.
Buyer's Guide for Most Accurate Long Range Paintball Rifles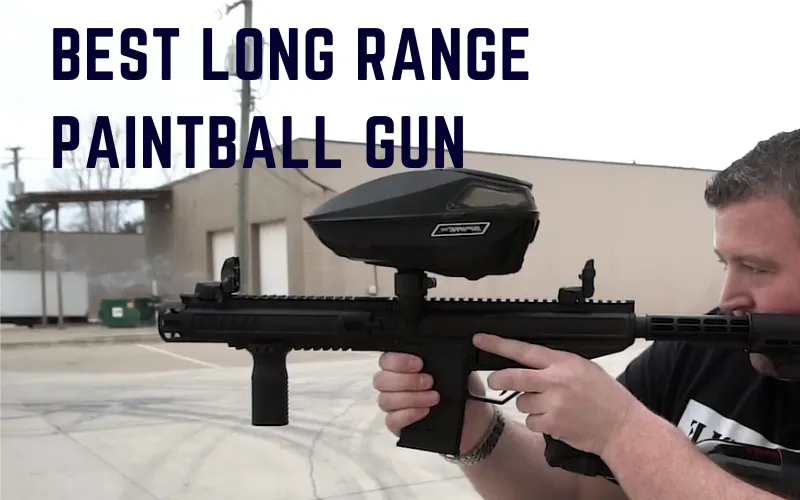 Long range paintball guns are most important in paintball games due to their distance shooting. It is very important if you intend to be a sniper on battlefield. You need a perfect long distance gun because at some point in the battleground, the whole team will be dependent on you.
If you have decided to buy the best long range paintball gun, you must know the kith and kin of paintball guns. Because there is an infinite number of paintball markers available in the market, they all claim to be the best long-range marker. Selecting one from numerous paintball guns is even difficult for professional players.
In this scenario, if you are a beginner, it would not be less than a nightmare. And if by chance you made a wrong investment, you will regret your decision until your next purchase. So to avoid all this mess, we have assembled a guide for beginners by the longest range paintball gun.
You just have to focus on few essential factors, and rest assured you will end up with the worthy longest distance paintball guns. So focus on the following information and get the best marker of your dreams with ultimate accuracy.
Electronic Paintball Guns:
If you are looking most reliable paintball guns for a longer range, Electronic paintball guns are the priority of professional paintball players. It is because they have a high velocity firing capacity which can shoot for a long distance. In addition, these guns have even faster loading capacity with their electronic loaders.
Electronic guns can operate with the HPA/nitrogen/Co2. In addition, they usually have an in-built regulator that helps in high velocity shots. The standard velocity of electronic paintball guns remains between 250 fps to 325 fps or more.
But these guys have their setbacks, and they are not suitable for rainy weather. Moreover, they are electronic and can get damaged in heavy rain.
Mechanical Paintball Guns:
Mechanical paintball guns are also admired for their long range shooting. However, they are less velocity than electronic paintball guns that can increase by making few upgrades. You can enjoy all the long range features with mechanical guns in all weathers. Mechanical paintball guns' standard velocity remains at 250 to 300 approximately.
Paintball Gun Barrel:
The barrel is an essential factor in long range paintball guns. Since you want to snipe from a distance, you need a longer Paintball barrel to do that. Unfortunately, most paintball stock barrels are short, and you need to choose the gun with long barrels for a long and accurate shot.
Or else you can choose the most powerful paintball gun and upgrade its barrel with a longer one. The upgrade can overcome your barrel's issue, and you can enjoy long-distance shooting without any problem. It would be best to have at least a 12-inch to 14-inch paintball barrel for long range paintball shots.
Paintball Size:
Most of the paintballs come in .68 calibers. Sometimes, there is a variation because of the brands, and if the paintball does not match your barrel, it will not be accurate. So keep that in mind that they should match your barrel size; otherwise, you are wasting your money.
If you want to shoot paintballs for a longer range, you need to buy the best paintballs. They will give you consistent and accurate performance.
Regulator for High Pressure:
It is difficult for compressed air the paintball at a very high speed. The low air pressure results in weaker shots which means paintballs will never travel far enough. 
To avoid this, you must choose the guns with a regulator that uses high pressure. Paintball Guns with a regulator fire at a very high speed, allowing you to target an opponent from a long distance.
High Velocity:
It is an essential factor you must look for need a high-velocity paintball gun for long range shots. Most paintball Guns allow you the adjustable firing speed. You can adjust the velocity at high speed for ultimate long range shots. High-velocity paintball shots also help the paintball to work more effectively.
Scope Assistance:
If you are using a long range paintball marker, you must know its maximum range is from 150ft to 200ft. It is difficult to take an accurate shot from this much difference with a naked eye. So you must have assistance such as scope or sights. The high quality scopes will help you aim and get the most precise shot.
Noiseless Compression:
Most long-range paintball guns use more power for high velocity, which makes considerable noise. If you are using long range paintball guns as a sniper, it must be noiseless. Otherwise, you will be compromised. I prefer the paintball guns with minimal noise or those which come with a mock silencer. It will protect your anonymity and keep your location safe.
Best Long Range Paintball Guns Brand
Tippmann and G.I. Sportz are the best long range paintball gun brands. Tippmann was initially a weapon manufacturer, and later they were forced to switch the business, so they started making Paintball Guns. Tippmann was the first paintball brand that introduced semi-automatic paintball guns.
On the other hand, GI Sportz has made various paintball products, including First Strike. This brand was founded by a group of businessmen who were professional paintball players. This brand innovates and improves its outcomes by consulting professional paintball players.
Who Uses the long Distance Paintball Guns?
Most professional players use long range paintball guns to hit their opponents from a long distance. That strategy gives them a chance to stay hidden from opponent team members. Players with long range paintball guns mostly use mock silencers to remain anonymous.
Snipers also need to use the long range paintball guns to take long distance shots. The longer-range paintball gun prevents the opponents from coming near to your team members. Sometimes these guns are used to give cover to your team members and hit hard the opponents.
Tippmann A5 is the best long range paintball gun available in the market so far. A well-engineered paintball gun that is power by CO, HPA, and nitrogen as well. The cyclone feed system is one of the fastest feeding systems, which loads the ball at 15 BPS.
It was ergonomically designed for the player to hold it for several hours without getting exhausted. The over-sized grips to avoid turbulence and lighter receiver reduce the overall weight of the gun. The high velocity of this paintball gun can shoot at least 150 ft. with precision.
This paintball marker is highly upgradeable; you can upgrade for even longer shots and ultimate accuracy.

Best Recommended Product
How far do paintball guns shoot?
The effective range of paintball markers is around 80 to 100 feet. However, some advanced and long range paintball guns can shoot up to 1500 feet effectively. They used high velocity and increased barrel length to achieve their goal.
What is best long-range paintball gun?
The best long range paintball guns have increased firing velocity and extended barrel. These guns use the high-quality paintball for better speed and velocity. First strike rounds are preferably considered best for long range paintball guns.
Could you increase the paint gun shooting range?
Affirmative, you can increase the paint gun shooting range by upgrading a few parts of the marker. For example, you can upgrade the barrel's length for a longer range and high accuracy. The velocity regulator also increases the firing pressure; you can add that to your gun.