Paintball does not only consist of a simple gun with paint cartridges. Instead, now there are many variations of paintball guns you can get. With many options available in the market, it's not easy to find paintball guns on your own. Luckily for you, we are here to make things friendly and accessible.
We have compiled up a list of the best paintball guns you can get and pair that with a red bandana, and you'll be Rambo among your friends. It doesn't matter if you're a newbie or a veteran when it comes to paintball fights. There is a suitable gun model out there for you.
Every person has a different playstyle, so the most expensive paintball gun doesn't need to be the best for you. But worry not, we have thoroughly reviewed each ten of the best paintball guns in this list so that you can make up your mind with ease before entering the battlefield. 
Let's look at our detailed list of the top 10 paintball guns.
10 Best Budget Paintball Guns in Budget
1) JT Splatmaster Z18 Top Paintball Gun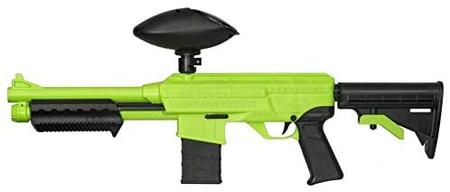 Pump-action shotgun
50 Cal
200 rounds capacity
Extendable stock
Spring action firing
Shoots up to 100 feet
Mag fed reloading
The first paintball gun to review on this list is the JT Splatmaster Z18. The green and black colored shotgun weighs about 4.35 pounds which adds to its friendliness towards young new paintball players. The JT Splatmaster Z18 is a pump shotgun, so it needs a simple pull and pumps to shoot.
Since it is spring action, it is pretty easy to use, although it doesn't generate as much power. Spring action guns are usually lightweight. JT Splatmaster Z18 looks almost like a real pump shotgun except for its extended magazine. Right out of the box, you will also receive a hopper with this paintball gun. You can store up to 200 rounds of .50 Cal in the JT Splatmaster hopper. On the other hand, the magazine capacity is 25 rounds of 50 cal paintballs or foam balls. 
The overall grip and visual is very similar to an AR (assault rifle). The stock is comfortable against the chest and arm. If you're someone with long arms, then JT has got you covered since the splatmaster z18's stock can get extended. 
Moving on towards the accuracy of this paintball gun, the JT splatmaster Z18 packs a punch and has some great precision up to 40-50 feet. After that, the bullet's trajectory can get a bit inconsistent, but you can quickly shoot as far as 100 feet. Again, the figures are in no way a disadvantage of this gun because it's meant to be a shotgun. 
Shotguns are not meant for long ranges; therefore, this is best suited for close-quarter encounters. You might not be able to hit the targets with accurate precision, but for close-quarter battlefields.
This is an amazing pump shotgun that can be used by young kids and adults who are new to the paintball world. With the hopper containing 200 rounds of 50cal paintballs, you won't have to worry about reloading in an indoor close quarters field.
Benefits:
Great for close combat
Massive round capacity
Easy to use
Comfortable grip and stock
Lightweight
Drawback:
Lacks range, not suitable for big outdoor fields
2) Tippmann Stormer Basic Best Paintball Gun for Beginner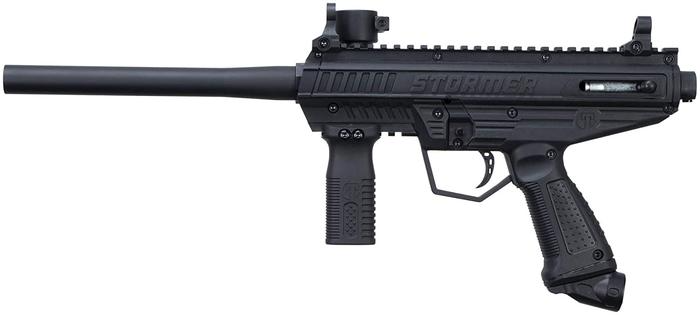 SMG styled gun
High impact body
Internal gas line
Foregrip
200 round hopper
Entry-level gun
Tippmann will be a reoccurring name on this list of the best paintball guns because they are one of the best paintball marker manufacturers. Their first gun to make it onto this list is the Tippmann Stormer basic; this gun is a massive jump from the JT Splatmaster Z18. The Stormer basic is a semi-auto SMG (sub-machine gun).
The composite black body looks exceptionally similar to actual SMGs like the Milano or the Uzi. The gun does not have any stock attached. However, there is a stock port, and you can separately buy a stock and attach it to the back of the gun. The Stormer basic has a vertical foregrip attached which will allow you to control the gun with ease. 
You can detach the grip, and since it has a Picatinny railing, you can add any other foregrip or flashlight if you want. The Picatinny railing is also present on the top of the gun, where you can simply attach a red dot sight or flashlight depending on your playstyle. So, the Tippmann Stormer Basic is straightforward to customize if you're a versatile player.
The 9.75-inch barrel is pretty simple and doesn't help suppress the sound. Therefore, the Stormer Basic can be a bit loud. Just like the JT splat master Z18, it has a 200 round hopper that you can put on top. The hopper is a necessity since the gun isn't magfed. 
The gun is powered by gas, so it's essential to get a compressed air tank. The Tippmann 48/3000 aluminum compressed air tank can be attached at the end of the rear grip. The air tank also works as a makeshift stock. The particular air tank we mentioned can shoot up to 600-800 rounds of .68cal paintballs. 
In conclusion, this is an excellent gun for beginners and even pros. It has a great punch to it and can be used at an impressive range since its air powered. The flexibility to add attachments makes it great to adjust to different gameplays and battlefields. 
Benefits:
Durable and sturdy body
Easy to add additional attachments
Foregrip provides better control
Great for all types of paintball players
Air powered
Drawback:
No external magazine feeding
3) Tippmann Stormer Tactical Top Rated Paintball Gun

Adjustable stock
Removable barrel and shroud
Pop up sights
High impact body
Internal gas line
Foregrip
200 round hopper
We have another paintball gun from the Tippmann Stormer series. This time we are reviewing the Tactical Stormer. The internal designs are the same as the Stormer basic, but this Tactical version is meaner and meant for longer ranges. Tippmann Stormer Tactical is available in black and dark earth color. It is much more similar to an actual AR with a barrel and a foregrip; however, it's not magfed.
The Stormer Tactical has an adjustable stock because of which the gun offers better precision. Also, You can remove the barrel or the shroud if you deem it unnecessary; this also eliminates the foregrip but decreases the size of the gun considerably. Finally, one of our favorite things about this gun has to be its pop-up sights. 
The first pop sight is right on top of the barrel's edge, and the second one is near the butt of the gun. The sight is a great feature, especially to make the paintball experience much more fun and engaging by getting an advantage over your opponents. 
Similar to the Stormer Basic, the Tactical version of this gun also has a Picatinny railing on the bottom and the top. You can also move the foregrip closer to the trigger if you want. It is also possible to add other kinds of attachments such as a laser, flashlight, optic, or a different foregrip. 
The Stormer tactical has a 200-round hopper on the top which can carry and deliver .68Cal paintballs. The gun requires an air-compressed tank that you can attach beneath the rear grip. However, the tank and the stock can cause a bit of discomfort while holding the gun. You can use the compressed tank as a stock or use the actual stock and place the compressed tank beneath your armpit. 
The Tippmann Stormer Tactical is a mechanical gun, so the trigger may seem a bit stiff, but with all the attachments, the precision of this gun is one of the best, even at longer ranges. It is excellent for woodball or any other big outdoor field.
Benefits:
Pop-up sights
Extended barrel allows better precision
Extendable stock
Great for thumping AR-type action
Drawback:
Stock and compress tanks can cause handling issues
4) Spyder Victor Best Paint Ball Marker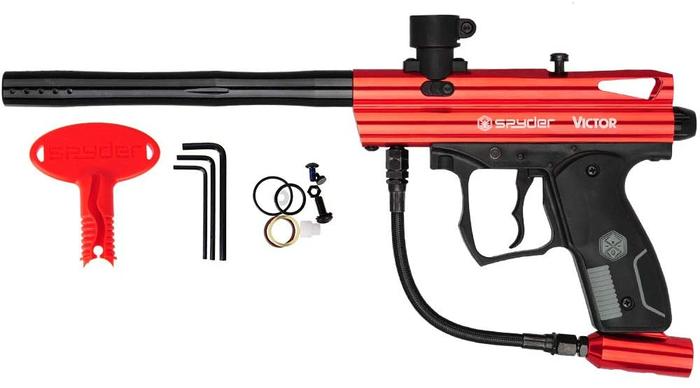 Aluminum body
Anodized Gloss finishing
10-inch micro ported barrel
Rubber Rear grip
Velocity adjuster
Operates on air
Two-finger triggers
Spyder is one of the elite brands for paintball guns. No matter if you're a beginner or a pro, you've probably heard about them. The Spyder Victor is a semi-auto SMG-type paintball gun, similar to the Tippmann Stormer Basic. Spyder Victor is available in an all-black color or a glossy red.
This is our top pick for people who are just getting into paintball sport. Spyder Victor is extraordinarily lightweight and compact and one of the easiest to use compared to the other best paintball guns we reviewed. It works just like the Stormer basic, but in visuals, it similar to a pistol as it has no foregrip. 
Spyder does not provide a hopper with the gun itself, so you will need to buy a hopper individually and then attach it on top of the Spyder Victor by tightening the screws. You can add a .68cal paintball inside the hopper. The Victor packs god bullet velocity, and another great thing about it is that you can adjust the velocity by sticking an Allen key at the back of the gun. 
Spyder uses the Eko valve system, which is a fabulous feature and allows efficient air usage. So, if you attach a 20 oz Co2 tank, you can shoot up to 1600 paintballs. The air does not pass through the gun itself as it did with the Tippmann Stormer guns. Instead, Spyder uses an air inline.
The rear grip is rubberized, which was an essential inclusion since the Victor does not have any other grips. Spyder Victor has a 10-inch micro ported threaded barrel which is of high quality and is exceptionally durable. However, it is a mechanical gun, so do not expect rapid-fire shooting; the trigger will feel stiff. 
However, since it is a double finger trigger, it is much more user-friendly than a single finger trigger. Spyder provides tools with the Victor, which makes maintaining and cleaning this paintball easier.
All in all, this is an excellent option for beginners on a budget who are trying to explore or work on their paintball skills with something basic and accurate.
Benefits:
Great for beginners
Lightweight
Adjustable velocity
Simple to clean
Drawback:
Does not have any foregrip
5) Tippmann TMC MAGFED New Paint Ball Gun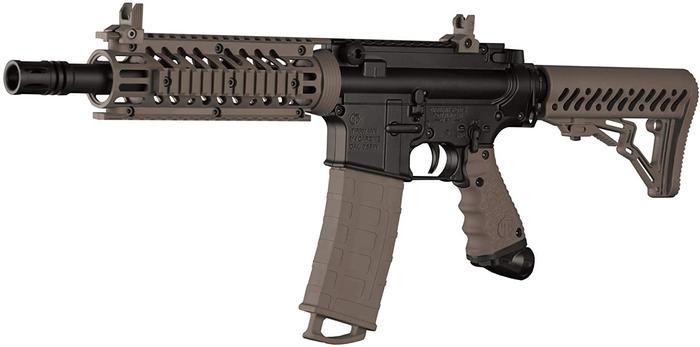 AR look
Mag fed or hopper
12-inch barrel
Collapsible stock
Internal gas line
Rubber grip
Rear and front iron sights
Here we have another Tippmann paintball gun, and the TMC MAGFED is one of the first proper AR-looking markers so far on this list. The Tippmann TMC MAGFED is available in all black and black/tan colors. The shape of this paintball gun resembles a Carbine or an M4, which makes it look like one of the coolest paintball guns we've seen.
The TMC MAGFED is pretty lightweight and easy to carry; it weighs about 6,5 pounds. This gun is an all-rounder in our eyes as you can easily use this in close-quarter indoor battles or even woodball. Therefore, the gun is semi-auto, requiring trigger pull for a single shot, although it can handle an impressive fire rate depending on how good a trigger finger you have.
Inside the box, you'll get a dummy mag and an actual magazine that can hold nineteen .68 caliber paintballs. You can even squeeze in twenty. It's important to know that the dummy magazine is needed, and you should not discard it because the TMC has a dual-feed option, so you can even attach a hopper on this. You will need to use the dummy mag to block out the MAGFED section to attach the hopper. 
Internally the Tippmann uses its well-relied system, and we know how durable that is. The system works perfectly and makes the gun run smoothly. There is also a safety lever above the trigger. The collapsible stock is another reoccurring feature yet popularly liked. Either Co2 or compressed air is needed to power this gun, just like the previous Tippmann guns. The gas tank goes beneath the rear grip.
The gun is pretty simple to control at ranges. The grip and stock make user-friendly the 12-inch high-quality muzzle and barrel, covered by composite with Picatinny railing on all four sides. You can easily attach foregrips or sights over here. The Tippmann TMC MAGFED does have rear and front sights. 
TMC is an outstanding option for people looking to get into MAGFED high-performance guns at a reasonable price, plus you won't go wrong in trusting Tippmann.
Benefits:
Resembles a true AR
Comfortable grip
Suitable for various playstyles
4 sided Picatinny railing
Dual feed option
Drawback:
The charging handle is not so good
6) Umarex T4E HDS Shotgun Coolest Paintball Guns

Double barrel firing option
Uses Co2
68 caliber paintball shotgun
Picatinny railing
Magazine capacity two rounds
The battlefields are not ready for this bad boy. However, if you've been into paintball guns for a while now, you should highly consider adding the Umarex T4E HDS to your armory. This gun packs the most punch and looks almost like a real sawed-off double-barrel shotgun, The black color is the only option available, and it can take in paintballs or rubber shots. People even use this as a self-defense weapon in their homes.
It has a slow fire rate since it's a shotgun. There a push-button beneath the barrel. Once you press it, the barrel skips upwards, allowing you to add your .68 caliber paintballs in each barrel. After loading up the balls, you can flick them back down at their original place. 
Being able to choose between firing from both barrels simultaneously or only one barrel is an excellent feature. Right on the top of the trigger, you'll notice a clip that you can set according to your shooting preference. 
Umarex claims that shooting through a single barrel or both barrels consumes the same amount of Co2. The Co2 chamber is present right at the butt of the gun, and you can add Co2 cartridges there. The T4E HDS shotgun does not need shells which is a huge relief, and you can simply load up the paintballs straight in without putting them inside shells. 
Since you need to load up shots, again and again, it can be a hassle if you needed shells as well, so the exclusion of that makes it way easier. As we mentioned before, it uses the same amount of gas even when you use both barrels together. Shooting through both barrels makes the velocity a bit lower when shooting from both barrels. 
There's also a tiny section of rail right underneath the muzzle of the T4E; here, you can add on any grips or laser attachments if you want to. The T4E feels excellent in hand, and it has a nice feel to it. The gun feels a little heavy, but that suits it since it's a double-barrel shotgun. If you're planning to expand your paintball skillset, then we highly recommend that you get this beast. 
Benefits:
Sleek design
Multiple shooting options
Compact and nice on the grip
Guaranteed fun
Drawback:
7) Valken M17 Magfed Awesome Paintball Guns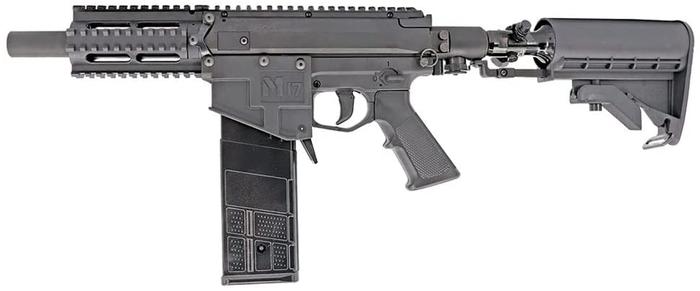 Semi-auto and Full auto action
Polymer CQC shroud
Adjustable velocity
18-20 round magazine
A5 barrel threading
Finally, we have a complete auto-action AR-style paintball marker on this list. The Valken M17 is a MAGFED semi-auto and full-auto paintball gun, which is undoubtedly one of the best beginner auto guns in the market due to its various features. The black-colored short barrel gun is one of our favorites as it has a nice feel to it and would surely make you feel like you're in an action movie.
The Valken M17 does not have a hopper port, unlike the Tippmann TMC MAGFED. So, it is solely a Magfed gun; however, Valken provides a dummy mag that could mean something in the future. As for the magazine, it's almost the same sized as the TMC; it can easily hold 18-19 .68 caliber paintballs. You could try squeezing in one more to make it 20. 
The Valken has a 190mm Smoothbore bull barrel that is robust and covered with a polymer CQC shroud. You can tell by the look of the barrel that this gun is best suited for close-quarter combat. You can also adjust the gun's velocity by using an Allen key at the base of the gun by turning the screw.
One of the best features of this gun is its air tank placement. Usually, we saw the tank right at the butt of the gun beneath the rear grip. However, with the Valken M17, the air slot is placed where the stock is attached. The stock is hollow from the inside, so it will perfectly fit inside the stock if you buy a 13 cubic inch tank. 
For bigger tanks, you will have to remove the stock and use the air tank as a stock instead. Either way, in our opinion, the placement of the air tank is much better when it comes to the Valken M17. 
The best feature has to be the full-auto firing option. Right above the trigger, you can flip the safety clip from safety to semi-auto to full auto. Semi-auto works just like it did with every other gun.
The full-auto firing uses responsive trigger ability, so you will need to pull the trigger to a specific point where the gun will fire at an automatic motion. This is an excellent feature as Valken introduced a full-auto firing option without the use of any battery.
Benefits:
Full auto and semi-auto firing modes
Picatinny railing allows attachments
Efficient air tank placement
Great for CQC
Drawback:
8) Empire Axe 2.0 Marker High End Paintball Guns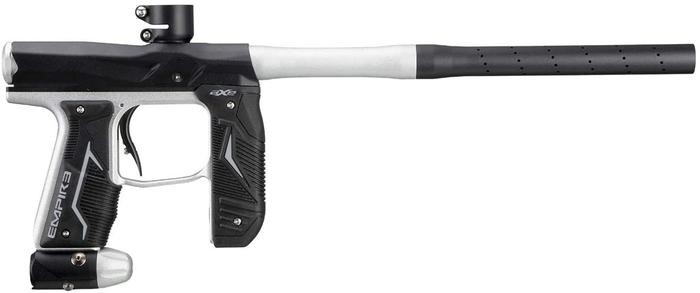 High fire rate
Tool-less bolt removal
Two rubber grips
12-inch barrel
9V battery
Empire is a name that is highly familiar among the existing paintball players. They're known for their top quality and highly durable innovative paintball markers of all kinds. The Empire Axe 2,0 is a double grip pistol with a reasonably long barrel, its available in multiple colors, although the dust black and silver is one of the cleanest looking.
The Empire Axe 2.0 has a better and cleaner design than the previous model. It has an extended two grips. The grips are rubberized, which is excellent for the outdoors. Even if you get sweaty hands, your grip won't slip. The extended 12-inch barrel is bigger than the rest of the best paintball guns.
The Empire Axe 2.0 does not have a Magfed slot. It only handles a hopper, so ammo capacity is not a problem. Other than that, the marker runs on air tank support which is applied at the bottom of the rear grip just like the Tippmann Stormer series. We like the Axe 2.0 because it has a Relay regulator, which has an on and off switch which makes removing tanks way more straightforward than usual screw-in guns.
This gun from Empire also holds a 9V battery making it the first gun on this list with an installed battery. Due to the battery, the gun has a full auto firing mode which is much smoother than the Valken M17. The Empire Axe 2.0 feels by far the smoothest paintball gun on this list. The recoil is almost nonexistent, and there's practically no kick on this gun, considering how far the bullet goes. 
The Axe 2.0 marker is extremely quiet and great for stealth players. The bolt is relatively easy to remove with just a simple push, and you can clean up the gun without any problem. This makes the Axe 2.0 one of the most accessible guns to clean up and maintain, ultimately increasing its durability.
You cannot attach any attachments to this gun. Yet, it is still an incredible option for beginners and even pros that plan to have fun with precision on the field.
Benefits:
Suppressive sound
Durable and strong
Almost no recoil
Super easy to maintain
The included battery that allows smooth full-auto firing
Drawback:
9) Umarex T4E TPM1 Best Beginner Paintball Guns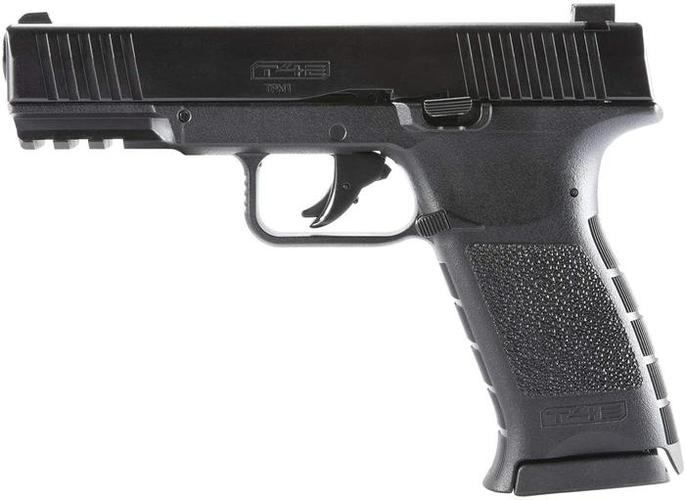 Uses .43 caliber rounds
Polymer Frame
Can hold 12 grams of Co2
Semi-auto action
The magazine can hold eight rounds
Picatinny accessory railing
If you're a versatile paintball player who focuses on their mobility and ability to improvise, then this paintball gun is a great choice to put in your back pocket for when you run out of ammo in your primary gun. The Umarex T4E TPM1 is a semi-auto pistol that majorly familiarizes with a Glock. It has a blue metal slide with a gray body. It's also available in an all-black variant.
Umarex T4E TPM1 pistol is excellent for beginners as a learning gun; it's pretty simple to operate and get used to the mechanics of a marker. On the other hand, many experienced players can keep this as their backup gun or close-quarter combat situations. 
The pistol holds .43 caliber paintballs which is the lowest we've seen on this list; they are much smaller and weaker. The gun operates on Co2, and you cannot apply an air tank to it. However, you can press the magazine release button to eject the clip. 
Inside the clip, you can load up to 8 rounds of paintballs. With that, the magazine clip also holds the Co2 cartridges on its back. Since it looks almost like a Glock, you can even buy a Glock holster and hang it on your belt, and this will easily fit inside that. The bottom side of the stock barrel has a Picatinny railing where you can attach a TAC light or a laser to enhance your aim and precision. 
The maintenance is simple, and thanks to Umarex, they even provide necessary spare parts that you can use in case of an unfortunate event. After all, it is a pistol and meant for close combats, so the velocity and range on this thing is not that much. 
But it still impressed us with its power and range, considering how minimal the whole design and system on this thing is. So we highly recommend this to all new players because this is extremely user-friendly and will make you get a good grip on the paintballing world.
Benefits:
Extremely easy to use and maintain
Great for practicing
It can be kept as a backup secondary marker
Realistic gun design
Drawback:
10) Planet Eclipse MG100 for Best Paintballing
Magfed and hopper loader
Gamma core
Low recoil
Glass-reinforced nylon outer body
Picatinny rail
Last on our list of the best paintball guns is the Planet Eclipse MG100, which resembles a pistol SMG and is excellent for close-quarter combat as well as outdoor paintball fields. The MG100 comes in two pieces of the shroud. The first piece of the shroud is easily removable. This marker looks really clean and stylish overall with its sleek black glass-reinforced nylon outer body.
The Planet Eclipse MG100 has a gamma core, one of the best systems we've seen in a marker. This bolt system is very reliable, durable and packs in some amazing performance. The finishing of the nylon body looks outstanding and is excellent on the touch too. Also, the rear grip is amazingly designed so that it does not slip off the hand.
You'll get a dummy mag and an actual magazine clip inside the box. The dummy mag is to be used when you add on the hopper on top of the MG100. The magazine has dual slots, and each space can hold five rounds making the whole magazine contain ten rounds of paintballs. 
The box includes tons of small yet friendly accessories, spare parts, a muzzle pouch, and stock clips. The Planet Eclipse MG100 box contents have been the most impressive by a mile compared to the other markers. 
The stock clips will allow you to add on a different range of stock to your MG100. However, there is no stock included in the box, so you will need to buy it separately. One of the things that we liked about the MG100 is the Picatinny railings all around it. This gun will give you the most space for attachments. So, you can simply add on sights, lasers, tac lights, and grips. 
The gun is exceptionally smooth, with no kickback at all if you have a firm grip on it. It's also not that loud and is accurate at medium ranges, too, making it a viable option for a wood ball. Although the magazine needs to be flipped after you run out of the first five shots, you need to make all your shots count as the magazine isn't that big.
Benefits:
A lot of space for attachments
Amazing high-quality glass nylon body
Extremely durable magazine clips
Can handle both Magfed and Hopper fed ammo methods
Drawback:
The mag clip is a bit small
Best Beginner Paintball Guns Buying Guide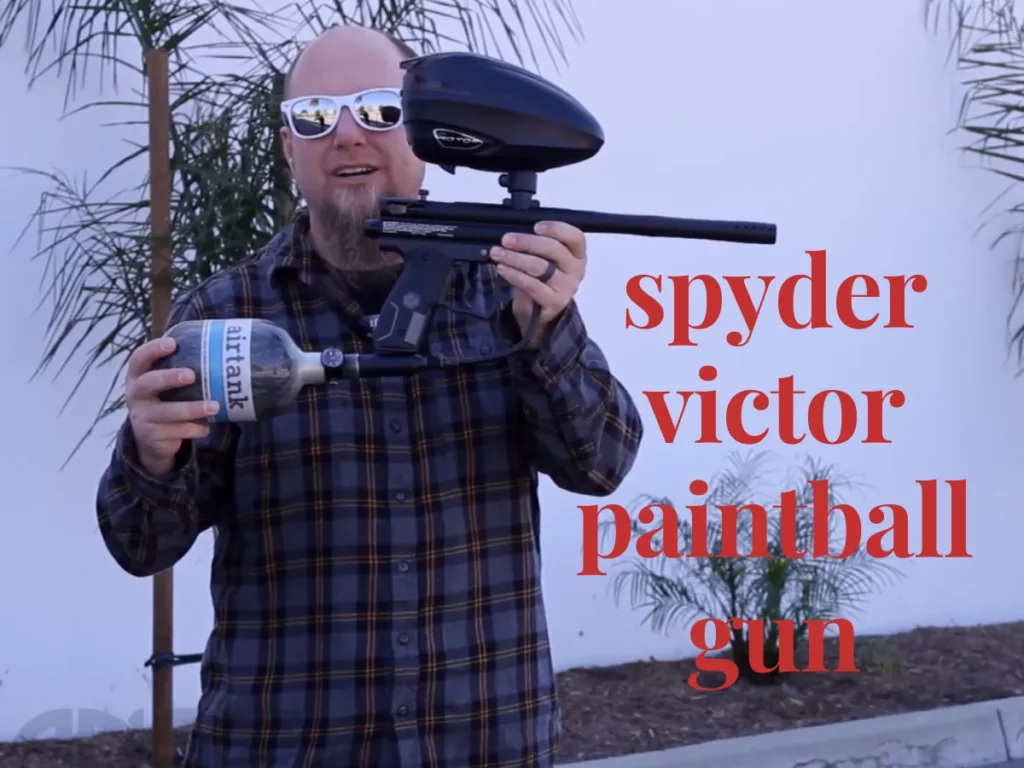 It is not wise to dive headfirst and buy your first paintball gun without any proper research. Yes, we did provide you with a detailed review of the ten best paintball guns that will guarantee fun and skill sharpening.
Still, even after reading through these reviews, it is vital to assess some major deciding factors before purchasing. So, here are some of the significant factors you should focus on while buying a paintball marker without further ado.
Fire Rate:
Fire rate is a significant factor that proves to be the deciding point for many paintball players. There are several kinds of fire rates to choose from. Firstly, pump action shotguns. Secondly, a semi-auto firing on which a single pull will shoot a single paintball, and finally, a fully auto-firing this work like an actual AR a pull on the trigger will keep on auto spraying the target.
Ammo Loaders:
As we saw, there are two main kinds of ammo loaders usually provided by paintball gun manufacturers. The first one is the hopper container. It usually gets fixed on top of a gun and can easily contain up to 200 rounds of paintballs, making it an enticing option for beginners. The second choice is the Magfed loaders; these are much more realistic than in a regular gun. You load up the ammo in a magazine clip containing 10-20 paintballs and need to be refilled after use.
Barrel Railings:
Barrels can be of different lengths and sizes the material. The grip is a significant element of these barrels, but the Picatinny railing sets them apart. These railings will allow you to add attachments of your choice on top or below the marker. Tac laser, torchlight, optic sight, and grips are some attachments that you can apply. This is a huge factor to consider while buying a marker as these features will save money in the future for you.
Popular Brand: 
When it comes to the best paintball guns, there's an easy way to set them apart by identifying the big companies who produce them. Some of the best brands that you can easily trust are Tippmann, Empire, and Spyder. These brands have been well known for their high quality and durable markers. 
Affordable Price:
Of course, price is the ultimate deciding factor when it comes to buying anything. As for the paintball guns, the price range is vast. You can find paintball markers which are well under $100, but some top-tier guns can cost about $1,000. So, there's a considerable price range, and it all depends on the features and preferences you prioritize. 
Top Picks & Conclusion
Our overall top pick has to be the Tippmann TMC Magfed because of its realistic feel and long-ranged action with apparent precision. Since it's from Tippmann, you can entirely rely on their top-quality performance and durability, plus it is one of the best affordable options for a magfed gun. However, this is not the best suited for beginners.
Therefore, our top pick for beginners is the Empire Axe 2.0. It's one of the most accessible guns to use and rock for any beginner. The zero recoils and almost no kick, and easy aiming accuracy make it highly user-friendly. Other than that, it's also super easy to maintain. 
So that concludes our top picks and our best paintball guns article. We hope that you found out a paintball marker that perfectly fits your play style. There's always room to learn and enhance skills, so if you're not sure, then there's no harm in starting up with an easy beginner weapon and pave your way up on the paintball leagues. We wish you the best of luck at your next visit to your local battlefield with your very own paintball gun. 
Best Paint Ball Marker FAQs
How bad does paintball hurt?
The pain endured while getting shot by a paintball depends on your protection. If you're well protected, you won't feel more than a few stings. In contrast, less protection can cause many painful shots to the body, especially boney areas.
What is speedball paintball?
Speedballs are venues for paintball fields. They contain self-placed bunkers on each side of the area for both teams. This makes the field identical in cover and size on both sides.
What is woodsball paintball?
Woodball paintball uses natural venues, usually outdoor, specifically forests. There are no self-placed bunkers, and the player utilizes natural cover. This is a more advanced venue and requires a lot more skill. 
How fast does paintball travel?
The speed is calculated in fps (feet per second). Different guns with different power sources have various kinds of fps. But on average, a paintball can travel up to 250 fps.