In a paintball game, nothing spices up the battlefield more than using a paintball grenade. It will catch your opponents off guard and hit most of them without their knowledge as an extra accessory. Of course, you will need the best paintball grenade and launcher to shoot from a distance, which has its limits. However, it will gain a tactical win in the battleground when your opponent squad is not alert.
There are dozens of different paintball gun grenade launchers available in the market, which has their salient features. We have researched a lot and picked the five best paintball launchers and grenades to save your time and money. Moreover, we have mentioned the features and specs of these products to make selection easier. There is also a guide to avoiding buying stress and hassle. Let's dive in and read the article for complete information on grenades and launchers.
5 Best Paintball Grenade for Explosion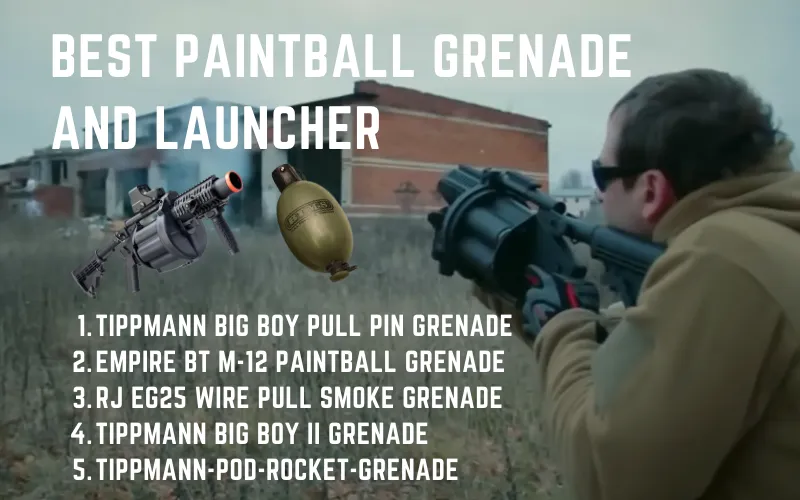 Keep in mind that you need a grenade explosion to get your maximum opponents out of the field at once. We have listed the five best paintball grenades and narrated their features and aspect to achieve this goal. These grenades can come in handy and slay your opponents without giving them time to settle in the game.
Pay complete attention to these features to get the best paintball grenade and launcher deal. Now, start reading the features, make your time and investment-worthy
1) Tippmann Big Boy Paintball Grenade Pull Pin
Pull Pin Design
10 oz. Bright Pick Fill
30 Foot effective range
Easy to carry and throw
Packaged in Polybag
Non-explosive body
The big boy paintball grenade is designed to look realistic and target your opponent squad at once. It is one of the finest and most reliable grenades available in the market. It gives you an effective spray pattern which is far more brilliant than previous pull-pin grenades.
This paintball grenade design is easy to use and comes with maximum paint fill. The grenade's ideal size makes it easy to carry and throw with supreme accuracy and long-distance. It is a nightmare for your opponents on the paintball battlefield. Let's read some detailed features of this grenade.
Polybag Package:
Big boy comes with a polybag package which is more effective and softer than the tube model. However, it is easy to throw, and as a result, it bursts more quickly and spread paint father. And provides more damage and causes panic to your opponents than tube models.
In addition, it is non-explosive, so there are no worries about getting hurt. This paintball grenade works similar to a balloon and bursts with an impact after releasing the pin.
Excessive Range:
The 'Big Boy' is considered the best paintball hand grenade due to its excessive spray range of 30 feet. Ten ounces of bright pink paint are enough to destroy the whole platoon if there are standing nearby. After that, you just have to throw it accurately, and the grenade will do the rest.
Aim very carefully if you are playing woodsball. Because the grenade hits a tree in the way, it will bounce back to you or your team, which will be disastrous.
Ergonomic:
This redesigned paintball grenade is highly ergonomic. It gives you a natural feel of a realistic bomb and the size of the real grenade while you can easily hold it in hand. You can conveniently throw it on your opponents, and if by chance they are not alert, then there will be extreme damage on the opposition's camp.
The light hand grenade is easy to carry, and its pull pin technique makes it more user-friendly.
When it comes to paintball products, Tippmann gun comes on top of the list of best brands. The most realistic look and massive paint burst of the Big Boy grenade make it one of the most popular grenades among paintball players. So if you want to slay your enemies on the battlefield, this grenade would be worthy of your investment.

Why Choose this Grenade?
2) BT Empire Paintball BT M-12 Paint Ball Grenade
Uses genuine RPS Advanced formula paint
Grenade throws paint in an arc
Bright yellow paint-filled
Spray paint above 30 feet
12 oz. of paint ammunition
Empire BT M 12 is one of the most uniquely engineered paintball grenades available in the market. In addition, M12 is one of few grenades that use RPS advanced formula paint, enhancing its abilities. It carries 12 ounces of paint which does not look much more, but its effects are much more significant.
Its spray radius is broad enough to take down your several opponents at once. The grenade throws paint in an arc which is far more effective than standard grenades. However, if you use it right, it causes a lot of trouble for the opponent team. At last, the grenade is filled with yellow paint.
Broad Radius:
This unique paintball is filled with RPS paint, a thick and bright color that can come in handy in most intense battlefields. Its 30 feet effective spray is more than enough to cause panic and trouble for your opponents. However, its appropriate weight makes it easy to throw it far enough so your team would not affect by its paint.
The best feature of this paintball is its spray radius which is broad enough to eliminate your several enemies at once.
Utmost Paint Storage:
Most of the paintball grenades offer 10 ounces of paint in their product which is better than average. However, M 12, like its name, offers you 12 ounces of paint inside it. It does not sound much, but it can slay your opponents in game-like none other paintball grenades in the market.
And even if they notice you throwing the grenade in their way, they can't do anything to save themselves.
Arc Spray:
Its arc spray technology slays your opponents much more efficiently than you can imagine. Once it lands on the ground, it spins and sprays the paint on opponent players mercilessly. If you throw the grenade right, a single piece can cause irreversible panic for your enemies.
Sometimes one perfect hit of this grenade makes it comfortable for your team to claim the victory. With this best paintball grenade and launcher, you can end the game quicker than anyone can imagine.
M 12 is the most desirable paintball frag grenade in the market nowadays due to its extraordinary features. Its RPS and arc spray technology spins it and sprays the paint on the opponent. That helps you in eliminating your several enemies at once with its 12 ounces of paint. Not only this, if you use the grenade correctly, you can finish the game much quicker.

Why Choose Paintball Bomb?
3) RJ EG25 Micro Best Paintball Smoke Grenades
Smallest smoke grenade
Duration: 25 to 30 seconds
CE Certified
Simple pull ring ignition
Non-toxic Smoke
Fully biodegradable body
EG25 is one of the best paintball smoke grenades available in the market so far. It is a different kind of the smallest grenade, which is easier to carry and throw on the opponents. This grenade produces Smoke for 25 to 30 seconds which is enough in a paintball game.
The grenade is CE certified, which guarantees that it's non-toxic Smoke that does not cause any harm to your lungs. In addition, it is an ergonomically designed product that is easy to use by simple pull ring ignition.  In the end, it's a biodegradable product that does not harm our ecosystem.
Smoke Grenade:
It is quite a different type of grenade than typical ones; they release Smoke rather than spraying paint. Nevertheless, they have benefits, like emitting color smoke, which helps escape if opponents trap you. On the other hand, they are beneficial in trapping the enemies and blind them for seconds.
This grenade is famous for tactical advantages in an intense paintball game. The Smoke and color of this grenade are rich and thick provides you the ultimate opportunity to take your next step.
Additional Safety:
Enola Gaye grenade is in cylindrical shape comes with additional safety measures; it includes a wire and a cap at the top of the grenade. It gives you enough time to get a killer shot and escape the place without getting caught.
Additionally, the cap provides you extra safety, so you do not accidentally open the grenade. The manufacturer also cares for environmental safety; that's why they degradable material to make this grenade.
Breathability:
With lots of tactical advantages, it also provides you breathability. The 30 seconds gas release and approximately 2-minute time period of Smoke allow you to take action and plan your next step.
In addition, the reverse-engineered product provides you multiple smoke color range with the guarantee of non-toxic material.
You do not always need the entire battlefield area smoked out; you just need a couple of seconds to make a battleground strategy round.
If you need a perfect smoke grenade for a paintball match, this is the ideal choice for you. It will provide you 25 to 30 seconds release of thick colored gas, which takes approximately 2 minutes to disperse. In addition, an ergonomically designed grenade offers you the ease of holding and throwing the grenade. The non-toxic material is not harmful to players on the battlefield.

Why Choose Grenade Explosion?
4) Tippmann Big Boy II Paintball Grenade Review
Splatter Range to 30 feet
Reliable and highest detonation rate
Optimal size and shape
Non-toxic
Non-explosive
Water-soluble
Tippmann paint grenade products are always popular for their better engineering and tactical advantages. If you are looking for the best paintball grenade explosion, the Tippmann big boy II paintball grenade would be an impeccable investment. The 10-ounce paint in grenade and 30 feet radius will destroy the poor souls of your enemies.
It is easy to use, and you just need to unpin the grenade and throw it on your rivals. Rest will be taken care of by this high-class paintball grenade—big boy II the best product to clear the bunkers on the battlefield.
Elastic Tube:
The basic structure of this paintball grenade is elastic tubing which is filled with paint. It is crimped at the lower end, which is very beneficial on the battlefield against your enemies.
Paintball grenade spray everywhere once you pull the pin out and throw it at your opponents. Its spinning and spraying technique at the same time gives you the upper hand against your rivals.
Spinning Spray
This 30 feet radius effective paintball grenade will prove an executioner for your opponents on the battlefield. No one in the opposition's squad will be stay protected by this extended spray radius. Once it's thrown and landed on your enemies, this will start spinning around and spray paint everywhere.
By chance, if your rivals are not aware of the grenade, then this will be the turning point of the match. This grenade is capable of slaying the whole squad in a couple of seconds.
User-friendly:
This paintball bomb is lightweight and user-friendly enough that you can carry multiple grenades on your harness without getting dragged. If you want to carry various grenades with you, it's easy, and you just need the best paintball harness, which has multiple pockets.
It is easy to use, and you just have to pull a plastic pin from the grenade and toss it towards your opponents. It is safe and will not burst until the plastic pin is inside the grenade. So you don't have to worry about carrying it all match long.
It slays your enemies in 30 feet radius, which is the most crucial feature of this paintball grenade. If you need a lightweight bomb with maximum paint, this would be the most significant investment you will ever make for your favorite game. If you play with speedball and woodsball regularly, you must have at least one grenade to change the gameplay scenario. This is the best paintball grenade and launcher that will be your best assistant in taking your gaming level up.

Why Choose?
5) Tippmann Pod Rocket Paintball Grenade Review
Use legendary RPS paint fill
Exceptional marking ability
30 feet effective long-range
Bright yellow paint fill
Tippmann pod grenades can easily fit in a pod which makes it easy to carry them. We have added this product in our paintball Grenade review to support an easy and safe throw in the game. If you love crawling or sliding, you can need the best paintball harness to protect these pods from bursting into your pocket.
They are available in multiple colors, and once they hit the ground, they start spraying the paint. These pod rockets are so small that three of them can fit in one paintball pod. So if you want to see exploding paintball grenades slaying your enemies, you should have these.
Compact Size:
These pod rocket grenades are compact in size, and you can carry them without getting a drag. You can keep three rocket grenades in one pod, protecting them from bursting and keeping you safe.
The compact size makes it easy for you to throw the grenade on your enemy and then wait for the panic. You can throw the grenades one by one at your enemies, but two or three grenades at a time with little distance do the job more perfectly.
Strategy:
This paintball grenade blows off when it comes in contact with the floor or anything hard. If you want to hit someone with it, it's your choice, but these grenades primarily work more accurately if you throw them on the floor.
Then it will start spraying around and complete your job. If you love sliding and crawling first, you need the best paintball knee pads for your knees protection and then a harness to keep the grenade safe.
Versatility:
These pod rocket grenades come in different colors, which makes you love them all. They are easy to carry in pods, or you can hang them to your belt with a clip ring attached to the grenade.
Once you put them in pods and carry them in your harness, you don't have to worry about losing them or destroying them. These versatile paintball grenades are cool and tactical enough to give you a big victory.
If you like compact best paintball grenades and launchers which are easy to carry, these paintball grenades are perfect for you. You don't need to have multiple big grenades which drag you down. These pod rockets allow you to carry three grenades in one pod. If you are looking for versatility, tactical and compact design, you must try these grenades.

Why Choose Tippmann Paint Grenade?
Buying Guide for Best 40mm Paintball Grenade Launcher
The paintball grenades review has round up many details in this article. And if you have made up your mind to buy the best paintball Gun grenade and launcher, you must know their kith and kin to make the best choice. Unfortunately, there is an ocean of paintball grenades in the market, and you will get confused while making a purchase.
Most of the confused people went to google and asked the following questions. How do paintball grenades work? Is paintball grenade reusable? Which paintball grenades are best? You have to go through this guide to find the replies to your queries.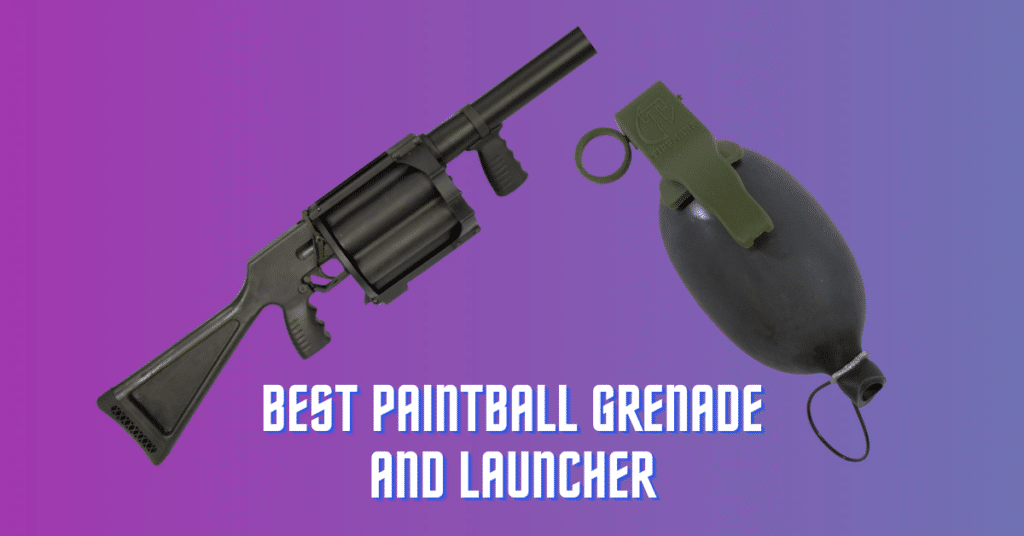 Some players ask, is it necessary to use all of your energy in throwing a grenade? Paintball is an exhausting game; that's why you should stay alert, save your energy and move rapidly on the gameplay. To do this, you need the paintball grenade and launcher to attack your rivals without any mercy.
Most of these grenade launchers have a very real-life look, while some of them can be attached to your paintball gun. A grenade launcher shoots a Co2 paintball grenade instead of a projectile, and this sprays the paint everywhere with its Paint ammunition. The 40mm paintball grenade launcher and rocket launcher paintball guns are preferred for a woodsball paintball game.
To save your time and energy, we have come up with a guide to help you make a safe investment, which answers all of your questions even before you ask them. You just have to focus on a few essential factors to make the best decision to protect you and your investment.
Speedball
Speedball is quite a popular indoor game that is usually organized in artificially stimulated conditions. The playing field is relatively smaller, so you always have to be on your feet and stay alert in the whole game. Paintball grenade launcher pistol is quite enough for this type of indoor game.
Woodsball
Woodsball is the most popular version of a paintball game that you can play in the woods or forest. It allows you limitless places to hide and attack your enemies. You can slay your enemies and their hideouts with paintball grenades.
However, you have to be aware of trees while throwing exploding paintball grenades. It could bounce back at you if you are not careful enough. Therefore, the rap4 paintball grenade launcher and m203 paintball grenade launcher are preferable choices for woodball in the jungle.
Milsim
This version of paintball is also trending in young and energetic players. In this version, players role-play as military personnel and carried out missions to win the game. They have to make attack and defense strategies to accomplish their task.
In those defense strategies, paintball mines and grenades are primarily used to avoid the opponents' invention in your headquarter. It is also known as Military Simulation paintball. M79 paintball grenade launcher works fine for tactical enhancement of your game.
Range of Paint Grenades
Most of the paintball grenades have almost the same effective range, which is 30 feet, and no one should compromise or settle for anything less than this. These paintball grenades can't exceed much from 30 feet because it's a player who throws them individually.
So if it comes to grenade's range, you cannot ever compromise on it. Unless you do not throw them at rivals accurately, there is no point in caring for them in the battleground.
Weight Matters
The weight of the grenade is one of the essential factors in a paintball game. A heavy grenade is hard to throw far away at a safe distance. You need a lightweight product to work more efficiently on the battlefield.
But if you prefer a heavy grenade, you have to do lots of practice with that grenade to throw it at a safe distance. It is because the range and weight of the grenade are interlinked to one another. So paintball bombs or grenades could be a beneficial asset for hard times on the battlefield.
Capacity of Throw
As I mentioned above, some people prefer heavy grenades, and they like them because of their bigger paint capacity. If you can throw a 12-ounce grenade perfectly at a safe distance, then so be it. However, 10-ounces grenades also do the work just fine, and they are a bit lighter than 12-ounces grenades.
Nevertheless, choose a paintball grenade which you are comfortable with. Just remember, more weight can't do the work if you cannot throw at a safe distance towards your rivals. You must look for balance to be perfect on the battlefield.
Non-Toxic Paint
Most of the paintball gears and ingredients are composed of non-toxic material. The colors and paints are the most premier ingredient as paintball ammunition and grenade. Still, you must focus on the product and read that if it's labeled NON-TOXIC on it.
If yes, buy it; otherwise, move to the following product or contact the manufacturer to ask them about it.
Biodegradable Material
We love our earth and nature that why we should go for the products which do not destroy our planet. That's why the constituents should also be biodegradable. Which means they should decompose into modest materials with time.
If they do not decompose, they can be hazardous to the environment. Most reputable brands make biodegradable products so that they don't face any trouble. Tippmann and Valken paintball grenades are most famous for using biodegradable material in their bomb.
Cost of Paintball Grenade
Cost is also one of the most important things while buying a paintball grenade. Of course, you should not go cheap but don't invest too much cash for an extra accessory either.
Instead, try to find a balanced product that does not disappoint you and provides necessary tactical advantages. Try to manage your paintball budget, so you have money to buy the other protective gear, such as the best paintball elbow pads.
Frequency
If you are not a regular player, then you can play paintball without grenades. However, if you play frequently, then you must stock them in advance for the game. You must buy the grenades when the date of the game comes closer because new and fresh grades avoid malfunction.
Big Boy Paintball Grenade is one of the top non-exploding bombs available in the market. It is easy to use and feels more realistic while holding in your hand. In addition, they provide you long effective range along with excessive 10 ounces of paint. This grenade is enough to eliminate your several opponents at once. Its ergonomic design gives you a firm grasp on the grenade, and polybag packaging makes it softer than the tube. However, it quickly breaks down on impact after you pull the pin from the grenade launcher. This paintball paint grenade is a perfect choice if you want to level up your playing style. All the best paintball grenades and launchers are different from one another, and you should choose them according to your preferences.

Editor's Product
How Do Paintball Grenades Work?
These best paintball grenades and launcher comes in the paintball games when you are stuck somewhere in the battlefield. They can eliminate a maximum number of rivals in a couple of seconds. Paintball grenades are most easy to use by following the underneath steps.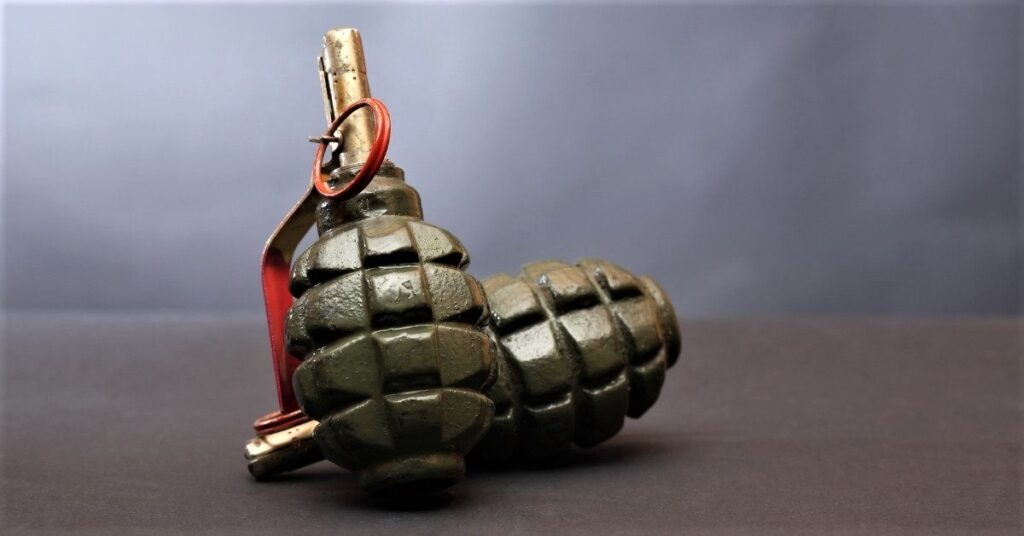 1) Hold it tightly
You must have a good grasp on the paintball grenade, so you do not slip it while throwing it away on the opponents. In addition, it will help you in throwing at the rivals with the proper aim and high velocity.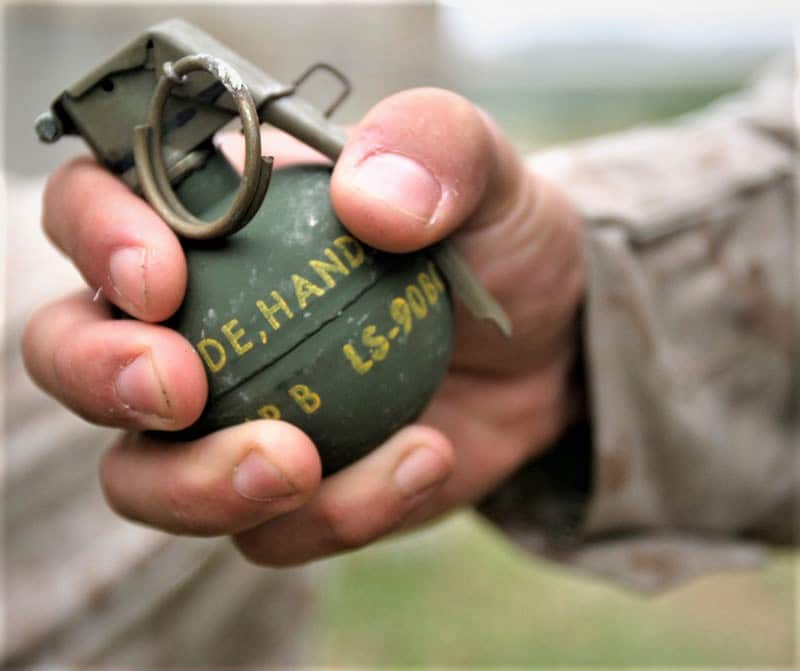 2) Take Aim
This is the most crucial step before doing anything with a grenade. You should aim or at least decide where you are going to throw the grenade. Otherwise, you will not have much time, and you can burst the grenade in your hand.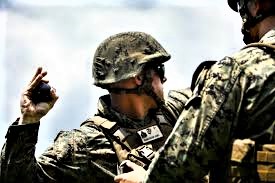 3) Pull the Pin from Grenade
It is easy to use the grenade; you just have to pull the pin or wire at the top of the grenade. Usually, these wires or pins are easy to remove from the bomb, and that's it.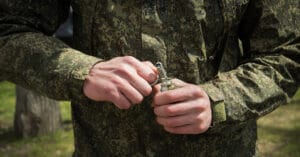 4) Throw It As Fast As You Can
Once you unpin the grenade, throw it to the opponents as fast as you can. Because if you don't throw it and take time, there are high chances that it will burst near you. And you will be the reason for your elimination.
Are smoke grenades allowed in airsoft and paintball game?
Yes, smoke grenades are allowed in woodsball and speedball games. There are some states in the United States where they are banned. Most of the games and competitions enable their players to use extra accessories.
What are the best paintball grenade and launchers?
The best paintball grenade and launcher consist of various features. Such as Lightweight, which is easy to throw at opponents while having enough paint to eliminate a couple of players in one shot. These grades must be soft, which explodes with minor impacts.
Which size of the paintball grenade and launcher is best?
A 40mm grenade launcher in a paintball game is ideal because most of the launcher grenades of this particular size have perfect velocity and shape.
Be aware of the final step if you want to win the game. Once you throw it, the sound of the grenade will create panic, and your opponents will leave their hideouts if they somehow sustain the grenade. Then you will catch them off the guard and slay them with your paintball gun, or you can use another grenade to eliminate them once and forever.

Final Verdict