Paintball is a vast sport. There are multiple ways to play paintball with your friends or competitively. The two most common methods are; Woodball and Speedball. Today we'll be focusing on the fast-paced game scenario in a speedball field. There are no natural covers in speedball, and thus you need a lightweight gun that allows you to play quickly and aggressively. So, on this list, you will go through some options for the best speedball guns.
Speedball games are played inside a compact arena with inflated bunkers as cover. Both teams have to rely on quick movements and accurate shots as playing stealthy isn't an option. A gun that is lightweight, accurate, and has minimal recoil is perfect for such a scenario. We will check out some of the best speedball guns available from some notable companies such as Tippmann, Empire, and Dye. 
Table of Content:
Top 5 Good Cheap Speedball Guns
1) Tippmann Cronus Tactical Marker
Collapsible stock
Picatinny rail on top and bottom
Removable shroud
0.68 caliber marker
Customizable 
9-inch stock barrel
Wrapping up our list of the top 5 best speedball guns, we have the Tippmann Cronus Tactical Marker. Tippmann is another well-reputed paintball marker producer in the market. However, this specific gun is very different from all the ones we reviewed before because this one is highly suitable for woodball and speedball.
The versatility of this gun comes because of its customization ability. You can easily build this gun according to your playstyle and preference. The Cronus Tactical Marker resembles an Assault rifle and may seem unfit for speedball, but thanks to its specialty of customization, you can build it in a way so that it fits the speedball play style. 
A removable shroud covers the 9-inch stock barrel, but it greatly suppresses the sound once on. The Cronus Tactical is a 0.68 caliber marker, so you would need 0.68 caliber paintballs to utilize its total capacity. 
The focal point is its collapsible stock. The stock will enhance your control and precision, but it will slow you down in a speedball field. Luckily you can take off the collapsible stock and use it as is. On the other hand, if you're a player that likes to play from behind, then the stock might be better when attached. 
The Picatinny railings are not short on this marker. You will find a railing on the bottom, which already holds a front foregrip out of the box. There's a railing on the sides and on the top too. There's a carrying handle on the top railing, which you can take off if you want and attach an optic sight or a laser. So you can do a lot with this gun without getting bored, and if you ever have to switch to woodball, you won't need to buy another gun.
The Tippmann Cronus Tactical Marker is not the best fit for a speedball game, but you will surely enjoy it with this gun, and you can even switch up your playstyles thanks to the never-ending customizing options on this gun. And also, this marker is pretty cheap!
Pros:
Cheap
Highly customizable
Collapsible stock helps in precision
Suppressing shroud
Suitable for multiple play styles
Cons:
Not the best option for speedball
3) Empire Gunslinger Mini GS Marker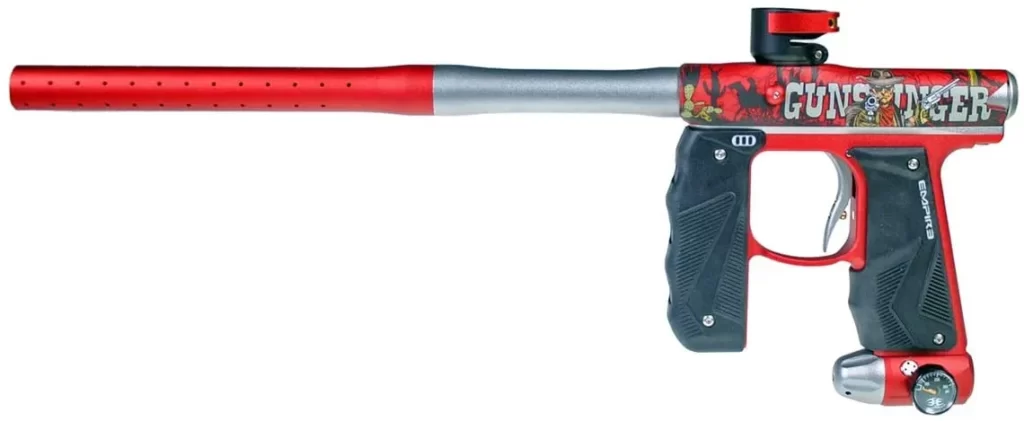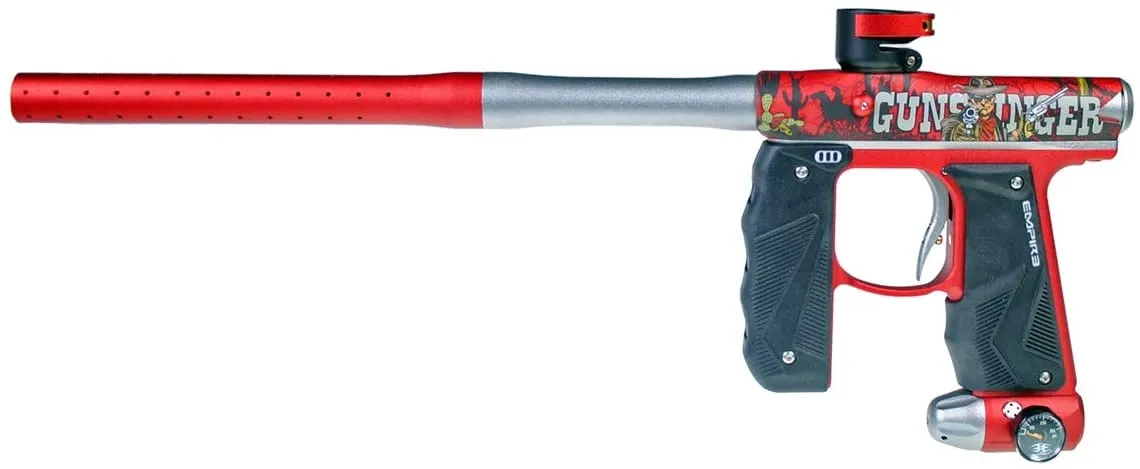 Multiple firing modes
Wrap-around foregrip
ASA regulator with on/off lever
Micro-honed aluminum barrel
Limited edition gun
The Empire Mini GS marker gunslinger is a limited edition that Empire introduced. To own a limited-edition paintball gun is a unique feeling as you stand out from the rest of the players by having a distinct marker. The Wild West era inspires the gun. Empire Gunslinger is all red and black, and the main gun cover with vinyl art of a cowboy and Wild West setting.
The gun looks are quite different from the basic Empire Mini GS, but other than that, the features and the mechanics are almost the same. But still, this gun is worth mentioning since it's a perfect match for a beginner and who wouldn't want a limited-edition skin of the Mini GS.
The hopper feed neck is nice and simple to use as compared to the previous GS models. There's a simple lock on the feed neck, and it's also made out of good quality material. A little upgrade over the basic Mini GS model is that the Gunslinger edition has a two-piece 12-inch barrel instead of the stock 10-inch barrel. The two pieces of the barrel and red and silver go great with the gun's design. Also, the barrels are much quieter than the basic Mini GS barrel.
The foregrip has a rubberized material at the front and some nice finger grips too, this makes controlling the gun a lot easier. The rubberized fronts help to have a firm grip on the Gunslinger Mini GS. 
The ASA regulator is the same as the basic Mini GS. It's a lever that you can use to turn the air supply on or off. The rear grip also has a mini air gauge on it to help track the air pressure. 
The extended trigger helps in firing a lot faster and is also electronically powered, so it does not require significant force. This feature adds to the mobility and quickness of this paintball marker. Like the basic Empire Mini GS, the Gunslinger limited edition is also a great fit for beginners and people who like adding something exclusive to their collection. 
Pros:
Clean and much quieter two-piece barrel
Limited edition design
Great for starters
Cool design
Cons:
3) Empire Mini GS Marker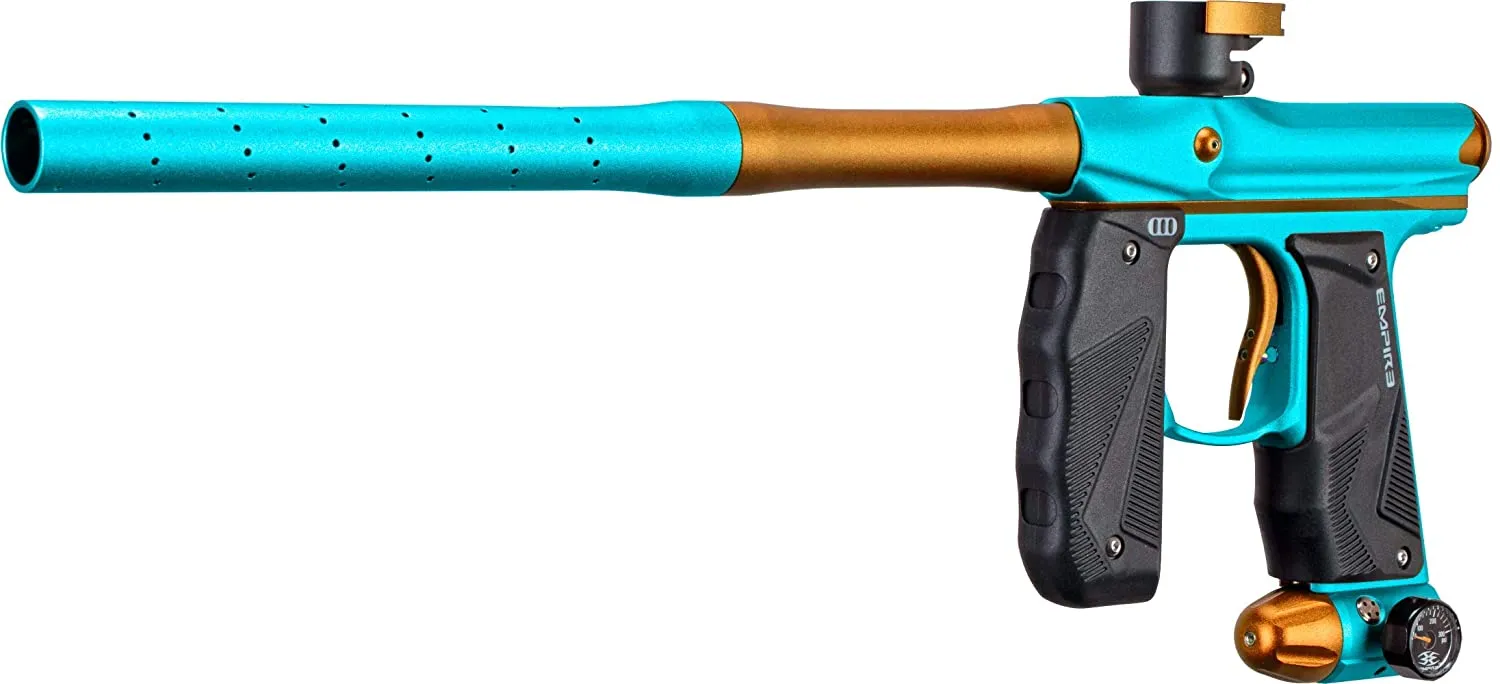 Electric trigger system
Two-handle design
Firm foregrip
Integrated break-beam anti-chop eyes
Extended trigger
Simple on/off ASA system
If you've been playing paintball for a good time now, you will be fully aware of Empire and how much love it gets from the paintball fanbase. Their equipment is great and comes in various variations. The Empire Mini GS marker is no stranger, and it's an excellent option for speedball plays due to its compact and lightweight design. The all-black marker is a great pick for beginners.
The Empire Mini GS marker has a simple electronic long trigger. Since its electronic, no real force is needed to shoot the paintballs; a simple pull releases the pallets. It also dramatically suppresses the noise and helps the player shoot as fast as they can. 
The Mini GS is one of the smallest and lightest paintball guns you'd find in the market. If you're someone who likes playing aggressively and puts great importance on movement, then this gun will by no means weigh you down. 
The foregrip and the rear grip have a striped design that allows the user to have a better grip and low chances of slipping. The hopper port is pretty basic and situated on the top of the gun. The hopper port needs to be tightened once the hopper is placed on top; you can do this using a hex wrench. 
The ASA has a simple on and off lever, which you can use to engage and disengage your air tank. It's fairly effortless to use as you only need to flick it up or down. Right on top of it is an air gauge which is a great addition that helps maintain the gun and helps you ensure that the gun doesn't exceed the two hundred mark. 
The Empire Mini GS can also be programmed according to your preference. You can change the programming by following the simple instructions on the manual which comes with the marker. 
All in all, the paintball marker is relatively easy to maintain and is the perfect fit for a beginner speedball player. The lightweight of the gun will allow you to familiarize yourself with its mechanics and the speedball playstyle in no time. 
Pros:
Very lightweight
Simple and easy to use
Nicely designed and soft trigger
Useful air gauge installed
User-friendly ASA switch
Cons:
The stock barrel is on par
4) Dye DSR Paintball Marker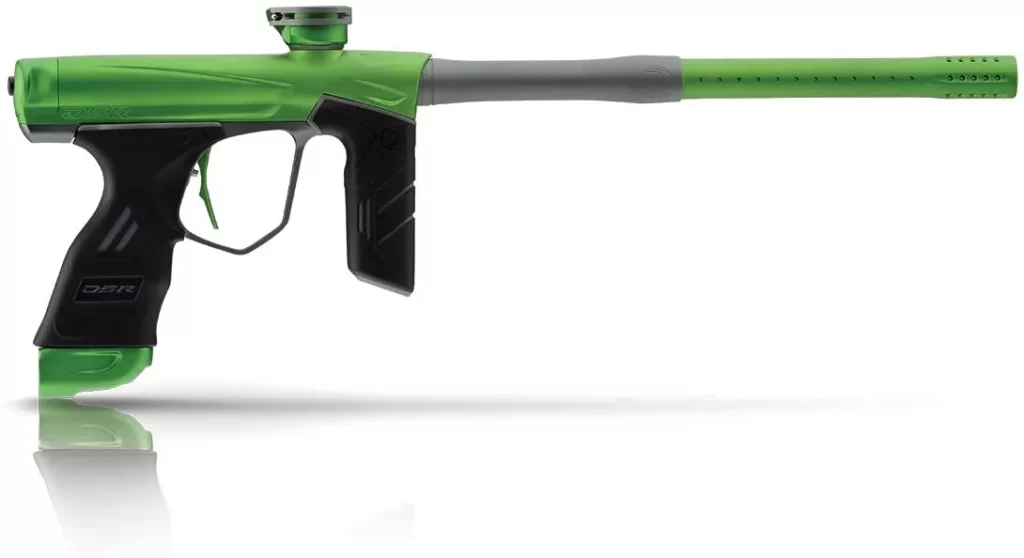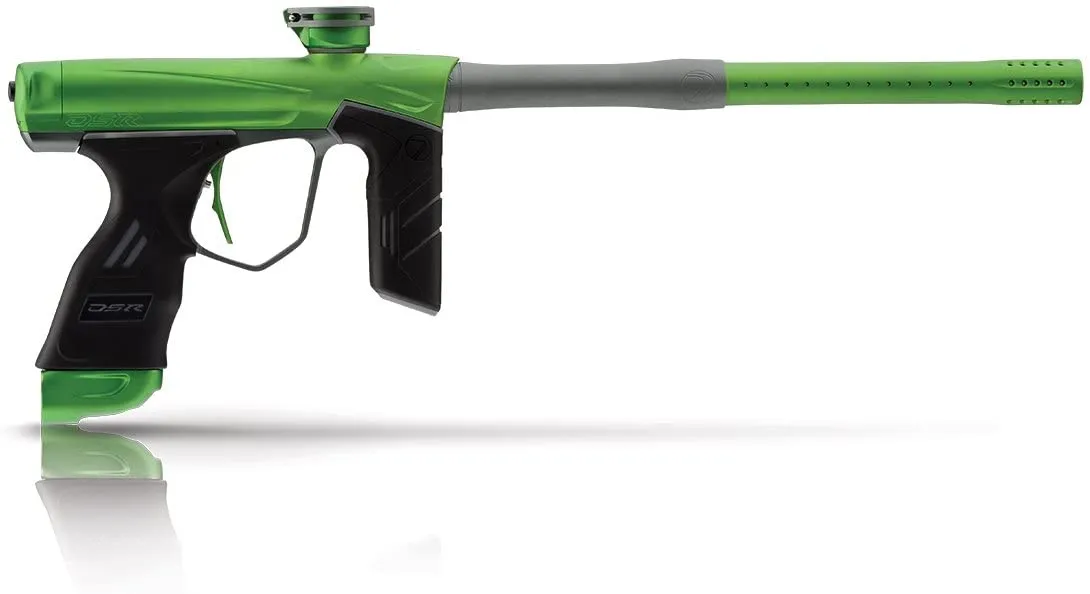 3rd generation Eye pipe
Arc Bolt Technology
OLED Operating system
Compact foregrip
Edge1 Roller bearing trigger
We have another paintball marker suitable for speedball and also woodball. The Dye DSR paintball marker will surprise you in almost every way, from its spotless and bossy look of a metallic red and black and to its features. The Dye DSR is a mid-range paintball marker that packs great features but is significantly cheaper than the high-tier markers from Dye.
The body of this gun is outstanding and by far the best on this list of the best speedball guns. The shape is quite similar to a pistol and all the other paintball markers we have reviewed. It's covered in all exclusive metallic black and red color, with some ergonomically designed grips. Dye DSR is such a clean-looking gun with smooth textures, and we love that about it.
Dye has introduced the Arc Bolt technology, a great engine that helps deliver outstanding performances with high efficiency, quick and soft sounded shots. It's also engineered to optimize the flow paths fully, and the chance of air build-up is minimum. 
The DSR also has a built-in OLED Operating system powered by a battery inside the foregrip. You can use the operating system to alter the precision tuning as per your requirements. You can also save player profiles which is great as you won't need to tune it every time you pick it up. 
The Edge1 Roller trigger is smooth and helps in controlling the trigger with ease. The foregrip is a bit shorter as compared to the other paintball markers we reviewed. But since the gun shoots straight with almost no recoil and kicks, the foregrip size becomes insignificant. 
This gun is also used in paintball tournaments, so it's surely making its way into top-tier choices. Sitting right under the $1000 mark, this is still a hefty investment, but it will accompany you for a good amount of years once you make it. So, in conclusion, this gun is suitable for beginners and players looking to get competitive paintball guns.
Pros:
Arc bolt enhances the efficiency very well
One of the best-looking designs
Responsive trigger
OLED display
Lightweight
Cons:
The feed neck isn't that flexible
5) Dye M3+ Paintball Marker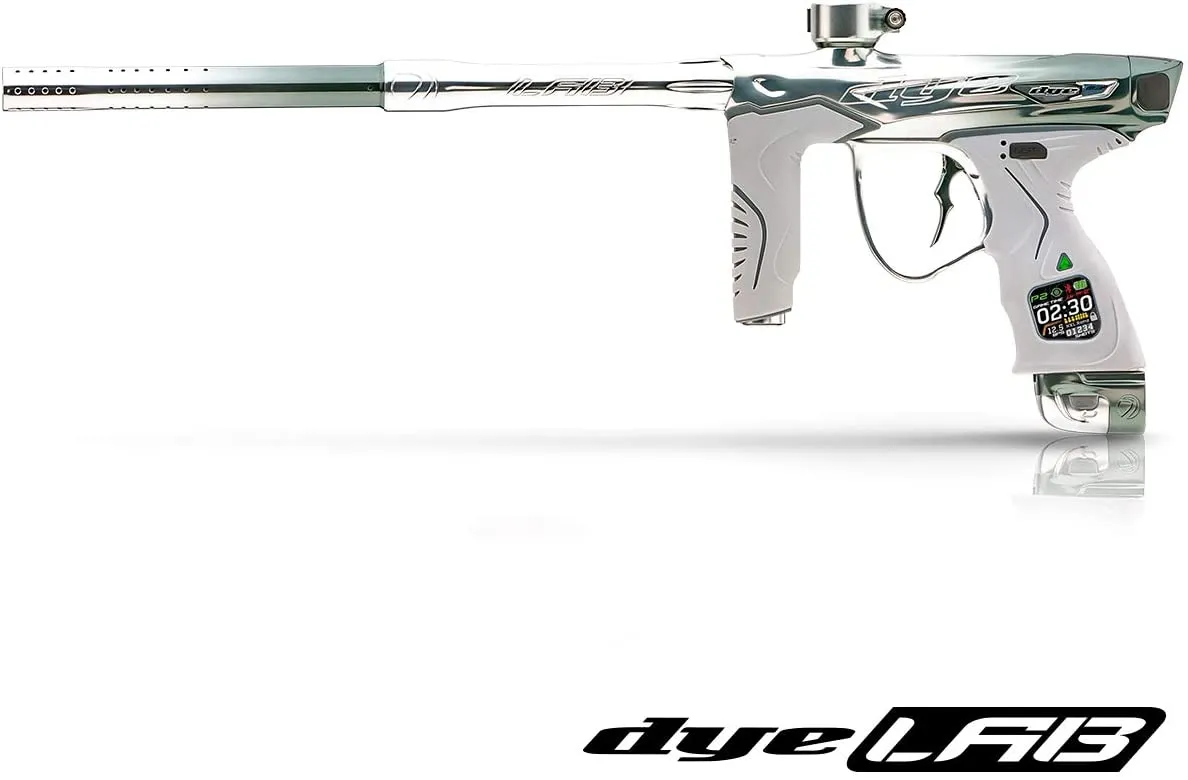 UL-S Barrel
Slide Lock AirPort
BWing21 Mag-Reach Trigger blade
Fast action pistol
MOSAir operating system
The Dye M3+ is by far one of our favorite options when it comes to the best speedball guns. Dye is a well-known marker manufacturer with their patented technology that puts them apart from their competition. The great thing about DYE is that they are constantly working to improve their paintball markers. As a result, M3+ is perfect for beginners and even pro players.
The M3+ looks sleek and resembles a pistol. The design enables the players to increase their mobility and get the edge over their opponents in a speedball field. The marker is available in 3 different color variants: Desert storm, Lava, and Lights out. All the colors look premium and make the gun stand out when it comes to appearance.
Their all-new updated Slide Lock AirPort (SLAP) ASA technology is impressive, they work perfectly, and there are no buttons in them. The efficiency is not compromised even when the tank dries out. Speedball players greatly love this easy-to-use SLAP feature. 
Dye also improved their trigger quality and efficiency. They have applied the BWing21 Mag-reach trigger, extended from the middle, and followed up by a lengthy trip. The design holds the trigger finger perfectly and betters the grip on it. Dye claims that they designed and introduced this on the suggestions of their customers. The gun can run on tanks of HPA or Co2. 
The MOS Air operating electronics system is one of the most advanced systems when it comes to markers. It features five different play style profiles, three training modes, seven-play screen choices and can store up to 3 custom boot screens. 
The UL-S barrel is made out of high-quality material, and this can be confirmed only by looking at it. It's great and adds a lot more punch to this gun. The convenient grip is great for control as there is already no recoil to the gun. The M3+ is by far one of the best speedball guns and is loved by many. 
Pros:
Premium quality build
Outstanding ASA system
Great for quick mobile players
Cable-free charging
Good-looking design
Cons:
You can't add attachments
Top 5 Speedball Guns 2023 Guide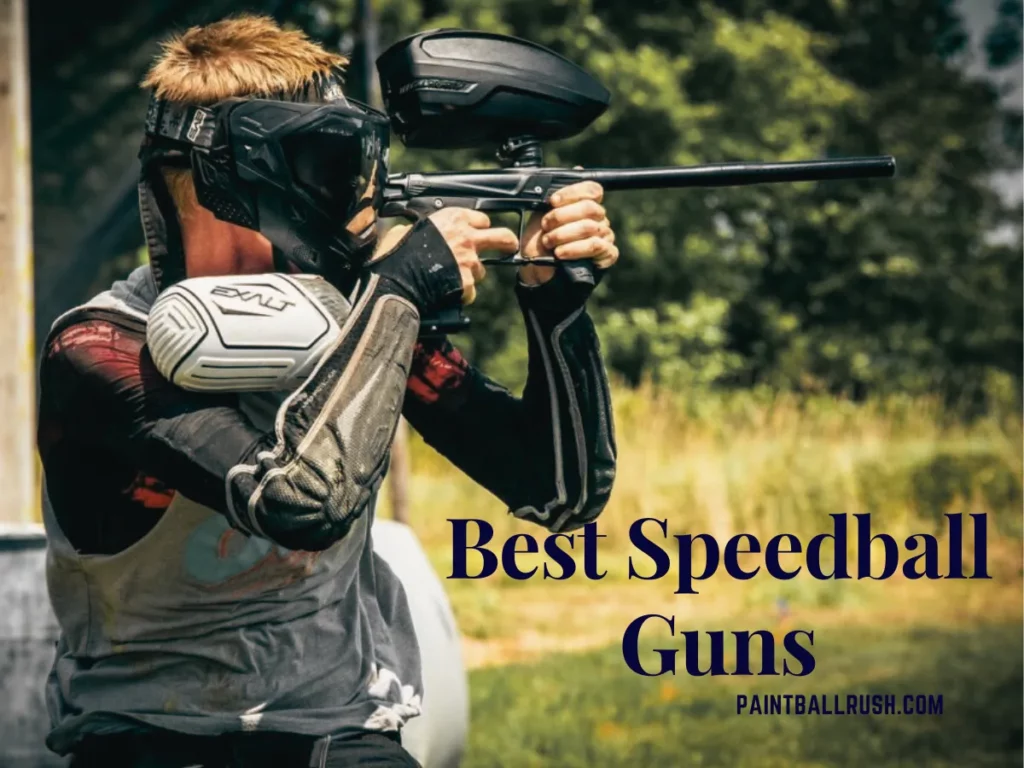 As a newbie, the world of paintball equipment can be a lot more overwhelming than perceived. Renting is far more accessible as you don't get into the details of the paintball markers. But once it comes to buying your own, there's a lot more to assess. Therefore it is important to go through this buying before searching the market will significantly help you out. 
Here are some of the major factors that you need to ponder before buying your best speedball gun. 
Type: 
There are different kinds of paintball markers available in the market. The three major types are blowback, mechanical, and electronic.
Blowback is not suitable for speedball; it is better suited for slow strategic games. In contrast, mechanical and electronic markers are widely used in speedball. Mechanical guns are the ones that use a spring tension reaction on the trigger that makes the gun shoot. These guns are semi-automatic and require a shot per trigger pull. 
Electronic paintball guns are also popular in speedball as they are much quicker than mechanical guns, they have a high fire rate, and the trigger is much softer and easier to pull. The types play a huge part when buying a speedball gun, so you should decide what would suit you better.
Air Intake:
Speedball guns are the best run-on air pressure power. The most common sources are Co2 and HPA. Both of them have their pros and cons; some guns will only allow one of them, whereas sum guns are good with both sources. HPA is more consistent and long-lasting, but this means it's expensive as well. However, Co2 is cheaper but is not suitable under cold weather. So, it's essential to choose an air source that your gun would support and is affordable for you. 
Weight:
The weight of a gun can make or break your plays on a speedball field. Carrying heavy guns will slow your movement and make you an easy target. Therefore, it's better to go for a lightweight option and a minimal design because that would give you a considerable advantage over your rivals. 
Attachments:
Attachments play a massive role in helping you out in your playstyle. The ability to change your attachments will make you a versatile player. So, if you plan on doing that, a marker with Picatinny railings would suit you very well. On a railing, you can attach an optic, grip, laser, and even torch. 
Price:
Ultimately nothing shapes your preference more than your budget on the final purchase day. Before choosing what's best for you, it's safe to assume what your budget is. You can get speedball guns for over $1000 and even for less than $200. The difference is significant between them as the expensive ones will have some premium features and would last for a long time. 
Our top pick as the best speedball gun is the Tippmann Cronus Tactical Marker.The lightweight action with amazing premium features will make you stand out among your team and even your rivals. The SLAP ASA technology is by far one of the smoothest and best we've seen. The design looks outstanding in all three-colour variants, and the gun is suitable for beginners and pro players.

Secondly, our best pick for the best speedball gun for a beginner is the Empire Mini GS marker. First of all, it is made by Empire, so you know it's sturdy and good, and over that, it is extremely user friendly with simple controls and assembly. Plus, it's extremely lightweight; all of this makes it the perfect choice for beginner speedball players. 

So, with that, we are now ending up with our article on the best speedball guns. The sport of paintball is prestigious and fun once you get into it; the versatility of different playstyles makes it a fantastic sport to be a part of. There's no better way to start by getting your speedball gun and hitting the field with your teammates. We hope that our assistance plays a huge part in your purchase. 

Top Picks for Best Paintball Guns Ever
How many players are on a speedball paintball team?
A speedball game can have up to 3 to 7 players on each team. The players are assigned their positions on the field. Some positions include Fronts, mid-players, floaters, etc.
How big is a speedball field?
Speedball fields are meant for fast-paced, quick action, which requires a high level of reactive instincts. The fields are 100 x 180 feet on average. The games end quickly if the teams consist of more than four players.
How long is a game of speedball?
Some speedball games keep running until the last person is left. On the other hand, some speedball games are timed for 3-5 minutes. By the end, of which the team with the most players wins the round.
Do paintballs hurt?
Paintballs do hurt if you're not wearing protective gear. On bare skin or minimum clothing layer, they might even bruise you. But if you have proper paintball gear on, then there is nothing to worry about, as the paintballs would merely feel like a simple contact on your armour.