There are numerous paintball guns available in the market, and you must choose the best for your battlefield. Your gaming style must be your focus while purchasing a paintball gun. And if you are facing problems finding the best paintball guns under 500, you are not the only one.
Stores are packed with various paintball guns, making it difficult to choose the perfect weapon according to your style. We are here with the solution; our team has spotted the top-notch paintball guns and rifles for you. It is tricky to find dangerous power paintball guns; you must know the key features and specifications before buying.
If you are a beginner, it will be more challenging to spot the best gun. But you don't have to worry about it anymore, just read our review of the three best paintball guns for 500 dollars and the buying guide to make the best gaming decision. Let's dive in to explore the facts, features, and specs of these products and choose a perfect paintball gun according to your needs.
3 Best Budget Paintball Guns Under $500
If you are going to invest in the most expensive paintball guns, you should be aware of the paintball markers' technicalities, features, and specs. Otherwise, you will waste your capital on an average product and regret it later on the battlefield. In addition, you must know about the perfect barrel length, accuracy, easy handling, and more.
To avoid your loss, we have assembled a helpful guide that will help you make a good investment. First, you will learn about the three best paintball guns for under 500 dollars along with their features. Before further ado, let's have a look at the features of each paintball gun.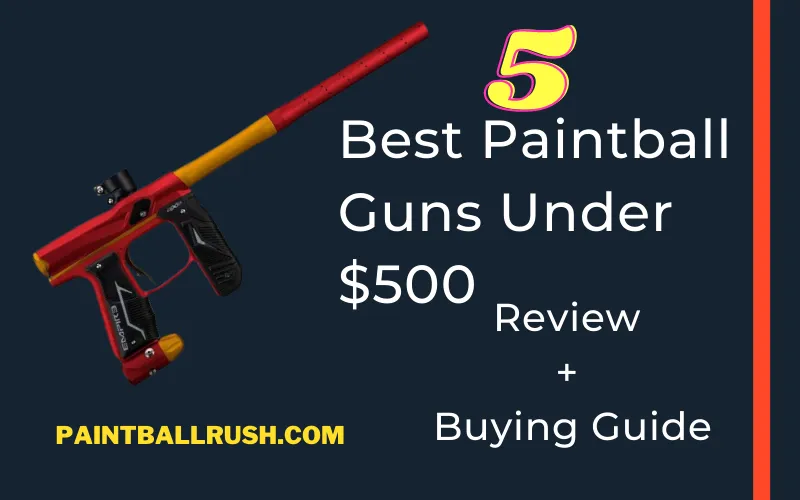 1) Planet Eclipse Etha 2 (HDE Earth) Paintball Markers Under $500

PAL Enable and Gamma Core Spool Valve Drivetrain
GRN composite outer body
Aluminum inner body core
Hose-less air transfer
Lock n' Load 9V battery system
Tool-less grip access/removal
Wire-less frame to body connectivity
DefTek offset feed
Ambidextrous LED status indicator
| Specifications | Values |
| --- | --- |
| Thread | Auto-cocker |
| Weight | 4.25-pounds |
| Colors | Black |
| Batteries | 1 9V battery |
| Material | Aluminum, Nylon |
| Power Source | PAL |
| Length | 21.85-inch (including barrel) |
| Modes | 3 Modes of Firing |
| Barrel | 6061-T6 Aluminum |
Making the best investment in quality paintball markers under $500 is not possible without the correct information. Ehta 2 is a well-engineered paintball gun; it offers you an incredible level of performance for its price point of view. It comes with PAL-enabled technology; this gun is durable and well refined.
It is drive by the legendary Gamma Core that can handle the harshest environment. It consists of rugged composite external construction, and an aircraft-grade aluminum interior gives you guaranteed durability and reliability.
In addition, its natural balance and lightweight make it easy to maneuver, aim and fun to shoot. It is the best beginner's gun due to its easy handling and maintenance.
Gama Core Bolt:
This paintball gun comes with a Gamma core bolt based on Breeching Sensing Technology. A unique automatic latching spool to control the exact amount of air released for each fired shot. This technology makes the gun more efficient, consistent and offers better shot quality than other paintball markers of this price range.
The Gamma core bolt also enables the paintball marker to be used at every temperature without any inconvenience. It is suitable from -20°F to +100°F, which is very useful for destination venue games. Gamma Core is primarily available in tournament-level or competition-level paintball markers.
Robust Construction:
The external construction of this paintball gun is with excellent rigid composite material. Paintball markers that are under 500 dollars do not usually have this rugged external body. You can throw anything at it or toss it, but this will still function remarkably.
On the other hand, in its interior aircraft-grade aluminum is us that can take the roughest hits you can throw at it. An experienced player uses the gun as a piece of himself; it has to fall on the ground and get scratches but still be perfectly fine. This gun provides you the most reliable and robust construction which can withstand the roughest battlefield and stay intact and fully functional.
The Evolution of PAL:
As Etha 2 is evolved from Etha, it is time to develop more. These markers are not only robust and sophisticated but also dangerous power paintball guns. The PAL-enabled gun is here to show the competitors the creativity and innovation of engineering solutions.
Etha 2 is here to dominate the market with its unique and innovative features. It can be used without a battery with a PAL loader system, giving you more freedom to play. You can connect your gun to the PAL loader/hopper, and you can have an exceptional level of performance without batteries and an expensive loader system how PAL loader system works.
High-Quality Regulator:
These lightweight paintball guns are easy to carry and come with a high-quality regulator. It can handle different output pressures from your tank; it doesn't matter whether the pressure is high or low, which improves the gun's performance. In addition, the gun comes with an ON/OFF ASA that makes it easier to remove the gas cylinder.
The paintball marker fires up to 1000 shots on 4000 psi fill up. It uses reinforced nylon composite materials for the feed neck and grip frame, making it a durable paintball gun that can withstand rough use. It also contains an electronic trigger that has the integrity of firing modes that includes a capped and uncapped semi-automatic mode.
Quick Decision Guide
Etha 2 is one of the best paintball guns under 500 with PAL feeder. You don't need any battery to load paintball markers from the hopper. Its high composite exterior and interior provide you the most robust and durable design. Gamma core bolt is the second-best feature of this paintball gun.
It makes your gun more accurate, consistent and provides you a quality shot. In addition, it is best in both extreme temperatures from -20°F to +100°F without any functioning issues.
2) Empire Axe 2.0 Beginner Paintball Guns / Marker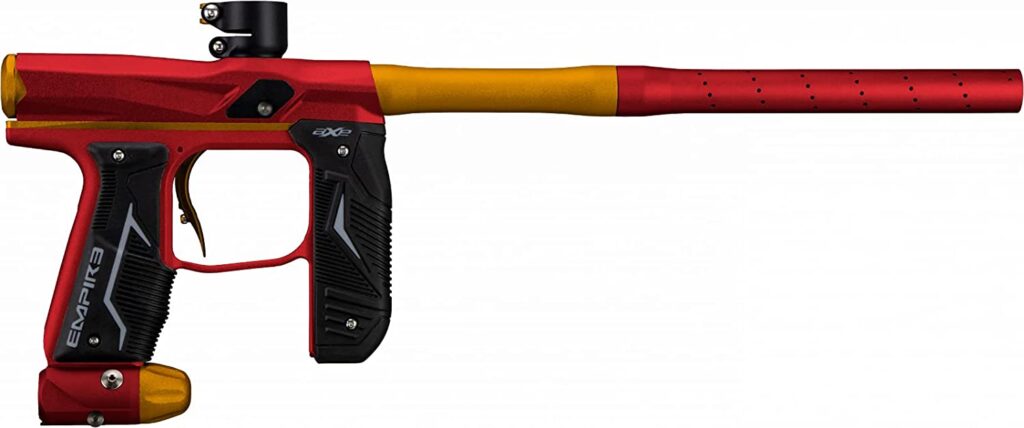 2-piece barrel Kit
ON/OFF ASA with Anti-chop eye system
Aluminum Main body construction
Adjustable Trigger on Single Button Switch
Wrap-around fore-grip
Multiple Firing Modes (Semi, Ramp, Burst and Full Auto)
Superior Velocity and Low pressure operation for fragile paint
| Specifications | Tested Values |
| --- | --- |
| Weight | 2.4 pounds |
| Caliber | .68 |
| Modes | 4 Different firing modes |
| Barrel | Two-piece, 12-inch |
| Firing Speed | 250 to 325 FPS |
| Regulator | ON//OFF ASA |
| Trigger sensor | Micro switch |
Empire Axe 2.0 paintball markers are the best beginner paintball guns. They are accurate, lightweight, and smooth, which is perfect for woods and bunkers as well. These are fully automatic electronic paintball markers with adjustable speed from 250-325 FPS.
It comes with a 2-piece barrel, and the auto-cocker thread of this paintball gun is perfect for all the latest barrels. The ON/OFF ASA makes it easier to remove the gas cylinder, and the anti-chop eye prevents the paintball chopping. An aluminum-made body and low-pressure paintball gun guarantee durability and consistency.
Anti-Chop Eye System:
The brand Empire took a step ahead to resolve the chop problem of paintball guns. They featured the break beam anti-chop eyes in this paintball marker which reduces the chops in the barrel. It increases the shooting efficiency and provides you maximum shots.
Its low-pressure operation is gentle on fragile paint, which prevents the chopping and offers you reliable performance. It also gives you consistent shooting even if you play multiple hours in a row. In addition, axe 2.0 comes with an internal gas line, so you don't have to worry about crossing wires.
Firing Modes:
This gun's shockwave board offers you multiple firing modes that are adjustable according to your needs and gaming style. The product is comprising multiple modes: semi-automatic, Ramp, Burst, and Full automatic firing. It provides you the consistency of shooting, and adjustable triggers will offer you smooth and easy shooting.
Its superior shooting velocity gives you a more extended shooting range with accuracy. Its shooting speed is adjustable from 250 to 325, which is excellent for indoor games and outdoor. In addition, its wrap-around foregrip gives you absolute control and more accuracy in shooting your target.
Two-piece Barrel Kit:
The two-piece barrel kit provides you ultimate target precision, and consistency—ported barrel of this absolute gun airflow minimizes turbulence and reduces noise. Low turbulence offers you a smoother and efficient target shot with reliability.
With the help of adjustable triggers and speed, this barrel provides you a superior-velocity paintball shot. In addition, this barrel assures reliable performance. Its aluminum body construction delivers you the eventual durability, so you can use it as rough as you need without damaging its integral parts. (Best Barrels Review)
Ergonomically Design:
It is one of the best paintball guns designed ergonomically for easy holding and use. The lightweight of this gun allows you to carry it and run on your battlefield for a long game without exhausting yourself. In addition, its uniquely designed extended grips would provide you ultimate smooth control on the weapon.
With a single push to a single button switch, you can quickly assemble and disassemble the system and clean or repair it in no time. At last, you can easily remove the gas tank with ON/OFF ASA at the bottom of the gun.
Quick Decision Guide To Follow
This is from the best paintball guns under 500, made with outstanding features. It is much better than the cheap paintball guns available in the market. Its anti-chop paintball system and multiple firing modes give you a variety of styles on your battlefield.
The noiseless barrel with minimum turbulence and extended grips provides you the accuracy and consistency which you need. Its ergonomic design offers you a smooth hold on the gun, which helps you manage it easily.
3) Tippmann TMT TMC Elite Magfed Marker Cheap Paintball Sniper Rifle

Dual Feed: Hopper and Magazine Fed
Includes 20 round spring driven magazine
Full Pneumatic marker with Authentic AR look & feel
High-performance in-line bolt system
Fully functional charging handle
Over molded rubber grip
12-inch aluminum barrel with muzzle break
2 position external selector and 5 position collapsible stock
Front and Rear adjustable sights
| Specifications | Featured Values |
| --- | --- |
| Weight | 7.55 pounds |
| Regulator | ON//OFF ASA |
| Bore | .68 Caliber |
| Dual Feed | Magazine and Hopper |
| Dual Power system | CO2 and HPA |
| Barrel | 12" barrel with inbuilt shroud |
TMC Elite is a cheap paintball sniper rifle option if you are looking for an affordable Magfed operation. This marker is a dual-feed design, you can operate it with a classic hopper, and you can also use its magfed design whenever you want. Tippmann provides you the most authentic and realistic design of paintball marker with a premium finish.
It is relatively lightweight and a perfect choice for those who play the hours-long game at a time. This paintball gun can withstand harsh use and a few falls without getting damage despite the lightweight. This is the best paintball gun under $500 which is compatible with both power systems, CO2 and HPA.
Magfed Marker:
The latest magfed of this cheap paintball rifle can hold up to twenty rounds of paintballs in it at a time. Of course, you must have multiple magazines on a battlefield, so you don't have to load it in between a match. This marker is capable of hopper feeding as well, so you can have great features of both magfed and hopper feeding.
Both of these feeders feed the paintballs at a very high speed. Along with the easy trigger pull, this gun provides you best shooting experience of you paintballing in gameplay.
Dual Power System:
These good paintball guns under 500 offer you a dual power system; they are compatible with CO2 and High-pressure Air. It allows you to choose between your power source; you can select it according to your weather and location. This marker with air thru adjustable stock will enable you to mount a 13 ci tank, but you will need an HPA tank for this.
The tank will be at the rear of the gun so that you can get a more realistic look. Moreover, the high-performance inline bolt system prevents gas leak issues.
Authentic Military Style:
This paintball gun has authentic AR Military Style construction. Not just look, it also feels like original military grade by its weight and in-built shroud. Additionally, you can add multiple accessories on the Picatinny rails, such as scope, to make it more tactical and authentic.
Suppose you like to play with real-life rifles in the paintball match; that's a perfect choice for you. The magazine feeding feature gives you a marker more real-life feeling on your battlefield. The Over-molded grip provides you ultimate hold on this gun for accuracy and consistency.
Customizable Option:
This pneumatic paintball sniper rifle is highly customizable; it accepts aftermarket accessories. The 12-inch aluminum barrel comes with a muzzle break which makes it noiseless. A noiseless barrel is perfect for sniper purposes because a sniper needs to stay hidden all the time.
You can upgrade its barrel for more accuracy and longer-range shots. In addition, the in-built Picatinny rails allow you to add multiple tactical gears on them, such as scope, red dot laser, and additional sight rears.
Make Quick Buy Decision
These dual magfed electronic paintball guns come with a 12-inch barrel with muzzle break, which provides you noiseless shots ultimate accuracy. The capability of CO2 and HPA gives you the feasibility to choose according to weather conditions. The molded grips give you the maximum hold on your gun.
Its authentic military style offers you the Milsim look and feels, while its customizability allows you to make numerous changes. For example, you can add multiple gears on its in-built Picatinny rails.
Read These Informational Blogs too:
Types of Paintball Guns
If you are looking for the best paintball guns under 500 dollars, then you must do some research yourself. Without the necessary information, there are many chances that you will invest your capital in a worthless product.
However, there are a couple of things you must keep in mind while purchasing a paintball gun. In this guide, we will introduce you to some factors that will help you make a perfect investment for your paintball guns.
There are three main types of paintball guns available in the market.
Pump
Mechanical Paintball Guns
Pump Action Gun:
IN the early age of the paintball game, there was only one-gun PUMP. A player had to load the bolt before each shot; that's why it had a slow firing rate. Even today, the upgraded paintball pumps are available, but frankly, they are not better than any other marker.
Some people appreciate it because of its classic design and slow, skill full game style. However, pump markers are viral among skilled pro players because they like to take risks.
Mechanical Paintball Gun:
Automatic guns are prevalent among players due to their fur ability and reliability. They do not have any electronic components and rely entirely on mechanical parts; that's why these are good even for a rainy day. In addition, these markers are easy to maintain and less likely to encounter problems during your game.
They don't run out of batteries in between a paintball game. However, they do have paintball chopping issues, and some sometimes throw away the accuracy. These are also far behind the high rate of firing of Electronic markers.
Electronic Guns:
Electronic markers are the most expensive paintball guns than mechanical ones, but they also offer significant advantages. Some of these electronic markers work on the 9-volt battery, while others have a built-in rechargeable battery.
Electronic guns are smaller, lighter than mechanical paintball guns. These guys have a better in-bolt system that prevents misfires and chopping. Modern electronic firearms are capable of reaching 30 balls per second which is much more than mechanical guns.
Factors To Remember Before Buy a Paintball
To buy dangerous power paintball guns, you need to focus and keep some factors in mind while making a purchase. These factors are as follows:
Barrel Size:
Barrels make a massive difference in a gun's performance, accuracy, and reliability. It would help if you had a perfect-sized barrel so you can manage it easily in big paintball games. Good barrels provide you long shots with precision and consistency.
Durability Tested:
If you are spending 500 dollars, you must buy a durable gun to use it for quite some time. The high composite material would be great for this purpose. It can withstand rough use and some falls without getting damaged.
Weight Of Gun:
While purchasing a paintball marker, you must focus on a lightweight design so you can handle the gun quickly. You have to run around on the battlefield, and in long games, you have to carry it for hours. A lightweight gun will help you in both of these activities and makes your paintball experience far much better.
Warranty:
If you are spending 500 dollars, you need some assurances for your gun. It would be best if you went for the guns which offer you at least 90-days of warranty. Manufacturers like Tippmann offer you different kinds of warranty, such as a 90-days warranty of defective pieces and a one-year warranty on the high composite body.
Ergonomic Design:
People love to hold military-style paintball guns, but it is not mandatory. Many high-level expensive markers are made in ergonomic design so their users can grab them and carry them with ease. Focus on guns grips and shock absorbers before buying a gun.
Types of Power Source
There are two main types of a power source which loads the paintball from hopper to the gun. These types are as follows;
CO2 (Carbon Dioxide)
High-Pressure Air
Carbon Dioxide (CO2):
CO2is a cheap gas that is readily available in the market. Most of the paintball players use this gas in their markers. This gas is budget-friendly, but it has its drawbacks. Carbon Dioxide usually freezes in lower temperatures which causes gun jams, etcetera.
High-Pressure Air:
(HPA) came to overcome the flaws of CO2 in paintball guns, and now it is used more than CO2 in paintball games. HPA is expensive but more reliable than CO2, and it does not freeze in lower temperatures.
Benefits of Paintball Markers Under $500
When you are buying the best paintball guns under 500, you can enjoy their advanced features and a couple of benefits. These perks will enhance your gaming style and offer you more accuracy and control on your weapon. The benefits are as follows:
These guns are noiseless and keep your location safe
Ergonomic design offers you complete control over you gun
Lightweight guns provide you game efficiency on the battlefield
High Composite material makes it durable and reliable
Porting in stock barrel reduce turbulence
Maximum Firing Modes including Fully Automatic
Magfed and Hopper Fed
Two sources of power give you feasibility to choose
Easy and efficient trigger frame
Planet Eclipse Etha 2 is one of the best paintball guns for under 500 dollars. It is a well-engineered paintball marker equipped with PAL-enabled technology that offers high-performance loading without a battery.
The gamma Core in this paintball marker resists the harsh weather. As a result, it can operate in extreme high and low temperatures without giving any flaws. In addition, Etha 2's composite body exterior and the aircraft-grade aluminum interior offer durability and consistency. This product provides 15 shots per second along with multiple firing modes such as Semi and Ramping Capped and uncapped, NXL, and Millennium presets. So, it is a versatile and high-1uality paintball gun that serves your shooting needs with maximum shooting capacity.

Editor's Recommendation