The paintball mask is an essential gear for the paintball players as it gives you protection during the game and is also a necessary gear on the field. Many players take pride in customizing the mask to outstand from other players on the field. This essential gear protects your ears, eyes, mouth, and sometimes throat from the opponent's paintball shooting.
It's not easy to shop for paintball masks because you need to look at every vital feature before buying them not to waste your money. The number of brands present in the market makes it overwhelming for one to choose the best paintball mask. There might be a possibility that you buy an expensive mask that doesn't cover all the features or is of terrible quality.
A good paintball mask covers all the components; for instance, it doesn't gather up fog at the glasses, easy to maintain and audible, etc. I could sense some confusion right now. Don't worry; we have got your back and have curated the list of the top 10 best paintball masks that you can use. So let us not keep you waiting and dig deeper.
Table of Content:
Top 10 Best Paintball Masks and Goggles
1) Dye I5 Paintball Goggle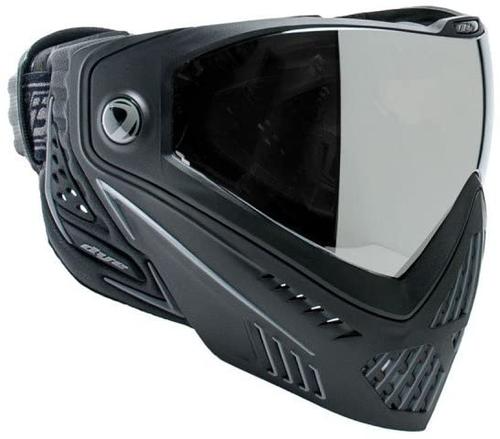 Weight is 12.6 ounces, pretty lightweight
Color options are Emerald, fire & Emerald combo, Emerald and faded sunrise thermal combo, grey, gold, etc.
The level of comfort is high
Both vertical and horizontal clear peripheral vision
U.V. protection dyetanium lens provided
Thermal layer to make it anti-fog
Scratch protection is also provided
The padded foam gives protection to the ear
Eyeglasses compatibility doesn't make it irritating
airsoft compatible and ventilation system
If you're looking for the best paintball mask at a very affordable price, stop right here and buy a Dye i5 paintball mask. This product is one of the most awe-inspiring paintball masks ever created and marketed. It is a product containing electrical aspects that add value to it when compared to its competitors.
While running around, you can experience optimum comfort, precise tension adjustment, and unrivaled safety because of the uniform distribution of force all around your head. Moreover, this is an anti-fog dual-pane thermal lens model; even if you try to make fog, it won't allow it. Then there's the 290-degree field of vision, which combines with crazy peripheral vision to give you incredible views on the field.
Think of it as a loyal friend that even won't leave you in the harshest of conditions. The much improved multi-directional ventilation system doesn't let moisture inside the mask, making it a good paintball mask.
Paintballers' top priority is the foam installed in the paintball goggle. The top preference is the foam inside the google as if it's not of good quality; then the mask can be very uncomfortable. The multi-layer foam is exceptionally soft and is comfortable on the skin. It is also replaceable by just pushing the chassis of the mask.
The holes inside the mask are evenly distributed with the perfect shape to talk and breathe and not eat paint. U.V. lights and other hazardous materials protect the eyes inside the mask. It is also a good option for those who wear glasses as the glasses are comfortable compatible with the Dye i5 paintball google.
The Dye i5 also has a built-in Go-Pro mount, so you won't have to do any more tinkering when it comes to mounting that camera to show off your incredible gameplay. The i5 is also compatible with the e-VOKE system, allowing you to harness the power of fantastic wireless and real-time gaming. These paintball googles will give you a next-level gaming experience, and no doubt they are the pro paintball masks.
Benefits:
Anti-fog dual-pane thermally treated mirrored lenses
Compression formed ear paddings that don't affect hearing
Within 10 seconds, you can replace your lenses.
Compatibility with glasses.
20% larger than dye i4: for large heads.
M2 integration using an e.VOKE wireless air sync.
Venting system with many directions that do not alter the voice.
A dyetanium lens provides U.V. protection.
Drawback:
2) ATAIRSOFT Tactical Protective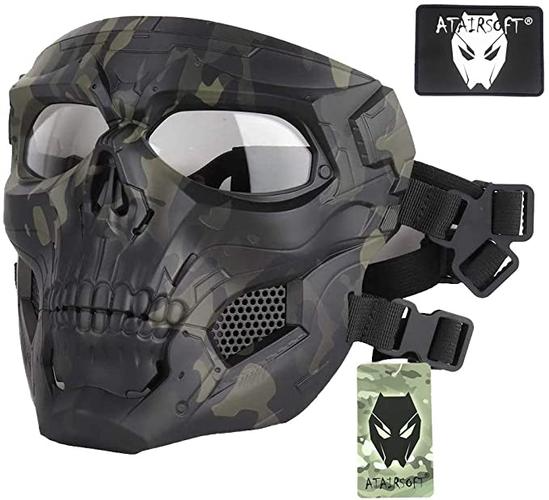 U.V. protection is provided
Anti-fog with thick lens
Scratch protection is provided
These masks are eyeglasses compatibility
Venting holes on both sides make the thick transparent lens breathable.
The shock-absorbent sponge can withstand a lot of impacts.
This is one of the coolest-looking paintball masks. It is creatively designed to make you outstanding on the battlefield. You will look pretty awesome among all other players. They have put effort into making it stylish, but a lot of effort has enhanced its quality.
The clear visibility it provides will let you shoot the opponent from the far. This streamlined face mask has semi-flexible accents and intricate accents. It comes with a 3D foam-molded pro pad that allows you to play like a pro. It also gives you comfort throughout the long hours of the game.
The strap is large enough and adjustable. It is provided for all types of heads, be it large or small size. So you don't have to worry that it will suit you or not because it definitely will. It provides you with utmost comfort despite any sort of harsh weather. The masks are tailored to last much longer and are hard-wearing for every kind of situation. It can tolerate any type of extreme condition.
You can do a lot of things with this full-face Halloween ghost mask. It has a mesh design; you won't need to use goggles to protect your eyes from sand. Its perforated lips make breathing and communicating incredibly simple during the game. Furthermore, the price it offers is budget-friendly, giving you the best cheap paintball mask with all the extraordinary features incorporated.
Benefits:
Very different and cool design
The ventilation system is workable
3D padded foam
Durable and Budget-friendly
Drawback:
Some faced issue of fogging
3) Virtue VIO Ascend Thermal Paintball Goggles/Masks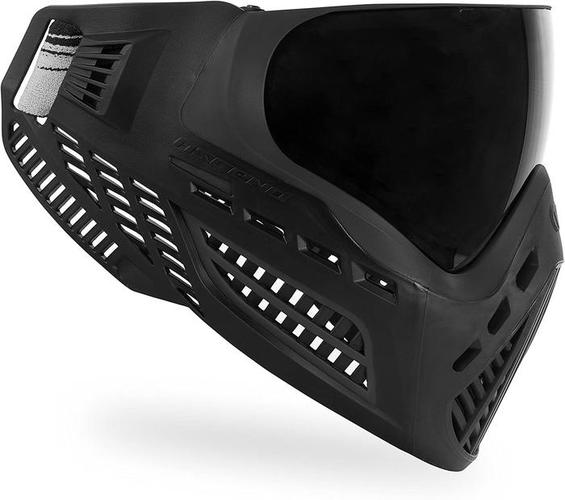 Fully customizable, from the lens to the strap.
Quick-focus lens by pressing the hinge locks to change the lens.
The VIO ascends with a dual-pane thermal lens that is anti-fog.
Anti-reflective Coating
Load ventilations to breathe and communicate effectively in the field.
Extremely comfortable multi-layer foam to absorb sweat.
Excellent peripheral vision
The best investment that you can make in the paintball arena would be the virtue VIO ascend thermal paintball goggles, and it is one of the best paintball masks. The technology installed in it is remarkable makes you the winner at the paintball arena every time.
Within a mid-range price range, VIO Ascend offers the ideal blend of design, safety, comfort, adaptability, and, most importantly, exceptional visibility. You may customize the entire mask, including the thermal lens, multi-layer foam, rear head strap, visor, and stealth fan, thanks to the top-notch design.
They give you multiple options for customizing the mask, providing you with 18 fewer options, 16 stealth fan options, and 32 different cool strap options. With these numerous options, every time you enter the battlefield with a new and unique paintball mask.
It is with no doubt the most comfortable mask paintball mask. It has an excellent multi-layer foam that protects you from any sort of jolts and fits perfectly on your face. It's significantly safer because of the 3D foam-molded pro pad, which improves overall grip, protection, and comfort.
It also includes an updated bigger goggle strap that allows you to adjust the goggle effortlessly. In addition, ventilation stops the mask from fogging up while also allowing for easier breathing and excellent voice transmission.
This mask has two layers of protection and comfy eye foam inside, but you may remove the second layer if you get too hot or find it restricting. Again, for serious gamers, this is our highest choice. The Virtue VIO Extend is your best bet, even if you're ready to spend a bit extra upfront on a nice mask.
Benefits:
Not very expensive
It does have a scratch-resistant coating.
During the field, you will feel very little pressure.
It's completely customizable.
Excellent ventilation.
Protective and relaxing.
Drawbacks:
Ears pads are not attached
Color options are limited
4) Virtue VIO Paintball Goggles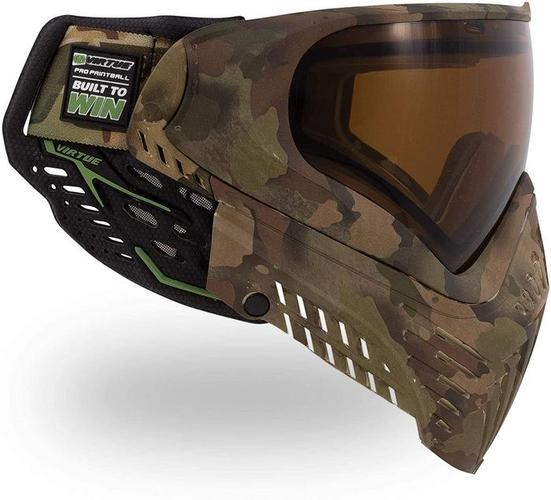 Multiple color option
The level of comfort is amazing
U.V. protection is provided
Peripheral vision of large field view
Protection of ear is good
Scratch protection is given
Eyeglasses compatibility
Airsoft compatible
Virtue is another fantastic brand known for its high-quality product, and the paintball players truly love this paintball googles. Virtue VIO paintball mask is one of the top paintball masks. Paintball players praise its high level of resilience and its innovative use of cutting-edge technology for improved vision and comfort.
With a sleek and semi-flexible design and a strengthened type with wooden color accents, this mask is both practical and appealing. For a reasonable price, the Virtue Mask provides high-end comfort. It comes with a removable multi-layer eye foam and a lightweight frame with improved acoustics.
The virtue VIO paintball goggles have emerged since its first product. They haven't changed much, but the following are some features that they have improved. They have improved the backstrap of the masks, increased in size to not cause any pressure at the back of the head, and added the pro protection foam to increase the comfortable level of the mask.
The earpad acoustic is improved and is installed with high-end foam, which allows it to be comfortable and durable. The thermal dual pane thermal and anti-fog lens with its U.V. rays protected will give you a crystal clear view with no color distortion.
The Virtue VIO Contour 2 is designed specifically for those who wear glasses. It also supports all kinds of head sizes, be it a huge head or a small one. Every head is supported with comfortable wear. The glasses frame will not be pushed onto your nose and will perfectly fit with the mask.
Benefits:
The design of the mask is creative
It is shock absorbent
Provides proper ventilation system
Hard-wearing
Strap width is adjustable
Drawback:
There isn't a visor available.
5) HK Army Paintball KLR Thermal Anti-Fog Mask / Goggles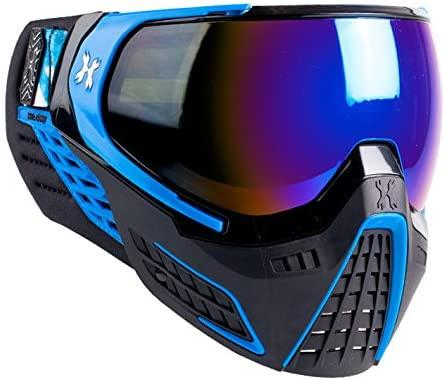 Ultra-soft foam provides the level of comfort
Field vision is 260 degree
Anti-fog with dual-pane lens
Protection of ear by a soft earpiece
The ventilation system is efficient
This mask is straightforward to wear as it is the most comfortable mask. Especially when you're playing for longer hours than this is the mask that you should look for as for the consecutive hours you need something comfortable and durable at the same time.
It has dual-layer padding to soak all the sweat and heat within minutes so that your game won't be disturbed by the sweat falling on your eyes. The mask contains thermoplastic elastomers that bounce back the paint from the opponent's guns, keeping you safe.
H.K. army paintball also has an excellent ventilation system, which allows the mask to become breathable enough and wearable for long consecutive hours. To avoid direct contact, the venting system along the mask's skirt is angled downward.
They have also made the earpads with the exclusive 3d foam that your ears could be safe and sound. Also, the voices could be easily audible. The strap adjustment is also easy and according to your comfort level.
Aside from its safety and comfort, it features a wide-angle KLR anti-fog lens that shields you from U.V. rays and improves visibility. Overall, it has all of the qualities that a good paintball mask should have.
Benefits:
Protective and long-lasting.
It's simple to communicate.
Rapid lens replacement.
Comforts to die for.
Budget-friendly
Drawback:
The foam on the forehead is a little sloppy
6) Bunkerkings CMD Paintball Goggles/Masks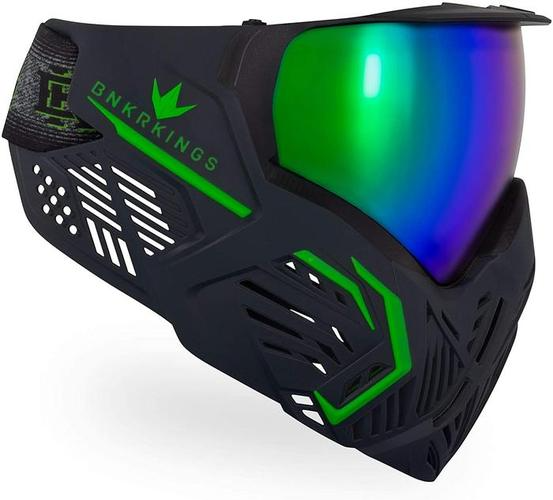 1.2 lbs/ lightweight
Anti-fog lens with ULTRA VIO-THERMAL PROTECTION.
A multi-directional, high-flow air exhaust ventilation system.
Breathability and safety have improved with impact absorber bounce flex zones.
Foam and shape that is extra thick and reduces pressure.
Anti-echo geometrical shape for hearing and communication.
There is a designer goggle bag, a glare-reducing, scratch-resistant tiny visor.
Protective earpieces are thick earpieces.
If you're someone looking for pro paintball masks, you have landed at the right place. The bunkering CMD paintball will provide you with an exceptional playing experience to make the game ten times more enjoyable. It comes with high-flow ventilation alongside multi-directional air exhaust zones to offer at least 300% breathability.
This implies that you can play paintball for a long time with the goggle on as they do not interfere with the ease of breathing. The ultra-quality thermal installed in it gives you a fog-free experience to play at ease.
This tactical paintball mask/goggle provides excellent communication. Bounce flex zones are also a good add-on as all the movement and hitting will be absorbed by the mask, and your jawline will be fully protected from any kind of jolts.
The tiny perforations near the ear improve hearing while also decreasing echoing. The integrated-micro visor of the CMD optical fiber increases optical performance, minimizes glare, and protects the lens from scratches and moisture leaks.
It also has a microfiber contact layer with a design that reduces the pressure of the goggles on your skin, which adds to the comfort. Interchangeable plush B.K. foam is also included with the package.
New and old players can easily use it, but it is a little on the expensive side. So it is recommended for the entry-level players to buy something more affordable, but this is the best choice for the expert level players. As the features it contains justifies the money.
Benefits:
Interchangeable thermal lens made of polycarbonate
The strap is extra-wide and has a silicone grip
The best ventilation system in the game enhanced breathability by 300 percent.
Bigheads and glasses wearers are welcome.
Reduces glare and paint leaking with a micro-visor.
It's available in a variety of colors and styles
Drawbacks:
Expensive for entry-level players
Same faced issue of distortion of voice
7) Empire EVS Paintball Mask / Thermal Goggles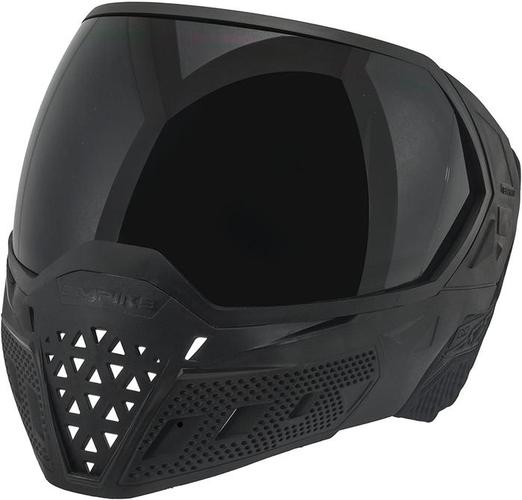 Field vision is 270 degree
U.V. protection is 100%
Peripheral vision is exceptionally high
The dual-pane mirror makes it anti-fog
Scratch protection is 100%
Protection of ear is excellent
Eyeglasses compatibility is provided
It is one of the best paintball goggles that one can get his hands on. It has a 270-degree field of vision because of its wide-view spherical lens, which is smoothly integrated into the overall mask. This lens also has a mouthguard to prevent interior breath fogging on the upper lens and a dual-pane to avoid all outside fogging from temperature changes.
It is one of a kind dual-pane paintball mask. ASTM certification for optimal eye protection and scratch resistance are among Len's qualities. It also protects you from U.V. rays and other harmful lights and is also made of anti-reflective material. Empire EVS Paintball Mask will perfectly fit over your head, and will you will not feel a thing on your head as it is so light in weight.
It has a non-slip, comfy 'soft ear' coverage that improves your hearing while also keeping you comfortable at all times. There is no communication distortion due to the more significant number of holes. If you're wondering, the holes aren't huge so that you won't be swallowing paint.
It absorbs all the heat and sweat that the body generates with a luxurious foam installed in it, giving you a great experience without worrying that any moment the sweat will come in your eyes.
The head strap is designed to be non-slip and extend around your head, but it also includes a soft silicone back. The replacement of the lens is easy and can be quickly done in 30 seconds. It could be easily said that it is the best cheap paintball mask.
Benefits:
Spherical thermal goggle/lens with dual panes
For giant heads, there's a foam Messiah that's both comfortable and removable.
Thermo-formed earpieces are thicker.
Ventilation that is distortion-free
Coverage to the max Vertical field of vision
Lenses that can be changed
Drawbacks:
A little expensive
Horizontal field of vision is less compared to vertical vision
8) JT Spectra Flex 8 Paintball Goggles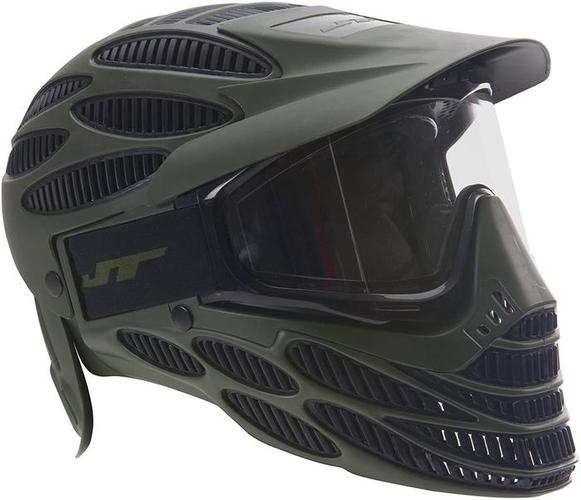 Weight is 2.15 lbs.
260 degree Field vision
Scratch and U.V. protection is provided
Anti-fog & Protection of ear
Eyeglasses compatibility
Unique ventilation system
Removable visor
The J.T. Spectra Flex 8 is a superb paintball mask for the money. It's on the cheaper side of the spectrum, but it also gives full-head covering. It provides complete head protection and includes a fantastic pair of thermal anti-fog goggles. These goggles are one-of-a-kind items created with keeping you in mind.
The visor, for example, has a 260° field of vision, which is significantly superior to most rental masks. When viewed from the front, the mask has a lower profile than others. Its design also aids in the deflection of paintballs, preventing direct contact. When a paintball hits you in the face with a paintball, you'll be grateful for having to buy this mask.
This mask is part of a more prominent family, and as a result, it shares some of the models' most distinguishing characteristics, making it the most comfortable paintball mask. The twin-layer ventilation system keeps you cool while keeping paint out of your mouth.
The Spectra is ideal for woodsball players who require complete head protection while dashing through the woods, and the camo model is particularly appealing. Soft ear protection, contoured vents for maximum deflection, and improved venting to improve your hearing.
It'll be your next favorite paintball mask and the only one you'll tell your friends and family about. Those were seeking complete head protection, woodsball players who spend a lot of time rushing through trees, and those seeking a decent price-to-performance ratio.
Benefits:
Spectra lens that has been thermally treated
Complete protection for the head
Comfortable, versatile, and Customizable
Breathability is improved via a dual-layer ventilation system.
Drawback:
Some buyers stated that its fit is not perfect
9) G.I. SPORTZ 3D Grill Goggles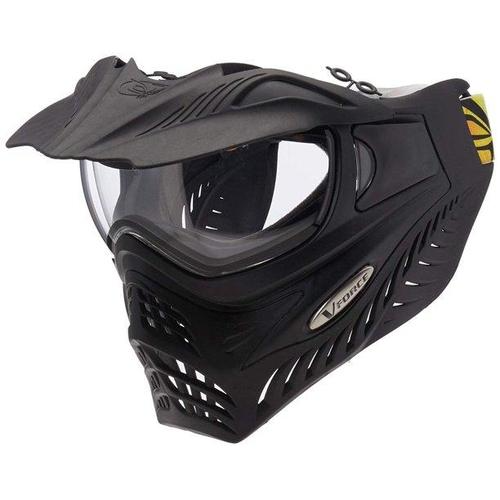 The level of comfort is impressive with the double foam
U.V. protection
3D shape lens provides peripheral vision
Provides you with an efficient ventilation system
Scratch protection
The visor is built-in
The new G.T Sportz Grill paintball mask offers a revolutionary design and other noteworthy characteristics, such as a cutting-edge lens thermally cured to resist fog, scratches, and U.V. rays. The vision is relatively apparent. It is one of the excellent paintball masks that you need to buy.
With aggressive low-profile sunglasses and a sleek spherical 3D shape lens, you'll have a distortion-free peripheral view, which will make it significantly easier for you to find your opponent and shoot them. It has excellent ventilation, so you can freely breathe and talk, and the improved airflow will keep your lenses fog-free in the field.
It also has ultra-soft fast-drying padding foam, which absorbs sweat in seconds and keeps you fresh and focused on the field. That is a good option when you're playing for more extended hours, and you need to have a mask on that doesn't create sweat inside from all that running because everything will get pretty messy.
The Sportz grill designers created this mask to lower the target and keep you safe from strikes. They also used ultra-flexible plastic to increase the bounce factor on the field because so that when the paintball hit you, it would go back rather than staying on you.
Benefits:
Price is low comparatively
Hard-wearing and protective
It's fog-free
Scratch-free
Good and clear communication
Drawback:
The visor is challenging to remove.
10) Dye Precision I4 Thermal Paintball Goggle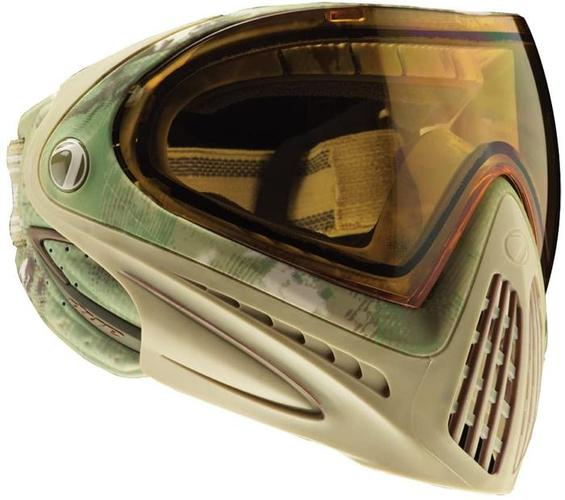 Color options are black, emerald, gold, dirty bird, grey
High-density, open-cell, and closed-cell foam technology for optimal comfort.
290-degree peripheral vision vision
U.V. protection is high
It has Anti-fog technology
Scratch protection is provided on both sides of a mirror
Eyeglasses compatibility
The ventilation system is efficient
Visibility is distortion-free
Dye Precision I4 paintball goggles are the most demanded paintball masks in the market, and they are with no doubt one of the best paintball mask you can buy. They are installed with a thermally treated lens that protects you in every situation from getting fogged up.
Moreover, scratch-free google protects the googles screen from any scratches when hit by the paintball. Finally, so that you can always have a clear view, they contain changeable lenses that are very easy to remove and install in seconds. Push the two small tabs on both sides and the earpad forwards, and then the lens will pop out.
This excellent paintball mask is comfortable to wear and light in weight. The fit of the mask is so accurate that it will not come off even someone pushes you hard. It will stay intact, protecting your head from any sort of injuries. Horizontal peripheral vision provides you with an amazing, most accurate vision of the game that makes it more enjoyable.
It is one of the cool-looking paintball masks that will make you outstanding in front of all the other players as it comes in very cool colors and designs. All while protecting your chin, eyes, and ears underneath the mask. It will also carry your voice outside vividly. Its durability is also excellent as this helmet is tested twice as hard as current ASTM and C.E. impact ratings and comes with a hard impact abrasion resistant Coating.
Benefits:
25 designs available
It fits perfect on a small head
Anti-fog thermal layer
Amazing ventilation system
Comfortable foam
Covers maximum area
Lens are changeable
Drawback:
Little tight for large size heads
There isn't a visor available.
New Paintball Mask For Beginners Guide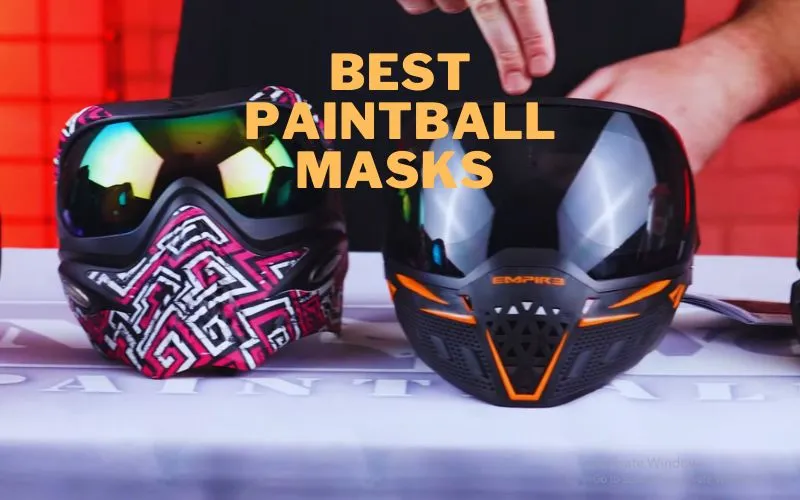 Buying the best paintball mask can be a bit hefty. In addition, there are tons of different specifications and features that you don't know about out, which makes buying the best paintball masl even more challenging. Luckily for you, we already reviewed the paintball mask for playing paintball, from which you've gained some relevant knowledge about the nits and grits of Google.
However, before you end up picking your top product, we highly recommend that you go through the following factors that you should consciously address before making the final purchase. These important buying guide factors are:
Foam Padding and Strap System:
When shopping for a paintball mask, you need to look for pro paintball masks that fit perfectly on your head and provide you with utmost comfort because you cannot afford a poor-quality mask when you're playing in the field.
While playing, your concertation should be on the field rather than dealing any hitches with the mask, for instance, if you're ruining to get your opponent, but on the way, your mask slips, blocking the view. So always buy a mask with a good quality padded foam because you won't get time to adjust it during the game.
The mask should have a soft foam padding to irritate you or make you all itchy. It should also be capable of absorbing the shock of any hit. The strap system should also be easily adjustable so that your game won't be compromised.
Good Quality Lens:
Paintball games are primarily about visibility; a good lens is like the beating heart of the mask. Never compromise on the vision; you'll be out of the game in no time. Therefore, a paintball mask's lens is a crucial component. Look for a wide field of vision of 260 or 270 degrees.
With a narrow and flat lens, cheap rentals can sometimes impede peripheral vision. Paintball masks with a lot of distortion, such as glare and reflection, distort your visibility to where someone else hits you before you can precisely detect them.
Fog-free Googles:
Fogging is an issue that you will continuously face if you don't have a good quality mask. It can be very dangerous for you as this comes to your safety. For instance, while playing, your vision gets blurred by fog, you can fall on your chin, and worse broke it. Always look for a fog-free lens, as all the good brands manufacture masks with anti-for layers like thermal lenses.
Durability and Robustness:
A paintball mask will be used roughly no matter how much you try to protect it. However, as it is your protective shield, it will automatically be exposed to harsh conditions. In that case, the mask can deteriorate soon and very quickly. So always buy a mask which is made of hard-wearing material and is long-lasting.
Ear and Mouth Protection:
The rule of thumb is straightforward. You would never want a paintball to hit your ear or mouth; it's painful, toxic, and difficult to wipe off. A good paintball mask should have enough ear padding to completely adapt to the shape of your ears without interfering with your ability to hear or communicate with your teammates.
If you have to shout to speak, a paintball mask with more ear padding is a good idea. Also, the mask should always be designed to protect your mouth so that the toxic paintball paint won't get in your mouth.
Weight of Mask:
Lightweight masks are those that weigh between 1.5 and 2.0 pounds. As you have to wear the mask for a long time, the heavy mask can put a strain on your neck and head, causing you to sweat profusely and your neck to pain, similar to a whiplash effect. Anything more substantial will detract from your performance.
Ventilation System:
Many masks don't have enough vents, limiting how a paintball player can play—the heat produced by the lips and nose when breathing causes the fog to build upon the lens. Proper mask vents allow hot air to circulate, forming a loop in which heated air is continually replaced by cold air, resulting in no fog or wetness.
Another benefit of a sound ventilation system is that it allows for frequent communication. More vents in a mask are recommended for proper ventilation and communication, but their width must be standard. You may want them a little broader in the summer, but if you leave those holes bigger than usual, you will consume a lot of paint.
U.V. Protection Mask:
The pro paintball players are out for an extended period. In order to protect you from the eyes harmful rays of the sun, the mask should U.V. rays protected.
Scratch Resistance Mask:
Scratches do have an impact on vision. It's something we've all experienced with our glasses or sunglasses. Paintball masks are no exception. Look for a scratch-proof mask if you want your mask to last a long time.
Many excellent models can withstand higher blows without becoming scratched. However, during the game, the hit of paintball and some pushing can also cause scratches on the glass, so always look for a scratch-resistant mask.
A paintball mask is one of the most critical pieces of equipment you'll need to play great sports safely. Without the mask, no playfield will let you in. Paintball masks are an excellent investment for anyone who enjoys the sport. We tried to explore numerous paintball masks/goggles among the best paintball mask out there after conducting extensive research. We've covered both the cheaper and more expensive options, but we didn't skimp on the quality.

Our top pick has to be Dye i5 Paintball Goggle as it is easily the best mask on our list; it's also supplied by a reputable company that produces some of the best paintballing gear on the market. It provides a 290-degree field of vision while gaming, as well as airflow that keeps the mask from fogging and allows you to breathe easily during intense combat. It also provides an E.voke wireless system.

The second best choice has to be ATAIRSOFT Tactical Protective; they have curated a design that protects your face from any sort of hits. Also, they have an efficient anti-fog dual-panel lens that gives a tremendous fog-free mask so that you can wear it for a more extended period. Moreover, the enlarged straps width and a wide peripheral angle are a plus point.

Recommended Products
What is the best way to clean a paintball mask?
Cleaning your paintball mask with a towel and water, as well as paintball lens cleaning, is an excellent method. A cleaner that is specifically developed for this purpose and has been validated by the manufacturer. Other foam cleansers, polishing, and other cleansing solutions might degrade the lens's quality and cause lens fogging.
How do you keep the lens of a paintball mask from fogging up?
Thermal lenses and anti-fog spray are two standard methods. Anti-fog spray prevents vapor from forming on the lens surfaces and is a cost-effective option. On the other hand, Thermal lenses are two lenses that share an air-filled area between them; in comparison to the outside elements, the temperature changes. A masked fan is an unusual way to prevent fogging. The fan is usually mounted on top of the goggles and built into the mask, and it runs on a battery, evaporating the collected humidity.
Is it possible to wear a paintball mask while wearing glasses? What role does it play?
Even if you wear glasses, you can wear a paintball mask. To do so, simply ensure that the paintball mask you choose is intended for people who wear glasses. Even if the mask comes with foam that is amended on both sides of the arms of your spectacles, it should still fit correctly.
Can I play airsoft with a paintball mask?c
Yes, you can wear your paintball mask when playing airsoft. The paintball mask's most attractive feature is its sturdy and long-lasting design. When it comes to airsoft, the mask keeps the lens firmly in place for convenient use.
Is dual pane or single pane lens good to use?
Single-pane lenses are simple to clean and maintain, and if your lens is of good quality, they are also long-lasting. They're not too expensive, and they're easy to replace. They're most recognized for their built-in anti-fog Coating; however, it may or may not be practical depending on the situation.
A dual-pane lens, or thermal lens, is excellent for fog prevention. Because they are more fragile, they usually require more attention and maintenance. Dual-pane lenses must be cleaned regularly because scratches can easily harm them. In most circumstances, a pro paintball player will favor dual-pane over single-pane.