The military-combat paintball has taken up great space as a recreation activity in many individuals' life. Nowadays, it has expanded to major tournaments, and professional organizations are involved. Either you play as a beginner or a professional, you need to have the best paintball knowledge. Paintballs are the crux of your game. A suitable paintball can change the scores on the board, getting you the lead. Good paintball gear is essential to enjoy the game to the fullest, be it a tournament or a practice game. 
While loading your markers with paintball, you don't need the type of ammo that will leak while loading spoiling all your mood and the game. If you have a high standard quality paintball, it will only leave its paint when it hit its target rather than in the marker. The second quality ammo might also affect the accuracy of shooting.
Paintballs might look the same to you, but they have differences that you should be aware of, e.g., caliber sizes, paint used, non-toxic, structure and material. All these latter considerations are essential to look out for before buying the best paintballs. The cost and biodegradability is also a critical factor to consider. For example, a .68 caliber paintball is used chiefly than the ones below and above them.
Products List
10 Best Cool Boxes of Paintballs
1) Valken Infinity 2000ct Round Paintball
It is .68 caliber paintballs
It comes in multiple colors
Good choice for woodsball
Thicker shell
Budget-friendly
It's a virgin ribbon ball
Perfectly hits target
The Valkens company pledges to provide you with a high-quality paintball. The Valken Infinity paintballs promise to deliver smooth and accurate shots. The hard outer shell maintains its integrity until the ball has left its marker, ensuring you of any leakage or breakage in the markers, pods, or cardboard boxes.
The durability it provides is unmatched; protecting the paintball till the very last moment Valken infinity ball will also not cost you a lot, although it comes at a very affordable price. These paintball are very suitable for all kinds of players, be it the amateur level player or the expert level one, everyone can handle it perfectly. 
The most fantastic feature it contains is that it shoots very much straight and perfectly hits the target. The shooting accuracy ensures that you will never miss your mark in the field and always come out as a warrior.
The robust character of the shell makes it a unique paintball. Its compatibility with mag-fed and hopper-fed markers is also a remarkable feature. Most importantly, its crudeness is the reason that any kind of marker is easily well-matched with it. 
Valken Infinity is a good buy; according to the amazon reviews, many have appreciated the product. Its reliable trajectories are very famous among paintball players.
Moreover, the vibrant colors it provides helps the score to be marked easily at the end of the game. The Valkens have also assured the quality of paintballs at the time of delivery. They have divided the cardboard into four sections/bags of paints to leak and mix.
Benefits:
The outer shell is durable
Complies with all sorts of players
2000 paintball provided
It is a versatile paintball
Shoots accurately at the mark
Drawbacks:
Many faced issues of insufficient packaging
Oily balls in the delivery package
2) GI Sportz Shell XBALL Midnight Paintball
Multiple colors
.68 caliber paintballs
Easily washable off gear
Non-breakage paintball
500 paintballs in one bag
Used for scenario games, tournaments, and general play
The XBALL CERTIFIED MIDNIGHT Paintballs are highly reliable and suitable for most paintball players, regardless of their favorite paintball game. They're made for recreational and training sessions, all while being a solid set.
Of course, they will leak or break in the marker; otherwise, you don't need to worry about it. It has a substantial and durable shell with a 2-tone look of blue and light blue.
It works with 0.68 calibres, which is commonly used in the field. Serious gamers prefer.68 because of its high effect. Because the added weight necessitates more energy to move, each shot utilizes more compressed gas.
You'll be pleased with the paintballs' flexibility as well. When you look at how effectively it worked on other paintball versions, such as general play, scenario games, and tournament practices, you will realize how versatile it is. You won't have to deal with a lot of cleanups afterward if you use these. If the thick fill gets into your gear by any chance, then the cleaning won't take a lot of time. 
The paintball shell utilized in this game is also quite impressive. It's strong enough that it's less likely to fall apart right away. Additionally, if the fill gets on your gear or clothing, you should be able to wash it off quickly. I'm also quite impressed with the paintball shell utilized in this game. It's strong enough that it's less likely to fall apart right away.
Benefits:
Used in various games
It doesn't break easily
Easy to wash off
The thick and hard outer shell 
Drawback:
Some customers have packaging issues
3) May Vary Pellets .68 Caliber Paintball
0.68 cal
Used in hopper and magfed
Budget-friendly
Non-oil and water-based filling
Environmental friendly
May Vary paintball is known for its price; it provides you with the lowest price that will astonish you. You can even use a slingshot to launch these paintballs! When utilized in the field, they have a reputation for being of good quality and high performance.
These are the ones. Paintball ammunition in the 68 calibre that works well with both Hopper and Mag-Fed paintball guns. The thinner, more robust shells prevent unnecessary jamming and breaking inside the marker's barrel. They are available in various colors, so no matter where you want to play paintball, you should be able to find a suitable color.
Mary Vary Paintballs are well-made and will last a long time in battle. They're built to be tough and only break when they hit the target. These paintballs are ideal for beginners and newcomers to the sport. This ammo is designed to improve your game without causing you to spend too much money on paint. The low price of this ammo is undoubtedly the reason for its inclusion on our list.
Benefits:
Cost-effective
Suitable for training sessions
Hard-wearing and consistent paintballs
Drawback:
Some buyers faced packaging issues
4) Valken Tango Paintballs 68 Cal 500 Count
Non-oil paintball
Environmental friendly
Used for recreational and tournament purposes
.68 calibre
The rugged, durable outer shell
The Valken tango paintball comes at a reasonable price for the starters. It comes in a couple of different colors like a pink, green, blue shell.
Also, the paint inside the paintballs is thick and not very easy to wipe off, which is a good thing when you're playing a long tournament.
Although there is no oil added to the paintballs, they're environmentally friendly. It provides you with high-quality paint that will be effective while shooting. The shape of the ball is no perfectly round; it is a little bit sturdy and has bumps on it. 
It is a good option for entry-level players as it gives a fair deal with good thick paint and a hard outer shell that will only break when struck. The packaging that it comes in also provides with utmost safety that not a single ball is broken. 
Paintball requires a high level of precision. One of the best things about these paintballs is that you can count on a straight and accurate shot every time.
These are the paintballs you won't mind dealing with once your game is completed and it's time to clean up the mess. Unfortunately, paintballs with inferior paint tend to leave stains on your clothes and equipment. However, you won't have to be concerned about these because they're simple to use.
Benefits:
Good quality paintballs
A good option for an initial level player
Biodegradable
Good marketability
Drawbacks:
Not to be used in tournaments
Some buyers faced incorrect orders issue
5) Valken Graffiti 68cal 2000ct Paintballs
Contains 2000 paintballs
Multiple color choice
Thick hard shell
Breakage and leakage-free
Higher accuracy & Weather-resistant
Environmental friendly .68 caliber
Hopper and mag-fed guns are compatible
Selecting a suitable paintball is a crucial decision. Your winning depends on the excellent selection of paintballs. So let us provide you with the best option: Valken graffiti paintball, as we are already aware of the high-quality products that Valken company offers. These exceptional, hard-wearing, and best paintballs can be used for tournaments and also recreational playing.
The tough shells are weather-resistant, so there is no risk of the outer casting becoming gummy and producing obstructions inside your markers. Also, it is made with environmentally friendly PEG, so if you're an environmental enthusiast, this product is solely made for you. 
This paintball has the quality to fly straight and hit the target without any breakage. Its rigid outer shell prevents any sort of leakage of paint. Although this ball is a little heavier to the pocket, all the winning from it will not bother the extra pennies. Also, its accuracy and brittleness will let you forget all about money.
Valken's graffiti paintball ammo is compatible with all types of guns, e.g., hopper-fed loaders or magazine-fed systems. They also ensure that the packaging is done right as not to cause any breakage on the road. In addition, Valken's have strict quality control laws. 
Valken graffiti paintball breakage on the target is pure perfection when the hard, brittle surfaced paintball hits hard on the opponent and breaks into its beautiful color, is a sight to admire. Valken Graffiti is the place to go for the greatest paintballs with its reliably round shell, brilliant fill, and trademark purple box!
If you're one of those who want to enjoy this winning experience, then this best paintball by valkens is a very reliable choice.
Benefits:
Remarkable accuracy
Breaks only on target
Works on multiple paintball fields
Works in multiple markers
It comes in a protective packaging
Paintball is thick and robust
Drawback:
6) JT GI Splatmaster .50 Cal Biodegradable Paintball
.50 caliber paintball
High quality
Biodegradable
Thick and brightly filled
Non-toxic
Elasticity reduced
JT GI splatmaster ammo paintballs are non-toxic and environmentally friendly ammo paintballs. This is a very significant feature to notice when buying paintballs as they fly in the air, and there are many chances they get in your mouth. So to make sure the paintballs are free of harmful chemicals and toxins is very crucial.
As you know, they are a safe choice you and environment could relax and play with your friends. Moreover, JT GI splatmaster is easily cleaned from the clothes and grounds; if you get some on, you don't have to freak out. Apart from all this, it comes in a protected package. 
You don't have to worry about the leakage in the box because the company double checks the packaging of paintballs before dispatching them. Customers have appreciated this paintball company for their keenness. Some have also listed JT GI splatmaster as the best paint ball. 
Furthermore, it has a steady round shell with a bright and dense fill. With its efficient shape, it can perfectly hit the target without missing it. The perfectly round shape makes it easy to fly when shot by a gun. The material used in its making is breakage-free and stops it from spilling. Although many still think that it is an expensive buy. 
Benefits:
No chemicals and toxins added
Round and regular shape
Washable
Non-breakage
A durable and thick shell
Drawback:
It is not budget-friendly
7) GXG Paintball Rubber 100 Reusable Paintballs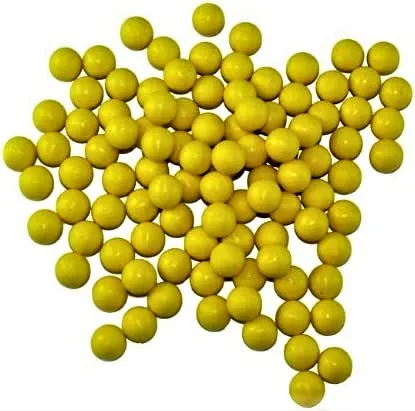 Reusable
.68 caliber
It doesn't contain paint
Rubber ball
Used in guns, barrels, and hoppers
If you choose the GXG Rubber Reusable Paintballs, you may also have a lot of fun with your decision. The paintball are built so that the performance and quality will never be dissatisfaction for the buyers.
These paintballs are rubber-like with a .68 claibre, making them the best choice for the practicing sessions in the field. Another advantageous feature of paintballs is that they are perfectly safe to use in paintball hoppers, loaders, and guns. 
They can pretty much function very well as any other paintball wasting a lot of paint. It is a cost-effective choice with each bag containing 100 balls; also, you can use them for a significantly more extended period when you can easily reuse them. 
The paintballs are unique since they can be readily rinsed and cleaned with water, especially when they get too dirty. GXG rubber paintball is a well-made tool that you will have no trouble using in the vast majority of paintball scenarios.
Benefits:
No cleaning issues
Cost-effective
It doesn't waste paint
Takes good targets
Drawback:
It is small in size doesn't fit some ammunition
8) Venom Blowguns or Slingshot .40c Paintballs
.50 calibre
Vibrant and bright colors
Works best with slingshots and blowguns
Weather-resistant
These paintballs can be termed the most accurate paintballs as they efficiently hit the target without missing it. More specifically, it doesn't break when hitting the mark or falling to the ground. Venom Blowguns 100 is a high-quality product and can be seen as the best paintballs among many others.
They are also a good option if you're looking for weather-resistant paintballs, so you could easily play in the heat or rain without worrying that the paintball will ruin the game. 
They are primarily used in slingshots and blowguns due to their low caliber .50, but it is seen that they work with some paintball guns too. They are rigid in handling and won't break halfway when hot from the paintball gun. 
The venom Blowguns 100 contains multiple color paintballs that are easily detectable while hitting the target. It is a good option for recreational play, and this will help you hit the target right and make you win against your opponent.
Benefits:
Tough outer core
Multiple vibrant colors
Weather-resistant
Durable
Hits target right
Less midair explosions
Drawbacks:
High in regular playing cost
Low caliber not compatible with paintball guns
9) Valken Fate 68cal 2000ct Paintballs
Biodegradable
Easy to clean
.50 calibrate
Not made of oil
It comes in 2000 count
It is yellow from outside and white inside
If you're looking for something smaller than the usual one, Valken fate paintballs are an excellent choice as it gives you .50 calibre. They are made for narrow barrels so that they perform well on the battlefield.
The outer shell rigidity withstands the temperature, moisture, when fired, will give you the best results. You don't have to get conscious about the breakages or mid-air leakages.
Valken Fate paintballs are an excellent alternative for individuals looking for safe and reliable recreational munitions. Paintballers who want to track the trajectory of their fired rounds after they leave the barrel will appreciate the bright yellow casings. Fellow players will see oncoming bullets from a greater distance, thanks to the evident design.
Valken's Fate paintballs offer outstanding value for money, with 2000 individual rounds each box. As a result, this ammo is particularly well suited to training sessions. The vivid yellow fill of these paintballs also assures that there will be no squabbles when calculating scores at the end of a game.
Moreover, it is biodegradable and toxin-free, making it safe for you if some get in your mouth while shooting. 
Benefits:
Chemical-free
Budget-friendly
Suitable for the training session
Weather-resistant
Drawbacks:
Some buyers faced packaging issues
Not to be used in tournament
10) Loader .68 Caliber Basic Training Paintball
Multiple colors available
.68 caliber paintball
It comes with orange and yellow fill
Primarily used for basic training
500 in a box
If you're looking for practicing ammo to level up your game, then DXS should be your go-to purchase. As it comes, at a reasonable price for the practicing purpose. It might be that the quality won't be decent, the paintball would also break, but the primary objective is practicing that would be fulfilled at a lower price.
Although the quality is good enough that it won't clog your markers and shoot right away. It comes in two vibrant colors: yellow and orange; obviously, it depends on what you order, but both the colors are easily detectable on the target, not causing any disputes in results, making it a good choice for training purposes. 
It is also eco-friendly, doesn't contain any harmful toxins making it suitable for you to play quickly without worrying about its harmful effects. 
It can easily fit .68 calibre barrels making the training session affordable and efficient. However, having said all the above, you need to practice yourself to know that it fulfills all the above characteristics. 
Benefits:
Budget-friendly
Good for practicing purpose
Eco friendly
Multiple choice color option
Drawbacks:
Paintball breakage issue noticed 
Not appropriate for tournaments
Buying Factors To Consider for Paintball Ammo
Buying a paintball doesn't seem as simple as the paintball itself. It would help if you were vigilant with its features and specifications. You need to keep in mind the itsy bitsy details. It is a hefty task also when the game majorly depends on it. The markets are filled with many paintball brands, which makes it more challenging. Lucky for you to come across the above ten best paintballs products. It will easy for you to make a choice. Further, this buying guide will also make it easier for you to choose.
Compatibility with Markers
This is an essential step. It's the very first step to follow when buying the paintball. Caliber should be compatible with the ammunition. Although the typical paintball calibre is .68, there also are other calibers present example., 4.0 and .71. It would help if you always compare the paintball ammo against the markers for a proper fit and no leakages.
Misfit caliber and markers can cause clogs, which will require you to regularly clean and dismantle the marker. So to avoid the hassle, always buy the exact caliber.
Long-lasting Designs
Whatever calibre you choose, it must be complemented by a genuinely robust and resilient outer gelatin shell. Make sure it's incredibly durable so it won't break if a bolt strikes it.
Highly-priced paintballs, on the whole, can last longer in the ammunition and the packaging it comes, making them a durable option. Also can store them in the containers without worrying that they will explode. Some companies sell good-quality paintballs at an affordable price.
The shape of the paintball also contributes to the durability of the paintballs as they are more effective when circular. Make sure of any dents on the paintballs that will compromise your game.
Maintaining Paint Quality
Fresh paint for ammo is a must; good quality paint will take your game to the next level. Before the game, make sure to do a quality check by firing some ammo balls in the air to prevent the paintball from swelling and rupturing. In addition, you can protect the paint by protecting them from moisture and heat. 
Furthermore, that paint should be of quality as it does contact your skin or eyes; in that case, it should be toxin and chemical-free to save you from any adverse effects. Paint color is also an essential factor as it is what gives the result in the end. A bright neon paint color should be used to identify when it hits the target quickly. Colorful paintball is a good choice.
Difference between Tournament and Recreational Paintballs
Recreational and tournament paintballs have different characteristics. Before buying paintballs, you need to identify that for which specific purpose you're buying. If you want it for recreational purposes or practice purposes, you can look upon the best cheap paintballs. At a low price with a bit of compromise, you can easily get ammo that serves the purpose. 
If you're looking for a more advanced tournament, you need fully equipped gear, and it may cost a little higher, but the quality is ensured that will not make you embarrassed at the battlefield and will surely make you win.
Player's Choice and Summary
Our first top pick is Valken Infinity Paintballs because it manufactures one of the best brands that sell paintballs. They maintain the high quality of paintballs. They have strict quality control. The paintballs are freshly delivered so that the paint inside the ball remains fresh. Also, the packaging is checked many times before dispatching. 

The second top pick has to be GI Sportz XBALL Paintballs because they are environmentally friendly and 100% biodegradable. It is easy to wipe off the paint could come off with water quickly. It's packaging also has good quality. 

As we come to an end, we hope you have gotten all the information needed to buy paintballs, and this article will help you find the right one to win on the battlefield with the best paintballs. The listed buying factors will also give you an opinion that will help you choose the right option. 

Best Recommended Products
In a box/bag, how many paintballs are present?
The amount of paintballs in a box is determined by the product you choose. According to that product's model and company, the number of paintballs depends. On the other hand, Paintballs are often packaged in a box with four bags of 500 paintballs each. This implies that you will receive a minimum of 2,000 paintballs.
Can slingshot be used to shoot paintballs?
Slingshots can be readily used for shooting paintballs, although some fields won't allow them. Primarily since it's impossible to chronograph it consistently. However, a good slingshot can get you above 300 frames per second.
Are paintballs made of oil or water?
Paintballs are available in both oil-based and water-based varieties. In the field, the oil-based version, which is less expensive, is employed. Many people, however, prefer to utilize the water-based type. This is because oil-based paint tends to ruin or strain the player's skin, clothing, and gear. It also destroys the field, which is to be used by many other players. The paintball gun is also affected by the oil paint because they're tough to clean. Furthermore, if the ball breaks, it tends to leave a sticky mess within your rifle.

Many people favor water-based paintballs because of this. It is mess-free and a good choice for the environment and the paintball gears you use. The battlefield also reminds clean for the multiple players playing on the ground. However, it is a little bit expensive from other paintballs but a lot more convenient.
Is it possible for paintballs to biodegrade?
They are, indeed. Paintballs are entirely biodegradable. They should wash away from the majority of water-containing surfaces. Generally, paintballs also vanish away from the thunderstorm hence proving that they are biodegradable. Another thing to keep in mind is that paintballs are gelatin capsules enclosing polyethylene glycol and some food c color combinations. The inside paint and the outside shell are biodegradable and fade away with time, leaving nothing behind.
What is the composition of paintballs?
Paintball is composed of a gelatin outer shell. The gel is made to hold the fill in place while also guaranteeing that it does not break until there is a powerful impact.
The paint fills inside the shell in a liquid form, another paintball component. The bulk of today's paintballs are made of water dissolvable colors, which are enclosed in polyethylene glycol.
Can paintballs be toxic and harmful?
If you're concerned about the paintballs being poisonous, rest assured that you do not need to be. It's primarily because the best paintballs are wholly non-toxic. That means you don't have to be concerned if any paintballs spatter in your mouth on the field. So you may rest confident that it is non-toxic and will not hurt you.