You are probably looking for the best Magfed paintball marker. That's why you are here on Tippmann TMC Review. It is a durable, comfortable, and reliable paintball gun which will provide you high efficiency on the battlefield. The success of the newest Tippmann paintball gun is due to its ergonomic style and unmatched functionality, which will help you improve your performance.
The TMC is the upgraded version of the most famous paintball gun Tippmann Cronus with an additional feature of Magfed. It means that instead of using a hopper, you can have the magazine to store your paintballs, which provides you a more realistic feeling on the field. Unfortunately, at first sight, Tippmann TMC looks like a military-grade weapon that intimidates the players and looks like an overpriced gun.
In reality, it is the most budget-friendly, durable, and most accurate paintball marker, which is easy to carry around. It is the perfect Magfed paintball marker for beginners and intermediate players and those who prefer the customized paintball guns. It is also one of the cheap mag fed paintball guns. Serval paintball players made multiple changes to their Tippmann TMC for fun and to make it look more aggressive.
The most exciting thing about TMC is that it offers a player the flexibility to switch between hopper feeding systems and Tippmann TMC magazines feeding. It is a rare feature which you would not find anywhere else in this price tag.
So, are you looking for the best paintball gun under 500? Tippmann TMC would be the perfect pick with an additional Magfed feature.
It comes with a 12" barrel with a muzzle brake and an easy pull trigger, which enhances the shooting capacity of the marker. The magazine-fed offers you 20 rounds of paintball in a single magazine, and when you reload the magazine, it gives you the feel of the real-life weapon.
It is a semi-automatic paintball gun with adjustable feet per second of 250 fps to 325 fps. If you are thinking of upgrading your paintball marker, our Tippmann TMC review has detail you need to know about this marker.
Key Features Of Tippmann TMC Paintball Gun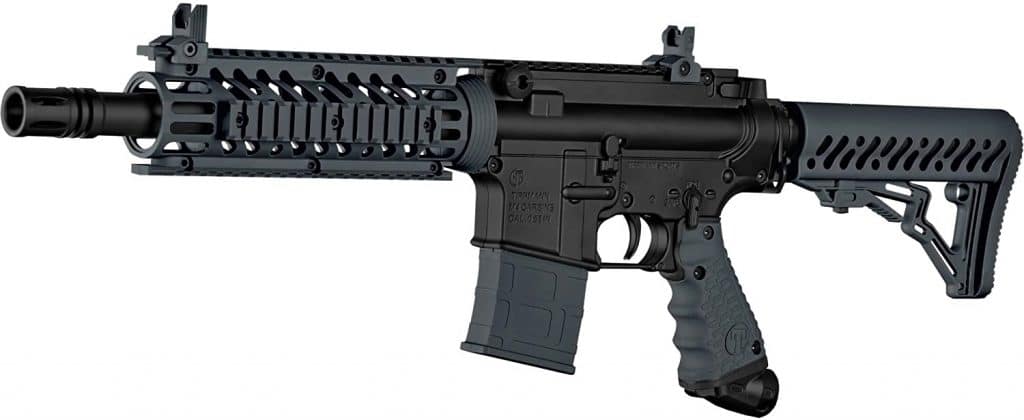 | Specifications | Tested Values |
| --- | --- |
| Manufacturer | Tippmann |
| Model | TMC |
| Color | Black |
| Power Type | HPA and CO2 |
| Weight | 4 Pound |
| Frame Material | Stainless Steel, Aluminum |
| Barrel Material | Aluminum |
| Shooting Speed | 250 fps to 325 fps |
| Effective Range | 150ft |
| Bore | .68 |
| Firing Mode | Semi-automatic |
| Mounting Accessories | Removable sling mounts |
| Barrel Thread | 98 Custom |
| Barrel Length | 12-Inch |
| Balls per Second | Depends upon your trigger pulling |
You will find the most unique and thrilling features in the Tippmann TMC review. This semi-automatic paintball marker has the authentic look of AR 15 style and the feel of a real-life weapon. With the TMC Magfed feature, you would love to hold the marker on the battlefield with pride.
Robust Body
The Tippmann TMC is superior to its predecessors, which is made of a combination of robust materials. The main parts of the Body are made of high-quality aluminum, and the other important parts are made of polymer.
In addition, the frame, inline bolt, trigger assemble, and inner gears are designed to withstand the roughest and challenging user.
The rugged build quality of the Tippmann TMC magazines fed marker is very much suitable for those who play the harshest and rough games. This TMC paintball gun can shoot under the worst weather conditions while maintaining its consistency and reliability.
We have noted during making the Tippmann review that the TMC is an assault rifle-style paintball marker. It provides you the most efficient and incredible semi-automatic firing mode, which enhances your shooting capacity.
Some players maybe show some concerns over this paintball gun because it is not fully automatic. But rest assured, the semi-auto mode (one paintball per trigger pull) is the most common and popular standard of paintball guns, especially in tournaments.
The overall quality of the Tippmann TMC is superior to the other paintball markers in this range. It is partly constructed from higher quality plastic which is durable enough to sustain the worst hits. At last, the rubber grips and polymer elements in this paintball marker are made of higher-quality components.
Military Style
As mentioned above, the first look of this pneumatic paintball marker gives you goosebumps. It is the most authentic AR 15 style paintball gun available in the market, and the magazine adds to the authenticity of the marker.
This military-style paintball weapon is getting well to deserve popularity among paintball players. The military-grade paintball gun intimidates many beginner and intermediate players. In fact, it is a well-suited paintball gun for both of them.
The tactical aesthetics of TMC make it an ideal choice for those who are looking for an original combat weapon. Tippmann TMC's weight and looks feel like an actual paintball gun, amplifying your excitement on the battlefield.
While building up the Tippmann TMC review, our paintball guns' expert mentions that it is simple to use and maintain even by beginners. Several paintball tournaments only allow Military-style paintball guns, and when you have the superior quality TMC, you will be unstoppable in those tournaments.
If you are not comfortable with the TMC Magfed, the gun comes with a dummy magazine that allows you to maintain its aggressive look. The aggressive shroud and shoulder stocks give it a more tactical and aggressive look ideal for the field and terrifying the opponents. There is no doubt that Tipman marker is one of the Military paintball guns available in the market.
Firing Accuracy
TMC semi-automatic marker has good levels of accuracy while shooting at the target. The molded grips of this gun provide you a firm grasp on the weapon, and you can get a higher level of accuracy on the field.
It proves that this paintball marker is the best choice for intermediate-level players and is perfect for the novice. No need to buy expensive and premium paintballs to get greater accuracy with Tipman marker. This Tippmann TMC magazine, paintball gun standard paintball can do the job perfectly.
In addition, if you are using the stock barrel of the gun, you can target at 150 feet with entire consistency. With this much adequate firing accuracy, you should shoot the opponents from a greater distance and get the victory for your team.
If you replace your barrel with a long one and add a scope to your gun, you can improve your firing accuracy. You can even prove the "one shot, one kill" notion right with this paintball gun. However, we recommend firing at least 2 to 3 paintballs at a distant target to eliminate the threat.
Pneumatic Operation
Tippmann TMC reviews conclude that this paintball gun is pneumatic which means it does not have any electrical parts. And still, it has an incredible semi-auto firing mode which makes it unique and popular. A Magfed gun without electronic components can last even longer on the battlefield and in long games.
The pneumatic operation paintball gun allows you to play efficiently in rainy weathers where electronic guns could not stand a chance. If we compare Tippmann TMC, a pneumatic marker with electronic markers, TMC would last longer. Its unique mechanism and durable design can last for several years.
Dual Feed Option
The Tippmann TMC provides you a dual feed system, which allows you to select between magazine and hopper feeding. You can use either hopper or a magazine, and both of them work efficiently with this paintball marker.
In addition, it features a hopper adapter that is easy to install and convenient to use in TMC paintball markers. This TMC paintball marker allows you to use standard paintballs. Moreover, it will enable you to use different types of paintballs, which are called projectiles.
These projectiles are more accurate than the standard paintballs which are available in the market. It is advised that you use the shaped projectile ammunition in your magazines and the standard paintballs in your hopper.
You need minimum shaped projectiles for magazine use and at least 200 rounds of paintballs for the hopper. For example, the Tippmann TMC magazine holds 19 balls, which is best for Magfed guns to date. It is highly recommended to purchase at least 3-5 additional magazines to save refill time on the battlefield.
If not, you will get caught short on paintball in the middle of your game and get eliminated by your opponent's firing. In addition, magazines of TMC Magfed are reliable, but you need to pay attention while loading them.
Customization
Similar to the other Tippmann Paintball Markers, TMC offers you several customization options. In addition, you can do as many upgrades in TMC as its predecessor Tippmann 98, and Tippmann Cronus does. You can read the Tippmann Cronus review for more details.
Besides, you can add multiple accessories on the four accessory Picatinny rails, such as scopes, flashlights, red dot laser, and many more. Thus, you can keep the Tippmann TMC upgrades as complex or straightforward you require according to your gaming style.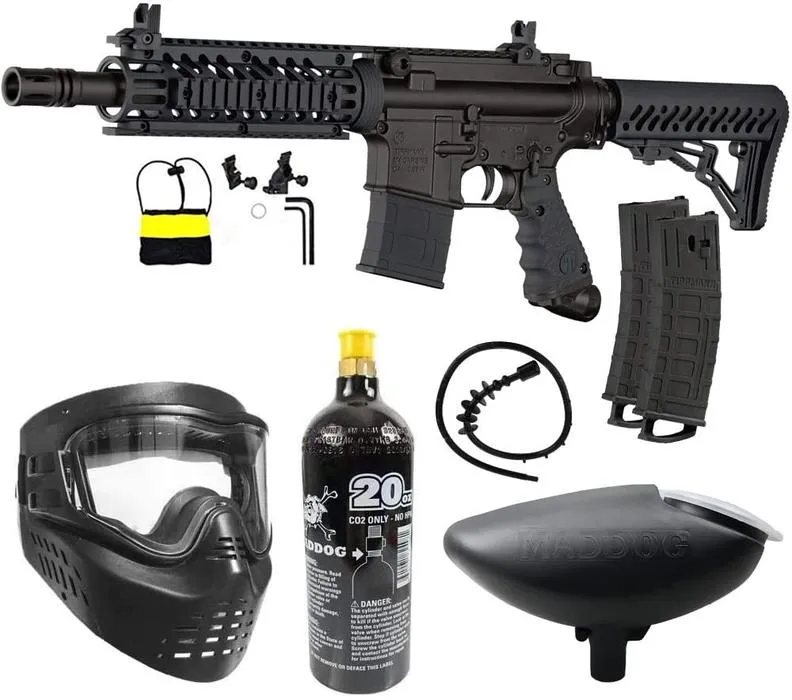 Moreover, TMC also allows you to add a standard air-through stock on this efficient Magfed paintball marker. Air-through stock is something you can consider if you think the gas tank placement is a problem while handling TMC markers.
In addition, you can upgrade the barrel of this marker with the Tippmann 98-barrel thread to get more target range, additional accuracy, and consistency. Finally, it allows you to upgrade the trigger frame and shoulder stocks according to your ease and choice.
The hopper upgrade improves your paintball loading in the marker, which ultimately increases shooting balls per second. In a closing statement, this is one of the finest and upgradeable military-style Magfed paintball guns.
Compressed Air and CO2
Tippmann TMC is not only a dual-fed paintball marker but also allows you dual power capability. Moreover, you can choose between carbon dioxide and High-pressured Air (HPA) as per your preference.
This is one of the best features of the Tippmann TMC paintball marker, along with Magfed, higher accuracy, and customization option. Other factors which affect the decision are weather conditions, your locality, availability of HPA or CO2, and the list goes on.
For example, carbon dioxide does not work efficiently in cold weather. It starts to expand, resulting in malfunctioning on the battlefield. However, HPA does not have any issue like that, and it works efficiently in all weather conditions.
That's why our first recommendation is HPA for the efficient and consistent working of TMC paintball markers. But in some areas, compressed air is not readily available; in that case, you can rely on carbon dioxide, which works proficiently in regular temperature areas.
Ergonomic Design
Tippmann TMC paintball gun is a high-quality paintball marker that is very lightweight and comfortable to carry on the battlefield. You can choose this 4-pound paintball gun and carry it for hours on the field without getting exhausted.
It comes with adjustable stocks, which allows you to adjust the stock in five different positions. It enables you to customize the length of pull and position of stock according to your comfort. The Magfed option allows you to lose the hopper and have a perfectly balanced lightweight paintball marker.
It will help you make more accurate shots and provide you much movability on the battlefield. You can quickly run, slide, kneel while holding TMC, the most potent and durable paintball gun. Moreover, it has a state-of-the-art gas line system that is routed through the trip with an industry-standard ASA connection at the base of the grip.

It allows the player to choose the gas tank setup, place the air tank at the base of the grip, or run a remote hose. You can place the CO2 tank in the harness or the hip-mounted pouch; the choice is yours.
The remote air method allows you to operate the TMC paintball marker in a balanced way, enhancing accuracy and consistency. This setup of TMC prevents the gas line from disturbing the appearance and ensures the gun is fully operational simultaneously.
Budget-Friendly
Several dual-fed paintball guns are available in the market, but there is no match for the newest Tippmann paintball gun TMC Magfed. This is a budget-friendly paintball marker that provides you all the top-rated features available in the market.
Tippmann TMC is one of the best paintball guns under 500 dollars, which is military-grade and magazine-fed. If you are price conscious, then nothing to worry about because this is your most economical paintball gun.
Most importantly, you do not need to buy another marker after you raise your level to intermediate. Instead, you can make some inexpensive upgrades to TMC, and you are good to go playing on intermediate level or as a professional.
No other paintball gun offers you so much at this minimal price. Our Tippmann TMC review states that this gun's rugged manufacturing and ultimate durability are no less than a surprise. This marker proves that you can find cheap mag-fed paintball guns under the umbrella of Tipman markers.
Stress-Free Usage
Our team of paintball experts built the Tippmann TMC review and stated that this gun is simple to operate. You need a few days of practice, and you can use the maker like a professional paintball player.
The rubber grip handles of the paintball gun make it easier for you to aim and shoot with higher accuracy. This is the most user-friendly Magfed paintball marker. Simultaneously, you don't have to load the balls while pressing the spring.
Instead, it has a knob on the side of the magazine, which you need to screw to compress the spring. That makes the reloading smooth and saves your precious time on the battlefield.
The triggers of Tippmann TMC are not like typical paintball markers. They work efficiently for both tiny and clumsy fingers. And every age group player can use it without any stress. The stock of the TMC is also easily adjustable, which makes it convenient for you to set it according to your comfort.
Beginner Friendly
The magazine-fed military-style paintball marker intimidates the beginners and intermediate-level players. But as mentioned above, TMC is a simple paintball gun, and you do not need to be an expert or pro-player to operate it. Moreover, it is easy to maintain; that is why it is called a beginner-friendly paintball marker.
This lightweight paintball gun is easy to balance and aims at the battlefield. If you are a novice or a beginner, you must have this paintball gun on the field to improve your playing level. However, even when you get some skills and think you are intermediate, you do not need to change the weapon.
The beginner to intermediate players can upgrade the Tippmann TMC marker and enjoy the upgraded features without spending much money.
Limited Warranty
When you invest a handsome amount of money in a product, you expect some warranty in case of malfunctioning or missing parts. Tippmann, the most popular Paintball gun brand, has been making paintball guns since 1986 and has built a reputation in the market because of its quality products.
Tippmann offers a 2-year limited warranty on all Tippmann paintball guns or markers they made under their banner. You can contact the manufacturer in case of any missing parts within 90 days of purchase. Moreover, it allows you to claim your warranty of two years in case the gun malfunctioning.
That is an excellent type of warranty because most paintball guns show their defects after a year of use. You can complain to the manufacturer, and they will correct the defect and repair your marker without any charges.
The critical point to note here is that the 2-year warranty starts from the original retail sale. No other paintball manufacturer provides this kind of assurance for their product.
Is the Tippmann TMC full auto?
No, Tippmann TMC gun is a semi-auto pneumatic paintball marker. The semi-automatic function of this paintball marker works efficiently and is considered the best in the world of paintball. In addition, TMC can be fully accessorized and provide the player all the options available in the market.
Can the Tippmann TMC shoot the first strike?
No, Tippmann TMC is not compatible with the first strike paintballs and uses the standard paintballs. However, Tippmann TMC is also compatible with cutting-edge shaped projectiles, which are also very efficient in shooting the distant target.
What caliber is the Tippmann TMC?
Tippmann TMC is .68 calibers which are most widely used in paintball markers. It is compatible with most of the paintballs and reduces the chops. In addition, the wide bore of Tippmann TMC allows more air to pass, which minimizes the recoil and sound effects.
What thread is Tippmann TMC?
Tippmann TMC is an upgraded version of Tippmann 98, which is why it is a T98 thread. Besides, it also shares most of the interior features like an inline bolt, etc. But TMC has Magfed and is lighter, which makes it more popular than its predecessors.
Tippmann TMC paintball gun review states that it is the most proficient Magfed paintball gun available in the market. In addition, it offers you both hopper and magazine-fed options at a meager price. TMC is an AR 15 style authentic military-grade paintball marker that feels and weighs like an original firearm. It offers you multiple upgrades which increase the efficiency and accuracy of the paintball marker. The effective range of this marker is 150 feet with an excellent stock barrel. This is a pneumatic paintball gun which is far better than electronic paintball guns in the sense of durability and reliability. The dual-powered paintball marker supports both HPA and CO2, a great TMC paintball gun's noteworthy feature.

Summary Note