If you are an active paintball player, you must be a bold person who plays at the front line. It can cause you the hell of trouble while facing your opponents in the paintball game. These little colorful paintballs look cute and harmless from outside the battlefield. But when you are in the game and get shot, especially from a close range, you will know how much pain it causes. Therefore, to avoid that, you need the best paintball chest protector to secure your chest from any unfortunate event.
Time is real money and how you can invest it on a bogus product that not only wastes your effort but dupe you in the paintball battles.  That is why we have come up with the top 5 paintball chest padded armors to protect you from a bombardment of paintball fire. There is also a buying guide to give you narration about the features and specs of these protective clothing for a winning battle. So, dive in, start reading the article, and decide the best armor according to your preferences.
5 Best Paintball Chest Armor List
To be protected all the time, you need a paintball vest and the best Paintball knee pads. The chest is the main target of the opponents in the paintball game; that is why you need extra protection. We have dug up the five best paintball chest protectors and unfolded their features and specifications for your convenience.
Protective gears are here for your safety and to avoid bad experiences during the game, so you should not settle down on a low-quality pad. To buy the best protective equipment, you must pay undivided attention to this article and choose the most rated armor.
Top 5 Best Paintball Vest Pads
1) Maddog Paintball Padded Chest Protector
| Specifications | Tested Values |
| --- | --- |
| Manufacturer | Zephyr Paintball |
| Weight | 14.46 ounces |
| Protection | Front and Back Padding |
| Dimensions | 17 x 11.1 x 1.4 Inch |
It is all fun until someone gets hurt in a paintball game. Do not ever get shot without wearing a padded chest protector which defends you from bruises and welts on your battlefield. Comfortable and flexible armor is for easy maneuvering and durable enough to withstand the most challenging conditions.
Maddog provides you the lightweight front and back padded protection, which is easy to carry for several hours. In addition, the built-in elastic shoulder and an adjustable Velcro belt around the waist offer you a perfect fit if you are a regular paintball player, then never compromise on your safety.
Ultimate Protection:
Maddog provides you the ultimate protection with the best paintball chest protector. The lightweight front and back padding protects you from every unfortunate event. You are safe from paintballs, and even paintball grenades would not burst because of their soft exterior.
It reduces the impact of every hit, which offers you a safe and confident game. This protective chest allows you to move freely; even you can run and kneel without any problem. In addition, the padded protector defends you against bullet bruises and reduces the impacts.
Adjustable Size:
Many players complained about the size of the other vests; they were loose or too tight. No more worries about size adjustment; you can adjust the size according to your physique with this new flexible paintball armor. The padded chest armor consists of elastic shoulder straps and a Velcro waist closure belt.
These features allow you to adjust your protective gear and gives you an excellent fit. If you are interested, Maddog also manufactures the best paintball gloves. which are also essential to protect the knuckles of your fingers.
Breathable and Durable:
This paintball armor is a combination of all the essential features of protective padded vests. In addition, these are breathable, which allows you to wear them in harsh weather of summer, while their flexibility allows you easy maneuvering. Thus, you could have optimal protection of this padded chest without affecting your playing style.
The durability of the vest depends upon your way of using it, but this product would last longer than its competitors. So even if you play paintball regularly in harsh conditions and do lots of crawling, this chest would stay at one season.
Make Buying Decision:
If you want to rise in paintball, you need this durable and flexible protective gear. It reduces the impact and protects you against hard hits of close-range paintball fires. The adjustable straps and Velcro belt gives you ultimate fitting. It offers ultimate breathability and extended usage.
2) HK Army Crash Paintball Padded Shirt
| Specifications | Tested Values |
| --- | --- |
| Manufacturer | HK Army |
| Weight | 14.4 ounces |
| Protection | Dual-layer padded |
| Dimensions | 13.5 x 9.41 x 3.11 Inch |
HK is one of the most famous brands for making protective gears, such as the best Paintball elbow pads and vests. But, here it comes with one of the most remarkable paintball padded shirts for woodsball games. The dual-layered paddings absorb the shock and reduce the high impact of paintball bullets while providing breathability, comfort, and flexibility.
It is contour and composed of durable and lightweight material, providing quick mobility and proper fitting. In addition, the 4-way stretchable inner lining gives you a high level of movement, which makes you active on the battlefield.
Dual-layered Padding:
Paintball can be brutal sometimes, and you should be ready for that unfortunate event all the time. HK provides you the best paintball chest protector with dual-layer paddings. These paddings absorb the shock and impacts of firing on your chest.
The contour design provides you sleek look and helps you in bending and kneeling on your battlefield. If you do crawl and kneel a lot, this vest is your best pick.
Lightweight and Breathability:
You need a lightweight product that does not drag you down on a battlefield. You run and move a lot on the battleground in paintball, and a heavy vest can exhaust you a lot. That is where a lightweight and breathable vest can give you a steady game.
This paintball chest armor is a lightweight, breathable material that keeps you active and cool in hot weather. It also provides you flexible side panels so that you can play more comfortably on the battlefield.
Enhanced Comfort and Durability:
The contour design and soft paddings provide you comfort and durability, which no other protective clothing offers in this range. This paintball chest can withstand the roughest use possible without tearing it apart from your body.
In addition, it reduces the impacts of bullets and crawling and protects your chest from bruises. Comfort is the most necessary feature in paintball chest protectors; you can think and act to the highest level if comfortable on the battlefield.
Make Buying Decision:
HK is the name of trust for making durable protective gears. It offers you ultimate protection from paintball bullets, even from a short range. They absorb the shock and high impact so you can play your game with confidence and complete focus. If you want to raise the level of your gaming style, it is the best option for paintball chest protection requirements.
3) TIPPMANN Youth Paintball Chest Protector
| Specifications | Tested Values |
| --- | --- |
| Manufacturer | Tippmann Sports, LLC |
| Weight | 14.08 Ounces |
| Protection | QCB Protection |
| Dimensions | 9.1 x 8.8 x 4.7 Inch |
It is one of the most famous brands for making paintball accessories and protective gear. Tippmann paintball chest protector offers you overall protection and confidence for playing in the battleground. This armor protects your front and back while leaving your arms free for movability.
Its high-class paddings protect you from close-range paintball shots that can be dangerous if you are not wearing armor. In addition, it prevents painful welts and bruises caused by high-velocity firing, with adjustable straps that fit all the players. Finally, this padded vest is double stitched, making it durable and long-lasting while you can easily fold it for storage.
Adjustable Velcro Straps:
Several professional paintball players had complained about the loose vest, which causes trouble in paintball tournaments. The best youth paintball chest protector offers you adjustable Velcro straps which fit you properly.
Fit chest protector provides you confidence in the battleground, and the torso will give you the next level of comfort. It fits almost all the size people, which is a unique factor about this vest. You do not have to search for your size because it suits you all.
Padded Foam Protection:
Tippmann never leaves a chance to amaze its loyal users by introducing innovations to the products. For example, it uses padded foam for CQB protection to provide you optimal defense against paintball firing. It offers you optimal front and back protection, and you will be secure even in point-blank range shots with this vest.
Durability:
This chest protector is the most durable product available in the market. It is double stitched, which guarantees its robustness and durability. You can use it in the worst paintball matches, and still, it will provide you protection without tearing apart.
After using the vest on the battlefield, you can easily fold it and keep it in a secure place. However, if you want a longer life, you must clean it after every match.
Make Buying Decision:
Tippmann manufacturer's name is enough for paintball players. In addition, it is known for making the best military paintball guns and multiple protective gears. This paintball chest protector gives you optimal padded protection against close-range shots. The adjustable Velcro straps and double stitch provide a durable vest that can withstand the harshest events in gameplay.
4) Empire Grind Pro Vest Padded Clothing for Paintball
| Specifications | Tested Values |
| --- | --- |
| Manufacturer | Empire |
| Weight | 2 pounds |
| Protection | Shock absorber padding |
| Color | Black |
The empire is the best brand to look at first if you are searching for protective gear. It presents a vest which is consists of shock absorber padded clothing for paintball games. In addition, empire provides you optimal protection with front, back, and, side paddings which give you confidence in the battlefield.
It is a pre-curved vest that offers you comfort and maximum flexibility. Moreover, the heat vents in the front and back pads provide you remarkable breathability. Cord loops are installed at the sleeves of the chest protector to work in conjunction with the best tactical boots to protect your foot.
Pre-curved Chest Protector:
Paintball players have to move a lot on the battlefield, and if protective gear prevents them from playing well, it is useless. The most important feature of this chest protector is its pre-curved nature.
It gives you comfort and allows you maximum movability in paintball matches. You can run, kneel and even crawl in this vest easily, which are the essential activities in woodsball. Moreover, it gives you the confidence to stand on the frontline on the battlefield.
Ultimate Protection:
Grind Pro is the best paintball chest protector available in the market today. It comes with front, back, and side protection paddings which give you the confidence of running on the battleground without the fear of getting hurt. You will be protected more than ever on the battlefield while wearing this armor.
Moreover, it comes with reliable shock absorbers, which reduce the impact of paintball bullets fired at you. Now, this is called ultimate protection, which you are looking for in a chest protector.
Heat Ventilation:
The biggest problem faced by players is heat in protective gears like chest protectors. It is a nightmare to wear a non-vented chest protector in several hours' game. So empire installed heat vents in the front and back of the pads for maximum breathability in harsh weather. In addition, stretchable mesh allows you to move freely on a battleground gives you additional breathability.
Make Buying Decision:
There is no reason to avoid this great chest protector. It gives you the maximum breathability possible in paintball chests while protecting all sides from bruises and welts.
The ultimate paddings protection absorbs the firing impact and leaves you unharmed on the battlefield. Don't forget the pre-curved shape and cord loops on the sleeves to attach the elbow pads. To rise up your gaming to the next level, this is the perfect vest for you.
5) Action Village Warrior Paintball Protective Clothing
| Specifications | Tested Values |
| --- | --- |
| Manufacturer | Action Village |
| Weight | 8.85 Ounces |
| Protection | Padded front and back |
| Dimension | 8 x 6 x 4 Inch |
The warrior vest is your ultimate chest protector, which will keep you protected from paintball firing on the field. In addition, this paintball protective clothing reduces the impact of the paintball shots on the chest and back due to paddings. Finally, the lightweight vest allows you easy mobility and flexibility to do all your favorite stunts in a paintball match.
The breathability of these vests provides you comfort and ventilation in hot weather. You can wear it on your playing clothes conveniently. Additionally, it perfectly fits on all body types.
Ideal Fit for Everyone:
This paintball protective chest is universal that is suitable for all body types. Everyone can wear it conveniently, and with the help of Velcro straps, it is a secure fit. In addition, the universal fitting allows you to lend this product to a friend without any problem.
A more exciting feature of this vest is that it fits over your playing clothes properly. It means you can wear anything underneath, and still, this armor will not overwhelm you.
Padded Protection:
It is considered the youth paintball chest protector by most players and paintball analysts. The paddings will protect your chest and back from the close paintball shots. These durable paddings can withstand the harshest paintball games without getting damaged. These protective gears were several times tested before introducing to the market.
Easy Movability
The paintball protective chest, which allows easy mobility. Considering that point, this is one of the most delicate paintball vests available today. Moreover, the sleeveless design will enable you to move your arms freely, which is essential in a paintball match.
Sleeveless arms are also perfect for making your vest breathable in the hot summer season. Besides that, the vests are already breathable enough to use ideally in harsh weather.
Make Buying Decision
First of all, it is a budget-friendly paintball chest that provides you protection against close paintball firing. It reduces the impact and gives you the protection you need. It is remarkably lightweight, which makes it easy to wear for several hours.
At last, if you are unsure of your size or want to gift some a vest, this universal size vest would be perfect because it fits everyone.
Buying Guide for Youth Paintball Chest Protector
If you play paintball regularly, you will be familiar with the pain that paintball can cause. To defend yourself on the battlefield, you need a protective vest the essential gear such as the best paintball mask on the paintball battlefield. It protects you from bruises and unbearable pain on the battlefield.
If you have decided to buy paintball protective gear, you must be aware of the kith and kin of the protective armor. That will help you in making the best decision for buying the perfect armor. However, if you are a beginner, there are many chances that you will end up with fake armor or waste your money on a less valuable product.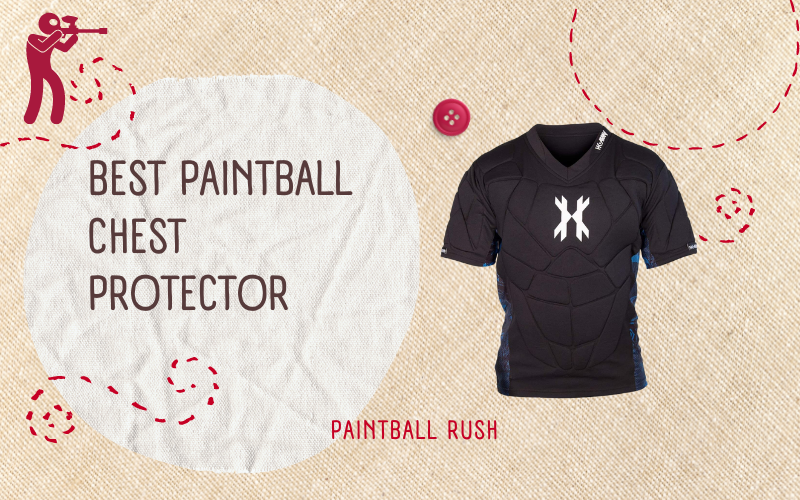 We help you with a guide that will minimize the chances of getting robbed by any fake manufacturer. You need to focus on a few simple steps and end up with perfect padded clothing for paintball. So, start reading the guide and buy the best product to avoid pain on the paintball battlefield.
Factors to Consider:
If you are new to paintball, a mask and goggles are not enough protection on the battlefield. You need to defend yourself against brutal high-velocity paintball bullets, which can cause you enough pain that you will leave the match in half. To do that, follow these simple but essential factors.
At first, you have to decide the type of armor you want to wear on the battlefield. There are two types of armor, one you wear under the shirt and the other over the shirt.
Over Shirt Armor:
This paintball armor carries more weight and extra paddings for ultimate protection. They protect your chest and back, even your clothes, from getting painted. Sometimes these armors include some pouches to carry additional gears.
Under Shirt Armor:
The armor you wear under the shirt is thinner and carries less weight than other armor. These armors are simple, padded vests that absorb the impact of paintball bullets and prevent you from hurting. To get more safety, make sure you wear them over a T-shirt rather than direct on skin.
Materials:
It is the most crucial factor of padded paintball chests. Therefore, you must keep an eye on the best materials to get the best paintball chest pad. Look for high synthetic material used in paintball chest protectors; however, most protective gears are manufactured by nylon and polyester. HK Army and youth paintball chest protectors use the best materials in their armors.
Paddings:
It is also an essential factor to look for while buying a paintball chest. If you have an excellent padded paintball chest, it will protect you against close shot fires and prevent injuries. Moreover, avoid paintball long sleeve chest protectors; they will slow down the movements of your arms. Go for CQB and thick padding for extra protection.
Size:
There was a time when finding a paintball chest protector 3xl size was close to impossible. Today there are vests available in all sizes and for all body types. You must look for a perfect fitting, so you don't have to face trouble on the battlefield. Eventually, you can get shot and eliminated at the start of an important match.
Lightweight and Breathable:
Look for a lightweight and breathable chest protector, so you don't have to face the troubles of wearing it in hot weather for several hours. Tippmann, Maddog, and JT paintball chest protectors are lightweight and give remarkable performance. A lightweight chest protector is easy to carry for a long time in several hours' game; that's why you look for it in stores.
How to Use Paintball Protective Gear?
Supplies

: Velcro Straps and Belts

Tools

: No additional tools required to wear the Chest Protector

Estimated Cost

: 70$
Paintball game looks fun and colors, but when you put your feet on the ground, you face reality. So if you want to play the safe and sound game, you need the best paintball chest protector.
Paintball chest protectors absorb and distribute the force from the striking objects. Thus, it reduces the impact and prevents any severe injury. Moreover, it reduces traumatic chest injuries like rib features or painful bruises. In addition, the paddings protect you while keeping you vented in hot weather. Finally, it is effortless to use, and you just have to follow few steps:
1) Select a Size:
At first, you need a perfect size for ultimate fit and protection on a battlefield. If you are wearing a size that fits, the vest will slide up and down during your game. That's why to select a size that is not too tight or loose.
2) Simply Wear it:
Most chest paintball protective gear is similar to shirts and jerseys, which are easy to wear and carry. Simply wear it like a shirt, adjust it on your chest and back correctly.
3) Adjust the Velcro straps.
In the final step, you need to adjust straps according to your physique for complete adjustment. Again, Velcro or simple straps will help you in tightening your vest according to your ease.
4) Check your Vest
After you wear it entirely and adjust the chest, you must check it properly to avoid loose from any side. It will give you confidence in the playing field that it will not be problematic while playing.
HK Army Crash is the best paintball chest protector available in the market today. It is a well-engineered product that provides you with enhanced comfort and durability. The contour and dual-layered padding system offer you the ultimate protection and high impact resistance. Even if you got shot at point-blank, it would protect you from bruises and welts. In addition, the high-impact padding absorbs the shock caused by continuous firing by the opponents on the battleground. Besides protection, it is a lightweight and flexible chest protector which allows you to move freely. At last, it is a breathable product that is best for harsh weather.

Editor Recommendation
Do you need a chest protector for paintball?
Affirmative, you need a chest protector for the paintball game. The paintball shots can give you nasty bruises, which will cause you unbearable pain. So to avoid that, wear the best armor you can get and stay protected. Moreover, avoid wearing a simple t-shirt in paintball, or you will get seriously hurt.
How do I choose a chest Protector?
It is not that simple to buy the best paintball protection; you must know the features and specs of a product before purchasing the product. But for your convenience, you must look for the product that says it is shock resistant. This protector will minimize the bullet's impact and keep you safe from welts.
How painful is paintballing?
Paintball itself is not a dangerous game, and players usually hurt like a sting or a flick on the arm. But if the gun's velocity is high and you get shot from a short-range, you can get painful bruises and nasty welts. Some players even have broken ribs during the crash. To avoid these painful things, you need a chest protector to defend you against every unfortunate event.