When we talk about paintball guns, Tippmann is the company that's regarded as one of the best. They make top-tier quality paintball markers in the market that stand out from the rest and suit many different players and play styles. So even if you don't own a paintball gun, there's a high chance that you've come across paintball guns made by Tippmann. Today we will go through the best Tippmann paintball guns, so you can make the ultimate decision and get better as a player.
Tippmann offers a wide variety of paintball markers. No matter your play style, whether you play speedball or woodball, there's always going to be a gun from Tippmann that suits you perfectly. They produce mechanical, pump, and electronic guns with different designs and aesthetics. Even if you're a beginner, you can scroll through various Tippmann guns that will ease your way into the paintball world. 
So, let's now move forward and review the top 5 best Tippmann paintball guns in the market for you to choose from. 
Table of Content:
Top 5 Best Tippmann Paintball Gun Review
1) Tippmann New Cronus Power Pack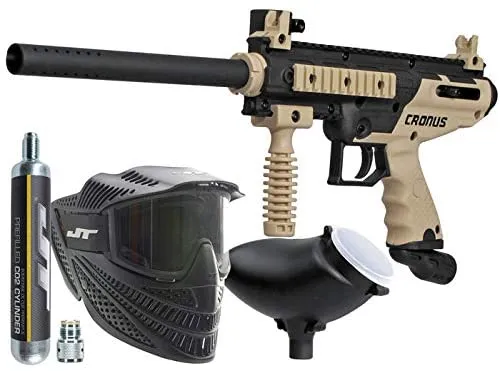 Pack includes: Co2 90g cylinder, JT raptor goggle, and 200 round hopper
Picatinny railings 
Internal Gas line
Front and rear sights
Composite body
Rubber grips
The Tippmann Cronus Power Pack is by far the best item to buy if you're straight up a newbie in paintball sports. The pack contains various gear items which are vital for the paintball experience. We will go through the items one by one but first, let's talk about the newest paintball gun Tippmann Cronus.
The Tippmann Cronus is a lightweight marker made out of a composite body. It is available in camel color, and it has a nice and simple design. The Cronus is excellent for quick maneuverability and close-quarter combat. You can easily rock this loadout on a speedball field.
The internal gas line is always a plus sign when it comes to the design. However, as we saw with the 98 Custom, an external gas line can cause issues and is more exposed to getting damaged. Therefore, another entry-level gun with an internal gas line is a safer option. The cylinders go into the bottom of the rear grip, and to get you going, the power pack includes a 90g Co2 cylinder. 
The inclusion of multiple Picatinny railings will allow you to add any types of attachments you want. For example, you can add an optic sight on top, although the Cronus already has a rear and front iron sight. Other attachments include laser, torch, grips, etc. The tactical edition of this gun also consists of a carry handle, optic sight, and a collapsible stock. These Tippmann automatic paintball guns are very easy to use.
The power pack also includes a JT raptor goggle and face mask. This will help you step into the field without any extra purchases. The JT raptor goggles provide good protection and a clear vision through the visors. 
Lastly, the pack includes a 200-round hopper. The Tippmann Cronus only has a hopper feeding option, and they provide a basic hopper that you can attach on top of your gun and load it up with up to 200 paintballs; with that, the power pack is completed, in total, it contains the Tippmann Cronus, 90g Co2 Cylinder, JT Raptor Goggle face mask, and a 200-round hopper.
This is by far one of the best options for beginners who do not want to buy everything separately and search for what's wrong and what's right. Getting this power pack would complete more than half of your paintball gear and set you off the right track. And it merely costs a little more than $100, which is a huge steal. It is with no doubt the best Tippmann paintball guns.
Pros:
Includes a full paintball gear
Amazing cheap price
Picatinny railings
Safe internal gas line
Cons:
The front grip isn't that comfortable
2) Tippmann TMC MAGFED Paintball Marker
Dual feed option: Hopper and MAGFED
Collapsible stock
Rubberized grip
Dual iron sights
12-inch Barrel
Smart internal gas line
This is our first MAGFED Tippmann gun on this list. The TMC MAGFED is one of the first proper AR-looking markers. The paintball gun looks like a Carbine or an M4, making it look like one of the most remarkable and realistic paintball guns. The Tipmann TMC MAGFED paintball markers are available in all black colors.
The TMC MAGFED gun is an all-rounder option for paintball players familiar with the game and the mechanics of a basic marker. You can comfortably use this in close-quarter fields (speedball) or even woodball. 
The TMC MAGFED is a semi-automatic gun, so you need to pull the trigger for a single shot. However, the marker can handle a reasonable fire rate depending on how fast the user's trigger finger has.
Inside the box, you'll get a dummy mag and a real magazine that can be filled with nineteen .68 caliber paintballs. You can squeeze in twenty paintballs if you push it to the limit. The dummy mag is a vital part and should not be discarded by any means. 
Since the TMC has a dual-feed option, so you can attach a hopper on the top of the gun. Thus, you will need the dummy mag to block out the magazine port so the weapon can use the hopper port instead. The internal Tippmann system is great as usual, and we know how durable that is. There is also a safety lever above the trigger. 
The collapsible stock is another reoccurring feature that is popularly liked, and you can adjust the stock as per your preference. Either Co2 or compressed air is needed to power this gun, just like most Tippmann guns. The gas tank goes beneath the rear grip.
The gun is quite simple to handle at different ranges. The grip and stock make controlling the gun easy. The 12-inch high-quality barrel is covered by composite with Picatinny railing on all four sides. You can attach grips, lasers, or sights over here. The Tippmann TMC MAGFED does already have rear and front sights, which is a nice touch. 
TMC is an outstanding option to get into MAGFED high-performance guns at a reasonable price. So, if you're looking to get into some real paintball action with the MAGFED option, then this is your go-to. However, this isn't the greatest option for a beginner. 
Pros:
Looks like an actual AR
A lot of Picatinny railings
Dual feed option
Reasonable price
Great for different paintball arenas
Cons:
Not the best suited for beginners
3) Tippmann Stormer Elite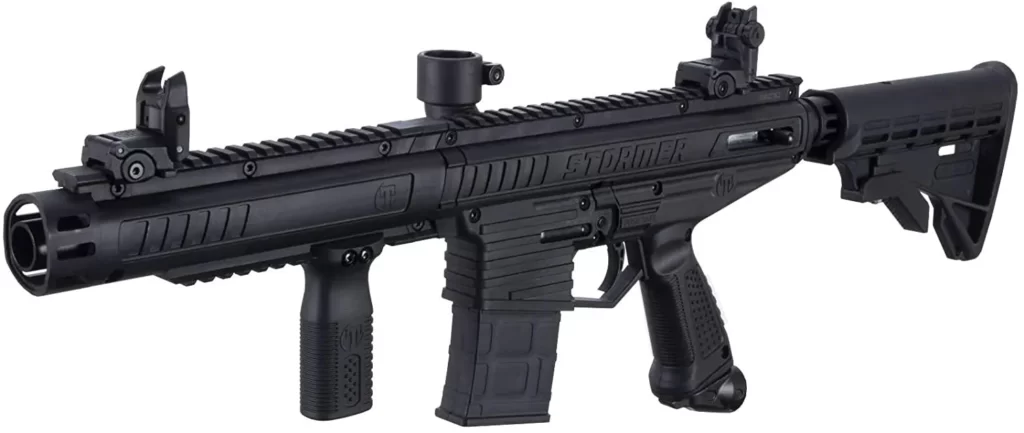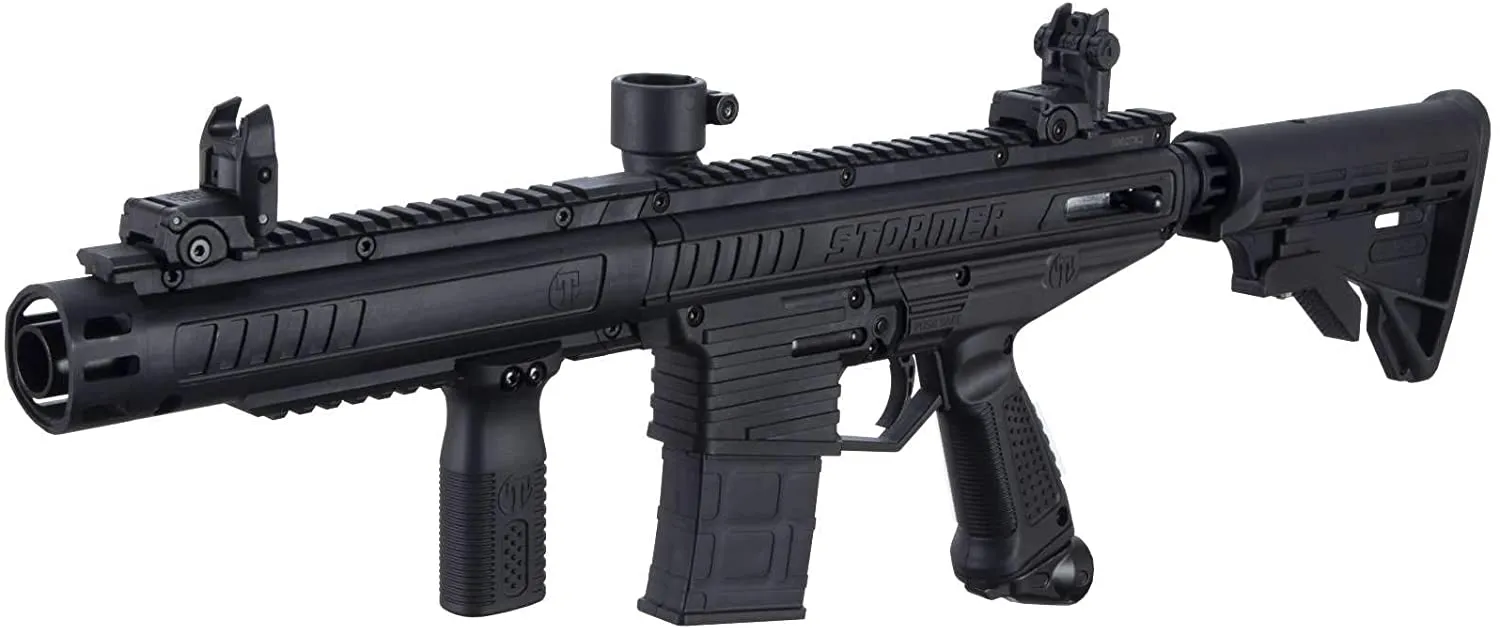 Dual feed option
.68 caliber
Collapsible stock
Rear and front flip-up sights
High impact composite body
Semi-Automatic
As the name suggests, the Tippmann Stormer Elite is an advanced paintball gun with many cool features and a real-life experience. The Stormer series from Tippmann is well-liked among their fans due to its versatility and reliability. The Stormer Elite is the topmost marker on the Stormer series. This model is a representation of the Stormer basic and tactical combined with some additional features.
The Stormer Elite has a classy matte black body which makes it looks like a high-tier marker. Just like the Tippmann TMC MAGFED, the Stormer Elite is also dual-fed and can be loaded up with an actual magazine, or you could clip in a dummy mag and fix a hopper on top. The Dual options allow ease of use, and you can simply change between both methods within seconds. 
The marker may look heavy, but surprisingly it's pretty lightweight, making the user's mobility much faster. It has a durable high-impact composite body with a shroud covering and slight suppressing of the barrel. 
Another great thing about the Stormer Elite is the internal gas line. As we mentioned before, internal gas lines are far safer and greatly reduces leakage risks. Inside the box, you'll receive a dummy mag and two magazines with 20 rounds capacity. This means you can easily carry 40 rounds of .68 caliber paintballs between two magazines. 
Other than that, you can also apply for a hopper, but you'll have to buy it separately. Although, the magazines would hold a lot fewer paintballs as compared to the hopper.
The Stormer Elite has a front and rear iron sight that flip-ups if you want. There are also Picatinny railings on top which means you can flip the iron sights down and attach an optic sight. You can even add on any other kind of attachment that suits your playstyle. The Elite marker also has a collapsible stock which you can adjust per your arm's length.
The Stormer Elite is a premium marker from Tippmann, which suits many paintball players who are slightly more experienced. Stormer Elite is highly versatile and a great all-rounder gun, especially for woodsball, but it's not the best option necessarily for a beginner.
Pros:
Good price
High precision and accuracy 
Dual paintball feeding options
Flip-up iron sights
Durable quality
Cons:
Requires a little bit of experience
4) Tippmann Cronus Tactical Olive Starter Package
Package includes Cronus Tactical, 20 oz. Co2 Tank, 200 round hopper, Anti-fog mask, five paintball harness, and Four 140 Rounds pods.
Semi-Automatic
Collapsible Stock
Carrying handle
Picatinny railings
High-Quality barrel
The Cronus Tactical marker is an AR-looking paintball gun; it has Picatinny railings on all four sides, on the top, bottom, and sides. There's already a foregrip, and a carrying handle attached. You can add even more attachments like optics, laser, and grips. The package includes multiple items, which we will list down after reviewing the marker itself. It is one of the best Tippmann paintball guns.
The high-quality barrel has a nice smooth shroud on top, which nicely suppresses the firing sounds giving you a stealthy advantage. Another upgrade it has over the basic Cronus power pack is that it has a collapsible stock that can also be adjusted. As a result, the stock offers more precision and accuracy and is excellent for outdoor woodsball scenarios.
Like most of the Tippmann markers, the Cronus Tactical also has an internal gas line and in-line bolt design, this minimizes leakage risks, and the in-line bolt design enhances the performance.
Moving on to the other contents inside the package, you will find a nice anti-fog mask. The anti-fog gas mask has great airflow and will not make you feel congested. You will also get a 20 oz. Co2 air tank will be empty on arrival, but you can get it filled from a paintball shop. The package also includes a 200-round hopper with four paintball pods that can hold 140 rounds, and you can pull them into the five-pocket paintball harness. The harness can be worn and will allow quick and easy access to ammo.
The Tippmann Cronus Tactical Edition Starter Pack is a great option for newbies looking to get a complete package. However, even if you're not a beginner, you can still greatly make use of the package. The price of this pack sits a little above $200. 
Pros:
An amazing deal
Nice overall marker performance
Convenient harness and pods
The collapsible stock allows better control
Cons:
5) Tippmann 98 Custom Platinum Series Paintball Gun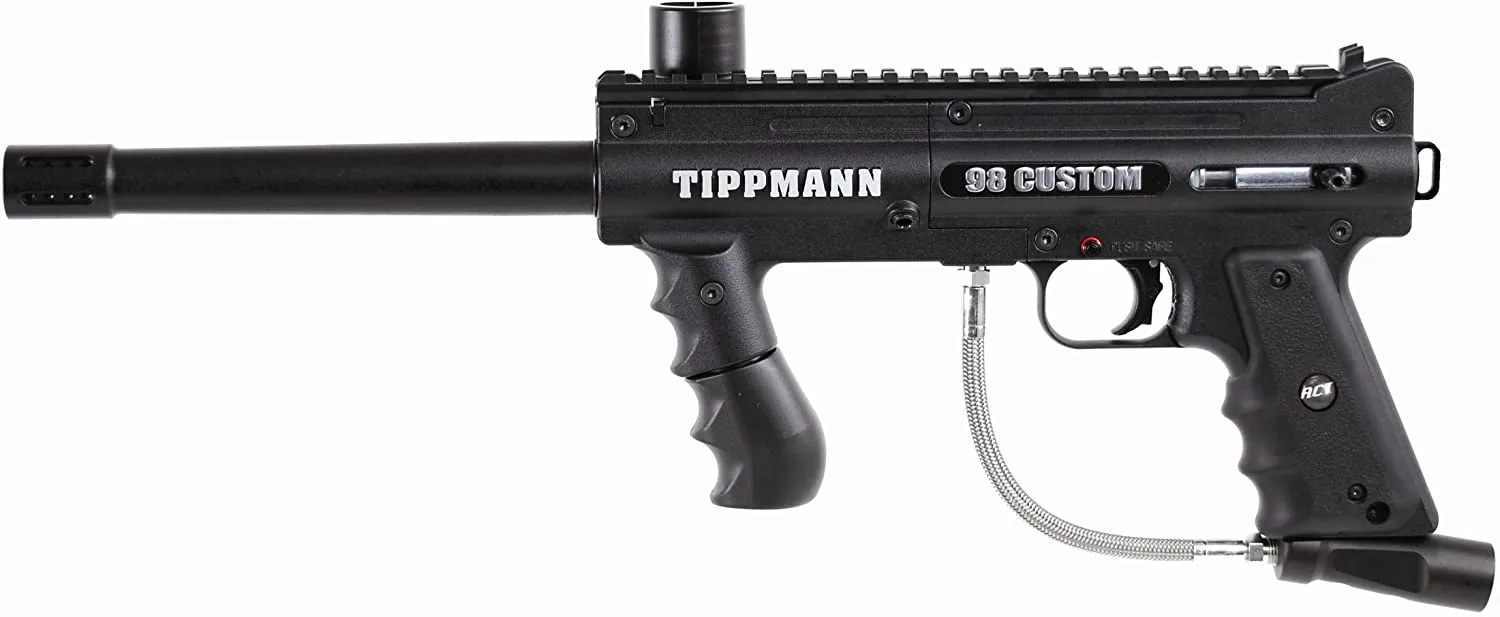 .68 caliber
Vertical front grip
Semi-automatic
8.5-inch barrel
Picatinny rails 
150 feet effective range
We all know how strong the Tippmann markers are, but when it comes to the 98 Custom Platinum series marker, the reliability and durability of this gun are out of the park. Nevertheless, paintball players worldwide love this specific marker, and it's probably one of the best entry-level paintball guns in the market. The 98 Custom is a lightweight gun with a fore grip and an 8.5-inch barrel.
The Tippmann 98 Custom packs in a lot of power and hits some peach-perfect, accurate shots. With its effective range being up to 150 feet, you can comfortably use this in speedball and woodball without any problems. 
The trigger is perfectly sized and holds the finger firmly without any slipping. The 98 Custom almost shoots as good as tournament markers. You can power it up by either using Co2 or a compressed air tank. When renting markers at a paintball arena, the Tippmann 98 Custom is the most common gun. 
The reason behind it being so popular is because of its high durability. Different people use it in various ways, they duck, roll, jump, and slide, but the gun works as smoothly as ever. So, the durability and reliability of this gun are outstanding. 
The gas line is external, and the air tank gets fixed underneath the rear grip. The top is covered in Picatinny railing, which means you can attach any add-on. You can pop a new optic sight, laser, grip, or anything that suits your style. 
This Tippmann 98 Custom model comes with the Anti-Chop Technology (ACT). The ACT ensures that the paintball doesn't split or break inside the gun, which causes blockades. This anti-chop function allows a smooth experience on the battlefield. Tippman paintball markers give you a fantastic experience.
By far, the best-selling point for this gun is its upgradability. The split receiver design helps access the internal components with ease, and you can make quick and massive upgrades to this gun over time. From the huge list of upgrades you can make, here are some of them: drop forwards, response triggers, high-end barrels, electronic grips, and custom stocks. 
It's clear to say that this gun is a great entry-level marker, and with its affordable price, you can carry this gun forward for a long time, thanks to the upgradability feature. If you're looking for a first marker purchase, then this is worth considering. 
Pros:
Highly durable and reliable
Picatinny railing
Reasonable price
Easy to use
Cons:
Not very fast firing rate
Tippmann Paintball Gun Review Guide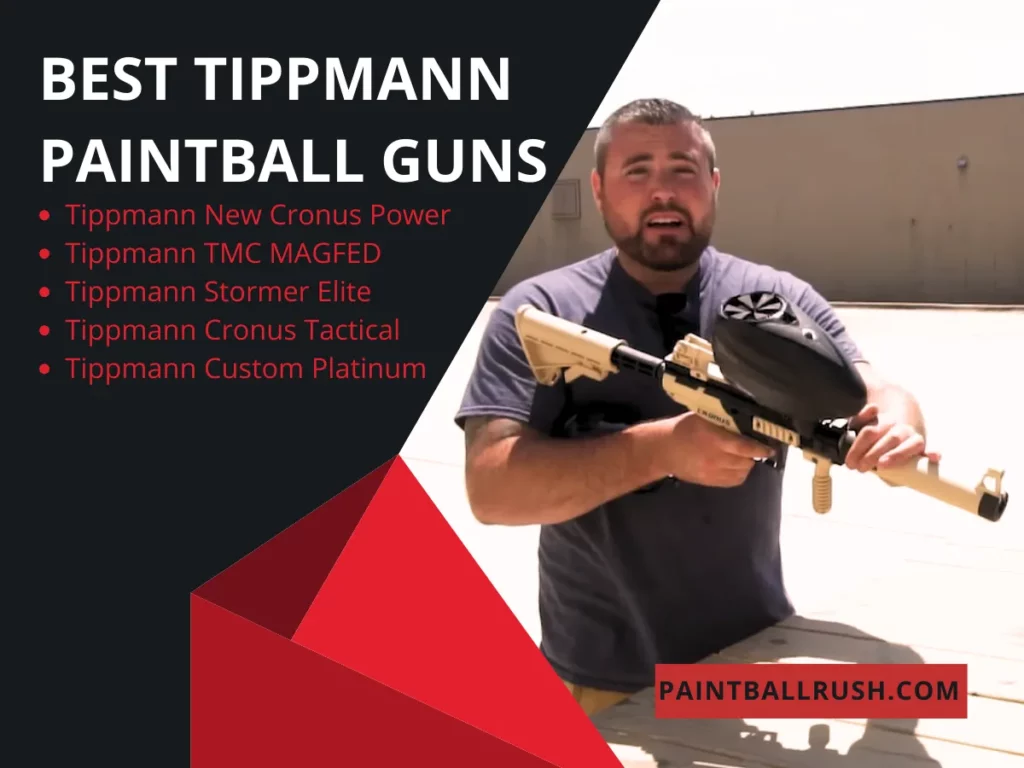 Before you make up your mind on what's the best Tippmann paintball gun for you. It is important to go through some of the major deciding factors. As a beginner, some elements are unknown, which may affect you later on. So here are some of the main factors that you can read through before buying a Tippmann marker.
Ammo Feeders:
There are two main ammo feeders. First, a gun can have a MAGFED option which replicates an actual gun where you push in a magazine clip under the gun. The second method uses a paintball hopper, a small container placed on top of the gun that can hold up to 200 rounds of paintball. Some guns will have both options. It's better to purchase a gun with a hopper option if you're a beginner. If you're familiar with the paintball markers, then trying a MAGFED would suit you. 
Accessories:
Tippmann offers their markers with extra accessories too at times, which will cost you a little bit more of your cash. These accessories usually include a repair kit, magazines, hopper, mask, harnesses, etc. So, if you require these items, go for a whole package as you could save some money and time on these deals. 
Railings:
The great thing about Tippmann guns is that they have Picatinny railings on most of them. Some markers will have railings on the top, but some of them have them on all sides. If you're someone who likes customizing their markers and wants to switch up the style now and then, so a bunch of Picatinny railings is a must for you.
Price:
Lastly, the price of a marker or a whole package is what makes or breaks the deal. Luckily the Tippmann markers are available at great affordable prices, but it's still important to make sure your budget is before making the final decision. 
Our top pick has to be the Tippmann Cronus Power Pack. Not only do you get a sturdy and highly durable Cronus marker, but you also get some great gear with it at an amazing price. This purchase is a great option for beginners as it would set them up instantly to hit their closest paintball field.

Our second pick is the Tippmann 98 Custom Platinum Series; this is another great choice for beginners and professionals. It is highly affordable with a vast ability to upgrade it over the years. Plus, when it comes to durability and reliability, the 98 Custom easily tops the list.

We hope that this article proves as helpful to you as Tippmann is to the paintball industry. From their wide variety of markers, you can pick whatever suits them best for you, even if you're a beginner or a veteran. The versatile list we put upholds some of the best Tippmann paintball guns available right now at some great prices that you can get your hands on and go crazy in a paintball field.

Top Rated Products Picks
Does it hurt when you get shot?
The paintball does hurt a little bit, but if you're wearing good gear, you won't feel anything that would hurt you in any way.
What is the minimum age for paintball?
There is a mini paintballing session in which kids can play that are aged 8-11. However, a regular paintball session usually allows people over ten years of age. Tournaments have different criteria and are generally for adults.
How do you play paintball for beginners?
Paintball is a simple game. Just like you play tag, you play paintball, the people who get hit by a paintball leave the field or stay stationary on the sides. Team games end up when one team completely loses/gets hit by a pallet.
What is woodsball paintball?
Woodsball is a variant of paintball that is played outdoors, usually in the woods. The playing field is large, and the players utilize natural covers to maneuver around the area.