If you are a paintball player, then you must have tactical protective gears are for your protection. In protective gears, knee pads are most crucial; if you fall on the battlefield, your knees will be the first direct contact with the rocks. However, selecting the best paintball knee pads is very tricky for beginners and intermediates. Several paintball knee pads are available in the market, and all the brands claim to be the best. So slay your worries; our research team has come with some high-quality knee pads for your ultimate protection.
To buy the best protective gear, you must be aware of the critical features of paintball knee pads. It will help you make a decent purchase, so you don't have to regret it later. Furthermore, this guide includes three top-quality knee pads to assist you in picking one concerning your needs. The detailed specifications will help you in making a better choice and make your investment worthy.
Table of Content:
3 Top Knee Pads for Outdoor Paintball
Are you ready to buy top knee pads? This best paintball knee pads review manual will help and guide you to make the best investment in your life. So now, dive in, start reading the feature first, and get yourself some protection without wasting any more time. In this article, you will find proper details and specs of the knee pads become aware enough, and make a good buying decision.
Best Outdoor Knee Pads for Paintball
1) Dye Precision Performance Paintball Knee Pads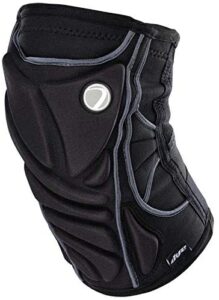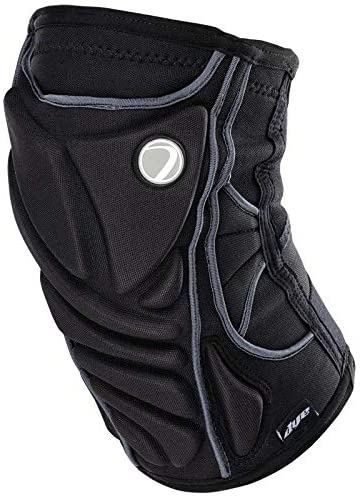 Lightweight airprene body
Perfect Fit with circulation
Breathability and Flexible
Micro injection logo
Adjustable straps for perfect fit
EVA high density foam knee
High-impact open-cell foam
Special padding at the sides of knee pads
| Specifications | Values |
| --- | --- |
| Brand | DYE Precision |
| Colors Scheme | Black |
| Weight | 1.09 pound |
| Dimensions | 11.81 x 8.66 x 3.35 Inch |
| Size | S, M, L, XL, XXL |
The lightweight body of these dye knee pads provides you a flexible, comfortable, and breathable fit. This protective gear is a result of years of player recommendations and comprehensive product research, design, and testing. New adjustable lower leg straps allow you to tighten the knee pad for ultimate fit and prevent sliding down.
EVA high-density foam knee wraps around your knee to give you more custom fit, and additional cushioning minimizes the impact. High impact open-cell foam is impact resistant offers you a high level of protection. In addition, special paddings add up to the sides of knee pads, which help slide or crawl at different angles.
Breathability:
The most crucial feature of these knee pads is that they are exceptionally breathable. It is because these pads are specially designed to let plenty of air through them. In addition, the construction of these pads includes highly breathable material, which makes them one of the best knee pads.
These cool knee pads will keep you calm and comfortable on your battlefield, so you can perform without any hassle. It doesn't matter its cold or hot; you will always be comfortable and protected in these protective gears. The back section of these knee pads is left open to allow more ventilation, flexibility, and comfortable fit.
Pre-shaped Design:
If you are looking for lightweight best paintball knee pads, then this pair of pads will be best. The pre-shaped design of these pads makes them superior to their competitors. In addition, this design of knee paddings helps to contour your legs and stay on your knees.
Extra paddings have been explicitly added to the sides of the knee pads for additional protection. After wearing this extra protection gear, you don't have to be worried about them moving around. You are accessible to crawling, sliding, or running around on your battlefield. These paddings will minimize the impact and keeps you protected.
Adjustable Straps:
Many players were irritated by the misplaced protective gears during their running and sliding but not these pads. These pads offer you a unique adjustable strap that keeps the knee paddings at their place. These straps are thick, which helps to keep the pads attached to your legs and makes them more durable.
Even if you use them regularly, these top knee pads can withstand harsh and rough use. So no more worries about getting injured on the battlefield; you can play paintball woodsball, speedball, whatever format you want. One last thing, you can easily wash these knee pads whenever you want with cold water.
EVA High-Density Foam:
These dye knee pads are engineered to make them perfect against falling impact and pointy rocks. High-quality EVA dense foam wraps around your knees for a more custom fit and offers you more cushioning to prevent direct impact. In addition, the high-impact open-cell foam is highly impacted and shock resistant and provides you a significant level of protection.
The lightweight of these pads prevents dragging due to weight while the airplane body averts the overheating in your body and balances the inner temperature. In addition, the flexibility of these pads is incredible; you can move around with complete comfort without any additional weight or inconvenience.
Why to Choose:
First of all, knee pads are the most important protective gear for a paintball game. These specific knee pads are highly breathable and flexible, which provides you comfort on the battlefield. In addition, the lightweight airprene body prevents the heat buildup in your legs.
The adjustable straps and pre-shaped design keeps the pads at their place and averts sliding down during the game. EVA high-density foam protects you from pointy rocks and resists the direct impact from anything hard. These knee pads are perfect for harsh woodsball games and speedball paintballing as well.
2) HK Army Crash Best Airsoft Knee Pads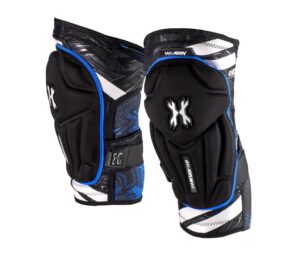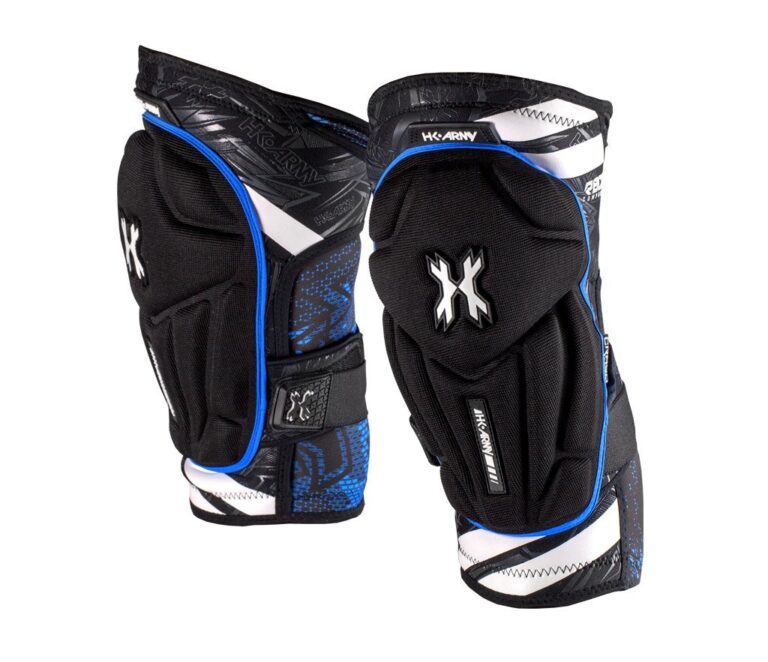 Hook and Loop closure
Enhanced comfort and durability
Contour, dual-layered
High-Impact padding
Neoprene upper leg support
Lightweight, breathable
4-way stretch sleeve
Adjustable Velcro strap
| Specifications | Tested Values |
| --- | --- |
| Brand | HK Army |
| Colors Scheme | Black |
| Weight | 1-pound |
| Specialty | Dual layered |
| Padding | 4-way Stretchable |
| Size | S, M, L, XL, XXL |
HK is one of the most popular companies which makes protective gears for paintball. Now, the manufacturer has introduced the most awaited best airsoft knee pads system. The comfort, flexibility, and high-impact performance were in mind while designing these pads.
The dense foam and dual-layer padding system absorb the shock and reduce the direct impact on knees joints. If you constantly kneel and slide in your match, these extra thick dual-layer paddings and dense foam will protect your knees.
In addition, these airsoft knee pads are four-way stretchable, which makes them more than flexible. The inner lining provides added coverage and offers you maximum breathability.
Four-way Stretchable:
These flexible best paintball knee pads are for active players who love to get involved in the game. The four-way stretch design is to keep the pads snug against your knee. This stretchable design helps prevent the pads from moving around too much while on the run.
These four-way stretchable paintball knee pads are lightweight and exceptionally breathable. You can run efficiently in a paintball game quickly after wearing these knee pads. The inner lining provides maximum ventilation during the play, so you would not get hot inside the paddings.
Dual Layered Padding:
If you love to move around and constantly kneel, lying down or slide in a paintball game, then these paddings are made of you. These knee pads are specially designed with thick layers of foam to protect you from high impacts. Thanks to its dual-layer padding, you can enjoy paintball without the boundaries or stress of getting injured.
These dual-layer thick paintballs are very protective even in rough terrain. No matters you are running, hitting something, or falling on the ground, your kneel joints are not going to feel anything. Now you can enjoy destination games like woodsball more than ever with these protective gears on.
Adjustable Velcro Straps:
These knee paddings come with hook and loop closure with adjustable Velcro straps. These Velcro straps stay in place even in the roughest game possible. This knee pad is for an active player on the field; these paddings are for you if you are one.
These adjustable Velcro straps contour the knee paddings with your legs, so these paddings do not move down. Even if you run, crawl or slide, these high-impact paddings will stay in place and ultimately protect you in the field. The knee paddings are durable enough, and they can withstand rough and tough use without tearing apart.
Neoprene Supported:
Neoprene is durable a waterproof material used to enhance the durability of these puddings. Whether you use these paddings in rainwater or mudding, they can be cleaned in a single wash and do not break down. These knee paddings are best for beginners and pro-players as well.
These paddings provide you enhanced comfort and durability in the field. Even if you are in a bumpy place and have to move on your knees, you won't feel anything thanks to extra-thick paddings.
Why to Choose?
These are the best airsoft knee pads available in the market today. The 4-way stretchable knee pads are flexible and durable enough to withstand the harsh game. In addition, the double-layer thick knee pads give you protection against pointy rocks and high impact resistance, which keeps your knee joints protected.
Waterproof neoprene support protects you from water, while adjustable Velcro straps keep the padding in place. As a result, these lightweight knee pads do not drag you down in important paintball matches and keep your pace high.
3) Carbon CC Cool Paintball Knee Pads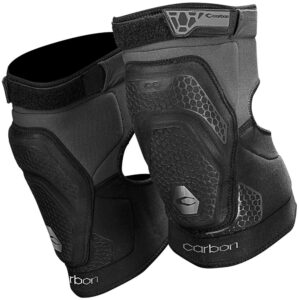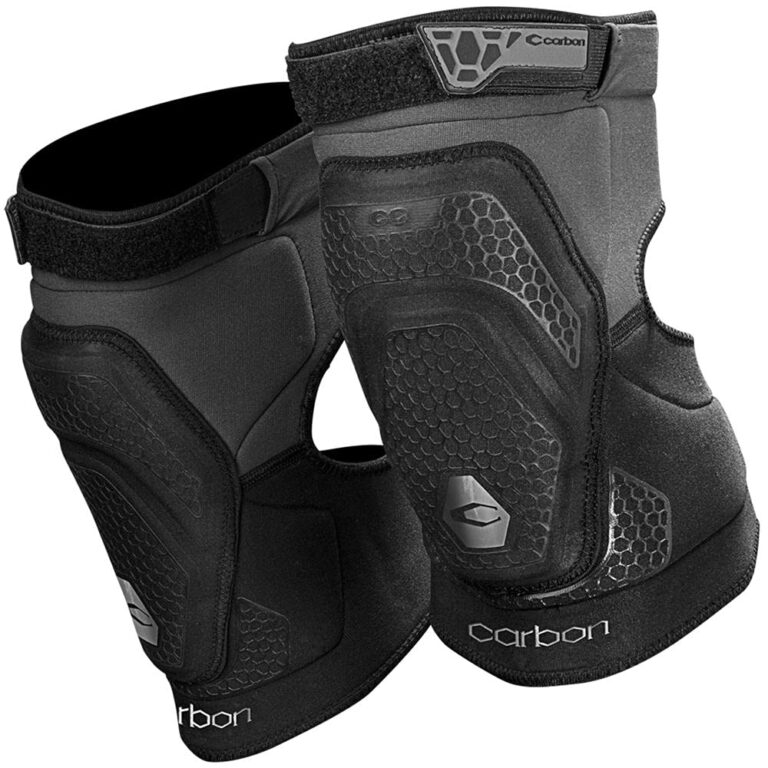 Dual layer impact foam
Adjustable tension strap
Interior knee donut alignment
Low profile supported fit
Lightweight non-slip knee pads
Dual layer protection
No Extra fabric behind the knee for optimal protection
Breathable
| Specifications | Featured Values |
| --- | --- |
| Brand | Carbon |
| Colors Scheme | Black |
| Weight | 10.41 ounces |
| Specialty | Dual layered |
| Length | 11-inch |
| Size | Multiple |
These lightweight non-slip Carbon paintball knee pads provide you dual layer protection. These CC knee pads grant you a full range of motion; you are free to have fun and kneel whenever you need. These knee pads have dual-layer impact foam, adjustable straps, and no extra fabric behind knees for ultimate protection.
These paddings provide you comfort and optimal support in your paintball game. This pair of knee pads have a low alignment profile adjustable interior, which allows you to adjust according to your knee point. It is suitable for machine wash, but water temperature should not exceed 30° C.
Built-in Vents:
Sometimes you have to invest your money for extra comfort and protection. These paintball knee pads have built-in vents at the back of the pads, which allow the perfect airflow. As a result, this pair of knee pads are breathable more than an expensive pair of pads.
The additional vents help to offers you a great deal of cool even if you are paling in extreme warmer weather. The lightweight carbon paintball knee pads weigh only 10.41 ounces which is relatively low than the other two knee pads. Although lightweight, they guarantee your protection on the battlefield against high impact to the ground or thrones.
Non-slip Knee Pads:
These lightweight non-slip paintball knee pads offer you extra-wide, double, and adjustable knee straps. These wide straps boost your confidence, and you do not have to worry about breaking them down before a paintball match. In addition, this non-slip knee pad gives you the ability to adjust padding alignment according to your preferences.
Its low-profile supported fit allows you the full range of motion for crawling, running, kneeling, and sliding. And its robust structure gives you the confidence of not ripping apart during the game. These paddings will provide you with protection in every paintball-related match, such as woodsball and speedball, etcetera.
Great Protective Gear:
These highly protective gears are the best paintball knee pads in the market for short games. The vigorous exterior covers the thick foam of these pads, while dual-layer paddings keep you safe. In these knee pads, you will be protected from bumps and bruises while on the battlefield.
These are the obliviously most ideal knee pads for paintball with no extra fabric behind the knees to give you optimal protection. In addition, it will protect you from high-impact contact with the ground and pointy rocks. Rest assured, you will not be able to injure your knee while wearing these knee pads.
Easy Maintenance:
A very few paintball knee pads offer you easy and reliable maintenance. You can wash your carbon knee pads in the washing machine without getting worried about destroying them. Just keep in mind, the water should not be warmer than 30° C, and you are good to go.
You can drag these knee pads in mud and wash them later easily for the next game. Caution: Don't ever try to iron your knee pads.
Why to Choose:
It is one of the lightest and durable knee pads available in the market. A unique ventilation system that offers you extreme levels of breathability and keeps you cool in warmer weather. In addition, the dual-layer of these knee pads are remarkably thick, which prevents you from injuries.
These non-slip knee pads come with adjustable straps, which keep the pads in place. In addition, easy maintenance provides you clean and tidy knee pads for every game.
Buyer's Guide for Best Paintball Knee Pads under Pants
If you are playing paintball, there are huge chances you will get into trouble by falling on the ground or rocks. And if you are playing woodsball, you can be injured by thrones in the forest. So for safety measures, you must wear paintball knee pads which will protect you from high impact.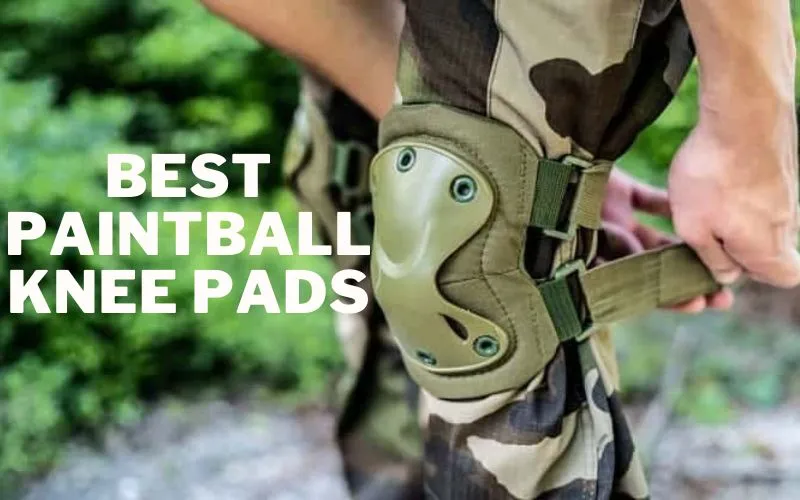 If you have decided to buy the best paintball knee pads 2021, you should know the technicalities before investing. If you see the kith and kin of knee pads, it will be challenging to choose the perfect option. However, if you are new to paintball, then it will be a little tricky for you.
But there is nothing to worry about; we have pulled together a detailed guide for paintball knee pads. You must consider these few factors before purchasing to get the perfect pair of knee pads according to your needs.
Construction:
If you are looking for paintball knee pads, the material is the most crucial factor to look for. Please consider your playing style before selecting a material. If you are an active player and love to move around a lot, you must go for lightweight, flexible paintball knee pads.
If you are going to play in the heat, you should look for cool knee pads with remarkable breathability. However, if you are playing woodsball, you should look for a more rigid exterior built for durability.
Thicker Padding:
Once you have decided on the material of paintball knee pads next, you should select the padding you need. If you are looking for minimal paddings, you can save a lot of money. They will not be bulky at all, and you can quickly move around in them.
But they provide you the minimum protection. On the other hand, if you are looking for pads to make sure you feel nothing inside your padding, you must look for thicker padding. These pairs of pads are perfect for shock absorbing and high impact.
Comfort:
It is an essential factor while you are purchasing paintball knee pads. Your Knee must feel comfortable in these pads because, in a paintball game, your leg would be in a lot of motion. In addition, the material in these outdoor knee pads must be soft and durable, so your Knee joint doesn't hurt after the impact of the hit.
The high-quality inside padding can do the job quickly. However, there were some complaints from some paintball players that their knee pads sliding down on the battlefield, which is very uncomfortable in-game.
Adjustable Velcro Closure:
Paintball is a game that requires your maximum physical time; that's why you need knee paddings that stay in the place while you are running around. Adjustable Velcro closure does the job perfectly to active stable contour knee pads.
These Velcro closure straps will give you maximum security and prevents the knee pads from sliding downwards. Because of Velcro, you can adjust them according to your ease; you don't have to be uncomfortable due to tight straps. In addition, Velcro Straps allow you to move around like you are not wearing paintball knee pads underpants.
Size Availability:
The great thing about these pads is they are available in almost all sizes. So no worries if you are tall or short, thick or thin, young or old, your size will be available if you want to play. For the perfect fitting select, you own size so you wouldn't feel uncomfortable at all.
Most knee pad manufacturers such as Dye, Carbon, HK, and hydra knee pads make different knee pads, from XS to XXL.
Design:
The design is also an essential factor to consider in buying paintball knee pads. It would be best if you went for the most straightforward and comfortable model so you can move around quickly and with flexibility. Look for the vented cool and more effortless pads so you can wear them over your clothes.
Another design to consider is a pre-shaped or curve design which will make it more comfortable to wear. It also helps to keep the pads on your knees on the battlefield.
Length:
The length of knee pads is also significant, and you can select the length according to your preferences. Experienced players prefer long-length knee pads for extra protection. They also stay in place because of built-in multiple straps.
It would be best to select the length of knee pads according to your height for a more desired comfort level.
Washable Knee pads:
Using paintball knee in paintball can get messy due to dirt or sweat. Also, due to multiple factors, knee pads can stink, which would be disturbing. Choose a washable pair of knee pads so you can wash them after every game.
Fortunately, new knee pads are washable, and you would not have to put in a lot of effort. You can clean them in the washing machine, or you can wash them with sheets or a towel as well. Washing with sheets or towels will protect your paddings from getting damage.
Who Should Use Best Paintball Knee Pads under Pants?
Most professional paintball players use the paintball knee pads underpants to protect their knees from injuries. Those players which very active on the battlefield use them to avoid bruises, obviously by frequent kneeling and crawling. These knee pads consist of dual-layer padding, absorbing the shock and protecting the user's knee caps.
Beginners and intermediates should also use knee pads to protect themselves from high impact. When you are involved in the game, you do not realize what is going to happen next; these knee pads protect you while you fall on the ground. Or even worse, crawl on the pointy rock; you must be wearing these knee pads; otherwise, your knees could hurt more than you can imagine.
In short, all paintball players use knee pads, and it does not matter if they are beginners or tournament-level players.