A barrel is an equipment that allows you to pass the paintball and target your opponent with accuracy. So, win your bigger games with the best paintball barrels as they offer accuracy and protection at the same time. Choosing the most suitable and cheap paintball barrel is quite tricky. But, we have made it easy for you by picking up the most positively reviewed and top-rated paintball gun barrels in this guide. 
You may found infinite paintball barrels with jaw-dropping features such as protective gear, maximum length, and carbon fiber construction. On the other hand, the quality and the usage ease put the cherry on the cake when you opt for the longest paintball barrels. We have to dig out those facts and specs of five top-notch barrels to make your purchase a worthy investment for winning gameplay.
5 Best Paintball Barrels for Accuracy
5 Top-Rated Carbon Fiber Paintball Barrels:
While buying a paintball barrel, you have to be familiar with its kith and kin to make a fair deal. Making a wise decision requires checking all the barrels to use without any regret in your acreage and woods paintball games. Most people think does a longer barrel increase the accuracy of paintball? How does it shoot the paintball so straight? 
To address these questions and queries, read out the features of these five best paintball barrels in this review. You can leverage this specification to grab the best one in your cart. 
Benefits of Paintball Gun Barrels
A barrel is a crucial piece of equipment that makes paintball shooting more accurate than the usage of the only gun. Having the best paintball gun barrel is good to go with your paintball games.
That is why they are more in demand after loaders and hoppers. But most of the guys out there are not aware of their benefits. Some of the benefits and usage perks are:
Better companion for your tournament and paintball fields.
Make the things in your control by giving the efficiency and performance.
Improve your consistency and precision without influencing the shooting.
Keeps you more focused and battle oriented
Noiseless functioning for a seamless paintball gameplay
1) Tippmann Sniper Cheap Paintball Barrel
Compatible with Tippmann A-5/X7/X7 phenom paintball and
Tippmann 98 series markers
Best for long-distance shoots and sniping
Silent and noise reducing working
Micro-hones support
Having the eagerness to mesmerize with innovation is possible with Tippmann barrels. They have been working for decades to serve their customers globally. This Tippmann sniper is one of the cheap paintball barrels that have matchless features within your budget range.
It offers high performance, innovation, and the next edge to technology with its spectacular features. You won't like to wait anymore. Let's jump into its persuasive facts for making a budget-friendly decision.
Maximum Distance Coverage:
TIPPMANN A-5 Sniper has the guts to fulfill your requirements when you need the coverage to distance without affecting accuracy. It has 14 inches long barrel that can manage the farther distance and makes paintball games more interesting. 
Giving you the distance coverage does not mean it neglects the accuracy. This is the longest paintball barrel that provides accuracy and better distance coverage for enjoyable gameplay. 
Unparalleled Accuracy:
Not every paintball barrel renders the accuracy like the Tippmann barrel. It has matchless accuracy as compared to other barrels in the market. There are micro-hones along with inside and outside polish facilities to get the next level of precision. 
In other words, you can have absolute accuracy without any issues with paintball shooting. It has a micro-honed feature along with inside and out polish. This may keep the barrel precise and accurate.
Sniper Tactics:
Various guys like sniper tactics for shooting the paintballs. That is why it is the best option for those who need the sniper's technique. This paintball has a long barrel that ensures targeted shooting for further objects and opponents. 
It is really good to go with the players who loved to shoot at a distance and make it as accurate as possible. 
90-days Warranty:
Enjoy the 90 days warranty on defective and missing parts without additional charges to make your purchase more fruitful. The manufacturer ensures responsive customer support along with a warranty to make their customers more satisfied. It is a USA-made product that means no worries about the quality and reliability.
Fitting Support:
This paintball barrel has suitable options that ensure more usage ease for removing the inserts and targeting the players in the playfield. It can be used with Tippmann A-5/X7/X7 Phenom paintball markers. So, make sure to get these markers for a convenient fitting and compatibility. 
Noiseless Operating:
Make the paintball games more enjoyable with its noiseless operating. It has the edge to make the paintball battles in your favor with silent functioning. Most of the time, people wanted peaceful and quiet shooting options, and you can fulfill your desire with this most accurate paintball barrel. 
Additionally, it is pretty easy to use and requires less effort in maintenance. You can easily remove it from the gun and quickly clean it without being hectic.
This is the best paintball barrel with usage ease, silent functioning, and far distance coverage. As its name indicates, it is a sniper barrel that is good to go with sniper tactics. Its edge point is a 90-days warranty on missing and defective parts. Moreover, you can also pick it up for accuracy and long-distance coverage.

Why Choose?
3) Smart Parts Barrels – 14″ Freak XL Best Paintball Barrel Kit 
Comes with Autococker, Ion, Tippmann A5, Tippmann 98C thread
Faster threading system
8 inches control bore length
Noiseless working
Freak XL Linear Porting and All American Spiral Porting options
When it comes to quality and accuracy, Smart Parts is a brand that manufactured the best paintball barrel kits. They have engineered this product, and now it is owned by the GoG brand. It has the blend of new technology and ancestral touch that make it most demanding for paintball lovers.   
To explore more about this product, we have narrated the deep down facts and features of this accurate and most extended paintball barrel. Just dive in to get the details.
Desired Accuracy:
Enjoy your paintball play games with accuracy and consistency. This is one of the best paintball barrels that never compromise on accuracy. A new manufacturer has redesigned it, but they did not change the basics; instead, they have added innovations to make it better for users. 
That is why you can overjoy with its extreme level of accuracy to hit the target and win your games without being hectic. It has the original Freak barrel system with Freak XL Linear Porting and All American Spiral Porting options for the desired play in paintball sports. 
Longer Range:
Hit it out with its 14 inches length support. It is one of the longest paintball barrels that have the length and accuracy simultaneously. The best part of this paintball barrel is its extra 3 inches length. Yes, you can have the additional length for faster and accurate targeting. 
Most of the users are looking for a longer-range barrel to decrease the accuracy flaws. This product is going to beat the accuracy issues with its long-range and excellent length capacity.
Best Threading System:
This is a carbon fiber paintball barrel with a quicker threading system. It works for both front and back. You can easily remove the barrel for cleaning and replacement with the help of this threading system. There is also feasibility support for maintenance as the barrel is convenient to remove. 
Freak XL Control Bore:
It has the Freak XL control bore lengthening support with an extra 3 inches length. The name indicates that it controls the paintball in the barrel. That is why a control bore has a vital function in the working of a barrel.  
This paintball long barrel provides the length support to gain ultimate control while shooting the paintball. It comes with 8 stainless steel barrel inserts such as .679, .682, .684, .687, .689, .691, .693, and .695 for desired efficiency.
Reduced Noise:
Not to worry about the triggering and shooting sound with this barrel. It has a sound reduction quality that eliminates sound production. Enjoy noiseless and powerful shooting during your paintball games. The product also provides you with low operating pressure for additional user convenience. 
Multi-Color Availability:
Get the color that suits your eyes and personality. Every person has their favorite color, which means a lot to him. So, the manufacturer also focused on this issue and designed their best paintball barrels for accuracy without lacking colors options. 
You can have your favorite color as it comes in 8 different colors as White, Pink, Red, Blue, Purple, Pewter, Teal, and Lime. Moreover, its design is excellent and quite robust to tackle the breaking issues.
The most popping and dominating feature of this paintball barrel is its dual ports support and extra 3-inch length to enjoy the accuracy. It also reduces noise, pressure and provides a colorful appearance and different control bore options in the perks. So, choosing this kit will not compromise length and accuracy, which is a significant plus point.

Why to Choose?
3) DYE Precision GF Boomstick – Most Accurate Paintball Barrel
2-piece fabrication for maximum quality
Muzzle port design with stable pressure porting
Two bore sizes (.684 and .688)
Stainless steel insert
Good to go with DYE UltraLite tips
This is the second most accurate paintball barrel on our list. It has the precession and quality support to beat your worries for accuracy attainment. The unique factor of this paintball barrel is 2-piece manufacturing. You can leverage with its CF and GF construction for a lighter but excellent performance. 
Another feature that is a rule of thumb is its stability for port pressure porting. It gives the accuracy to grab matchless performance in paintball games. There is stainless steel insert that combats with scratches and induces its accuracy capacity as a whole. The smoother finish, colors customization, and glass fiber technology add more perks to your hands.
2-Piece Build:
There are no usages issues with this best paintball barrel because it has constructed with 2-piece support. In simple words, it provides seamless quality and precise accuracy with this feature. 
Its build makes the paintball games more exciting and fun-loving. You can have maximum shooting capacity and performance. 
Lightweight:
Having a barrel with a lighter weight means there is no more tension about handling the paintball gun in the fields of plays. The construction of this barrel has a blend of CF and GF structural wrap for making it a pretty lightweight product. 
Moreover, its lesser weight ensures accuracy because you can carry it quickly, even chasing your opponent. 
Steady Port Pressure Porting:
This is the choice of champions due to its stable port pressure porting feature. It comes with a muzzle port design to accentuate the accuracy. The barrel also makes lesser noise during working and makes paintball playing a noiseless operation. 
You can win all the battles with its steady and robust port pressure. This feature also leverages lesser pressure placement as compared to other gun barrels. 
Latest Glass Fiber Technology:
Let's slay the traditional paintball barrels with its Glass Fiber Boomstick innovation. The manufacturer tooled this technology to make their barrel products unique and more impactful. 
They have gone through numerous tests and inspections to deliver the best paintball barrels to their customers. The use of glass fiber technology and Autococker/matrix threads is one of the most successful innovations found with this barrel.
Stainless Steel Insert:
Its stainless steel build makes it corrosion-free and a durable option. The 303 stainless steel inserts allow resisting the environmental impacts and shooting the paintballs without any delay. You can also use it with DYE Ultra lite tips for next-level usage comfort.  
Color Customization:
Make a fair deal with its customized colors. It is available in 8 colors to appease your eyes and gives a matchless performance. The smoother surface makes you fall in love with its appearance. You can pick up the color that matches your paintball gun and make a good pair. 
The outclass construction and customized colors make it a compelling partner for playing your paintball games. So, avail of the color customization and quality performance without any flaw.
All in all, this is one of the longest paintball barrels with unique features. It has a 2-piece construction that delivers accuracy and optimum performance. The CF and GF manufacturing add the cherry on the cake.  The most jaw-dropping fact of this paintball barrel is the stable port pressure porting, stainless steel construction, and color customization. Its glass fiber technology will make it stand apart from the other barrels in the market.

Why Choose?
4) J&J Performance 16 inch Ceramic Coated Paintball
Removable Freak inserts
Thread adaptor to exchange different threads
Three parts Fiber-X barrel system
Engineered with 2×2 satin Twill external
It is the top-reviewed paintball barrel among the users. J&J is the brand behind this longest paintball barrel. The product renders the desired accuracy with more excellent performance. This barrel has the carbon fiber support and required length to meet your need for paintball games.
Enjoy the combo of accuracy, lightweight, and quietness with this single tool. It offers the Freak removable inserts for quicker working. You can swap various threads with its three parts barrel system. There is a thread adapter, carbon fiber, and durable Freak inserts for seamless paintball shooting. 
Maximum Accuracy:
It is a carbon fiber paintball barrel that deduces the flaws. This is an accurate and ultra-lightweight barrel for your gameplay. The brand has utilized carbon fiber for the desired accuracy that you need in paintball fields. 
You can enjoy optimum usage ease with its Freak replaceable inserts. They are easy to remove for cleaning and replacement. That is why it takes less time to change and gives a matchless performance.
Thread Swapping:
Grab the faster and quicker thread swapping with its Fiber-X barrel system. The system has three parts for beneficial paintball games. There is a thread adapter according to the type of gun. Next is the carbon fiber that is the main barrel for getting the desired length. 
Last but not least, it comes with a Freak insert for the setting of the bore. All these three things function in a combined way for the desired gameplay. 
Lightweight & Ergonomic Design:
This is a lightweight and compatible paintball with 64g of weight. It means there are no worries about how you manage the paintball gun barrels. When you use it with an insert, it may weigh only 77 grams. This aspect makes it 4x to 2x lighter as compared to other barrels. 
The product has a stylish appearance and elegance to add performance with an eye-compelling design. Give your gun a suitable barrel with a black color coating.
Durable & Sturdy:
It is one of the best paintball barrels that have robust construction. The product is so durable even it can bear the car driving over it. Moreover, this is engineered with all the rectifications to ensure no compromise on quality. 
3 Layers Construction:
This is a three layers oriented barrel that has a blend of unique construction. It has the 2×2 satin Twill external with uni-direction fibers settled in the multi-vector pattern. There is the use of Silk fiber for safer swapping inside the barrel.
Furthermore, it comes with CNC align-bored segment that can be used to insert the area. There are three rows of paralleled ports in the CNC-ported area. The quality and performance is the benchmark to put forth your needs of accuracy. 
Inserts Multi-Compatibility:
It is a very compatible and best paintball barrel for accuracy that offers options for various inserts. You can sue the Smart Parts, GoG, Empire, or Luxe Freak inserts to mingle with your game. The entire process requires a thread adapter, the main barrel, and a freak insert for a better performance during your paintball games. 
As I mentioned above, it is a lightweight option, but this paintball barrels review will amaze you. It has accuracy adorned with durability. This solid and robust product offers a multi-vector pattern with unidirectional fibers for a durable working capacity.

Why to Choose?
5) GOG Freak Inline One Piece Autococker Paintball Barrel for Accuracy
Contains 1- .689 freak insert support
Autococker barrel threads
Accuracy and consistency for optimal performance
Compatible with a wide range of Freak inserts
GOG is a brand renowned for its quality and accuracy in the category of paintball barrels. When searching for the best paintball barrel for accuracy, it has great value and consistency as the top features.
The reason why we have added this product into our review is its precision and desired length. It has a multi inserts option, Autococker thread, and eight inserts to make paintball games even more fun. To explore more about this barrel, you can get in touch with the underneath features for detailed info. 
Excellent Accuracy:
When talking about its accuracy, it has outstanding accuracy support. That is why it is known as the best paintball gun barrel among paintball players. Its precision delivers performance and adaptability. This is a one-piece barrel that gives versatility and compatibility to use different freak inserts without any problem. 
Linear Porting:
There is the support of linear porting to level up the accuracy. The barrel helps to make paintball shooting more precise and looks after the accuracy and performance. 
Its unique barrel ports come in a linear form that delivers efficient and seamless playing capacity. Furthermore, it has the American spiral ports to give a vast and efficient functioning of the barrel.  
Carbon Fiber Construction:
It has been manufactured with carbon fiber which is the most useful material for paintball barrels. The product not only provides accuracy but also makes it durable. This is a solid and sturdy paintball barrel with no-breaking support.
So, you can use it without worrying about any mishap. Additionally, it comes with sturdy aluminum threads and Autococker barrel threads for consistency. 
Lesser Weight:
Enjoy tension-free carrying as it is a lightweight barrel. That is why it is known as the most user-friendly option in the fraternity of cheap paintball barrels. Being light in weight does not mean it is easy to break. This is a durable and robust option that you can easily carry during your outdoor ventures and travelling.
Seamless Durability:
Choosing a paintball barrel for accuracy and durability is not an easy task. This product has been designed with excellent toughness to take the paintball games to the next level. 
You can take part in your paintball tournaments with its professional construction support. End up your frequent money spending by having this durable barrel option in your hands. 
Desired Length:
One thing which is quite prominent about this paintball barrel kit is its length. It comes in sizes of 14-16 inches for various users. There are multi-players with their salient needs, and you can use this single tool for all kinds of length requirements. You can select the one that is more suitable to bore size and functions best with the paintballs. 
Replaceable Inserts:
There is a facility of removable inserts with these best paintball inserts. Most of the time, you need to replace the inserts for cleaning and maintenance. It is more feasible with this paintball barrel. Do not worry about the changing issues as it has Freak inserts and tips for the desired compatibility. 
It has the blend of versatility and compatibility to win your heart. You can easily change the inserts as it offers eight inserts for the required consistency. The product has 14 inches tip length with 1- .689 Freak insert and Autococker threads. Its carbon fiber construction makes it the best paintball barrel in its fraternity.

Why to Choose?
Longest Paintball Barrels Reviews Guide
Having the best paintball barrel for your paintball games is not sturdy when you are familiar with relevant facts. However, it is a time-consuming task but vital for a better selection of your paintball barrel.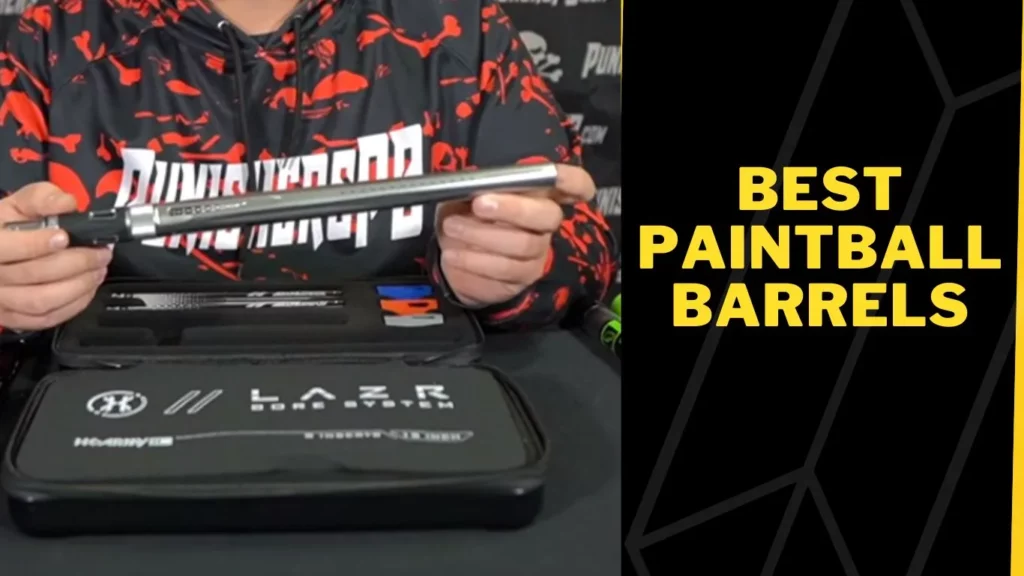 To resolve these issues, we have made it feasible by giving a buying guide as support. You can read the facts before buying your next shooting barrel. Remember that all these findings are backed with deep research and paintball barrels reviews by users. 
Moreover, you may found numerous products with top-notch features like one-piece or two-piece barrels along with removable inserts, etc. All these are the preliminary things that you must know before spending your bucks on the longest paintball barrels. Let's have some sneak peek at these facts.
Length:
The ideal length for a paintball barrel is round about 12-16 inches. The experts most recommend it. This is one of the most asked questions when people are looking for the best paintball barrel. 
You may found infinite barrels with a length of 14 inches and 16 inches in the market. Both of these lengths are good and reasonably acceptable to deliver accuracy. The product with 12 inches lengths is also helpful, but the barrels with 8 inches lengths are sometimes negatively affected by accuracy.
Accuracy:
One of the most important factors is the accuracy of the paintball barrel. This may require a blend of cats that you should consider while having a paintball barrel. An accurate barrel makes the paintball games more fun and leads to win battles with lesser effort.
Inserts:
Inserts will help you to have precision and the finest targeting capacity with your paintball barrel guns. They are required to take the accuracy to the next level. It is light in weight but can change the shooting game. This is available in the form of kits and sets with different paintball barrels. You can choose the one that suits most to your paintball gun.
Size of Bore:
The bore size varies from every brand and barrel. But if you are looking for accuracy, then .68 inches diameter gives enough support to grab the accuracy in your paintball shooting. You can also try other sizes according to the paintball barrel gun because each product has its requirements.
Construction Material:
The material of the best paintball barrels is quite crucial. It enhances the working capacity and durability of the barrel. Some of the most commonly used material is aluminum, stainless steel, ceramic, and carbon fiber. All these have their benefits and drawbacks that can be utilized as per the requirements of the paintball games.
These are the best paintball barrels with their features and specs. You can get pin-points and make your choice fair enough without going outside your budget line. Before you go for your pick, let's have the more innovative and accurate paintball barrel. Yes, I am talking about Tippmann Sniper Cheap Paintball Barrel for your all kind of paintball shooting needs. Its eight-color support and aluminum inserts will turn your heart toward it. 

This versatile option offers 14 to 16 inches, Autococker, Ion, Tippmann A5, Tippmann 98C thread compatibility, and quicker threading support. Its inserts are easy to remove due to their ergonomic design. Additionally, there are 8 inches control bore lengths with the sound-reducing feature. Last but not least, it has the Freak XL Linear Porting & All American Spiral Porting options to address the needs of multi-users. 

Best Recommended Product
Are paintball barrels worth it?
Yes, the best paintball barrels are worth a lot because they keep the gun functioning and shooting more accurate. You can use it to play paintballs games and tournaments with greater consistency, accuracy, and efficiency.
What is a paintball barrel kit?
This is basically required to set the efficiency and accuracy of the paintball barrel. A best paintball barrel kit not only gives you better accuracy but also allows you to adjust the bore size and fine-tune the barrels.
How to Make your Paintball Gun More Accurate?
You can easily make your paintball barrel accurate with these simple steps.

Keep them clean
Make sure to have the best paintballs
Follow the upgrading 
Adopt a high-quality barrel
Pay heed to the settings of the gun 
What is the best paintball barrel length?
Mostly it has suggested that the longest paintball barrel must have 12 and 16 inches. It is an ideal length range. Moreover, a higher length means there are chances of higher accuracy.