These guns are not usually designed for beginners or entry-level players but are for professional players because of their challenging factors. Woodsball, speedball, scenario, stock-class, Milsim, and magfed paintball are only a few different paintball types.
With mag fed paintball being its newest version. Players like playing magfed paintball are more of a daredevil kind of people, with limited ammo capacity and military-like aesthetics. The mag fed paintball markers double up the fun and challenge at the battlefield. The game gets more exciting with every passing minute.
5 Best Mag Fed Paintball Guns in 2023
Many of these finest magazine fed paintball guns are meant for close quarter warfare, while others have a larger range and may be used for long-range sniping. The magazines for these firearms normally hold seven to thirty bullets. These new paintball weapons undoubtedly make the game of paintball more difficult for participants.
Let's dig into the best magazine fed paintball gun details available at the market for the challenging players.
1) Tippmann Stormer Elite .68 Caliber Paintball Gun
Works well in both firing modes
Grip doesn't slip
It contains multiple rails
It is hard-wearing
Decent looking gun
High shooting accuracy
Beginner level player can use
Tippman stormer elite is for the entry-level players or the ones who are short on budget. It is the best magazine fed paintball gun for one who is playing at the beginner level. Tippmann Stormer Elite is another long-lasting dual-fed paintball marker. It comes with two magazines, each holding roughly 20 paintballs.
Furthermore, you can use a hopper adopter to load multiple paintballs if you desire to load more. It also includes an internal gas line system and Comfortable adjustable grips to improve the marker's stability and comfortability. You also have the option of narrowing or widening the gap between two grips.
It is light in weight and also looks very stylish; the military look-alike gun will make you outstanding in the entire crowd. Moreover, the Tippmann company is known for manufacturing durable materials, and this gun is no different from that.
The money it offers makes it one of the cheap mag fed paintball guns. The Stormer Elite (the magfed variant of the Stormer) comes with two magazines, a dummy magazine, and a dual feed modular design that converts from an offset loader to a magazine fed in seconds. To get started, unscrew a screw, attach or remove an offset elbow feed, and re-screw the screw with the protection plate in place.
If you intend to use the offset loader feed, make sure the dummy magazine is attached first, so the ball-detent is set. Double feeding and barrel rollout will be avoided, thanks to the ball-detent.
In our opinion, Stormer Elite has a fascinating tactical aesthetic to it and easy handling, high accuracy, and low maintenance. Its internal mechanism is simple enough that even a novice can maintain it.
Furthermore, its easy handling will allow you to play lengthy format matches in even the most challenging conditions. You'll receive a dual-feed option with a highly durable inline bolt system, and you'll be hard-pressed to discover a broken paintball.
Pros:
Durable body
Light in weight
High customizability factor
Budget-friendly and Easy cleaning
Good grip

Efficient internal gas line system
Cons:
2) Valken M17 Magazine Fed Paintball Marker
Number of Picatinny rails
Comfortable grip
10 inches barrel
Velocity can be adjusted
Contains safety mode
Blowforward mechanism
Uses 13ci HPA tank
18 ammo can be held in a magazine
Enhance the accuracy of shooting target
If you're looking for the best magazine fed paintball gun, then you have landed at the right place. Valken M17 Magfed paintball marker is the justice to your money. It's ideal for fast-paced games and explosive action. This variant not only has the regular semi-automatic shooting option, but it also has a fully automatic firing option.
A high-capacity magazine that can hold 18-20 paintballs, depending on the size of the paintballs. Valken may offer a feed neck that can be used to integrate a loader, but you'll have to make do with the magazines for now. The Valken M17 is a few magfed paintball guns with the full-auto capability best used in the field.
Now, while shooting full auto at 15 BPS isn't particularly astounding, shooting full auto at 15 BPS without the usage of batteries is quite remarkable. The M17 also includes a safety selector switch, allowing you to convert safety quickly, semi-automatic, and full-auto modes.
An internally regulated mechanical blow forward system is used in this grade marker. This innovative technology is significantly more dependable than similar solutions on the market, and it also ensures higher speed. This forward-thinking operating system is also simple to maintain and care for, making it a user-friendly option.
When it comes to comfort, the grips are the most important aspect in stabilizing your shots and controlling the marker. Valken uses a very gripping texture with over-moulded rubber to provide exceptional handling.
A small velocity adjuster will also be located behind the grips. Use the model with a dedicated HPA tank rather than a carbon dioxide tank for the best results. You'll appreciate this model's improved precision; we admire it for its capacity to take out a target from afar.
Pros:
Durable and efficient design
Customizability is easy
Increases level of safety
Comfortable grip
Both semi-automatic and fully automatic firing modes work fine
Cons:
A little heavy & Expensive
Needs some barrel update
3) Tippmann TMT TMC Elite Meg Fed Clip Marker
Handles dual feed
Handguard made of aluminium with rails.
Picatinny rails abound.
Over-moulded rubber grips.
Two 20-round magazines are included, as well as a dummy magazine.
Bolt system with inline bolts.
A completely pneumatic marker.
Stock can be collapsed and adjusted in a variety of ways.
Tippmann TMT TMC elite is an affordable magfed paintball marker. Although till now you are already aware of the brand Tippman and how trustable it is. The reliability, aesthetics, and high-quality performance of this brand are all top-notch.
It is light in weight for those who want to play for hours without getting their hands and arms tired by any extra weight. It is also built to withstand any rough usage; for instance, when you're in the field, there is a lot of pushing, running, and throwing, which can wear and tear the gears, so in that case, you need something durable to hold unto.
Moreover, the internal gas pipe, for example, is built of highly durable steel, and the aluminium receiver is no exception. Compressed gas propels the projectiles, although the tank is sold separately. The pistol has an AR-15-style shroud and four-sided Picatinny rails, and it has outstanding accuracy for hitting the target.
Tippmann's mag fed paintball features an easy pull trigger and a stainless steel gas line on the inside, as well as the ease with which it can be manoeuvred about the field. Using the mag-fed mechanism, the semi-automatic firing mechanism is ideal for conserving ammo while still being fast enough to cause considerable damage.
Tippmann TMT TMC elite is the best magazine fed paintball gun that can make you stand out on the battlefield with its style and performance.
Pros:
There isn't any extra wiring.

There are numerous customizing possibilities available.
HPA tank can be hidden beneath the stock.
Accurate barrels.
The grip is non-slippery.
It is possible to improve the barrel.
Cons:
A bit on the heavier side
4) Planet Eclipse MG100 PAL Mechanical Paintball Marker
Dual-feed
Valve system with Gamma Core and Spool.
Number of Picatinny rails
5 inches barrel
It has air efficient mechanism
Dye magazine are comfortable with it
Planet eclipse MG100 PAL is a mechanical paintball marker that is not your conventional gun. The previous guns have utilized the hopper-fed system, but Planet Eclipse's initial ventures into the MagFed market are the MG100 PAL.
Despite the advances offered by this marker, several familiar factors remain at work. Planet Eclipse has used the diversified gamma core, which is why this gun performs perfectly in the arena. Also, it offers high durability and is long-lasting on every battlefield. This is the best magfed paintball gun when you look at its quality-wise.
This one-of-a-kind magfed paintball works best in any situation and environment. The MG100 is a reliable and tough choice whether you're playing in cold tundra or sweltering plains. Either you can have a light and specific weight magazine fed paintball marker or a much heavier and fully loaded one.
This marker, like the others on this list, has a dual-feed design. If you choose, you can challenge yourself with MagFed operation or keep things easy with a regular hopper-fed setup. It gives plenty of accessories for next-level customizability. Planet eclipse provides you with a MEC rail kit that will allow you to customize your magazine-fed paintball sniper.
Even though this marker is slightly more expensive than the other, the price premium is justified by the features on offer. Not only is there a lot of room for customization, but the fundamental design and operation will amaze you right away.
This gun is lightweight and sturdy in its most basic form, holding up well to high-impact play. This marker's standard functioning will also impress, with dependable firing and internal components that assure steady fire and little trouble to obstruct your game.
Pros:
Light in weight
Durable Material & handy
Air-efficient
High customizability
Both hopper and magazine can be feed
Cons:
5) Umarex T4E TM-4 Carbine Gun To Play Competition
It has a metal cast
Comes with a protective bag
Grip is soft
14-rounds mag
Magfed holds 12g CO2
Multiple rails
Umarex T4E TM-4 comes in a protective added casing that protects your gun from any breakage or scratches. These magazine fed paintball markers are built for you to experience the real deal of army guns with their weight and ag comfortable gripping.
With this marker, you can quickly shoot a .43 calibre rubber ball, powdered ball, or paintball to your opponent.  A 14-round magazine is included, as well as a hole for 12g CO2 propellant. There is no need to feed the air tank.
With the help of adjustable sights and overall handling, 14.5 inches has been added to deliver amazing accuracy and overall handling to mark things without any obstacles.
Furthermore, its grips are ultra-soft with a premium texture that allows you to grip them firmly for long periods, allowing you to shoot for hours without being distracted. The customizability of this gu is also high, and you can add lasers, rail, and grip to boost the overall look of your magfed paintball as per your liking.
It is with no doubt the best magazine fed paintball gun that you can buy in the market. The built marker is from metal, giving you high durability and great feels. Although the weight is a little on the heavier side but with the incredible quality, it provides the weight is negotiable.
Pros:
Accuracy is high
Durable and robust
Handling is easy
Case is protective
Customizability is high
Cons:
Expensive

Handles lower caliber
Best Magfed Paintball Guns Buying Guide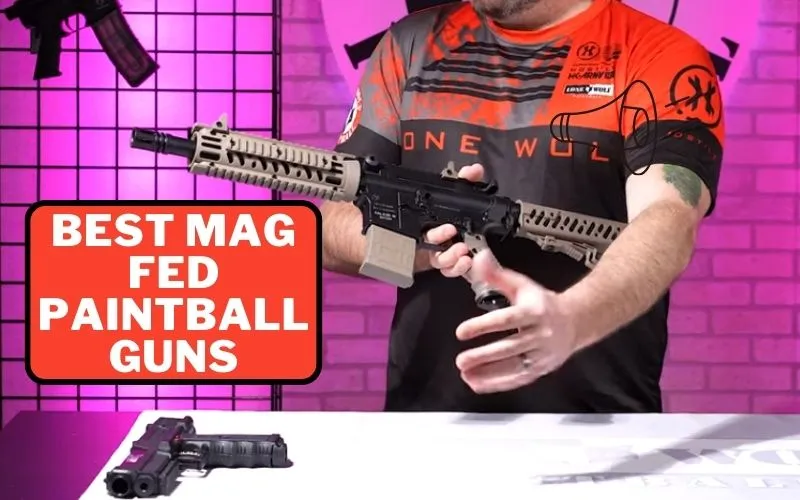 When buying a magfed marker, you need to consider many things before buying one because you won't get a marker that gives up on you on the field; that why before buying the best magazine fed paintball gun, please kindly go through this buying guide. 
Magfed Paintball Guns Capacity:
The magfed paintball guns provide challenging experience on the field, so their ammo capacity is generally low compared to traditional guns. It might carry as low as nine to twelve ammo in a magfed paintball gun when carrying. It is for the ones who enjoy military stimulation scenarios on the paintball field. 
Also, some tournaments have a limited amount of ammo restricted to make the game more enjoyable. To compensate for the MagFed markers' restricted ammo capacity, you'll need to keep extra magazines with you while playing. As a result, your tactical vests or harnesses should have enough room to carry as many extra magazines as you need.
Customizability:
Customizability equates to liberty. The more you can customize your weapon to meet your specific demands functionally and aesthetically, the better. In an ideal world, you'd play to your strengths, but that's impossible if your marker won't let you. Furthermore, a paintball gun should be beneficial in a variety of situations. 
Your weapon should be the one that knows how to react to every situation, for instance. If required by your weapon to convert to automatic fire, recommend doing so and sprinting for cover. Of course, if your weapon is only designed for sniping and not assault-style gaming, this isn't possible. This demonstrates how flexibility can be a game-changer.
Built Quality:
The built quality of any weapon is a must to withstand the pressure of every battlefield. Therefore, the gun should be hard-wearing for every harsh condition. It would help if you looked for carbon material because it is durable and long-lasting. 
Also, keep in mind that the material used in the gun should be lightweight, so it is easy to carry around. Finally, these guns are known for their appearance. Most players buy it due to the military simulation game. So always look for a weapon that is aesthetically pleasing to you. 
Magfed Affordability:
Last but not least, always look for the best magazine fed paintball gun that suits your budget or is within your budget. Many magfed paintballs can easily fall in the budget, and also they are durable and robust quality-wise. 
As the paintball game requires guns, there is so much other gear involved to play the game. So always look after your budget and measure the pros and cons before buying a magfed paintball marker. 
Magfed Markers Summary
While many magfed markers require some modification to function properly, I believe the additional costs and ammo restrictions are well worth capturing a more genuine experience. All in all, we have given you a list of the top 5 best magazines fed paintball guns with that a buying guide so that any ambiguity related to the magfed paintball marker could vanish. Thus, it becomes easy for you to decide to buy the good magfed gun available on the market. 
Our top pick would be Tippmann Stormer Elite, as it provides you with an exclusive experience with its durable magfed paintball gun and its high customization. Its working is not very complex; an entry-level player can also handle it easily. Moreover, its maintenance is easy, and it is easy to handle.
Our second top pick has to be Valken M17 Magfed Paintball Marker, it has incorporated all the modern features, it is super accurate, and also you can upgrade its magazine, barrels, and stock. It perfectly works as a dual feed. You can get an amazing experience of both the loader and magazine. 
What exactly is Magazine fed paintball gun?
Magazine fed paintball gun is that instead of a loader, the paintballs are loaded into magazines that feed the paintball marker, much like a real gun. MagFed paintball markers may be customized with a variety of accessories to make paintball more immersive and realistic. Plus, they are manufactured for people who are into military stimulation.
How does magazine fed paintball marker work?
The mag-fed paintball guns work by replacing the loader with a magazine. To remove the magazine from the marker after loading, press the mag release button. Twist the winding machine when the magazine is freed, then load the paintballs one by one until the magazine is filled.
What is Dual Fed, and how does it work?
It is a gun that works both with magazine and loader to don't get short of ammo.
How much ammo is loaded in the mag fed paintball gun?
At least the paintball holds eight to eleven paintballs in the magazine.