Paintball markers help you to get straight shots, but the best paintball sniper rifle gives you something more than just a straight shot. You have to get guns that offer both features such as extended range and ultimate precision. Finding these guns is somehow complicated because there are numerous sniper paintball guns available in the market. To address your queries and questions about selecting the best product, you must know what it is and how it can help you to win your paintball battles?
To get the best deal for a paintball rifle, you must know the kith and kin. It is difficult to know about all the guns for a fair selection. That's why we are here to help; our researchers have put a lot of effort and choose five top-notch paintball markers from different brands. It would help you in selecting the perfect sniper for your paintball needs. Let's check out the features of each product in this article to grab the best paintball partner in your hands.
Best Military Bolt Action Paintball Sniper:
When looking for the best paintball sniper rifle 2023, you must know the essential specifics of these markers. It will help you invest paintball sniper rifle long-range marker, and you will play more efficiently. Do people usually ask why paintball sniper rifles are essential? Are they good and more efficient?
This article will provide you the answer to all of your queries. So without wasting another minute, start reading and decide which paintball sniper rifle is perfect for you. It would be great to keep a keen eye on the features and specifications, so you get what you need.
5 Most Accurate Paintball Sniper Rifle
1) Action Village Tippmann Cronus Paintball Sniper Marker Package Kit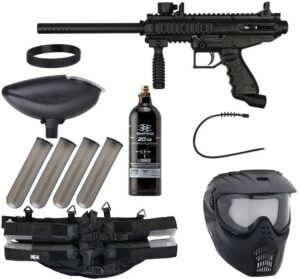 Cronus Power Pack Paintball Gun Kit
Open Bolt Blow back
5 Inch barrel length
Internal Gas Line
CO2 and HPA Capability
Mechanical Trigger
Vertical Grip for improved grasp
Front and Rear Fixed Sights
Valor Goggle
200 rounder hopper
| Specifications | Values |
| --- | --- |
| Manufacturer | Action Village |
| Thread | Tippmann A5 |
| Weight | 6-pound |
| Colors | Black – Tan |
| Range | Up to 150ft with precision |
| Material | Metal and ALuminum |
| Power Source | CO2 and HPA |
Tippmann Cronus is the best paintball sniper marker because of its crucial feature of customizability. It is a high-quality sniper marker considered one of the best in the top 10 paintball sniper rifles. The firing performance of this paintball marker is astonishing, along with its ported barrel, which is quieter and accurate.
Cronus is a semi-automatic paintball sniper rifle that fires up to 150ft with compile precision and consistency. It is not very technical, that's why it is the perfect choice for beginners and experienced players. In addition, the sniper rifle is relatively affordable compared to other advanced paintball markers.
The Tippmann Cronus is a best first strike paintball sniper rifle designed with ultimate durability. This best paintball sniper rifle is ergonomically designed is easy to hold and provides you outstanding balance. 
Longer Ranger Sniper:
There is an infinite number of paintball rifles that claim a more extended range for snipping. Cronus assures the longer range with ultimate accuracy; this Milsim paintball rifle can shoot up to 150ft with precision.
In addition, its 9.5-inch stock ported barrel can provide you longer shots with minimum voice or turbulence, which increases its stability.
Its in-line bolt system is capable enough to provide you non-chop sniper paintballing for continuous several hours. In addition, the barrel thread of this paintball sniper rifle accepts the multiple sniper rifle barrels, which can increase its range and target efficiency.
Tactical Sniper Rifle:
The high composite body provides you the tactical advancement; you can use it as rough as you need, and still, it will be undamaged. It weighs 6-pounds light enough to use as a sniper easily, and the mechanical trigger is easy to pull—perfect tactical sniper paintball rifle for your battlefield.
Vertical Grips on the top provide you an improved grasp on the gun, so you don't miss any target. Front and rear sight help you aim the opponent and shoot them down comfortably from a significant distance. Its black and tan tactical exterior offers a Milsim real-life look to your gun.
Dual Power System:
Action Village Cronus has dual power capability; its power system is compatible with Co2 and High-Pressure Air. You can use both gases, so there will be no availability issue as long as you have a gas-filled container on your back. CO2 hoppers consume more gas than HPA.
The internal gas line system of the best sniper paintball gun avoids gas leakage issues. The hopper that comes with this package can load up to 200 paintballs at a time. This dual power system offers you comfort that you can use cheap CO2 and save your money here as well.
Power Pack Gun Kit:
Empire's X-Ray mask comes with great tactical goggles that provide you comfort and protection all day long. Warrior's deluxe 4+1 paintball harness carries four pods horizontally. And CO2 or HPA tank can be vertically attached for remote running. Its adjustable belt comes with a buckle style, which makes it fit for all players.
Empire's CO2 bottle can hold 20 ounces of CO2; an average 20 ounces' tank can give you up to 800 to 1000 shots per fill. In addition, these reusable bottles can be refilled as many times as you need and have a 10-years life span. The tank uses Valve System and standard tank threads.
Dye's Pods can hold 150 rounds of .68 caliber paintball which comes in see-through pods.
Why to Choose?
One of the best reasons to choose Cronus is the paintball sniper rifle long range with ultimate accuracy. Next, its lightweight and vertical grips offer you complete control of the gun. Finally, with its non-chopping paintball mechanism, every paintball hits the target without missing.
The dual power system is exceptional which makes it more feasible for you to choose in CO2 and HPA.
2) Maddog Tippmann Cronus Tactical Titanium Paintball Sniper Rifle in Action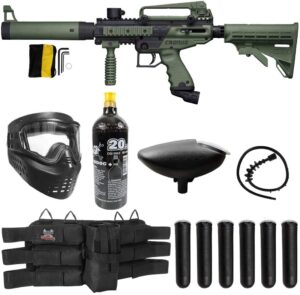 Semi-automatic
Adjustable from 250-325 FPS
Barrel Thread: A5
In-line Bolt system
Vertical Grip
Multiple Picatinny Rails
Internal gas Line
200 capacity Hopper
6+1 paintball Harness
Safety certified Anti-Fog Mask
Barrel squeegee
| Specifications | Tested Values |
| --- | --- |
| Manufacturer | Maddog |
| Thread | Tippmann Classic, A5 |
| Weight | 4-pound |
| Colors | Olive Green |
| Range | Up to 150ft with precision |
| Material | Metal and Aluminum |
| Power Source | CO2 and HPA |
| Barrel | 10-inch |
The semi-automatic Cronus Tactical paintball sniper rifle in action is merciless for the opponents. It comes with adjustable firing speed, and a 10-inch ported barrel provides you noiseless accurate target shot. The inline bolt system minimizes the paintball chops, while vertical grips provide you absolute grasp on the rifle.
 A high composite body offers you durability and reliability; the Milsim rifle look leaves an impression on opponents. Because of its lightweight, it's an easy operational snipper maker. Multiple Picatinny rails allow you to add accessories to make it an ideal weapon on the paintball battlefield.
The package comes with a 200 capacity hopper and 6+1 harness along with safety certified anti-fog mask. In addition, a one-year manufacturer's warranty builds the consumer's trust in Maddog.
Ported Barrel and Speed:
The essential thing for the most accurate paintball sniper rifle is its barrel and shooting speed. This weapon comes with a 10-inch long barrel for long-range sniper shooting with higher accuracy and consistency. In addition, the drilled ports in the barrel reduce the turbulence and offer you a quieter shot which saves the location of the sniper.
The high-speed semi-automatic rifle has an adjustable shooting speed from 250-325 FPS with minimum recoil. There is no doubt it is the perfect choice for beginner and intermediate snipers. In addition, it comes with a barrel squeegee, which helps clean the barrel from dirt and other unwanted residues.
Military Look:
Most people love to have Milsim paintball guns to feel the real-life of soldiers holding these guns. The Milsim structure of this gun consists of a high composite body that guarantees durability and reliability. So if you are looking for a durable and military look gun with snipping abilities, this gun is a perfect combination of these things.
With the multiple Picatinny rails, you can make it more tactical and add various aftermarket accessories. It will increase its efficiency and gives you a more real-life experience. On Picatinny rails, you can add scopes and laser to aim a distant target with ease.
Ergonomic Design:
Maddog has presented the best paintball sniper rifle that is the most ergonomic design paintball gun available in the market so far. It is easy to hold and offers you a vertical grip, which decreases the shock of turbulence while shooting. In addition, it is a user-friendly sniper rifle, easy to maintain, and customizable.
You can upgrade its barrel easily for a more extended range and ultimate consistency and accuracy. In addition, you can add a shroud on the barrel, which will give it a more tactical and Milsim look. Finally, with a one-year manufacturer's warranty, you can trust this little beast.
All in one Paintball Package:
The good paintball sniper rifles come with an inline bolt system that reduces the paintball chops in the gun. At the same time, an internal gas line prevents leakage in paintball rifles. This paintball rifle comes with a 200 capacity hopper which is enough for small games.
The package contains a 6+1 harness and multiple paintball pods for extra ammo. A CO2 Tank is also included in the box, while safety certified anti-fog mask protects you and your eyes from multiple threads.
Why to Choose?
The military design and durable composite body with an inline bolt system provide reliability to this sniper rifle. Ported barrel and high-speed shooting offer you silent sniper target shooting efficacy. Its customizability gives you more to add multiple aftermarket accessories. Paintball package kit offers you multiple tactical accessories all in one place.
3) Tippmann TMC MAGFED Paintball Sniper Marker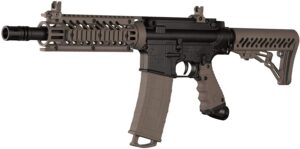 20 rounds spring driven magazine
Full Pneumatic gun
High performance in-bolt system
Dual Feed Option
Military style look
Easy trigger Pull
Over molded rubber grip
Front and Rear Adjustable
AR-15 style shrouded
Built-in 4 sided Picatinny rails
Durable Aluminum Receiver
Fully functional charging handle
5 position collapsible
| Specifications | Values |
| --- | --- |
| Manufacturer | Tippmann |
| Weight | 4-Pounds |
| Caliber | 0.68 Caliber |
| Barrel Length | 12-inch with muzzle break |
| Compatibility | CO2/HPA |
| Collapsible | 5 position stock |
| Tactical rails | Built-in 4 Picatinny Rails |
| Dual Feed | Hopper and magazine |
Tippmann is introducing the fastest magfed paintball sniper rifle with incredibly authentic Milsim style. You can go magfed or traditional hopper, and you can get the best of both in one package. In addition, the TMC gun is fully accessorized, offering the player multiple unique options for tactical games and sniper rifle long range.
The features include 20 round driven magazines, high performing inline bolt system, a full pneumatic maker, and authentic military sniper paintball guns' style and feel. It also offers you a dual-feed option; it can be hopper and magazine-fed. In addition, the over-molded rubber and 12″ high-performance barrel can precisely hit the distant targets.
Bottom mounted ASA, internal stainless steel gas line, and durable aluminum receiver is this gun's plus points. Front and rear adjustable sights and built-in Picatinny rails allow you to add scope for snipping.
Dual Feed:
It is the latest magfed paintball sniper rifle that is compatible with both magazine feeding and a hopper. TMC is an excellent opportunity for you if you want to experience a real-life paintball gun with magazine feeding. The magazine comes with 20 rounds which is more than any other paintball gun in this price range.
The dual feed option of this gun makes it unique and provides you the best opportunity for both hopper and magazine. It would help if you kept some extra magazines for longer games, so you would not have to waste time refilling the magazine.
High performance Barrel:
A High-performance 12-inch barrel comes with a muzzle brake, which makes it the ultimate best paintball sniper rifle. The muzzle brake gives your sniper gun a more tactical look and fulfills your snipping needs of minimum noise.
In addition, a twelve-inch barrel is good enough to take distant shots more accurately; it shoots up to 150ft with ultimate perfection.
It is an AR-15 style shrouded paintball sniper rifle that adds in its tactical Milsim look. The shroud leaves an impression on your opponents and makes you look more professional. You can upgrade the barrel for even more extended range shooting whenever you want.
Full Pneumatic Gun:
This electronic paintball marker is one of the best bolt action paintball snipers. With its fully functional charging handle, it can run for a long time in one charge. Although it is a semi-automatic paintball sniper rifle, it is better than any other electronic paintball gun in this budget.
The pneumatic gun comes with an easy trigger pull so that you can quickly fire without any inconvenience. Furthermore, a proven high-performance in-bolt system gives you a unique performance of powerful shooting and ultimate accuracy. In addition, TMC's durable lightweight aluminum receiver minimizes the weight of the whole paintball sniper rifle.
Ergonomic Milsim Design:
These ergonomic markers have military sniper designs. It is easy to hold, and its over-molded rubber grips provide you ultimate hold on the gun. You are never going to miss any shot due to turbulence while holding this paintball sniper rifle.
The front and rear adjustable sights help you in aiming for a distance and take a clear shot. A five-position collapsible gun helps you in easy cleaning and secure storage after the game. Built-in 4 sided Picatinny rails allow you to add the scope, lasers, and other tactical accessories.
Why to Choose?
TMC Magfed sniper paintball rifle is one of the latest and highly appreciated makers available in the market. Its dual feed system provides you the best functioning of both magazine and hopper. In addition, its high-performance upgradeable barrel can take longer shots with ultimate accuracy.
Full pneumatic gun with ergonomic Milsim design gives it a closer look to real-life military-grade firearms. Highly customizable allows you to make changes according to your needs.
4) Tippmann A5 Best Sniper Paintball Gun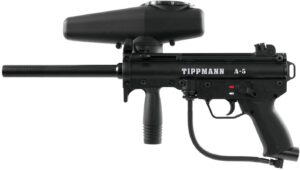 The cyclone Feed system
Five Firing Modes
Full enclosed receiver
Front vertical grip for stable shooting
Range: up to 250 feet
Feed rate is 17 balls per second
Reassemble in 60 seconds
5-inch stock barrel, easily upgradeable
External selector switch; safety to fire
Sling mount removable
Black gas line, for greater on field stealth and durability
Tombstone connections for simpler maintenance
| Specifications | Tested Values |
| --- | --- |
| Manufacturer | GI Sportz |
| Weight | 4 Pounds |
| Caliber | 0.68 |
| Compressed Air | CO2 |
| Powered | Nitrogen |
| Trigger | Mechanical |
| Barrel | 8.5 Inch Stock |
| Range | 150-feet Effective |
| Warranty | 2-year manufacturer warranty |
Tippmann A5 is one of the utmost promising and best sniper Paintball guns 2023. It delivers a higher speed while cyclone feed system enabling the ball to fire as fast as your finger pulls the trigger. In addition, the 8.5-inch high-performance ported barrel provides your paintball sniper rifle in action with minimum turbulence due to less air.
Tippmann A5 is popular among players due to its customized behavior; you can upgrade it with many aftermarket accessories. The receiver of the sniper maker is all aluminum, and the rugged black finish round out the body design makes it robust.
Moreover, the whole weapon can be stripped and reassembled in just 60 seconds, which means you can do it even on the battlefield. It is one of the top 10 paintball sniper rifles; that's why it is always in demand. So grab your sniper marker before it's too late.
Cyclone Feed System:
This best strike paintball sniper rifle contains a Cyclone feed system air-controlled by the electronic paintball loader. The Cyclone feed framework associates the feeder to the air system. That improves the weapon's action; the quicker you fire, the quicker it takes care of the target.
This Cyclone feed framework permits you to fire up to 15 paintballs in a single second in case you can pull the trigger 15 times each second. The Paintball gun gives quicker firing than other guns of this price limit. This feed system doesn't utilize batteries yet utilizes an air system and provides even more consistency.
Long Snipper Shooting Range:
It's the best sniper paintball gun with an exceptionally more extended shooting range and even more shock-absorbing. This paintball marker allows you to shoot up to 250ft with complete accuracy and consistency. It will help you in sniping, to shoot from a long distance with precision and consistency.
The shock-absorbing end cap reduces the wear and recoil, while a front cocking nob allows you a fully enclosed receiver. This semi-automatic weapon can shoot as fast as your finger can pull the trigger, but if you add an e grip, it can do wonders. Your gun can have up to five shooting modes, including fully automatic firing mode.
User-Friendly Gun:
It is a is user-friendly and budget-friendly paintball gun; you can easily hold on to it. The front vertical grip is made for stable shooting for your sniper paintball, although an end cap absorbs maximum shock. It is easy to dismantle for cleaning, repairing, and even safe storage after your paintball game.
You can assemble it right back in approximately 60 seconds which is more convenient for beginners and intermediates. It also contains an external sector switch, which offers you switching from safety to fire and right back at safety. The sling mounts are removable, which makes it easy for you to add a sling.
Customizable:
Tippmann A5 is highly customizable, which makes them good paintball sniper rifles. It comes with an 8.5-inch stock barrel which is extremely powerful and works perfectly. But if you ever need to upgrade it, you can easily do that because of Tippmann A5's barrel threads.
You can make multiple more upgrades to it due to its customizability. The light receiver design reduces the overall weight of the sniper paintball marker and makes it handy for beginners and pro-players. Its black gas line offers you more fantastic on-field stealth and ultimate durability.
Why to Choose?
The fastest feeding cyclone feed system and high-speed firing shots. The customizability of this sniper paintball marker and long shooting range with the stock barrel. All of these are perfect qualities/features of this paintball marker.
The ergonomic, user-friendly design offers a firm grip on the gun. In addition, the shock-absorbing feature makes it one of the top 10 sniper rifles.
5) Tippmann Stormer Tactical Cheap Paintball Sniper Rifle

High impact composite Body
Vertical Grip
Multiple Picatinny rails
Internal gas line
In-bolt design
Front and rear fixed sights
Bottom Mounted ASA
Single Trigger
Offset Freeport
Tactical Front shroud
6 position Collapsible Stock
| Specifications | Featured Values |
| --- | --- |
| Manufacturer | Tippmann |
| Weight | 2-pounds |
| Caliber | 0.68 |
| Compressed Air | CO2 |
| Adjustable Firing | 250-325 FPS |
| Trigger | Single trigger |
| Barrel | 9.75 Inch Stock |
| Range | 150-feet Effective |
| Thread | Tippmann Classic, A5 |
| Material | Aluminum, Polymer, Stainless Steel |
Stormer Tactical is a real battle-winning shrouded sniper rifle. Although its price is comparatively low, it is a cheap paintball sniper rifle with astonishing features. As a tactical sniper marker, the front and rear flip-up sights help you target and shoot the opponent from a quiet distance.
It is a semi-automatic sniper rifle with adjustable speed from 250-325 FPS which is more than enough for a sniper marker. A high composite body and an internal gas line, and an inline bolt design make it a durable and reliable paintball marker.
In addition, the tactical sniper comes with upgradeable barrel thread, bottom-mounted ASA, single trigger, and off-set feed-port. You can add many more gears on its multiple Picatinny rails, such as scopes, lasers, etcetera.
High Composite Body:
The high composite bodies of these military sniper paintball guns are robust and reliable. You can play with it in tough conditions; it can withstand numerous hits and falls without getting damage. In addition, its built-in shroud protects the barrel from any mishap and adds to its tactical look.
The aluminum-made long barrel can take longer and accurate shots with consistency. In addition, the high composite material used in Stormer offers you a balance between weight and durability. This beast is made precisely to last longer and is lightweight enough to carry for long hours.
Performance:
This semi-automatic best paintball sniper rifle offers you 250-2325 FPS firing velocity and speed, which is much more than other sniper paintball markers of this budget. In addition, the high-performance 9.75-inch aluminum stock barrel provides you a long-range shot with precision and consistency.
The single trigger push-button security is the latest feature introduced in electronic guns. In addition, the internal gas line helps avoid gas leakage; this sniper paintball marker comes with an inline bolt design.
Ergonomically Designed Weapon:
The over-molded front vertical grip helps you keep a firm hold on your paintball gun. It is a user-friendly, ergonomically designed weapon that is easy to use. The single trigger can easily have pulled and given you the perfect experience of firing.
The inline bolt system and internal gas line system both help you in easy managing your paintball gun. Six position collapsibility offers you an easy, thorough cleaning and safe storage after playing your favorite paintball game. Stormer tactical also offers you convenience in maintaining and repairing your sniper rifle.
Easily Upgradeable:
This bolt action paintball sniper rifle is very popular due to its Milsim body and a wide range of upgradable accessories. Multiple Picatinny rails allow you to add several gadgets to your sniper rifle to make it a more real-life gun. You can add scope sight, red dot laser, and much more.
You can upgrade front and rear sights with high-performance scopes for more accuracy from a distant place. Its stock barrel is highly popular with players, but you can upgrade it as you wish. Of course, you can always upgrade its barrel for high performance; a 14 to 20-inch barrel would be great for sniper paintballing.
Why to Choose?
The Stormer tactical is one of the top 10 paintball sniper rifles available in the market. Its high composite body provides you durability and reliability, and firing performance gives you fast-speed adjustable firing. In addition, the 9.75-inch upgradeable aluminum barrel provides you high target efficiency and consistency.
The ergonomic design gives you a strong grip on the sniper rifle, and its customizable feature helps you upgrade this paintball gun. You can add multiple tactical gears to enhance your accuracy.
Buyer's Guide for Paintball Sniper Rifle Long Range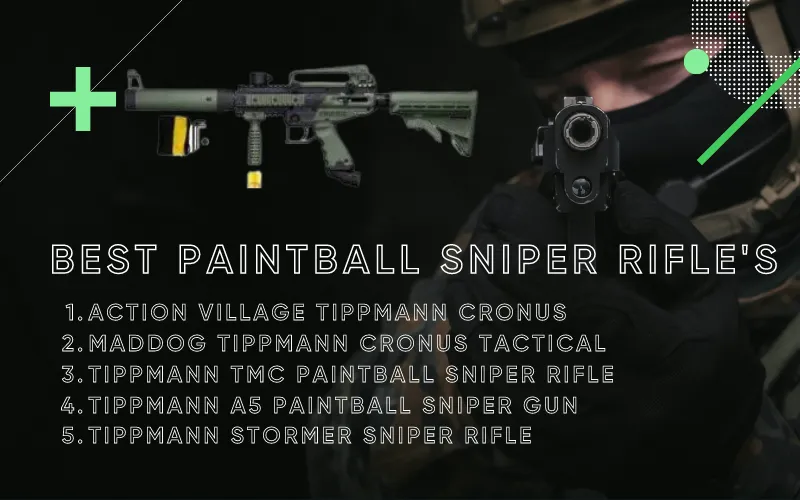 If you are looking for the best paintball sniper rifle, then you must be ready for the enormous amount of pressure. The market is filled with infinite paintball sniper makers, making it challenging to choose according to your requirements. Furthermore, if you are a beginner or intermediate-level player, you must be aware of the essential details of your paintballs.
If you keep the small things in mind, you will make an excellent choice for your paintball sniper. However, if you are not aware of paintball guns, you are just going to lose investment in a sniper rifle. That's why we have arranged a good guide for your convenience, that will help you make a good choice.
Easy Trigger:
Rifles are more significant and bulkier than other paintball guns. Therefore, it is difficult and more complicated to lift, aim and pull the trigger. The most disturbing thing in this scenario is to pull the trigger over and over. Make sure you choose a semi-automatic paintball sniper rifle with an easy trigger or an automatic firing mechanism to take care of that.
Lack of Noise:
If you are firing from a significant distance, your gun will require a significantly higher level of power. This higher level of ability will make considerable noise, which is the worst nightmare for a sniper. The loud sound of fire gives away your location to your opponents.
That's why I choose a sniper rifle that is quieter and makes minimum noise.
Customization:
If you play paintball regularly, then you would know everyone plays paintball differently. Everybody appreciates the unique qualities in their paintball sniper rifle or marker.
If you are going to invest in a model that will provide you Picatinny rails, you are ready to make multiple upgrades. You can add additional features to your gun and make a dream sniper rifle with a bit of effort.
Cost:
Cost is an essential factor to consider while buying a sniper paintball rifle. Who does not want a high-quality cheap paintball sniper rifle in their hands? Compare the paintball marker's prices and the equipment as well to get a budget-friendly deal.
You must settle on the best product with the most favorable price range.
Brand:
The brand is one of the essential factors while purchasing a paintball sniper rifle. Different manufacturers use different ideas to make their markers; you choose after considering your gaming style. Therefore, high-quality and popular brands like Tippmann should be your top priority.
Functionality:
While deciding on a paintball sniper rifle, you must consider the gun's functionality before making a purchase. Moreover, look for the best paintball sniper setup features that make usage easier.
The functionality of a paintball sniper depends upon its specs and features. Therefore, keep a keen eye on the specs and make the best choice you can to have the best first strike paintball sniper rifle.
Who Use the Most Accurate Paintball Sniper Rifle?
Paintball players who like to stay anonymous use the most accurate paintball sniper rifle for longer shots and consistency. At first, sniper rifles were used for stealth, ambushes, and sabotage, but now they have more accuracy and range.
Today, pro-players use sniper rifles to engage the opposing team members beyond the range of standard paintball. The best paintball sniper rifle has first strike rounds and specialized barrels that can provide a significant advantage on the battlefield.
A player with experience selected for the role of sniper to play his part for the team and give them cover and advantage on opponents.
Tippmann TMC MAGFED is the best paintball sniper rifle available on market. The latest magfed paintball sniper comes with 20 rounds magazine and a dual feed option, while easy trigger pulls provide you the best ergonomic design. A 12-inch stock barrel with a muzzle brake provides you a longer, quieter and accurate shot. A built-in shroud protects the barrel from damage and adds to its military tactical look. Its high customizability helps you in upgrading its various parts for more efficiency. You can add scope, laser and other things on its Picatinny rails to get additional usage perks.

Best Recommended Product
Can I Get the Best Budget Paintball Sniper Rifle?
Of course, there are many paintball sniper rifles available in the market. However, you can easily get the best budget paintball sniper rifle with multiple customizable options to enjoy more fun and thrill at your gameplay.
How far can paintball sniper rifle shoot?
A regular paintball gun can shoot from 250 FPS to 300 feet per second. However, most paintball's speed is restricted to 280, while indoor paintball's speed is 250 feet per second.
Why is paintball Sniper Guns so expensive?
The extra features in sniper guns make them so expensive than regular paintball markers. These guns are not just a piece of metal used to fire paintballs on the opponents. Instead, they fire longer and accurate shots and be the best on the battlefield.
Is the sniper good in a big paintball game?
Snipers can take their opponents down from a distance, and their locality stays anonymous. Thus, it helps a team in neutralizing the threats before they reach close. In addition, snipers can give cover to their team members and have proven best in paintball games several times.