The answer of what to wear paintballing vary depending upon various different dynamics on battlefield. The climate of your city, the field you are playing in, and many other factors. Some indoor facilities provide you air-conditioned playing field.
However, if you play woodsball you would feel the difference. For both of the gaming styles you need different paintball clothing including safety gears such as paintball chest protector. You need additional gears such as paintball knee pads to avoid the bruises caused by high velocity paintballs.
Most beginners usually ask, what should I wear to paintball first time? If you are playing paintball occasionally, then you do not need to spend a huge amount of money on gadgets and protective gears.
You can wear a long sleeve sweat shirt or hoodie on top of a T-shirt. But for pain sensitive players, it is highly recommended to wear complete guards to avoid paintball stings and bruises. Read this article thoroughly to get more paintball outfit ideas for fun and ultimate protection from .68 caliber paintballs.
Best Things to Wear for Paintball
After the upper and lower body protection, there are also several other protective gears you can wear for ultimate protection against the environment. It will help you to determine what to wear to paintball, so it doesn't hurt. Your worries and queries will be resolved after reading the details within this section.
Following are the best things to wear for paintball:
A helmet, mask and goggles are most important to cover and protect your face, ears and eyes from high velocity paintballs.
As mentioned above, long paintball pants, you can also wear jeans, cargo pants or camo pants for the protection of your legs
Long sleeve T-shirt, a sweatshirt or a jersey over will provide more safety to the player.
Select the shoes according to the playing field and surface
To protect your hands from bruises and stings you need gloves. For better trigger control pro-players prefer to fingerless gloves which are considered paintball gloves.
Consider padded shirt, pants and gloves for more protection
Knee and elbow pads will protect your joints in case of impact
Paintball Outfit Ideas
Here are some of the outfit ideas along with your body protection needs to leverage more fun and freedom while playing paintball. Lets' began the read.
Upper Body Protection:
The most common question newbies got confuse at is what to wear paintballing. There are different types of outfit available which are made specifically for violent games such as paintball. First of all, your focus should be the protection of your upper body, because it is mostly targeted by rivals to get maximum points.
Now again the question appears, what to wear to play paintball for the ultimate protection of your upper body. The simple answer is that, if you are playing indoor game you can go for any outfit which provides you protection against high velocity paintballs.
Keep this in mind .68 caliber paintball can hurt you much more than .50 caliber balls and you should select your outfit according to the guns allowed in arena. Most of the indoor arenas are air-conditioned, so you can go on field in a jeans and sweat shirt.
Paintball leaves worst sting on the bare skin, rather than clothing, that's why you need to cover your upper body to reduce the impact. This will provide you the protection you need in the field, otherwise you can get hurt and get the worst paintballing experience on field.
For more protection you can wear paintball elbow pads and go for padded shirts to avoid the impact of paintballs in the battleground. However, if you are playing outdoor games, you need some extra protection because paintball is not the only thing that can hurt you in outdoor games.
What to wear for paintball in hot weather to avoid overheating, exhaustion is also another problem. You cannot wear sweatshirts in summer or you will get heat stroke or worse. To tackle with this problem, you should choose jerseys which have little paddings but they also have breathable panels to maintain the airflow.
You can also wear the paintball chest protector which are breathable and protect your chest and back from high velocity paintballs.
Lower Body Paintball Dress:
What to wear Paintballing for lower body protection is usually he most frequently asked question by beginners. Long pants are the best clothes to wear for paintball in outdoor as well as indoor games.
Best paintball pants prevent pain and bruises which high velocity paintball can cause, that's why a layer of protection is important. Moreover, if you are playing woodsball or anywhere outdoor you need ultimate protection from the environment.
If you are playing outside, might be walking in the brush or on edgy rocks. You can easily scratch up your legs, get insect bites or worst of all fall on pointy rocks. That's why you need to wear paintball dress which protect you from everything you encounter in outdoor battleground. To get ultimate protection from pointy rocks you need paintball knee pads, or padded paintball pants.
Paintball pants and knee pads also prevent scratches while you crawl on the battlefield to get your opponent. Indoor or outdoor, with unprotected skin, if you crawl, slide or dive on the ground you can severely hurt yourself.
Sports pants are mostly thick which are intend to protect you from the harsh environment. But, it also raises the question, what to wear to paintball in summer. This is a valid question asked by players who have newly joined the most loved live action game.
Most of the paintball pants are designed to be breathable and resist the hot summer season. The paintball pants are meshed for the proper air flow which prevents the heat and offers you comfort which you require.
Girls Choice to Wear for Paintball:
Paintball is not only for men, some of the girls also like adventurous games. What to wear paintballing girl summer season, which was quite unanswerable. But now you would be able to know the basic thing which would be efficient and provide protection on paintball battlefield.
Girls can wear the following things for paintballing:
Sweatpants with laggings underneath
Multiple layers including long sleeve shirt, tank top, and sweat shirt.
Padded chest protector
Low braids or high Pony tail
For camouflage, prefer dark colors
Comfortable shoes
Padded and flexible gloves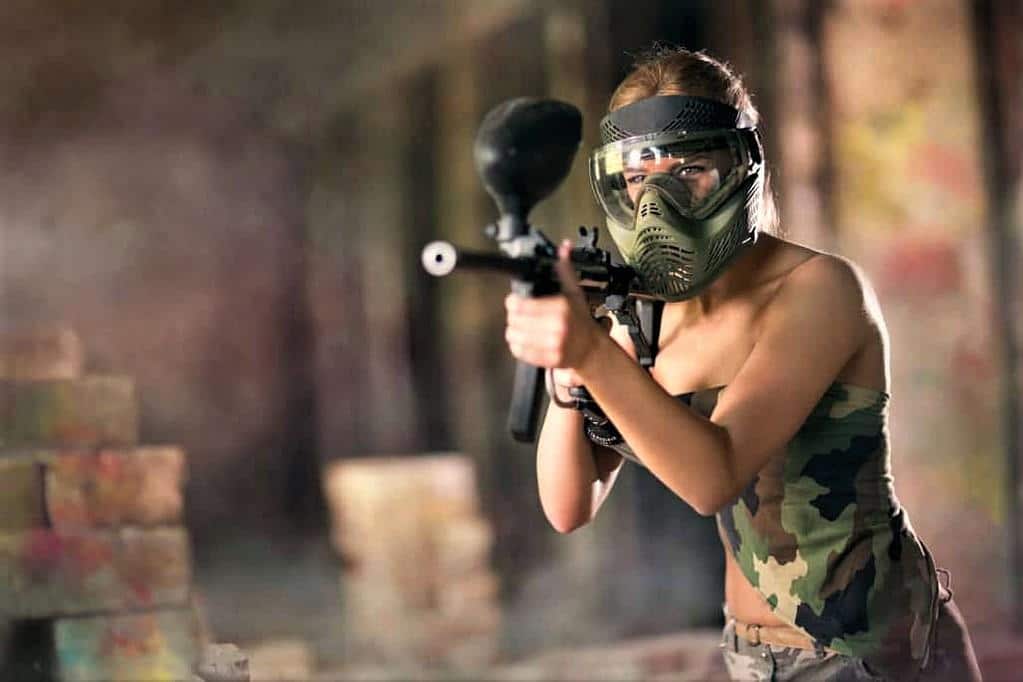 Delta Force Paintball Clothing:
Delta Force is one of the most popular paintball facilitator. What to wear to paintball delta force confuses even the professional players. Because, you can get paintball protective equipment including full body combat overalls and padded collar to protect you from neck shots.
They also offer you the custom made body armor according to your requirements which allow you flexible movement. Paintball is played almost whole year and because it's an active game the adrenaline pumping rises the temperature inside the heavy gears. Delta force provide cool and wearable clothing which does not restrict movement.
Moreover, paintball paint washes out of clothing nothing needs more than just normal washing. However, many players show concern and ask does paintball paint wash out of clothes. For their reassurance, you just need to wash as soon as you get back home from the game.
If the paint does not clean off in first wash, add a little stain remover and wash the clothes again. At last, the beginners who are pain sensitive stresses on, what to wear to paintball so it doesn't hurt. They should wear long-sleeved pants, shirts and tactical boots and do not expose your skin.
Wear multiple layers of clothes or padded paintball clothing to reduce the force of paintball bullet. Wear a helmet to protect your head and face, most importantly do not forget your goggles. A paintball chest protector would be great protect your chest and back.
Wrap Up:
In paintball game, the protection is the foremost important. That's why we answered the most essential and basic question, what to wear paintballing? You can have beneficial outfit ideas for paintball games for both boys and girls.
It is highly recommended, to wear multiple layers and safety gadgets to avoid bruises and paintball stings. Try to wear upper body and lower body paintball protection gears for desired fun and winning spirit.