Have you ever experience to run out of paintballs while playing a vital paintball match? If yes, then it's because of a small paintball hopper. You need the best paintball hopper to go in an important match. Finding a paintball speed loader is tricky; markets are full of paintball loaders all of them claim to be best. We have discussed the best electronic loaders as well as cheap paintball hoppers to make your investment-worthy.
There are an infinite number of paintball hoppers in the market that will attract you. However, before making a purchase, you must be aware of every kith and kin of the loader. The paintball's capacity and loader's speed matter a lot in a paintball game. After several hours of research, our team has selected the three best paintball loaders to fulfill your requirements.
3 Electronic Paintball Hopper
3 Best Electronic Paintball Hopper
It's the time to win like a pro in the battlefields of paintball by using the best paintball loader. Yes, I am talking about the hopper of your paintball gun to perform like a beast and hit your opponents without wasting your paintballs.
I have picked up the three best electronic paintball hoppers to make your selection a super easy task. All of them are tried and trusted by the users and reviewed as the top-rated among paintball professionals.
Let's begin the read to get the bulk details of electronic loaders.
1) Virtue Spire IV Electronic Paintball Speed Loader
Loader Capacity 220
Weight 2 Pounds
Color 280 IV Black
It is one of the best paintball loaders that can shoot more balls in less time without jamming issues. Virtue Spire IV is an electronic paintball speed loader to makes your gameplay even more fun and hectic-free. There is iFI integration and wireless support to ensure compatibility with other markers.
The product has proactive feeding logic to makes it is a liable option. No worries, cleaning this small paintball hopper is easy because it has a tool with smaller disassembly trays. It has a single hinge-mounted unit and magnetically attached drive that provides durability. You can get the reloading indication with a dual-LED and alarm feature to keep you updated in the paintball fields.
Speed Feed Changing:
This paintball loader offers maximum speed to change the feed. It has finger-mounted spring support that makes feeding performance better than other leaders in the market. The product not only gives feasibility in the feed changing and setting but also helps with paint retention.
Single Hinge Mount:
No more issues of opening, closing and cleaning with this electronic paintball hopper. It is designed with a Lambo door-hinged shell that is completely reliable and easy to use. In addition, you can change batteries without wasting time because it has merged the top, bottom, and back into a single hinge mount for desired ease.
The best thing is to open the hinged shell and clean the hopper for smoother and jam-free working. It's the reason you will get no jamming issues with this biggest paintball hopper.
IFI Integration:
Attach all the desired markers by using this automatic hopper paintball. It has iFI integration for compatibility with other guns. Moreover, the product is designed with wireless programming to connect with Apple and Android App. There is a facility of proactive feeding logic to render consistent shooting capacity without any flaw.
Dual LED Indicator:
Keep yourself updated about the reloading needs and issues. Its dual LED and alarm indicators make reloading more feasible. In addition, there is an integrated intelligent spring ramp that informs you about the low amount of paintballs. So, you can quickly reload the paintballs and perform smoothly in your battles without ceasing your game.
Tool-less Assembly:
Cleaning and changing things is an easier task when you are using Virtue Spire IV paintball. This is because the manufactured design with the factor to make changing of speed feed and other things easier for the users.
When you are in the paintball fields, you have to be faster, fully loaded, and all the way ready to beat your enemy. These things are possible when you have a more accessible and instant tool less installation. In addition, it has a tray for disassembly, which makes cleaning and paintball changing more fun.
Brittle Paint:
The thing which is quite interesting about this electronic paintball hopper is its smoother and flawless working with brittle paint. Furthermore, it has rubber fingers that flexibly move to pass the paintballs without any delay. Thus, you can shoot your target and win your battles. In addition, its interior design is durable that withstands the paint turbulence and creates no fuss while delivering the paintballs to the gun barrel.
Excellent Round Capacity:
When talking about its shooing capacity, you will be amazed to hear that it offers a 220 round capacity for a seamless shooting experience. So, if you are a beginner or playing paintball as a professional, try this product that never compromises shooting counts. So, hit all the targets by using Spire IV paintball loader without worrying about shooting capacity.
You go for this product because of its high-level durability, reliability, and versatility for usage. With this best paintball loader, you can win your paintball battles and have 220 rounds for a vigor shooting capacity. Additionally, it's easier to clean, disassemble, set up; instant feed changing and sag-proof features make it a perfect fit for your paintball games.

Why Choose?
2) Empire Paintball Prophecy Z2 Cheap Hoppers
Color Matte Black
Feeding Sound Activated System
Loader Capacity 200
Empire Paintball Prophecy Z2 Hopper is one of the best cheap paintball loaders to eradicate the shooting problems of your gun. In addition, it has the guts to increase the firing rate of your paintballs. Finally, it is an easy-to-go hopper with tool less assembling and disassembling for a hectic-free thing.
There is sound-activated force-feeding to fill up the marker with the required amount of paintballs. In addition, it has infrared sensors that provide automatic ball jam clearance to shoot 200 paintballs without missing the target.
Get the fun and ease into your gameplay with its low profile and lightweight design. To boost your winning spirit, it has is redesigned with a drive carrier for speed and reliability.
Tool-Free Usage:
Empire is a brand known for quality, and this product has features that will add comfort to your gaming. It is designed with a structure that requires no tools at all for assembly and disassembly.
You can easily open up this best paintball loader and perform the required task for a smoother and strenuous free working. It brings ease and saves time, unlike traditional loaders in the market. So put all your efforts toward your paintball gameplay and be the real hero of the tournament.
Sound Activated Feeding:
Innovation and advancements are the second names of Z2 hopper. It has a sound-activated feeding system that starts feeding the paintballs to marker for a smoother shooting capacity.
Moreover, there are infrared sensors to clear the balls' jamming issues automatically. Thus, you can shoot the paintballs without worrying about the jamming of balls.
Convenient to Use:
This automatic hopper paintball has an ergonomic and user-friendly design. It has a low profile and lightweight structure that makes paintball games more fun. In simpler words, run and walk freely in the paintball battles without any problems. Furthermore, the lightweight design makes its stay more vital on the marker for confident running and hitting.
Faster & Consistent:
Supercharge yourself with its redesigned drive carrier to enjoy maximum speed in feeding along with consistency in performance. This is the most advanced paintball loader, which has a blend of quality and multi-functioning features for smoother gameplay in paintball woods.
Enjoy a higher level of paintball shooting capacity with its 200 rounds support. As a result, you can hit all the opponents in paintball tournaments and battles without fearing paintball rounds.
This is the cheap paintball hopper included in our list with remarkable features for the desired game win. It is a technically advanced paintball loader designed with jam-free, tool less, and sensor reading support.You can try this best paintball loader to enjoy a boost of performance with its fantastic feeding system. Avail of usage ease in assembling and disassembling, lightweight design, and sound active feeding in a very affordable manner.

Why choose:
3) Bunkerkings CTRL Electronic Small Paintball Hopper
Loader Capacity 200
Assembly/Disassembly Tool-less
Color Black
If you search for a small paintball hopper, Bunkerkings comes in the picture to serve your needs. The brands introduce the Bunkerkings CTRL electronic paintball loader with top-notch features. It is a lightweight and easy-to-use loader that gives outstanding performance in paintball fields.
There is an Angle Indicator to precise your targeting and ramp up shooting capacity at the same time. It comes with Spire III loader technology to make loading more fun. You can have spontaneous feeding support with its feeding logic and go like a beast until you put down your opponent.
The product did not require you to begin the feeding and start shooting by detecting the G-force sensors for feeding. However, it is a small, short, and lightweight hopper but gives jam-free and softer working on paints to keep things in your control.
Small & Sturdy:
This is the perfect blend of quality and performance. Yes, you got my point. One of the best cheap paintball loaders makes paintball shooting a more exciting and hectic-free thing. You can easily use it with your paintball gun and tackle down your enemies with its smaller but durable structure.
It is smaller in size but fits the needs of paintball battles. This is because of its advanced features and technology that might amaze the users with an awful feeling.
Proactive Feeding Logic:
Innovations have replaced the traditional feeding system in electronic paintball hoppers. This product was engineered with proactive feeding logic that did not require your feeding. It starts working when you start using the gun and keep shooting.
Moreover, you do not have to worry about feeding as it starts shooting with the detection of G-force sensors. These sensors help in targeted shooting and consistent feeding support without any trouble.
Angle Indicator:
Shooting your paintballs will be more fun because this paintball hopper has the angle indicator feature. Thus, you can shoot more precisely and hit the target without wasting time and paintballs. Furthermore, the angle will help you in a very supportive way by indicating your opponent for a desired battle win.
Seamless Balance/Stability:
Just imagine when you are running in the paintball game and your loader drops down in the middle of the battles. Seems horrible! You can resolve this issue by having this electronic loader. Yes, it has a structure that easily fits every mechanical and electronic marker without dropping and falling problems.
Its construction is so excellent that you can quickly and freely run into your paintball battles. The stability and balance add confidence in you to go like a real fighter and take pride in your win.
Magnetic Tray:
There is a magnetic tray for tool less and easier disassembly. To put it in simpler words, you can open the loader without any tool to enjoy trouble-free cleaning and refilling. You can also set the programming according to your needs with its menu on the tray.
It never jams like traditional hoppers because there is a magnetic drive cone for jam-free shooting. This cheap paintball hopper serves 200 rounds to shoot your enemies. Durable nylon lid, ramps, and different colors can make it a desired option for paintball gameplay.
Bunkerkings CTRL Electronic Small Paintball Loader has advanced features that add more perks to your paintball battles. It has a built-in Angle Indicator to set the shooting angle. The product ensures maximum accuracy, usage ease, and a balanced design to win your games. If you are a beginner and finding a small but durable option, try this product to avail outstanding features like a G-force sensor, proactive feeding logic, and magnetic tray backed with a guided menu for desired usage comfort.

Why Choose This?
Buyer's Guide for Best Cheap Automatic Hopper Paintball
Are you looking for the best paintball hopper/loader? Unfortunately, finding the cheap and biggest paintball hopper for your gun is not an easy task. You should be aware of little details before making a purchase, or your investment will drown. Furthermore, you need to be picky because your performance in the gameplay depends on it.
Numerous brands offer you the best paintball hopper, and you must select the one which is significant and compatible with your gun. Some brands offer paintball hopper cases for convenient carrying and keeping. You can check this and the rest of the other facts within this article. Let's explore the details for better selection.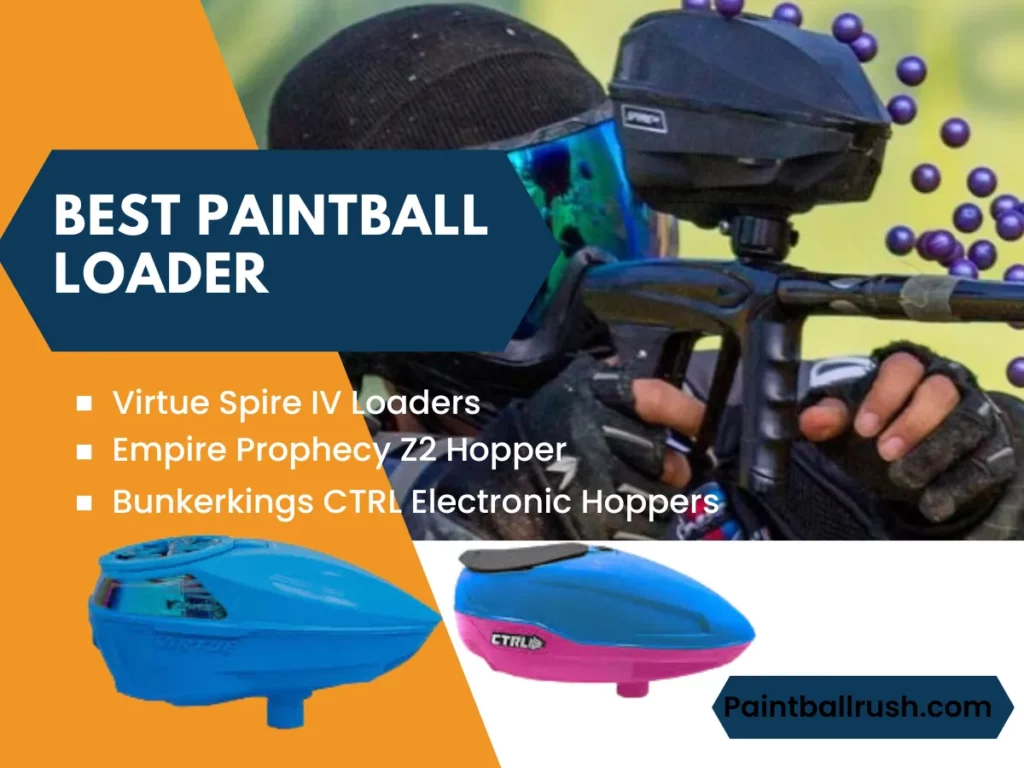 Types of Hoppers:
There are two basic types of hopper/loader:
Gravity Hopper
Electronic Hopper
That's the first choice you have to make for buying the perfect hopper.
1) Gravity Hopper
The gravity hoppers are modest in structure; they do not require any motors or batteries. They are cheap paintball hoppers and light weighted which is best for beginners. However, these hoppers have their drawbacks; they are slow feeders and, at times, jam in your battlefield.
2) Electronic Hopper
Electronic loaders have motors and some additional features and settings which prevent jams in loading the paintballs. They usually offer you more than 20 paintballs per second. They are expensive, but it's a worthy investment you can make if you regularly play paintball.
Electronic loaders are well suited for advanced players. These are also called the automatic hopper paintball. Q loader paintball hoppers are the best electronic hopper specially build for Woodsball players. So if you are a woodsball player, grab Q load paintball hopper and make the paintball game more fun.
Determine Your Playing Level:
You must determine your level of playing paintball before investing your money in buying a hopper. If you are not a professional player, you don't have to buy an expensive hopper. However, sometimes professional hoppers are not made for beginners.
There are three levels of gameplay,
Beginner
Intermediate
Professional
Beginner
If you are a beginner or play occasional games, you should purchase a simpler paintball hopper. It does not matter you buy a gravity loader or electronic loader. Any lightweight, easy handling and cheap paintball hoppers are perfect for entry-level players.
Intermediate
If you are playing paintball for quite some time and are skilled but not a professional player, then any budget-friendly hopper is perfect. They are a bit expensive than the beginner's hopper, but they contain some advanced features. These gravity or electronic loaders can give you an advantage on the battlefield.
Go for some advanced hoppers to improve your gameplay and look for sound, eye and cyclone-activated hoppers. You will feel the difference.
Professional
If you are a professional player and intend to participate in tournaments, you must have the best paintball loader. They are paintball speed loaders and have more capacity for storing a large number of paintballs.
In addition, the biggest paintball hoppers for professionals have well-designed motors and sensors. These hoppers prevent jamming and provide you smooth and consistent performance.
Compatibility of Gun:
Today, almost all the manufacturers are making universal loader that is excellent. Universal hoppers are compatible with all guns but to play safe, and you should not assume anything. If you own an old model paintball gun, you must follow the protocol.
To ensure the hopper is compatible, you should buy the hopper from the same brand of your gun. Otherwise, you can ask the manufacturer regarding your marker's compatibility.
Material Used in Hoppers:
You must choose the material of your hopper wisely if you expect your hopper will last longer. The hopper must withstand the rough game-playing and heavy blows. Otherwise, your hopper will tear apart on the battlefield.
Here we present you some options:
Polycarbonate fibre
Aluminum
Steel
Ceramic
1) Polycarbonate Fiber
Polycarbonate Fiber is the top of the hoppers and is very popular in the market. It combines aluminum, ceramic and steel and makes the hopper durable, lightweight and easy to handle.
2) Aluminum
These hoppers are lightweight, durable and, most importantly best cheap paintball loaders.
3) Steel
Steel hopper is a good option; they are reliable but too heavy to handle.
4) Ceramic
Ceramic hoppers are similar to aluminum in weight, but they are more robust and difficult to break.
If you want durability, reliability and a light-weighted hopper, you should go for polycarbonate fiber hoppers.
Size, Weight & Capacity:
The size, weight and capacity of a hopper are interlinked. So, try to find a perfect combination of these things. Your paintball hopper weight and size be your best companion or worst enemy on a battlefield. A player would never be comfortable with a hopper that drags you down due to its weight.
It would be great for you if the hopper is light enough to carry easily and holds enough paintballs for a match. If you are new to paintball, you must choose a 100 paintball capacity hopper. But for professionals, should look for the biggest paintball hopper with the capacity of at least 200 balls or more.
Fire Rate:
Last but not least, the best paintball loaders are those which are easily compatible with your trigger. It all depends on your skill set here, the faster you pull the trigger, and the hopper's fire rate should be.
A gravity loader paintball hopper should be enough for beginners. They have a slow fire rate of almost eight paintballs per second. They are best if you are a newbie and not very fast with the trigger.
However, if you are a professional, you should focus on an electronic or automatic hopper paintball loader—these hoppers fire around 20 paintballs per second or more.
Benefits of Biggest Paintball Hopper
Having the best paintball loader has multiple benefits for you on the battlefield. First, the manufacturers are introducing universal hoppers and speed paintball loaders to improve the functioning of paintball guns. Second, after upgrading your hopper, you will feel a tremendous difference in the firing rate.
The benefits of paintball loaders:
Paintball speed loaders help in increasing the speed of paintball loading
Saves your time
It gives you a large capacity of storing paintballs
The shooting rate increases up to 20 or more paintballs per second
Strong unbreakable body
Automatic hopper paintball increases the consistency of paintball
Virtue Spire IV Electronic Paintball Loaders/Hoppers blend consistency and speed to make shooting more fun. In addition, it has a feeding logic system that functions with iFI integration for a better paintball shooting experience.
LED light and alarm indicator for before-time reloading and a single hinge mount unit for optimal user comfort. You can shoot 220 rounds without jamming flaws. Its Lambo door-hinged shell, virtue logos, magnetic spring drive assembly, and Apple/Android apps compatibility leverage you with all the perks to win your paintball battles.

Recommended Product
What is a Hopper in paintball?
A hopper/loader is a pouch-like device attached to the end of your paintball marker. It stores paintballs before loading them into the chamber of your gun. Two types of hoppers/loaders are available in the market, Gravity hopper and electronic hopper. Gravity-fed hoppers load slowly, while electronic loaders do the work more efficiently.
How many paintballs are in a hopper?
Most paintball hoppers roughly contain 200 paintballs. These paintballs are more than enough for a match. Some include 100 balls in their hopper, preferred by beginners.
Are paintball loaders Universal?
There is no single manufacturing rule for the paintball hoppers and their specifications. But since 2007, almost all paintball hoppers are manufactured in a universal size. The speed range of these gravity and electronic loaders varies from low as 4bps to high as 40bps.
Do paintball guns come with a hopper?
Affirmative, usually paintball guns come with hopper, but the speed of those hoppers is average. If you are a pro-player, you need the biggest paintball hopper to fulfill your firing needs.