Paintball protective gears are essential for the game because they protect you from injuries. The best paintball gloves are necessary for the battlefield, yet most beginners ignore them. They protect your hands from injuries and the impact of paintball. Moreover, they protect your hand and offer you sound grip and better handling of your gun. Even essential gloves can enhance your overall grip; however, professional gloves ensure an even better hold on your marker and steady shooting.
Finding the best paintball markers is somewhat tricky on the market. There is an infinite number of paintball gloves available today, and it will be problematic for newbies to choose the perfect one. Don't worry about it anymore; we have come up with the five top-notch paintball gloves to save your time and hassle. In this article, you will read the features and specs of these paintball gloves and easily select one according to your ease and comfort. So, without wasting more time, let's read and make a good investment for better paintball gloves.
5 Best Youth Paintball Gloves Brand
Table of Content:
If you are searching for the best paintball gloves 2021, you must know the kith and kin of paintball gloves. If you are aware of the basic technicalities of gloves, you can buy the perfect gloves; otherwise, you will waste your money. To make the best investment, you must know, and for that, we have a guide for you.
In this guide, we will provide you the features and specs of top-notch gloves so you can select the gloves according to your requirements. For the starter, start reading the features of paintball gloves and then read their detailed description.
Top Rated Paintball Gloves Full Finger
1) HK Army Cool Paintball Gloves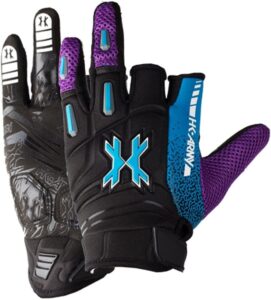 Sleek form, a fitting design
Neoprene padded hand protection
Custom silicone palm grip
Aero-mesh ventilation
TPR logos
Low profile Velcro for easy release
Lightweight and protective
Two-finger-less design for optimal rapid fire
| Specifications | Values |
| --- | --- |
| Brand | HK Army |
| Colors Scheme | Multiple Color |
| Weight | 3.2 ounces |
| Glove | 2-fingerless |
| Dimensions | 4 x 2 x 7.5 Inch |
| Size | S, M, L, XL |
There are three kinds of gloves available in the market and full fingers, fingerless, and best of both, two fingerless paintball gloves. HK provides two-fingerless cool paintball gloves that will help you in rapid firing during your important paintball games. These sleek form and fitting paintball gloves are designed with the player in mind.
It features thermoformed neoprene padding for ultimate hand protection. Silicon screen print for superior palm grip while low-profile Velcro for comfortable fitting and easy release.
These are the most flexible paintball gloves; you would not feel you are wearing anything on the battlefield. These HK pro series best paintball gloves are lightweight and protective, protecting you from opponent paintballs and injuries.
Two-fingerless Design:
When it comes to freedom of movement, these gloves are trendy that. This pair of two-fingerless glove designs have the best features of both full fingers and fingerless design. In addition, the index and middle fingers are left exposed for better trigger handling through the protection to the knuckles still provided to these fingers.
It provides ultimate protection to the rest of the hand; all other fingers are entirely covered with gloves providing premium protection. Its sleek and fitting design fits you completely and gives you flexibility and an extra layer of protection. These are the best and most professional and loved paintball gloves in the market.
Padded Hand Protection:
The neoprene padded paintball protective Gear gloves provide 100% protection to your hands from the impacts of falling and paintball bruises. In addition, these pads are lightweight and flexible enough that they will not affect your hand's movement in the battleground. Finally, the custom silicon palm grip in these gloves will provide you ultimate hold and grip on your marker.
The paddings will absorb the shock impact if you fall or accidentally hit something. For example, you are playing woodsball and by chance hit a tree or pointy rocks, these gloves will give you definite protection. Moreover, if you do lots of crawling and sliding, gloves will protect you from injuring your hands and fingers.
Aero-mesh Ventilation:
The most crucial feature of paintball gloves is that they should be comfortable and flexible. If a single thing is missing, then they will not be good enough for a paintball game. These HK's good paintball gloves will offer you a unique ventilation system.
The two-fingerless glove is already breathable, but the additional aero-mesh ventilation is the key feature of these gloves. Aero-mesh ventilation and two Fingerless will give you complete breathability and never let you heat up in warm weather.
Velcro Straps:
One of the basic needs of paintball gloves is they should not get lost during a paintball game. If they got to lose, they would affect your gun handling as well as your focus. The Velcro straps give you optimal fit and easy release options as you desire.
Availability of paintball gloves colors includes Arctic, black, lava, and slime. The gloves are perfect for woodsball Paintball as well as speedball paintball games. So, for example, you are playing woodsball and by chance hit a tree or pointy rocks, these gloves will give you definite protection.
Why Choose This:
These two-fingerless pro paintball gloves are the first choice of professional paintball players. They provide you rapid firing and protection at the same time. In addition, the neoprene padding will offer you ultimate protection for your hands from paintball impact and crawling and sliding.
The Aero-mesh system gives you breathability and keeps your hands dry in summer. The Velcro straps give you perfect fir and restrict the gloves from sliding. In the end, the manufacturer gives you a variety of incredible color choices.
2) Maddog Tactical Fingerless Professional Paintball Brand Gloves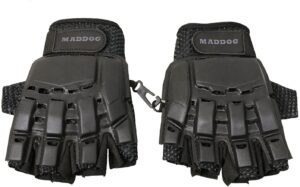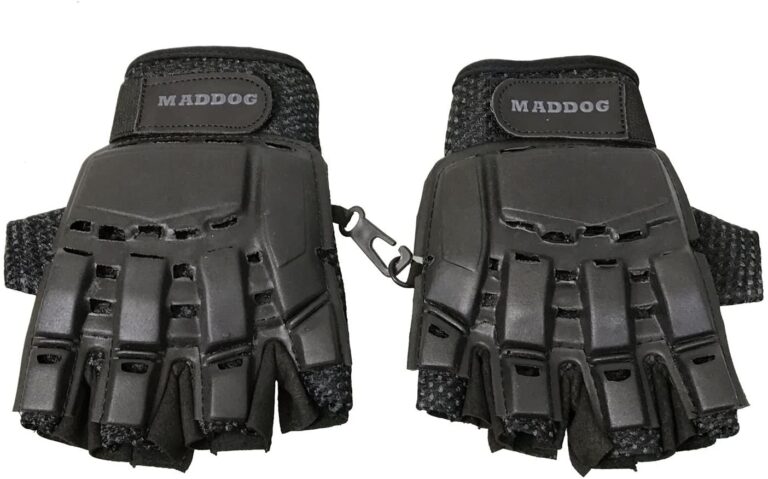 Perfect for paintball and Airsoft
Military Tactical Design
Low profile shielding at the top of the hand
Mesh fabric for ventilation
Padded palm
Comfort, maneuverability, and protection
Elastic straps for a secure fit
| Specifications | Tested Values |
| --- | --- |
| Brand | Maddog |
| Colors Scheme | Black |
| Weight | 4 ounces |
| Glove | Fingerless |
| Dimensions | 6.8 x 5.7 x 2 Inch |
Maddog is a tactical Fingerless military and professional paintball gloves. The Fingerless gloves allow you to move fingers freely on the battlefield, which helps you to pull the trigger as fast as you want. In addition, the mesh fabric provides you excellent ventilation while padded palm gives ultimate protection to your hand.
The military tactical design gives it a professional look, while the low-profile shielding at the top of the hands offers extra protection to your knuckles. These Fingerless paintball pads promise you comfort, maneuverability, and safety. The elastic straps on the wrist provide you a secure fit and an easy release option.
Military Tactical Design:
These are the highest rated paintball gloves available able due to their military style. You look more professional shooter after wearing these secure best paintball gloves. These are perfect for Airsoft, and military paintball gun personnel who already use these because of their durability and tactical abilities.
You can move your fingers as free as you want and pull the trigger as fast as you can. Moreover, these are lightweight enough that it would not be wrong to say that these gloves feel like you are wearing a second skin.
Breathable Fabric:
The common issue with the gloves is non-ventilation or less breathability in the warm season. But Maddog has used the mesh fabric for lightweight and ultimate breathability. These breathable Fingerless gloves ensure maximum ventilation and minimize sweating.
Paintball game gloves will give you absolute control and perfect grip on the marker. Being Fingerless gloves has its benefits like you will have more comfort and maneuverability than full finger gloves. You can easily upgrade your tactical weapon as well as clean your goggles with palm padding.
Padded Palm and Shield:
The perfect paintball gloves cost is budget-friendly, but it gives you ultimate protection. Your palms can be seriously injured while crawling and sliding on the battlefield. Padded palms provide protection to keep your hands safe from pointy rocks and direct impact to the ground.
Furthermore, the shield at the top of your hand will protect your knuckles from the impact of paintball firing by opponents. The back of the hands can also be injured by accident; that's why these paintball gloves are perfect for keeping your hands safe. Both palm padding and shield at the top protects your hand from intentional and accidental injuries.
Elastic Straps:
Players usually face the issue of sliding paintball gloves or uneasy straps due to low-class material. Maddog uses high-standard soft elastic to provide you the proper fit. These adjustable straps fit can adjust your wrists perfectly and stay in place, which gives you confidence on the battlefield.
Besides, these military-style gloves come in elegant black color, which will look incredible with all your outfits. It is a comfortable, durable pair of gloves that will last longer than other paintball protective gears.
Why Choose This:
Its tactical military look will give you goosebumps when you wear it on the battlefield. The breathable fabric provides you ultimate ventilation, which will keep your hands sweat-free and offers you better paintball gun handling.
Palm padding and top shield will keep your hands safe while you crawl or slide in the game. Elastic straps perfectly and keep the gloves in place, while its solid black color is good with all the tactical and formal outfits.
3) Social Paintball Grit Youth Paintball Gloves, Skeleton Bones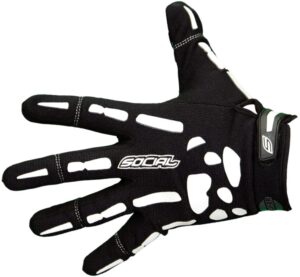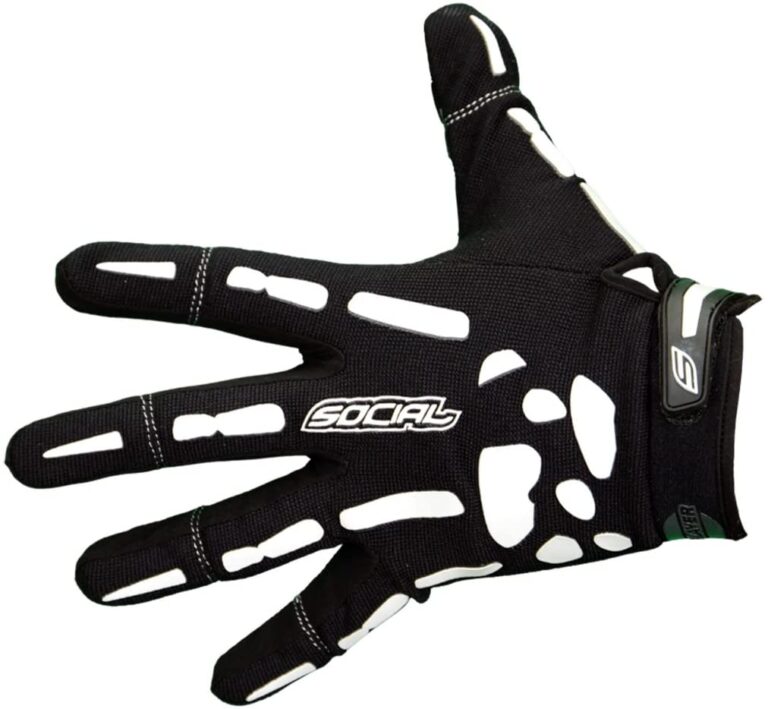 Strong and flexible
Armor shield knuckles from paintball hits
Fingerless style
Padded palms
Comfortable, breathable fabric
Adjustable Velcro wrist closure
| Specifications | Featured Values |
| --- | --- |
| Brand | Social Paintball |
| Colors Scheme | Black and white |
| Glove | Full Finger |
| Material | Silicon |
| Size | XS, S, M, L, XL, XXL |
This is a limited edition grit paintball glove designed to be both functional and stylish. These social paintball gloves have a lightweight construction and Silicon grip on the palm and fingers.
Grit paintball gloves will provide you a firm hold on your weapon and protect your hands from the rigors of hard paintball. This limited edition bone style has Skelton 3D silicon, providing an additional layer of protection to your knuckles and fingers.
In addition, these gloves offer you built-in padded Kevlar on the palms to protect you from direct impact. Finally, full-fingered gloves have four-way stretchable fingers with remarkable flexibility for firing rapidly.
All five fingers of the gloves are double stitched to reduce the fray for those who like to cut the fingertips for more flexibility.
Silicon and Grit Gloves:
Social is the best paintballs available in the market, they look cool, not tactical, but they offer you more than you can imagine. The silicone grip on the palms and finger gives you movability and easy trigger pulling. Grit paintball gloves provide a firm grip around your marker and protect your hands from the bruises of hard paintball.
They are backed with breathability, so your hands will not get sweaty on the battlefield. These young paintball players love this kind of paintball gloves; that's why they are referred to as youth paintball gloves.
Limited Edition Gloves:
These paintball gloves full of fingers are incredibly lightweight and limited edition stock. You have to be fast enough to buy them before they are out of stock. The black ground and while bones on them look astonishing.
Four-way Stretchable:
Social paintball brand gloves are 4-way stretchable, which makes them flexible enough to use in paintball easily. Your fingers would be much more flexible and can pull the trigger as fast as your fingers can without the gloves. In addition, these stretchable gloves fit you so accurately that it will feel like you are wearing nothing.
Double Stich paintball gloves are specially manufactured for players who like to cut the tips of gloves for more flexibility. In addition, the double stitch will reduce the fraying caused by cutting the ends of paintball gloves.
Built-in Palm Pads:
For ultimate protection of your hands, these paintball gloves come with built-in paddings. So if you are fond of crawling or sliding, these paintball gloves are the perfect option. And at the top of the hand, 3D silicon is added for protection from paintballs shot from opponents.
These Kevlar paddings and silicon protect you from accidental injuries or pointy rocks if you are playing woodsball. This will minimize the impact of group shock; in case you fall.
Why this is Compatible:
The lightweight construction of paintball gloves does not drag your hands down or affect your playing style. Kevlar padding and 3D silicon add a layer of protection around your hands. The 4-way stretchable gloves give you the flexibility of moving your hands as you like, and it offers you fast trigger pull.
Double stitch gloves give you durability, and you can customize them by cutting their fingertips for more freedom of fingers. Grit gloves offer you a firm grip on your marker.
4) Tippmann Armored Best Budget Paintball Gloves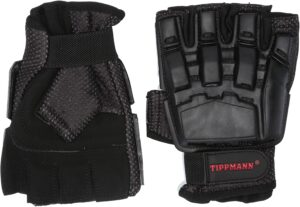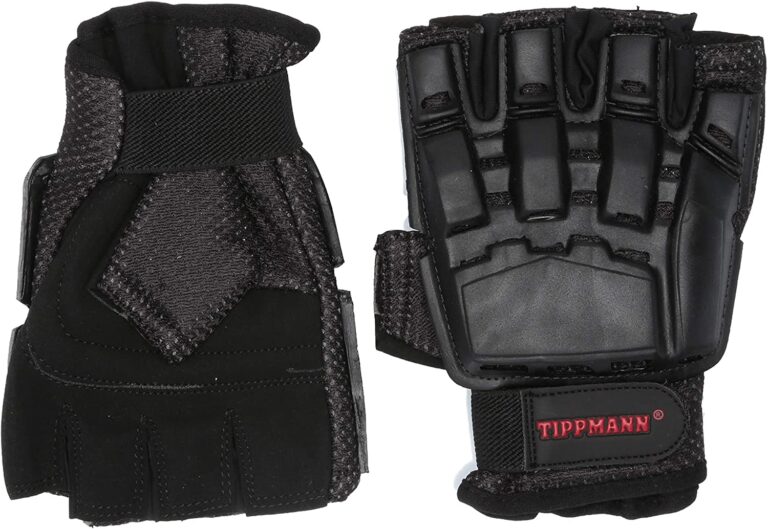 Lightweight construction
The Bones limited edition design
Silicone grip on palm and fingers
Grit Gloves
Built-in padded Kevlar zones on palms
For-way stretch for flexible trigger fingers
Double-stitched
| Specifications | Values |
| --- | --- |
| Brand | Tippmann |
| Colors Scheme | Black |
| Glove | Fingerless |
| Weight | 0.32 ounces |
| Dimension | 8.6 x 6 x 1.7 Inch |
| Size | S, M, L, XL |
If you have minimal cash and still want quality paintball gloves, then Tippmann armored gloves are made for you. They are Fingerless best budget paintball gloves that give you ultimate freedom of movement with the protection you need. The armored protection on the back of the hand gives them a tactical look and protects your knuckles from the paintball attack.
The lightweight synthetic material has been used in its construction, which provides your gloves durability. At the same time, the meshed fabric is used to increase the breathability of the gloves. An adjustable strap guarantees the glove will stay firmly on your hands all the time; furthermore, it will provide palm protection.
Armor Shield:
The paintball gloves provide you paintball armor shield at the back of the hands for the ultimate protection. Tippmann especially designed these gloves for paintball games, considering the hardships faced by the players. It minimizes the impact of paintball firing by opponents, and some high-velocity hard paintballs can injure you on the battlefield.
The armor protects your knuckles from the high impact of paintballs fired by opponents. In addition, you will be comfortable and stress-free after wearing these gloves.
Durable and Flexible:
These best paintball gloves in fingerless style are both flexible and durable. Of course, you can easily pull the trigger because the finger in these gloves is exposed. But still, the armor protects the knuckles and backside of your hand.
These gloves are durable enough to withstand the sliding and crawling you do on the battlefield. They can at least stand the whole season with ease, and if you are not so harsh on them, their life span could be increased more.
Comfortable:
These paintball gloves are comfortable and breathable enough that you can wear them for several hours without any problem. They are soft from the inside and don't let you feel you are wearing anything on your hands. Light, breathable fabric is used in their construction for maximum ventilation and airflow.
Fingerless paintball gloves are already ventilated enough to avoid sweat on the hands. It will also provide you a firm grasp on your best paintball sniper rifle, which will be beneficial on the battlefield.
Adjustable Wrist Closure:
The most important thing for a paintball glove is its closing system at the wrist. If they are perfect, then it will fit you perfectly and does not affect you playing style. This Tippmann paintball glove comes with adjustable Velcro wrist closure.
Velcro wrist closures are considered one of the best wrist closures for paintball gloves. They keep the gloves in place and don't let them slide from your hands. Adjustable wrists closure paintball gloves are perfect for chubby and skinny people alike; they will fit both.
Why Should Buy It:
An armor shield on the back of your hand provides you ultimate protection against the opponent's paintball firing. The flexibility of moving the finger will give you rapid-firing as fast as your fingers can pull the trigger.
Fingerless paintball gloves are highly breathable and avoid sweat, which provides an ultimate hold on the weapon. And last but not least adjustable Velcro wrist closure offers you the perfect fit for your gloves.
5) Empire Good Paintball Carbon Gloves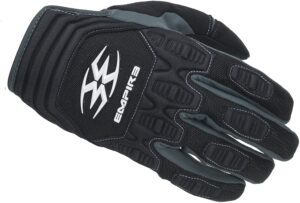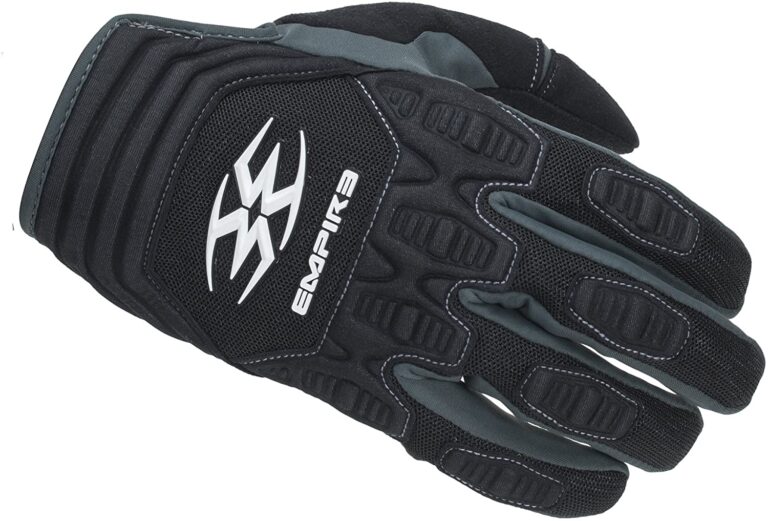 Clarino palms for comfort
Lycra hinges Kevlar-reinforced palms
Medical Velcro closure with gusset
Microfiber thumb panel to remove the paint from goggles
More breathable and comfortable
Versatile and durable
| Specifications | Tested Values |
| --- | --- |
| Brand | Empire Paintball |
| Manufacture | Kee Action Spots |
| Material | Calrino, Kevlar |
| Colors Scheme | Black |
| Glove | Full Fingers |
Wearing paintball gloves does not mean you cannot feel things as nature intended. The Empire paintball gloves are actual contact FT gloves that feature contact fingers. In addition, these paintball gloves offer feature Clarino palms and armored fingers, which offer you ultimate protection.
The Kevlar provides you superior protection against direct impacts to the floor or paintball shots by opponents. These paintball gloves are the most challenging and most versatile gloves available in the market.
This pair of gloves also contain a microfiber thumb panel to remove the paint from your tactical goggles. In addition, it comes with medical Velcro closure with a gusset to keep the gloves on while the dirt and paint out.
Contact Fingers:
This is a revolutionary step taken by empire paintball gloves. They have introduced contact figures in their gloves; it's the most sensitive tactile finger ever on paintball gloves.
It offers you the ultimate protection of paintball gloves full finger while you can still pull the micro-switch triggers of modern tournament guns. You can smash your opponents in seconds with these contact paintball gloves.
Clarino Palm Comfort:
These paintball gloves feature clarion palms, which offer you the softness of leather better than any other paintball gloves. The armored finger protects your fingers and hands area from injuries, while lycra hinges and Kevlar provide you ultimate protection. Empire added a whole layer of Kevlar, which absorbs the impact and keeps your hands safe and sound.
Your knuckles are safe from opposition's firing, and if you are crawling on the battlefield, your hands are protected from pointy rocks, thrones, and friction of the floor.
Medical Velcro Closure:
These are the most versatile Velcro closure you will ever see. Medical Velcro closures are specially designed with gussets to keep them on while the dirt paint stays out. In addition, these gloves will last longer due to their manufacturing style.
These Velcro closures keep the gloves in place and prevent sliding, which is the best feature of these paintball gloves.
More Breathable:
The versatile design of these paintball gloves keeps you dry in warm weather. It does not let you sweat because of its high breathability and comfortable material. You will feel like you are wearing nothing because of its contact fingers.
The microfiber thumb panel allows you to do different activities while the gloves are on. For example, you can remove the paint from Goggle or paintball mask it with this microfiber thumb.
Why Should Choose This:
These are the most versatile and durable paintball gloves available in the market today. It allows you to feel, touch, and easily trigger pulls the gloves while they are on. This is extremely rare in full finger paintball gloves.
The calrino palm provides comfort, while Kevlar gives you ultimate protection from paintball shots and direct impacts. Medical Velcro closure keeps the dirt and paint outside of the gloves and gives you the ultimate fit. At last, it is highly breathable and keeps you dry even in summer.
What To Look for Buying Paintball Gloves and Gear
Paintball gloves are the most crucial gear of your paintball armor, but many newbies avoid having them. They assume that these are useless or reduce their shooting ability in the gameplay. Instead, they should learn from professional paintball players who wear the best paintball gloves on the battlefield as it's the part of their body.
Paintball gloves protect your hands from the high impact of falling on the ground or the hard paintball firing from opponents. In addition, if you are playing woodsball, it will protect your hands from thrones. If you have made up your mind to buy gray paintball gloves, you must know the technicalities of paintball gloves.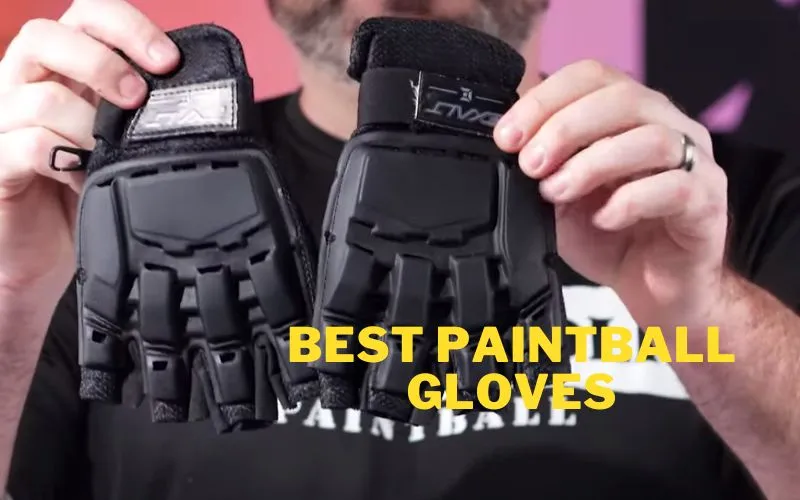 If you are new to paintball and don't know much about protective gear, you will have a high chance of ending up with fake gloves. But there is nothing to worry about anymore; you just need to focus on few factors to buy a perfect pair of paintball gloves.
Types of Paintball Gloves
There are four main types of paintball gloves which are as follows:
Fingerless Gloves
Full finger Gloves
Two-fingerless Gloves
Sleeve paintball
Fingerless Gloves:
Finger-less gloves are the best paintball gloves available in the market today. These gloves guard the palms of your hands and leave your fingers exposed to pull the trigger and carry out other manual operations. Paintball gloves mostly use paddings for protection from the high impacts.
These paintball gloves are mostly both budget-friendly and shock absorbing. You will hardly feel anything in these gloves.
Full Finger Gloves:
Full finger gloves are an excellent choice if you want to protect your hands and fingers thoroughly. However, they limit your fingers' movement to some extent. Some paintball gloves use entire armor on the back, and others use paddings for maximum coverage of your hands and fingers.
You may want to cut off one or two fingertips for better gameplay, but again it depends upon your paintball gaming style.
Two-fingerless Gloves:
Two-fingerless gloves are getting massive popularity these days. Most of the players cut off two fingertips of their gloves; manufacturers decided to make it easy for players. These gloves have the best features of both gloves.
These gloves are designed to achieve the maximum rate of fire in a paintball game. It allows the index and middle finger to move freely and do the job accurately.
Sleeve Gloves:
In the end, sleeve gloves are the least popular paintball gloves. They are designed for speedball players who prefer paddings on the palm and back of the hand. They provide you with finger movement as you desire in a paintball game.
Material
There are three most common sustainable materials used in the making of paintball gloves. Must remember, this is the most critical factor because paintball gloves are made to withstand the harshest use on the battlefield. The most common types are as follows:
Kevlar:
Kevlar is the most robust material and is mainly used in making bulletproof vests. So why do manufacturers use it in paintball gloves? The answer is, Kevlar padding minimizes the impact of the paintball while they hit you. They also protect you from an accidental hit like if you fall on the floor, the Kevlar absorbs the impact, and your hand will remain safe.
Kevlar is widely used in Empire paintball gears, social paintball, dye paintball gloves, and carbon paintball gloves.
Silicone:
Silicon is also a very common material used in paintball gloves. It is mostly used in palms and enhances the grip of hands in which you hold your marker. In addition, this is a waterproof material and provides you versatility.
Neoprene:
It is a synthetic material that is mainly used to add flexible padding in paintball gloves. Neoprene is typically used on the back of the hands to protect the backhand. It could stand extreme sports like paintball, woodsball, and speedball, etcetera.
Comfort
You must have a comfortable and breathable paintball glove to play the game without any stress. To make sure that you must own a pair of reliable paintball gloves. An essential factor in selecting a comfortable paintball glove is size.
You must have gloves that properly fit in your hands. Buying the large or small green paintball gloves serves with consistent adjustment and movement issues.
Durability
Durability is another essential factor in paintball gloves. You need to do multiple activities with your hands in a paintball gun, like load your gun, aiming, crawling and sliding, etcetera. For all these activities you need a pair of gloves which can withstand all these tough activities.
Padding
Paddings in a glove are one of the most critical factors. Your hands are the most vulnerable because they do most of the work in a paintball game, and they require protection. If you are using a pair of gloves that are not designed for paintball, it would be a disaster.
You should always go for gloves that are specifically designed for paintball for optimal protection. These paintball gloves would be better and have additional paddings. For example, HK Army's two-fingerless delta force gloves have maximum paddings and are made for paintball.
Flexibility
Flexibility in gloves is a need and paintball's most important requirement if you want to handle your gun perfectly. Your paintball gloves should be flexible enough to move your fingers quickly. The hands are the most important in a paintball game, and you will not make it complicated by owning less stretchy paintball gloves. Your paintball gloves should offer you a full range of motion.
Budget
If you are an occasional paintball player, you don't need to buy an expensive paintball glove. Instead, you should go for a budget-friendly and reasonably priced paintball glove. On the other hand, if you are a frequent player, then you must invest in premium quality and durable paintball gloves.
Who Should Use the Paintball Protective Gloves?
Paintball is a harsh game, and if you want to protect yourself from injuries, you must wear a pair of paintball gloves. The professional paintball players, along with tournament-level paintball players, wear the best paintball gloves. These gloves protect a player's hands and knuckles on the battlefield.
And if a player is an active paintball player, he will definitively crawl and slide in gameplay. At that point, the player uses the best paintball gloves and protective gear. Today, all the players, beginners, intermediate, and even pro-players use protective gear such as paintball knee pads, gloves and elbow pads.
If you are an active player on the field, you must wear paintball gloves to protect your hands from hard paintballs or accidental injuries like falling impact.
HK Army paintball gloves are the best paintball gloves available in the markets of paintball. They are well-engineered and the best of both full finger and fingerless paintball gloves. The manufacturers made them after assessing the customer's demand and playing style. Thermoformed neoprene paddings for ultimate protection of your hands and silicon print for superior palm grip. If you frequently crawl and slide during your match, these are the perfect paintball gloves for you. They are the most comfortable and flexible paintball gloves for the paintball battleground. You can rapidly pull the trigger with the exposed fingers. Low-profile Velcro straps offer you crucial fitting and prevent the gloves from sliding down. The aero-mesh ventilation keeps your hands cool in warmer weather.

Best Recommended Product
How to clean paintball Gloves?
To clean your paintball gloves, you just need to stick them in a mesh bag and dump them in the washing machine. Make sure the water is cold. Once they get cleaned, you must air dry them. Don't try to iron them ever.
What are the best paintball Gloves?
The best paintball gloves provide you ultimate protection; they protect your knuckles and fingers. These paintball gloves are breathable, so you would be comfortable while wearing them in summer. In addition, many paintball gloves have a neoprene grip to provide you a firm grasp on your paintball marker. Most importantly, you can wash paintball gloves easily.
What types of Paintball Gloves to wear for paintball?
There are three common types of paintball gloves: full finger, fingerless, and two-fingerless. Sleeve gloves are also considered suitable for a paintball game. However, you must go for the one which suits your playing style.
Are two-fingerless gloves better than full-finger gloves?
This depends on your playing style and your expectations from paintball gloves. For example, if you want more speed and maximum free movement, two-fingerless paintball gloves are a perfect choice. However, if you are looking for ultimate protection of all of your fingers, you should prefer full finger gloves.