Security comes first when you are indulged in paintball games. Although this is a thrilling and exciting game gives you injuries and bruises as well. To avoid these things, you must get ready with the best paintball armor when playing paintball matches. There are countless armor options from various brands. But which paintball suit or protective armor is best for you in terms of weight, wearing comfort, benefits, and budget? 
I know this question is quite common when you are searching for paintball full body armor. To address your worries, I have reviewed the five best paintball protective suits in this article. You can take a read of these facts and ponder them while making your purchase. There is also a buying guide and specification details to tackle your hassle-free and joyful gameplay queries.  
Table of Content:
Best Paintball Full Body Armor Protection
Keep the things in your favor without any protection issues in paintball woods. We have come up with the five best paintball armors to narrate their aspects and features in a handy way to beat your enemy without any glitches. So pay heed to each component of these paintball armor suits and grab the one related to your guts.
1) YAKEDA Breathable Combat Training Paintball Armor Suit/Vest
Adjustable Mag rifle pouches
Material 900D high density Nylon
Waist Size 35-57 inches
Adjustable height 20.5-22.5 inches
Pouches 6 Pouches
4 Rifle Mag pouches & 2 Large Internal Pouches
Enjoy more excellent manoeuvrability and customized wearing support with this paintball armor suit. YAKEDA tactical is an outdoor and lightweight paintball chest protector. It is specially designed doubly ply mesh for hydration and ventilation to the paintball players. 
You can have an adjustable shoulders size with Velcro strips for adults and XXL size for bigger guys. It has three pouches for a normal-sized pistol mag, three pockets for ammo, a shooting pad, and a large shell pocket. Attach equipment with its two mental D-rings without any issue. 
Size Adjustment:
It has the quality and facility for those looking for size adjustment in paintball chest protection armor. The product gives 35 inches to 57 inches waist size and 20.5 inches to 22.5 inches in length for adults and XXXXL size guys. You can adjust it according to your waist and shoulder size. 
These sizes provide you maximum versatility and option to get the desired and fitted size. So perform your best playing power with its full-size adjustment and tackle your enemy in paintball tournaments.
Multi-Pouches:
Save all the required tools, accessories, and aids within this best paintball protective gear. It contains two large size pouches in its inner side with the zipping facility. You can keep a map or document in these pouches. Moreover, it has one back mesh pocket for holding the hydration bladder.
This paintball protective suit has three pouches for a normal-size pistol mag on its left side. In addition, there is a shooting pad, three ammo pouches, and one pouch for storing large shells. In simpler words, it is an all in one suit that not only protects but gives broader storage capacity simultaneously.
Attachment D-Rings:
Make things in your control with its robust and durable D-rings for attachments. You can hang all your items out of your pouch and have easier access in case of need.  
These metal D-rings are strong enough to carry the weight of carabineers and the rest of the paintball related tools. Furthermore, it has a heavy-duty hook-and-loop closure backed with zippers. So, there are no worries about wearing it because it easily opens and closes with the help of zippers.  
Adjustable Belt, Waist, and Shoulder:
It gives you overall adjustable support for the belt, shoulder and waist. Most of the padded paintball suit lacks adjustment. But this product has the facility of adjustable size for the whole body. There is a webbing facility on the right and left for setting the length and width of the shoulder.
You can also set the belt size as it comes with a Tactical belt to ensure maximum confidence to the players. While running or hiding from your opponent, there is no worry about opening and slipping armour because it has the best size adjustable.  
Nylon Construction:
Its double-ply mesh makes it one of the most beneficial paintball protective gears in the category of paintball games. This feature allows hydration, ventilation, and wearing ease. 
 The mesh nylon keeps the thing free of moisture and gives a touch of lightweight feeling. Moreover, there is a carrying handle and straps to make it's wearing more fun.
Quality and usage versatility come first when you are choosing paintball armor. YAKEDA Tactical Outdoor Ultra-Light Breathable Combat Training Paintball Armor Suit combines size customization and equipment carrying. It is best for all the outdoor activities ranging from paintball battles to fashion, business, and cosplay. 

You can carry pistol mag, documents, shooting pads, shells, and whatnot with zipper pouches. 2 D-rings offer additional equipment hanging with lightweight and breathable wearing support.

Why To Choose?
2) GZ XINXING Black Tactical Airsoft Paintball Armor Vest
Material 900D high density Nylon
Chest size 50 inches
3 standard magazine pouches
1 map and flashlight pouch,
2 communication pouches and 1 medic pouch
Velcro Shoulder & Waist
Adjustable height 17 to 20 inches
This is a heavy-duty paintball armor vest that is useful for paintball players. It is engineered by the GZ XINXING brand, which has been serving users since 1989. The product has the Molle system, quality material, and value support for the paintball gamers. You can avail of easier removal and tight locking with its buckle closure.
Adjust your size according to your chest, shoulder and waist. Enjoy greater comfort with its tensile wear-resistant support and 900D high-density nylon. There are seven removable pouches for carrying all the essential tools for gameplay.
Larger Storage:
If you need paintball safety gear that gives you all day long paintball gameplay support, then GZ XINXING paintball armor is for you. It comes with seven removable pouches that can be used for keeping all the necessary things for your paintball battles.
There are three pouches for the magazine, one pocket for map and flashlight, one pouch for medicines, and two for communication devices. The best part is that you can easily remove these bags for cleaning and put those pouches required in your games.
Adjustable Size:
You can set the size according to your body sizes, such as shoulder, chest, and waist. It comes with S-XXL sizing for US men to ensure maximum wearing comfort. Avail of up to 50 inches chest size along with shoulder and waist size without any additional effort.
In paintball tournaments, you have to give your best, and this paintball protective clothing gives you desired to fit for a matchless performance. That is why it is preferred by most of the paintball, airsoft, and cosplay players due to this quality.
Seamless Comfort:
Wearing a paintball chest protector does not mean you have to carry additional weight in the paintball woods. This paintball armor has a durable and comfortable design that not only protects you from the powerful hits of paintballs but also delivers the desired comfort.
It is manufactured with 900D high-density nylon to ensure a smoother and tensile wear-resisting support. You can wear it for a longer time without feeling itchy and irritated. The staff and quality are excellent to keep you focused on your game.
Customer Care:
The manufacturer ensures the best services to the users and provides maximum security with 30-days refund assurance. You can use this facility along with responsive customer care for a fantastic buying experience. They also offer a money-back guarantee in case of size and other issues.
It has heavy-duty Molle system construction that fits the needs of serious paintball players. This is the best paintball armor for games because it ensures excellent size adjustment and protection.

The dominating fact is buckle closure, seven carrying pouches for different things, and high-density construction material. You can choose this paintball armor vest as a complete carrying kit to tackle your paintball battle needs without any delay.

Why To Choose?
3) Actionunion Tactical Airsoft Vest Paintball Protective Clothing 
Shoulder strap and belt adjustment
Zipper support for wearing
Maximum chest and waist size
Best for all indoor/outdoor activities
Available in S-XL size for men and women
Made with High-Density Neoprene
High-Strength EVA Protective Plate
Provides Waterproof, Shockproof and Heat Preservation
Strong Tensile Wear-Resisting Ability
When talking about outdoor armor, Actionunion tactical airsoft paintball armor vest gives you top-notch features. It is made of High-Density Sponge Cloth and EVA material to deliver durability and quality. The shoulder and waist adjustment make wearing more comfortable. You can fit it or lose it according to your body size and movement needs.
There is Molle system for attaching pouches during your all kind of outdoor ventures. This is a tactical vest that gives ultimate protection from bruises. It is lightweight, easy to wear off and feasible to carry in the paintball wars. Let's get details of its features for making a beneficial decision.  
Perfect Adjustment:
Get the desired fitting with its adjustable tactics support. Yes, you can set the size as per your body size and make things in your favor. Being the player of paintball tournaments, you have to be fast and active to run from one place to another. 
You can make it your most favorite and best paintball armor by adjusting waist size and other fittings. It provides a maximum of 45 inches waist size along with 51 inches of the chest. However, this is best for S-Xl men and women. One fantastic factor is that you can also lose it according to your desire for a flexible movement. 
Molle System:
This system means there is a complete sturdy support for protection. Molle system gives the backup of heavy-duty structure to this paintball armor. It is an Airsoft vest to beat all the issues confronted in the paintball battlefield. Enjoy its compatibility with other tactical equipment for advanced working.
Easy to Wear:
Enjoy instant and more accessible wearing with its zipper support. This black paintball armor comes with a high-quality zipper that ensures usage ease for the paintball players. It can be fitted to any body type with this spec and make playing more happening.  
Moreover, this protective vest gives a smoother and softer touch to the users. There are metal rivets, waist adjusting buckle, D-metal buckle and woven tape at shoulders. It provides:
Heat preservation
Strong tensile wear-resistant ability
Shockproof and waterproof support for maximum convenience
Guaranteed Protection:
The product is a durable and military vest which means no issues of protection at all. Furthermore, it has sturdy manufacturing that gives 100% protection from the hard paintballs in the gameplay.  
It is made up of high-density neoprene along with a high-strength EVA protective plate for next-level shielding. However, this is sturdy paintball protective gear but gives finer and softer texture from the outer side.
Multi-Benefit Usage:
Slay all your protection worries with this multi-benefit protective armour. It can be used for different indoor/outdoor activities such as paintball vest, tactical vest, shooting vest, airsoft vest, and kid airsoft vest. 
Moreover, you can also make it your protection buddy in tactical games, cosplay, movie costume, mountaineering, and fashion.
This was the final product in our review to best paintball vest. It has the classic features that make it a perfect fit for outdoor and indoor play activities. The product comes with zipper wear, Velcro shoulder and waist fitting. 

There is a Molle system, high-density neoprene, high-strength EVA protective plate, and adjustable S-XL size. So you can have it to avail of perfect looks, protections, durability and wearing comfort.

Why Should Choose?
4) Empire BT Best Paintball Chest Protector
Complete protection for the whole body
Moisture-wicking stretch panels
High-density padding with Thermo-forming
Ventilation & protection support
Perforated padding
Comfortable & lightweight
If you want to superhero your paintball battles, then an Empire paintball chest protector is the best option. It has the protection that can tackle the 300 feet per second flying paintball hit without any health threat. Enjoy the extra security and safety with its battle-tested full body armor suit for paintball. 
It has moisture absorbing stretch panels, under clothing, and ventilation support for the desired convenience. You can have this best paintball armor to protect the full body with its perforated padding. This is good to go with vigor paintball games because of its comfortable and lightweight design. 
Maximum Protection:
Not to worry about protection issues as it is a full-body armor suit. The product not only gives protection but also keeps you focused on your gameplay without any usage hectic. That is why it is considered suitable for tactical players and paintball tournaments. 
It provides complete protection for the chest, shoulders, outer arm, and back without any discomfort. So, go like a beast in the paintball fields and enjoy each hit without fear of injuries. 
Comfortable:
The manufacturer designed this paintball protection armor with all the supports to keep you pain-free in the paintball games. It is essential to choose a lightweight and easy to wear armor vest because you have to run in the battles field of paintball. Therefore, you can enjoy comfort and handiness with this vest. 
Accurate Padding:
It comes with perforated padding that maximizes the protection and accentuates the ventilation as an additional perk. Moreover, it has Thermo-formed high-density padding to maintain the comfort level of the user. 
In other terms, there is no worry about protection and wearing because of its accurate and most helpful padding technology. The whole placement revolves around delivering comfort to the user to enjoy their best shooting performance.
Moisture-Wicking Panels:
It has moisture-wicking stretch panels that keep your sensitive areas free from sweat and wetting. Paintball games require consistent running and movement that makes you sweaty and wet at the same time. It may cause rashes on your vital areas, such as arms and downsides. 
But, this paintball protective clothing makes things painless and enjoyable. These panels stretch and suck up the moisture to keep your skin happy and protected. So, you can play the best version of yourself to fulfill your mission. It also helps in ventilation to make you feel relieved from the burden of wearing vest armor. 
Durable Construction:
For making your performance best in the paintball games, it has a durable and lightweight construction. You can use it without wear and tear issues like another vest in the market. Its high-quality manufacturing yields lasting usage capacity. Moreover, this is an affordable and satisfying armor vest that renders absolute protection.   
Choosing this paintball with padded support means you have fewer risks of bruising while playing paintball games. Yes, it has the perforated padding under arms and downsides to keep them free of unwanted moisture. You can perform your best level of playing spirit with its comfortable and lightweight design. Its ventilation support, size facility, durability, and affordability are more significant for all paintball players.

Why To Choose?
5) Maddog Tactical Best Paintball Protective Suit
Inner front storage ID pockets
Shoulders adjustment +4 inches
Closure 13 inches YKK Zipper
Adjustable length 19-23 inches
Adjustable Girth 10 inches
Width 15 inches acros
Maddog is the brand that delivers protection, fun, and a sense of safety during your paintball play. The manufacturer has designed the most durable and lightweight paintball protective suit for the desired confidence in front of your enemy. This is a tactical paintball armor vest with inside and outside pouches for keeping tanks, pods, and other accessories.
It is made with Molle System to deliver the comfortable and usage ease. The removable patches, adjustable size, and hydration carrier make it desired option for paintball games. You can enjoy its breathable, lightweight, and durable support as a plus point for all outdoor ventures. 
Molle System:
This is the best paintball armor suit with the Molle system for complete protection and hauls up to 600+ rounds. Inside and outside storage pouches can hold up to 6 pods, a 90ci tank, and other accessories. In simpler words, you can easily carry all your aiding tools without feeling any burden.  
It has a vest carrier that offers to hold various accessories with removable patches. There are internal front and back mesh ID pockets for storing all the things. Carry your potential hydration support within this vest and make things in your control.
Durable Design:
You can have a long-lasting usage capacity because it is a durable paintball safety gear. It has a breathable mesh which means no worries about sweat. The polyester made construction did not bog down with sweat and keep it free of wet like feeling. 
Furthermore, the webbing technique is added to ensure the support of lightweight and compatibility. It has heavy-duty and high-quality zippers that can bear frequent opening and closing without any hitch. 
Better Security:
It is a Tactical vest that ensures thorough protection in the paintball fields. You can have double protection with its extra layer of security for better performance. The product has a heavy-duty construction that can beat the hit of paintball and protect from bruises and injuries. 
Adjustable Size:
Enjoy the desired fitting and wearing comfort with its fully adjustable size. You can set it according to shoulder, chest, and waist size. That is why most of the users prefer this paintball protective suit to other brands. It has Velcro shoulders that provide up to 4 inches length adjustment. 
There is 10-inch side cinching straps to fit it according to your body. It has benefit-oriented options that allow comfort and carrying facilities. But this is still a breathable and most durable paintball armor vest in the category of protective vests. 
Reloading Facility:
There are four pouches inside and outside to carry all the supportive things for winning your battle. For example, you can reload your paintball gun without wandering here and there because it has built-In pod pouches. So always be ready to beat your enemies with on-hand paintball storage in these pouches.
This is a most demanding paintball chest protector backed with outclass protection. It has the adjustment and maximum storage capacity for paintballs to lead your paintball games with a sure win. 

Additionally, it offers compatibility with all the standard paintball pods and remote coil air systems. In other words, its durability, high-quality construction, convenience, and tank carrying support make it the best fit for paintball gameplay.

Why Choose?
Buying Guide for Paintball Protection Armor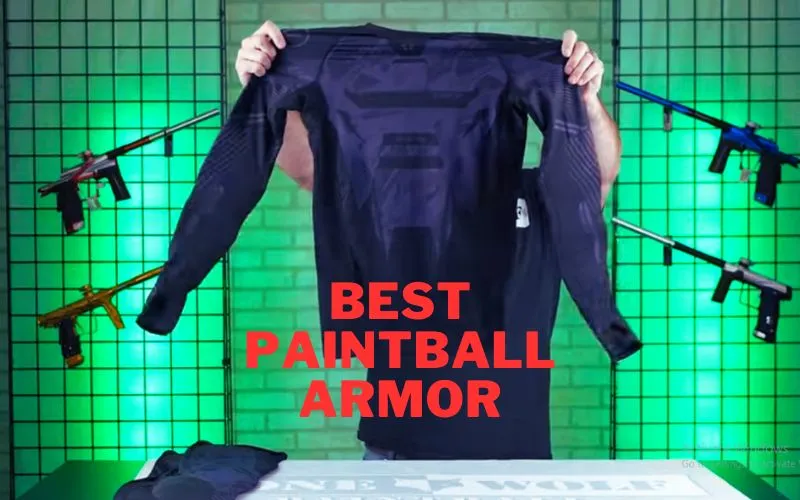 There is all kind of protective options in the market ranging from paintball leg armor to paintball leg armor. But the thing that you need primarily is full-body protection support. When you are playing paintball games, you have to be entirely secure for the desired gameplay.
Paintballs are smaller in size, but when they are shooting with the gun, it has the power to give bruises and injuries. That is why you need a full body armor suit for paintball games, tournaments, and yearly battles. 
But how do you choose the best one if you have no idea about the basic things of paintball armor? I have made it easy for you by giving you the narration of all the things you must prefer while buying a paintball protective gear or vest. Here is the buying guide with all the attributes of the best paintball armor. Let's take an eagle eye view for a wholesome idea. 
Protection:
The primary purpose of a paintball protective vest is to protect you from the hits of paintballs. Paintball is small in size, but it hits like a giant ball and gives bruises. So, a protective vest must be meant for protection, not for a stylish appearance. 
However, its appearance is one feature, but it should be enough sturdy to bear the target of your enemies in the paintball field. There are paintball padded suits and armours that give you protection and wearing comfort at the same time. You can also choose the strongly build armor to enjoy maximum protection. 
Lightweight:
Being robust does not mean that your paintball safety gear has massive weight. However, heavyweight protective armor is not easy to carry, interfering with your paintball field performance. So, choosing the one with lightweight support and a maximum protection facility is a good option.
Size Adjustment:
Just imagine you have 35 inches waist but got the paintball protective armor with 30 inches waist. What will you do? How do you wear it? Does it make any sense for your paintball games?
Your answer will be no because a correct size is required for wearing. So, the point is; try to have the size adjustment support while buying the best paintball protective gear. Some options offer full body size adjustments like chest, shoulders, and waist size adjustments to give maximum usage freedom to their users.  
Price:
One of the dominating factors is the price because usually, people spend money without focusing on the features. From my point of view, purchasing without digging facts is absolute madness. Try to find an efficient and affordable paintball armor that gives you fringe benefits and reduces the cost factor.
Usage Comfort:
Most paintball armors are easy to go with your paintball games, but they also give you rashes. Furthermore, wearing them for the whole day is another hectic which gives itchiness to your vital body areas. To exclude these issues from your paintball gameplay, adopt the armor which has comfortable construction. 
As I have mentioned above that padded and high-quality construction gives usage comfort. Moreover, there are numerous kinds of stuff, which has skin-friendly support for the user. One more thing recently found in advanced paintball armors is the ventilation and sweat-wicking facility to keep your skin dry and rash-free.
Benefits of Best Paintball Protective Gear
Why you need protective armor is a fundamental question when you are wondering about its purchase. Paintball games involve playing with paintballs with specific shooting guns. 
It is the part of the professional tactical sport that induces enjoyment at the same time. To reduce your queries about the benefits of paintball armor are here in this section. Just scroll below:
Protects from injuries and bruising in the paintball fields, games and tournaments
It gives a sense of safety to the shoulder, chest, waist, arms, and back
Boost the confidence for gameplay
Make you a beast for all types of outdoor activities
Accentuate your field movement and overall performance 
Reduce the ligaments and joints damage
YAKEDA Breathable Combat Training Paintball Armor Suit/Vest has ultimate adjustment support according to your body size. In addition, it comes with seven removable pouches that allow you to carry six pods, a tank up to 90ci, and other accessories without feeling heavy. 

There is a Molle system for robust protection and back mesh pockets for additional storage. This is the best paintball armor which has the ability of potential Hydration carrier with breathable construction. Its mesh and webbing quality wins your heart by giving no burden and making it as durable as possible.

Recomended Product
What is the best paintball armor?
There are many options out there in the market. But the best paintball armor is Maddog Tactical Paintball Battle Vest and Actionunion Tactical Airsoft Paintball Vest Armor. Both of them have excellent protection, size adjustment, and comfortable construction.
What protective gear do you need for paintball?
Paintballs are usually smaller in size, but they give a painful hit. This may sometimes cause bruises as well. Many people have lesions, marks and confront injuries with paintball hits. 
What to Wear to Play Paintball?
Precaution is the key to the cure; this is a famous proverb. This is the case with the paintball game. You have to be completely packed with all the paintball protective gears to avoid injuries. 

Make sure to wear the beat paintball armor, gloves, athletic shoes, head protection gears, knee and elbow pads for thorough protection.