As a paintball player, there comes a transition where you feel like that you need your equipment rather than renting it from a paintball shop or field. The first purchase a person would make will be a paintball marker, but that's not it. You will have to buy some necessary equipment other than a marker to get the best experience.
One of the most vital accessories is a paintball tank. With a paintball tank, you'll be able to power your paintball marker. Therefore, to make it nice and simple for you, we have aligned a list of the best paintball tanks. Choosing a paintball tank can be difficult for a beginner because it's hard to know what tank would fit your gun and what air pressures are best.
To sum it up for you, there are two kinds of air tanks in the market used in paintball. The first one is a Co2 tank, which is a great affordable option and is easy to get refilled, but they are prone to extreme weather conditions. On the other hand, an HPA or compressed air tank is a bit expensive, but it allows smooth operation and high performance.
Chosen Products List
Top 10 Best Compressed Air Tanks For Paintball Guns
It's important to know that these air tanks are shipped empty and that the user has to get them filled with Co2 or HPA from a paintball shop or any other shop. So now that we're aware of a paintball air tank's basics, let's review the top 10 best paintball tanks.
1) Tippmann Empire Basics 48ci 3K Paintball Tank

HPA
48ci
3000 psi
Aluminum body
DOT and TC certified
Best Seller on Amazon
Tippmann is one of the oldest and well-respected companies in the paintball industry. Their paintball markers are fan favorites, and thus, they have increased their influence on other paintball gear items as well, such as the Tippmann Empire paintball HPA tank.
This is another superb reliable option for paintball players, beginners, and professionals. The build is constructed out of high-quality aluminum, which makes it nicely lightweight on the shoulders and is crucial for many paintball players. Another thing that makes this HPA air tank stand out is its reasonable price that suits most people looking to get their hands on an HPA air tank.
The Tippmann Empire Basic Tank does not come at the usual 4500 psi capacity; instead, it offers 3000psi. However, this is still suitable and sufficient to get you through some rounds, allowing it to be even lighter than the other air tanks. So, moving around the paintball field with this on your marker won't hold you back.
Tippmann Empire Basic also guarantees one of the best systems. The pure energy regulator has a high standard of reliability and performance. The system and mechanics are good enough to help you through many years without any hiccups. The user bonnet is also replaceable.
On average, depending on what marker you use, you will be able to shoot about 500 to 700 shots of paintball with ease before running out of compressed air. Due to the 3000-psi capacity and 800 psi output pressure, you'll be able to get a good number of shots.
So, the Tippmann Empire Basic paintball tank is a fantastic option for paintball players since it is lightweight and has a sturdy body. In addition, it's a great affordable option for people looking to upgrade from a Co2 tank to an HPA tank.
Benefits:
Great price for an HPA tank
Reliable, pure energy regulator
Easy to use and maintain
Lightweight and small in size
Drawback:
A little heavy as compared to carbon fiber tanks
2) Maddog 20 Oz Refillable Paintball cylinder

Co2 Tank
DOT certified
20 oz capacity
Aluminum body
5-year retest cycle
Maddog paintball tank is the first Co2 tank on this list, which means this will be a highly affordable option that you can go for. Compared to the other air tanks, this one is smaller in size and capacity; it can hold 20 oz. However, this is not a con for owning this tank as you can even buy packs of more than one and have them at the ready on the field.
The air tank is thinner and taller than the others and comes in a black aluminum body. Aluminum may not be as good as carbon fiber, but it still does a great job securing the tank while keeping it lightweight so that you can quickly run around on the field.
Maddog claims that with a full tank of 20 Oz Co2, you can shoot 800-1000 shots, which is a remarkable statistic at such a reasonable price. Considering if you buy three tanks, you could easily muster up to 3000 shots before refilling them all again. These shots can be more than enough for casual players and even some professionals.
Co2 is a much more affordable and cheaper option than HPA tanks. If you're on a strict budget, then you can opt for this air tank from Maddog. The 20 Oz capacity is good enough, and you won't run out of air supply mid-game. Like the Empire Basic paintball air tank, Maddog also provides a 5-year retest cycle based on the manufactured date.
So, if you're looking to get your hands on a Co2 tank on a budget, then this air system by Maddog is an excellent option. Not only can you muster up a good number of shots, but you can also move around due to its smaller weight and size. You can either buy a single tank or a package of 3 tanks or five tanks. Unfortunately, this tank is only eligible with Co2 supported markers.
Benefits:
Low price
Compact size
5-year retest
Good shots output
Drawback:
The pin valve is a bit weak
3) HK Army HPA Aerolite Carbon 68/4500 Paintball Tank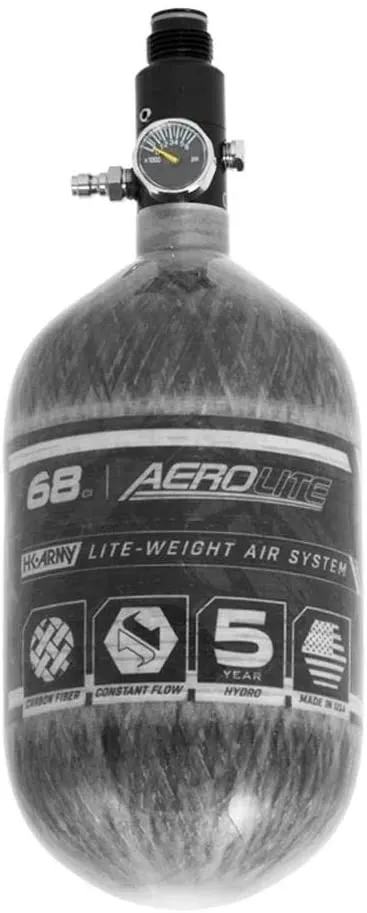 68 ci bottle
4500 psi
DOT and TC approved
90-day warranty
Carbon fiber build
Aluminum Regulator
The HK Army Aerolite paintball air tank system is another great viable option to get with your paintball marker that runs on HPA. It has almost the same size and shape as the other few air tanks we saw before on this list, the one from Empire and Ninja. This is also an HPA air tank, making sure your paintball marker supports HPA and smoothly runs on it.
The air tank has a standard regulator on it, which is made out of aircraft-grade aluminum. The body is made out of premium, high-quality carbon fiber, which makes it extremely lightweight and durable at the same time. You can use the regulator to control your air tank and its pressure to make sure it does not waste.
The lightweight feature is a crucial feature for paintball. There are many heavy-duty safe materials that paintball companies can use, but those materials weigh more, slow down the players, and tire them out. Therefore, the use of carbon fiber facilitates paintball players in more than one way.
The HK Army Aerolite has a capacity of 68 ci at a rate of 4500 psi, which by now, as we've seen, is a standard capacity ratio the top paintball companies work on. The reason this capacity is so commonly used is because of its fair middle ground positioning. So you won't have to carry a lot of weight on the air tank, but it will have enough juice to get you through a handful of rounds before it gets empty.
HPA is a bit expensive air source than Co2, but you won't be restricted from any type of weather conditions. Plus, your paintball shots would be highly accurate and precise on a good consistent level. HK Army also provides a 90-day warranty.
Benefits:
Safe and robust carbon fiber build
Offers warranty
800 psi output pressure
DOT and TC approved cylinder
Drawback:
4) Empire Paintball Basic Carbon Fiber Air System

Available in 48, 68 ci
4500psi
DOT approved
HPA
Empire is no stranger in the paintball world. They have their products in different lines of this industry. However, it's safe to say that they make some good stuff and that their Paintball basic carbon fiber air system is one of the best air tanks you could get for your paintball marker. The body of the air tank is grey-colored.
If you're searching for something to upgrade your HPA air tank, then this right here is the perfect choice for you as far as convenience and durability are concerned. It is affordable and is available in two different sizes of 48 ci and 68 ci, so you could easily pick the one that suits your desired marker in question.
Like the Ninja air tank, we reviewed the Empire Basic, which also uses carbon fiber as its build material, which gives it lightweight yet sturdy qualities. The regulator is made out of aluminum which is also a durable material. You can use the regulator to control the air pressure of the air tank conveniently.
You won't feel any added weight or pressure while using this air tank on your gun. The carbon fiber material is greatly loved because it helps carry a good air supply while being lightweight, so it does not deteriorate your performance on the field.
The built-in high- and low-pressure discs make the Empire basic one of the safest paintball tanks in the market. The use of pure energy technology and proven regulator performance helps in supplying consistent pressure output. The tank has a 4500 psi and an 800-psi output pressure. This means you can easily enjoy your paintball experience without having to refill it over and over again.
You can get an average of 700 to 1000 shots from a full tank of compressed air inside the Empire Paintball basic air system. With steady air pressure and some high-quality durability, you can have fun with this air tank for as long as you care for it.
Benefits:
5-year retest cycle
DOT approved tank
Carbon fiber material used which offers lightweight and sturdiness
Safe air tank for everyone
Drawback:
A bit bulky in comparison of others
5) Ninja Paintball Carbon Fiber HPA 4500 PSI Regulator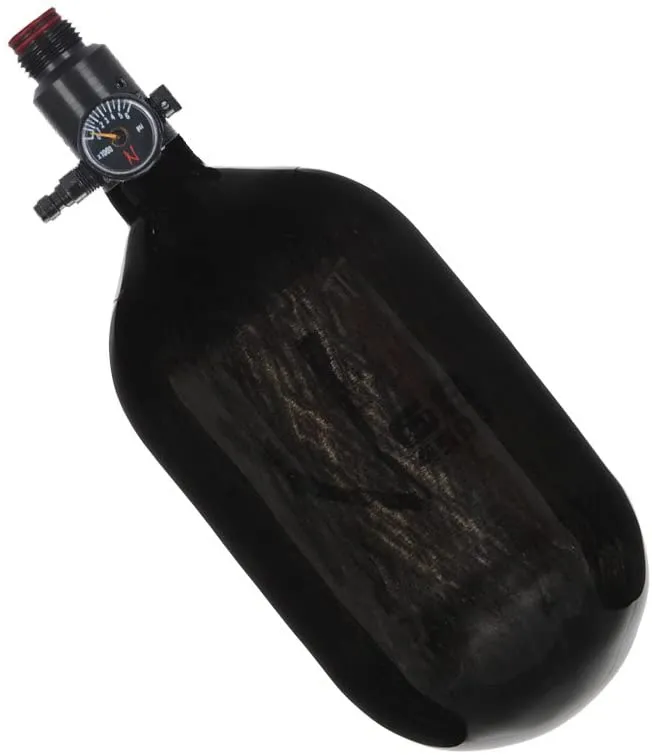 Translucent Black
Adjustable regulator
68 cubic inches
68/4500 Carbon
Sturdy build
First up on our list is the Ninja paintball compressed air tank in translucent black. Ninja is a well-known air tank producer, and they have a fair share of the market when it comes to paintball. Their Compressed HPA Air tank is by far the sturdiest tank you'll find. It can take a lot of damage and force, and you still hardly see any dents.
If you're specifically looking for an air tank from Ninja, then this is a great option to opt for. The size of this tank is 68 ci at 4500 psi, which is the optimal level of air tank size needed for good paintball. You can quite easily go through good full sessions till this runs out. The size is excellent, and with that, it also delivers high-end performances on the field.
The Ninja paintball HPA compressed air tank is made out of carbon fiber, one of the best materials in the market right now in air tanks. The material helps make it lightweight but sturdy and robust at the same time.
The weight of an air tank is vital during paintball since you have to move around. However, a heavy paintball air tank would just slow you down and tire out your arms quickly. But with this specific air tank from Ninja, you won't have to worry about that, and you'll be able to make swift movements across the field without much problem.
On top of the Ninja tank, they have included an adjustable regulator, which you can use to control the air pressure of the air tank. This helps in preserving and efficient usage of the air tank.
The air pressure is tremendous as you'll notice that your marker will hit some accurate and fast shots without any delay. If you're a serious professional player, then this would give you a huge advantage. Other than that, overall, this is a great air tank to rock on your paintball gun, and due to its robust build, it is highly durable, and you can use it for a good number of years.
Benefits:
Sturdy and lightweight material
A good supply of gas
Helps with some amazingly accurate shots
Sufficient capacity
Drawback:
It may not be suitable for smaller markers
6) IORMAN 4500psi High Pressure Composite Cylinder

4500 psi
Carbon fiber body
CE approved
Used for multiple purposes
3 liters / 30 cubic feet capacity
This entry on our list of the best paintball tanks is not specifically from a paintball producer, but it's still such an excellent air tank that many paintball players have recently bought and applied this on their markers. The cylindrical shape air tank is silver-colored and is rather bulky as compared to the other tanks.
This is an elite air tank and can last up to 15 years due to its nicely structured solid build, so if you're looking to get something once and for all, then the IORMAN HPA tank can quickly fill that spot in your paintball gears.
During the build of an IORMAN HPA tank, first, the body is covered with an aluminum liner, and then they cover it up with high-quality carbon fiber, which is a sturdy and lightweight material. Finally, a protective glass fiber layer is used to finish up the air tank. This whole build process deems the IORMAN air tank as one of the strongest and safest air system tanks you can get your hands on.
The capacity is pretty solid, too, as you can carry up to 30 cubic feet of HPA at 4500 psi. The air pressure quality is impressive and delivers some exact and accurate shots on the field. You would instantly feel the difference in your marker with this air tank backing it up.
The IORMAN prestigious high pressure paintball tanks are also used in diving, firefighting, mining, electronic air guns, and paintball. The wide variety of activities used tells how much of a punch and kick this air tank packs inside it.
With high-pressure levels of 4500 psi and a steady and robust design, you can go for this option with your eyes closed. If you maintain it and care for it, you can use its full-service life of 15 years. This also suits professionals or regular players with easy access to HPA refills.
Benefits:
Strong build
A good amount of capacity
Good pressure levels
Drawback:
7) Sanoolir Air Tank4500psi High Pressure Paintball Cylinder

0.36L
Aluminum liner and carbon fiber wrapped
Round bottom
Estimated life of 15 years
CE/EN approved
The Sanoolir is another multipurpose air tank that is also a great option for paintball markers. The Sanoolir paintball canister resembles the IORMAN air tank a lot, as they have the same build materials and mechanics. The air tank is black-colored with a blue cap on top. The Sanoolir is available in three different sizes 0.36L, 0.42L, and 0.5L.
You'll need to buy a regulator separately as Sanoolir sends their air tank empty and without a regulator, which is a bit of a downside, but it's still an attractive option for paintball players. The tall slim bodysuits, many paintball players, do not like the basic rounded shape tanks. Taller tanks like the one Sanoolir produces work well as a makeshift stock at the back of the gun, which helps control recoil better.
The build is solid and lightweight. Like the IORMAN air tank, the Sanoolir paintball air tank uses an aluminum liner, which is further covered by a carbon fiber wrap covered by a protective fiberglass sheet.
The build is outstandingly safe and robust, which is why Sanoolir claims that this air tank will provide a service life of 15 years. While being remarkably secure and strong, the air tank is still surprisingly relatively light to carry. It also has 4500 psi which helps in making accurate shots.
Sanoolir upgraded their carbon fiber cylinder to a type 3 cylinder which efficiently makes the air tank stronger while reducing the weight by up to 70%. This is precisely why a lot of paintball players are adopting this air tank into their gear.
Because of its lightweight and long-lasting life, you can easily maneuver around the field with this resting at your collarbone.
The cylinder is CE approved and is safely produced, and is safe to use as well. This is a great option for people looking to purchase an air tank that would last long and guarantee reliability and durability. At the same time, this is also a great option if you're looking to upgrade to an HPA tank.
Benefits:
Strong build
It comes in different sizes
CE approved cylinder
Has multiple applications
Drawback:
A bit heavy as compared to the other tanks
8) Ninja Grey Ghost Regulator paintball cylinder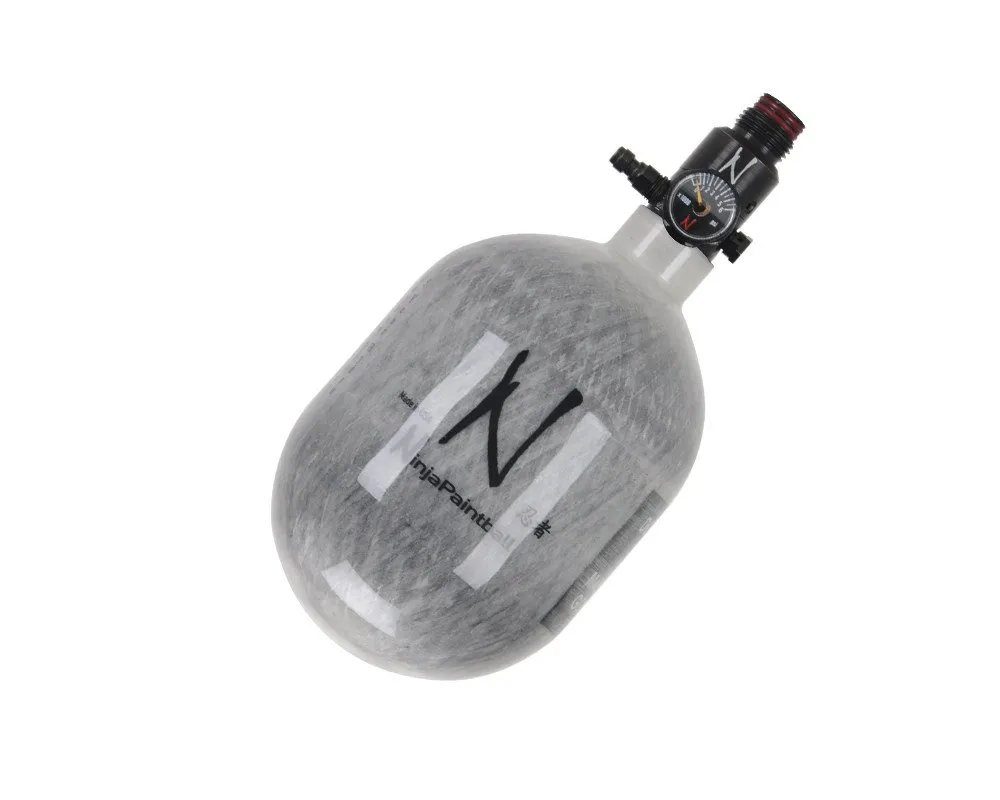 4500 psi
Carbon fiber body
Adjustable regulator
68 ci
Compact body
Last but not least, we have another Ninja product which is the Ninja paintball tank Grey Ghost. Ninja is by far the best paintball air tank producer out there. The fact is pretty relevant since they have the most products on this list. The Grey Ghost air tank is from their NinjaPaintball series, and it also has a lot of other different colors.
The Ninja Grey Ghost comes at 68 ci capacity, which is pretty standard and decent. It can quickly get you through some rounds of full paintball games before having to refill it. A decent rate of 4500 psi is excellent for hitting accurate pinpoint shots in the paintball arena. And with an excellent decent marker, you will be unstoppable.
As usual, Ninja uses the carbon fiber build on this air tank too, which allows it to be solid and lightweight too. So, executing the game plan would be a lot easier with a light air tank on your woodsball paintball gun.
The Ninja Grey Ghost Air tank also comes with an included regulator. The regulator is a unique one made exclusively for this air tank. It is an adjustable regulator; you can switch up the output pressure from 450 to 850 psi for optimal performance. Of course, an adjustable regulator isn't a must, but this can prove to be game-changing for serious paintball players.
The carbon fiber cylinder is DOT approved and is safe to use. It's pretty compact in size and easy to store. Plus, you won't feel any burden of carrying this around on your marker with its light features. The adjustable regulator is just another unique feature of this cool-looking air tank.
The Ninja Grey Ghost Air tank is a bit expensive, but it lives up to its price. Since it's an HPA tank, it was going to cost more than the usual Co2 tanks. But if you're planning to upgrade towards a good safe option, then this is an easy choice to consider.
Benefits:
High-performance adjustable regulator
Good quality body
Lightweight and compact
DOT approved Material
Drawback:
9) Ninja paintball SL2 Carbon Fiber cylinder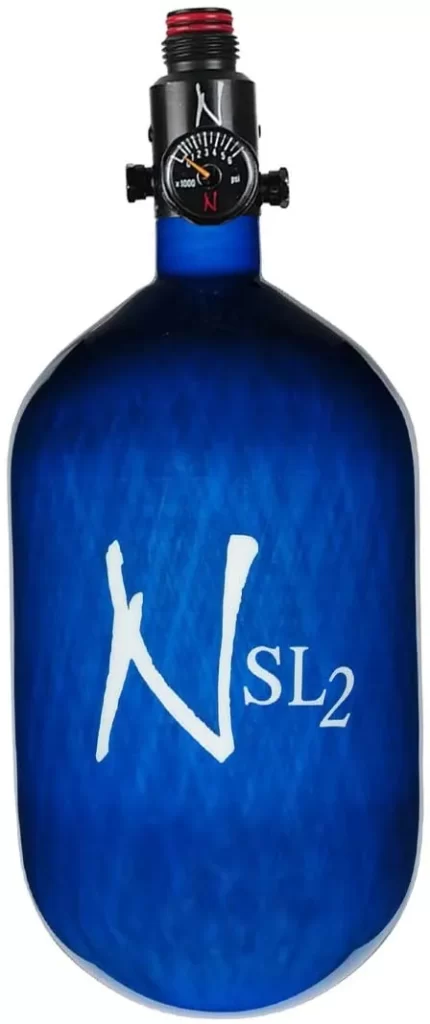 68 ci
4500 psi
1200 average shots
One year warranty
Adjustable regulator
DOT approved
We have already seen how good and efficient the Ninja air tanks are. The Ninja HPA paintball tank SL2 (PRO Regulator) is another tank worth mentioning on this list. As the name suggests, the air tank is lighter than the other models and looks pretty clean with its icy blue body.
The Ninja HPA Tank SL2 has 68 ci at a 4500-psi capacity. This capacity is quite common among the basic air tanks used for paintball because it creates the optimally sized air tank with the right amount of weight which is not too much for the player.
Ninja is slowly switching to create all of its air tanks from carbon fiber, so this one is no exception to that. The carbon fiber build allows it to be sturdy and safe on rough usage while keeping it light on weight. The Ninja doesn't use standard carbon fiber. Instead, they use a premium variant for their SL2 air tank, making the air tank 30% lighter.
Being light is of utter importance because if it is not, then these air tanks would simply lose their sales. Nobody wants to play with a bulky air tank that tires them out and takes the fun of the sport away. Luckily the Ninja SL2 is one of the lightest air tanks you'll find on this list.
Another great thing about this air tank is that it comes with a high-quality adjustable regulator. Not many companies offer adjustable regulators, but having one is great because you can smartly control the air levels and pressure and adequately preserve the compressed air inside.
On a full tank of the Ninja SL2, you can get around 1200 shots of paintball. The shots you can get out of this thing are great, and this many shots would even satisfy a professional through some rounds. Overall, this is a great option to buy if you're looking to get something convenient and fulfilling.
Benefits:
Good average shots on a full tank
Very lightweight
Sturdy and robust
Ninja offers one year warranty
Adjustable regulator
Drawback:
10) IORMAN 0.35L Carbon Fiber Air Tank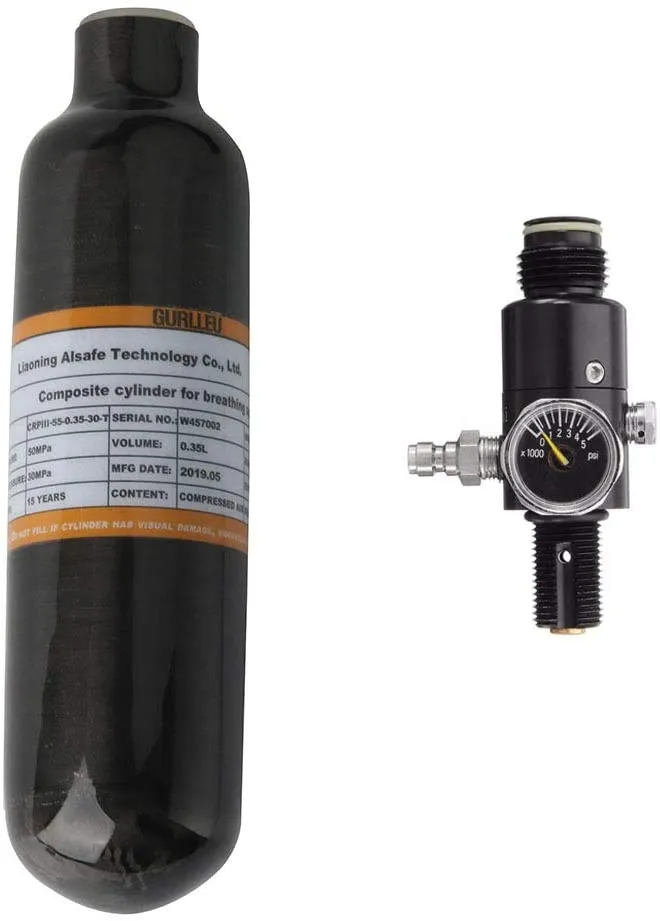 0.35L
4500 psi
Aluminum, carbon, and glass fiber wrap
Corrosion-resistant
15 years of life
We already reviewed an IORMAN air tank which was a great tank with a lot of punch for a paintball marker. Here are another one of their air tanks which is much smaller and suitable for a paintball player, so we decided to include this in our list of the best paintball tanks. The 0.35L tank is available in black and white color.
If color matters, you can choose between their black and white choices. Either one of these could match the color of your paintball marker and make it look cooler. Since this has a capacity of 0.35L, it is significantly smaller than the 3L variant we reviewed a while ago.
The IORMAN 0.35L carbon fiber air tank also comes with a standard regulator, which is not adjustable, but it's cool that they included it in the package. The build is quite similar to the previous IORMAN and Sanoolir models. The production consisted of an aluminum liner cover by a carbon fiber wrap and then a glass fiber winding, making the air tank look glossy and reflective.
We mentioned before that this production procedure makes the air tank by far one of the strongest but a bit heavier than the likes of Ninja air tanks. The build is also corrosion-free and holds up pretty well against rough usage.
So, you won't need to worry about jumping and rolling around with this on your marker. Trust us; it's strong enough to endure these without a sweat. Since its smaller in size, this IORMAN air tank will be more suitable for paintball scenarios, although this variant is used in other activities.
Thanks to the sheer strength of this build, this air tank has a service life of up to 15 years. So, if you're looking to buy a heavy-duty air tank for the first time, we would suggest going for this one rather than the other bigger IORMAN air tank that we mentioned before.
Benefits:
Compact and sturdy
Reasonable price as compared to other IORMAN models
Corrosion and dent free
4500 psi allows precise shots
Drawback:
It doesn't come with an adjustable regulator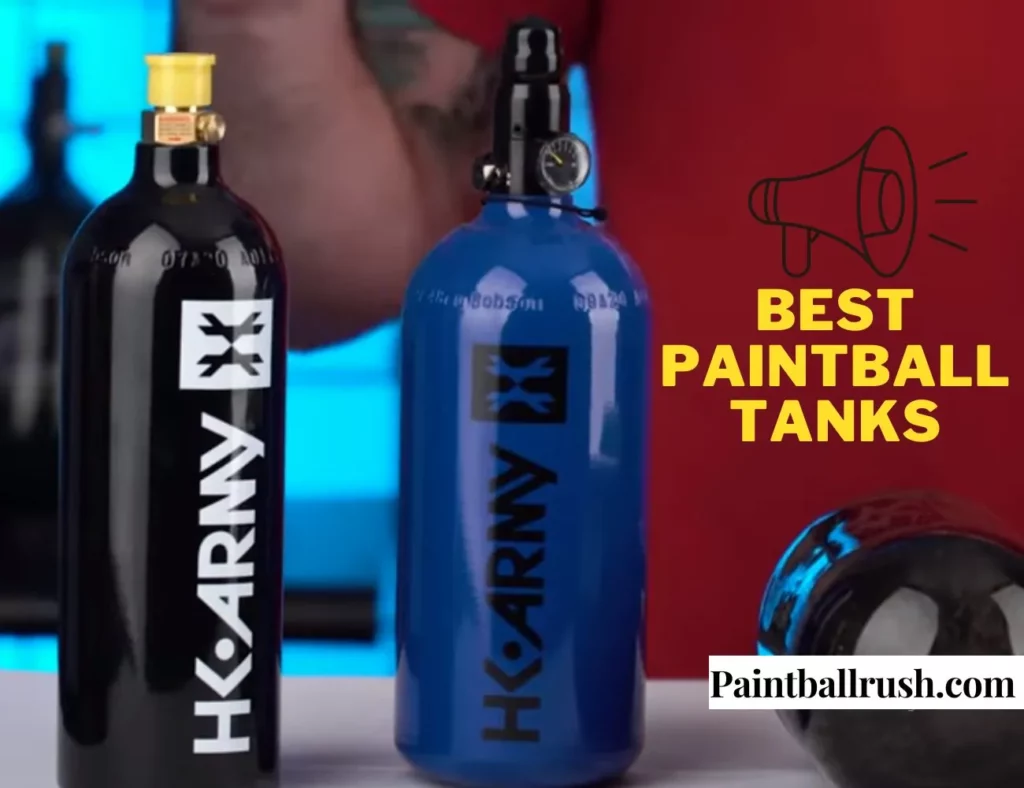 Even if you're aware of military paintball markers and are well informed on the basics of paintball gear choosing an air tank can still prove to be a little tricky. This is because a lot of factors come into play when picking the best paintball tanks. Therefore it is necessary to have some general knowledge of the features and mechanics of these tanks before you make the ultimate choice.
Air Type:
You are probably aware of the two major air types that are used in paintball. The first one is Co2 which is more of a cost-effective option and great for beginners, however for the long term, the better choice is to upgrade to an HPA. Co2 is also prone to extreme weather.
The second air type is compressed air (HPA). These are less common but are becoming more popular daily because they offer much better air pressure and don't have any downsides other than their slightly high price.
Cylinder Material:
Cylinder material is another vital factor that you need to know about before making a purchase. A paintball air tank is either made out of aluminum or carbon fiber.
Aluminum is a cheaper choice and is relatively lightweight, but it is prone to damage and dents. Whereas carbon fiber is a top-quality air tanks material that costs more, they are light and durable and can last for many years. So, depending on your preference, you can pick either one.
Weight of Tank:
Weight is an extremely vital factor when it comes to acquiring an air tank. This is because you will need to carry the air tank behind your gun the whole time during a paintball round. So, it's necessary to understand the weight of an air tank and suit your play style. Make sure not to get a heavy air tank if you tend to get tired out quickly.
Price Factor:
Finally, the price of the product will influence your decision the most. A lot of elements can deem an air tank expensive than the rest. If you have an open budget, you can quickly go for an HPA tank with a carbon-fiber body. But if you're tight on a budget, it's more economical to go for a Co2 tank.
Our top pick has to be the Tippmann Empire Basics 48ci 3K Paintball Tank the best lightweight paintball tank. It has a solid and hefty build with an adjustable regulator (which helps many electronic markers). Plus, for us, the body color looks fantastic and sleek and puts itself on another level among the other tanks. And you can never really go wrong with Ninja.

As for our second pick Maddog 20 Oz Refillable Paintball cylinder , we have chosen the . It is easily the safest paintball tank in the market. The body is nice and robust, and there's almost no fear of any denting or leakage because it's that good. Also, it's pretty reliable and reasonable in price as compared to other HPA carbon fiber tanks.

Recommended products
How long does a paintball air tank last?
Most air tanks of good quality will last up to 10-15 years with a retest service that will take place every three or five years. Some cheap air tanks will not last as long.
Can you fill a paintball tank with an air compressor?
Generally, you cannot because either Co2 or compressed air fills paintball air tanks. These require high-powered heavy-duty air compressors to be full up to 3000-4500 psi. For these, you'll need to go to a good shop.
Can I put a Ninja Regulator on an Empire tank?
Yes, it's possible to use Ninja regulators on an Empire tank, as long as the size matches the tank in question with the regulator.