The Midwest is considered the home for paintballing destinations. So if you are based here and looking for paintballing in Wisconsin, you are going to enjoy an unforgettable game of paintball.
The Wisconsin state has more than a dozen top-rated venues for paintball near you. In this article, you will find the top seven and most delicate places in the State. All these paintball fields offer facilities to players, from beginners to professionals alike.
To know about these fields for paintballing in Wisconsin, you must read the article carefully and decide where you want to play first. I bet all these fields for paintball in Wisconsin offer you the most attractive playing fields and services.
The majority of paintball establishments in this State offer a variety of fields and many recreational paintball games. In addition, many paintball playing fields offer you the unique wooded coverage and paintball courses in Wisconsin. If you are wondering what are the best places for paintball near me. Then, let's start reading and know about this best paintball place in Wisconsin.
Most Favorite Paintball Fields in Wisconsin
We have lined up the most rated paintball fields in Wisconsin, and you will be glad to hear the services they offer. The cooperative and professional staff cares for the professional and novice alike.
It will be the most fantastic and memorable game of your life in this paintball-loving State.
1) The Siege – Best Paintball in Wisconsin
You are probably looking for the best places for paintballing in Wisconsin, and you should pay a visit to The Siege. It is arguably one of the best paintball facilities and offers you the best outdoor establishments in the State.
The Siege offers you nine unique and impressive paintball fields, including woodsball, which is particularly appealing in this establishment. For all-weather combat, The Siege also offers you state-of-the-art lots for indoor paintball in Wisconsin.
People of all ages can join the fun at very affordable prices—paintball accessories, including compressed air tanks and protective gears available for rental at the facility. Private bookings for family games and children are welcome to play.
You can get a monthly membership card to get free fields and a significant discount on additional gear and round purchases.
2) Splat Tag Paintball Park
If you are looking for top-range paintball courses in Wisconsin, Splat Tag is the perfect field for you. The venue offers you more than 20 unique courses: natural settings and unique wooded surroundings.
It does not matter you are a professional or an occasional player; these fields for paintballing in Wisconsin are perfect for you. That's because the verity in these paintball fields will find something challenging for all skill-level players.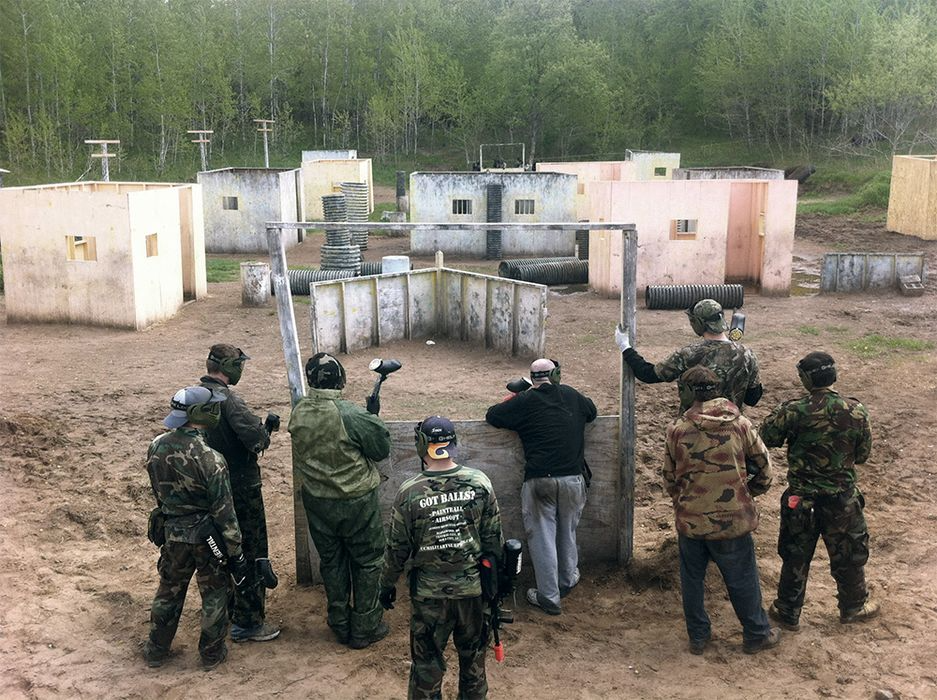 Splat Tag is home to large paintball fields which can accommodate even larger groups. The most impressive thing about these paintball fields of Wisconsin is that there is no need for prior reservation.
The establishment also hosts the occasional special events which attract experienced paintball players. Moreover, you can get the top-rated Tippmann accessories and protective gear on rental at a very fair price.
3) Commando Paintball Sports – Zombie Paintball in Wisconsin
If you plan to go paintballing in Wisconsin with the whole family, you must give a chance to Commando paintball sports. The establishment offers a low-impact alternative for young players, which is great for kids. "Paintball Pistol"
The venue is open the whole week for private games, while the field is available all day on Saturday and Sunday. If you are a professional and looking for a challenge, you will be glad to know that the establishment host regular special events.
During these special events, all the eight paintball fields of this facility are utilized for non-stop action. However, to join these events, you need to register before the event. Admission is these special events require minimum paintball purchases.
In addition, these Wisconsin paintball fields offer laser tag, airsoft, and other outdoor activities. Commando paintball sports also offer Zombie paintball in Wisconsin. You can shoot Zombies every Friday and Saturday in this establishment.
4) Apocalypse Paintball
It would be best if you visited the Apocalypse paintball establishment for the most exciting, unique, and adventurous paintballing in Wisconsin. This paintball field was established 20-year ago by an enthusiastic paintball player David Breed.
Since then, the establishment has been offering exciting paintball experiences at very affordable prices. If you need an adrenaline pump, you can join the game and play in various barriers and blockades and be victorious against your friends.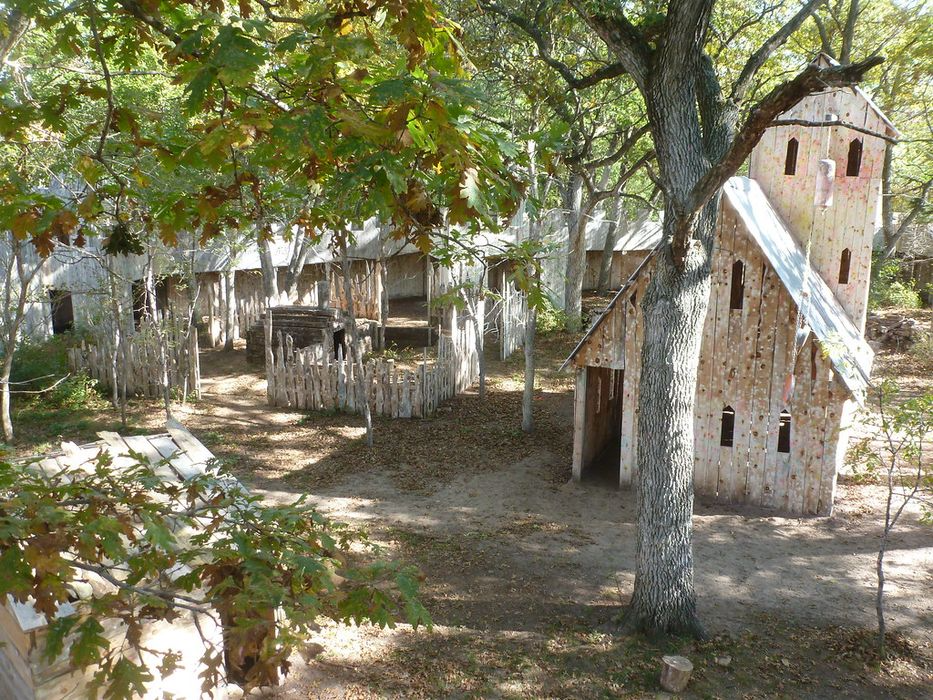 This paintball field is perfect for private events, and family gets to gather. The staff is welcoming, offers you excellent services, and makes a friendly environment for beginners. For private games, you have to make a reservation in advance.
Walk-in games are accommodated on Saturdays and Sundays. So rest assured, this is one of the best places for paintball gameplay in Wisconsin.
5) Boneyard Paintball – Good for Paintball Teams in Wisconsin
The boneyard paintball arena began operating as a private paintball venue in Wisconsin in 2003 and became public in 2009. The paintball fields are large enough to accommodate a large group of players.
The outdoor recreational fields with plenty of obstacles providing overage are perfect for paintball teams in Wisconsin. In addition, the paintball stores inside the premises offer equipment for rental.
The accessories in the stores are strict of Valken Brand. Suppose you prefer Tippmann or any other brand, we recommend going with your accessories. Unlike the other fields for paintball in Wisconsin, Boneyard does not follow the fixed schedule.
They offer open play paintballing in Wisconsin throughout the year; most of the dates fall once every two weeks. The paintball field is perfect for private parties, but you have to make reservations to avoid displeasure.
6) Outdoor Adventures Paintball
If you are a true paintball lover, you are going to love Outdoor Adventure Paintball fields. However, if you are willing to go paintballing in Wisconsin, you should try this outdoor field located in Weyauwega.
This establishment has been in business since 1987, with 11 unique paintball playing fields and more than 40 acres of terrain. Depending on its size, this huge paintball venue offers various playing scenarios, from woodsball to capture the flag.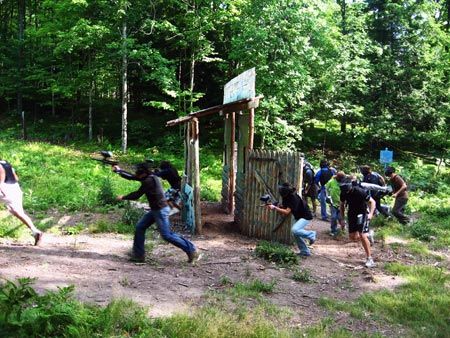 The pricing of this establishment is most affordable in the whole of Wisconsin. You can save even more bucks when you book the fields for larger groups or reserve the field for private parties.
Outdoor Adventure Paintball occasionally hosts significant events and tournaments, making it the most crucial field to play for experienced players.
7) Big Dog Adventure Park
Whether you love to take aim at the target practice or want to enjoy full fledge paintball games, Big Dog Adventure Park offers you a wide range of paintballing in Wisconsin. The recreational parks give you the adventure you crave for.
The scenario games such as laser tag and woodsball will excite you more than ever in this adventurous land. The 100 Acres of paintball USA Wisconsin offer you trees, open grassy areas, bunkers, fox holes, and varying terrain.
Moreover, if you idealize going out on a picnic with party speakers, the park offers you the best adventurous spot in the State. You can organize birthday parties and private office parties in this land.
The staff is cooperative and supports the professional as well as beginner paintball players. The rates are fair and affordable in these paintball fields of Wisconsin.
Famous Paintball Arenas