There's a great need in everyone's life to adventure and explore the lands around them. With vast terrains and landscapes, it's essential to have the best type of footwear with you. As some people would go for simple hiking boots, but sometimes they fall short on some terrains. This is where the tactical boots step in and takes the spotlight. Tactical boots are common among law enforcement professionals, which is why they're perfect for many kinds of situations. Today we will line up a list of the best tactical boots for you. 
Tactical boots are durable, flexible, and versatile, which immensely helps professionals like special ops and military members because they don't know what their day holds. Still, they're aware that their tactical boots won't fail them in any scenario. Due to their unique features, they are now becoming common among hikers and adventurers too. There are highly flexible tactical boots and even waterproof tactical boots. No matter which variant suits you the best, we will help you find what's best for you.
Table of Content:
10 Best Waterproof Tactical Boots
1) Bates Men's Ultralite Comfortable Tactical Boot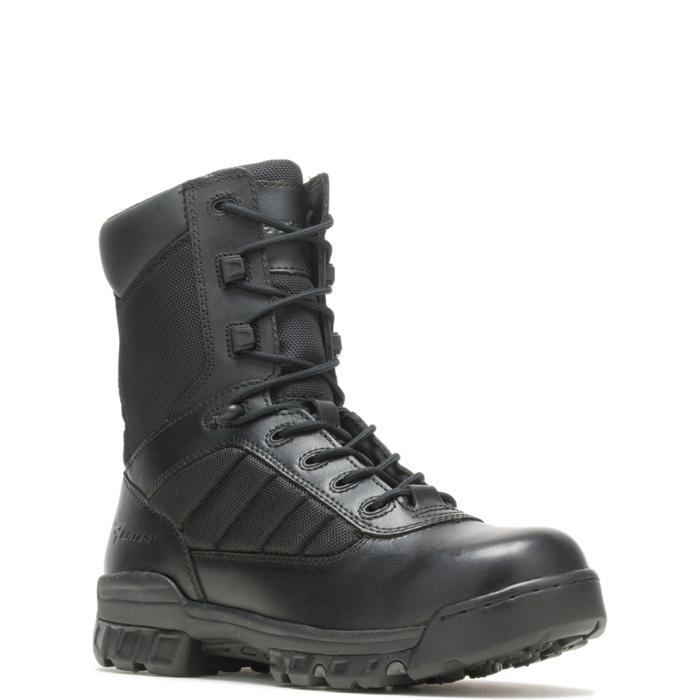 Leather and Nylon body
Black and Tan color
Slip-resistant
Breathable lining
EVA midsole
Bates started as a dress shoe production company in the beginning. Fast forward through their journey, they are now the leading brands that make tactical boots. Bates is one of the prestigious companies that have the honor of making tactical boots for many military, police, and field officers around the world. This assures that their tactical boots are one of the best in the market. And we are going to review the Bates Men's Ultralite comfortable tactical boot.
This is not only a tactical boot but has some clear inspirations from a sports boot as well. The fusion between tactical and sport makes this one of the best-looking tactical boots. The all-black color variant will make you feel like you're a part of some high-tech enforcement unit. Bates Men's Ultralite comfortable military boot has a convenient side zip that will help you go through rugged terrains while the boot firmly grips your feet. 
The Bates Men's Ultralite tactical boot uses 70% leather and 30% nylon for its body. The nylon helps keep the boot breathable and comfortable, while the leather retains the boot safe from water splashes and adds a professional look to the boot. The EVA midsole absorbs shocks and pressures well, keeping your foot, arch, and heel safe and comfortable through your operations and adventures. 
The rubber outsole has good traction and suspension, which allows smooth running. The Ultralite boots are explicitly designed to be more lightweight than the other Bates tactical boots. Bates Men's Ultralite sport boots are oil-resistant, and the rubber sole traction works well over slippery surfaces. 
These are the ultimate choice for police officers, special ops, and even outdoor lovers who like to trek and hike through the wilderness. In reality, these boots are great for any kind of activity, even if you're going camping, fishing, hunting, etc. These shoes will not let you down or tire you out. 
These are highly durable since Bates is a well-reputed brand and their quality and durability are why they have reached all new heights in their business. Sadly the boots are not waterproof, but apart from that, these are amazing boots and one of the best tactical boots for running. 
Pros:
Lightweight
Slip-resistant
Great look and design
Great durability
Cons:
2) Under Armour Men's Best Combat Boots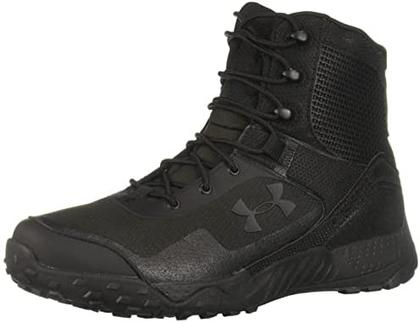 Rubber sole
Side zip
TPU Toecap
Abrasion-resistant
Ultralight Micro G EVA midsole
Under Armour is a famous brand that produces some of the best quality of performance and sports apparel. The increase in popularity and sales is all due to their products' reliability and how user-friendly they are. With their extended product line, which covers many different clothing items, their tactical boots line is impressive.
The Under Armour Valsetz RTS is made out of purely synthetic materials. It does not carry any element or section on the shoe, which is made out of leather. This allows the boot to be lightweight and more relaxed. The central feature of this boot is that it is durable, light, and water-resistant. 
Valsetz RTS is a mid-height tactical boot. They do not seem traditional in looks, but they are pretty efficient when put to use. Under Armour designed this pair for hot weather terrains and deserts. So if you're trekking through the lands on a hot summer day, you will notice that these boots will not slow you down or tire you out. Instead, you can run smoothly wearing these because of their added ClutchFit technology which helps hold your heel and support it during uneven terrain. 
The boots are comfortable since they are pretty lightweight and have a good level of breathability. On top of that, the shoes are water-resistant, so you won't need to worry about stepping over a puddle of water. Good airflow is much required in tactical boots; the whole point of these boots would get wasted if they suffocate your feet or make them feel hot. Thankfully your socks won't get soggy and weigh you down. 
The intelligent design also keeps the outside of the boots dry even during rain, further enhancing mobility for casual trekkers and even special law enforcers. However, since they are not waterproof, some water might step in if the boot keeps on getting constantly wet. 
Anyways these are casual-looking tactical boots that you could go for if you don't plan on using them under severe conditions frequently.
Pros:
Lightweight
Water-resistant
Great for hot weather
Provides good midsole support
Cons:
3) Maelstrom Men's Tac Force Military Boots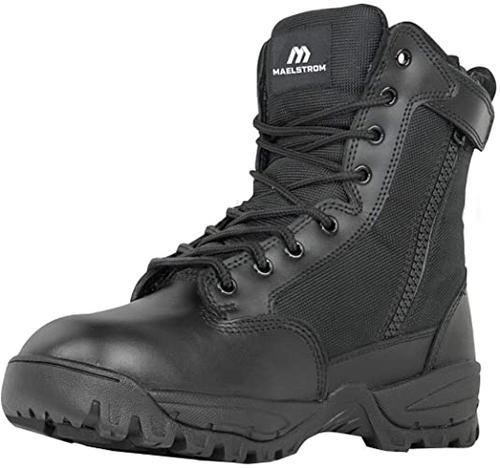 Synthetic Sole
Part of sales proceeds are donated
Black and Tan color variants
Leather and nylon body
Rubber outsole
Anti-fatigue technology
Maelstrom is an exclusive tactical gear brand. So far, we've seen brands that make products at different fronts, but Maelstrom is an all-exclusive brand that focuses on tactical gear. So, it's evident that their boots are well researched and finely designed to satisfy the needs of their customers. The Maelstrom Men's Tac Force Military boots are the pair of boots we're reviewing today; these are available in black and tan colors.
The Maelstrom Men's Tac Force Military work boots visually are similar to the Under Armour Valsetz. However, Maelstrom has used polished full-grain leather and nylon for their outer body to give the boots a professional look. The mid-height tactical boots also have the side zip that helps while putting them on and grips your feet while they are underuse. 
The rubber outsole creates an excellent reactive suspension to help relieve the pressure off of your heel. Your feet won't feel tired out due to the rubber outsole. Inside the shoe, Maelstrom uses their unique anti-fatigue technology, consisting of three sole systems: a cushioned insole (which is removable), lightweight EVA midsole, and a rubber outsole. The design is outstanding as it helps make your feet feel like you're gliding through the terrain. 
The base of the shoe is rugged and great for rough terrain and off-track hiking. The design of the bottom of the boot helps it being slip resistance as well. On top of that, the Maelstrom Men's Tac Force Military work boots are also water and weather-resistant, you can step through water puddles with ease, and drizzles won't affect your feet either. 
Maelstrom has also paired up with the Boot Campaign. They donate $1 to an NGO dedicated to improving the lives of war veterans and their families worldwide on every sale. 
The Maelstrom Men's Tac Force Military work boots are best suited for hot weather and tracks. These are great for working enforcement professionals and adventurous people. With the blend of some innovative features such as anti-fatigue technology and durability, you can run off in the wilderness without any inconvenience.
Pros:
Smart Anti-fatigue technology
Comfortable and sturdy
Water and weather resistant
Part of a donation
Cons:
4) Under Armour Men's Stellar Tactical Boot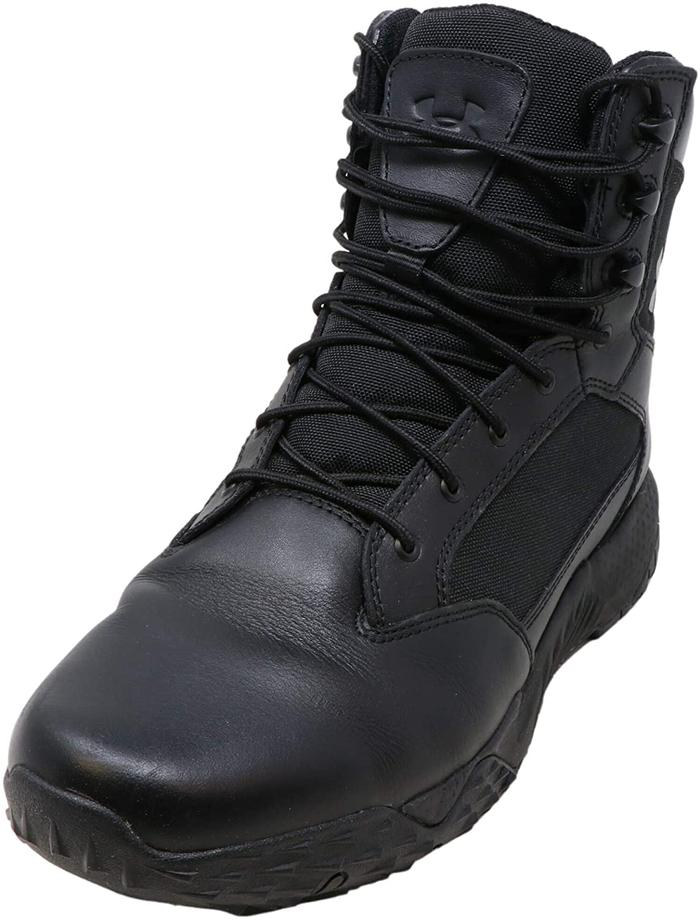 Rubber sole
Leather & 900D nylon textile body
Polishable
Anti-odor technology
Molded EVA midsole
Ankle-high shaft
We have another Under Armour Tactical boot that we considered was worth mentioning on this list. These are quite a simple yet excellent tactical footwear. The boot comes in all black and is made out of DWR-treated leather and 900D nylon.
The treated leather goes through a process that allows it to have the quick dry ability. However, it can get quite annoying when there are watermarks all over your leather boots. The Under Armour Men's stellar tactical boot eliminated all of that with its treated leather. The boot is also polishable, only the leather part so you can easily keep your combat boots clean and ready at all times. 
There's no side zip included on this tactical boot which is a downside since wearing these can be a hassle, plus it won't provide the side zip grip either. However, the Under Armour Men's Stellar tactical boot holds up pretty well as far as grip is concerned, and with a high-quality rubber sole, you won't feel any kind of tiredness while running around on an uneven track. 
These tactical boots also uses anti-odor technology, which, to be fair, is a significant feature. Unfortunately, when you trek through different landscapes throughout the day, your boot can tend to carry an unpleasant smell. Thankfully as far as the Stellar tactical boot is concerned, the odor won't be your problem. 
The minimalistic design makes the boot feel incredibly light on your feet; it is one of the best lightweight tactical boots in the market right now. The molded EVA midsole keeps your foot in the best posture and keeps it comfortable and safe even when the boot is under heavy pressure. 
Well, if you're trying to grab some casual tactical boots for yourself from a well-known brand, then the Under Armour Men's Stellar Tactical boot is the right pick for you. However, if you're looking to use these extensively, then there might be other better choices on this list.
Pros:
Great protection and comfortability
Anti-odor
Minimal nice design
Affordable price
Cons:
5) RYNO GEAR 8″ Coolmax Tactical Boots for Running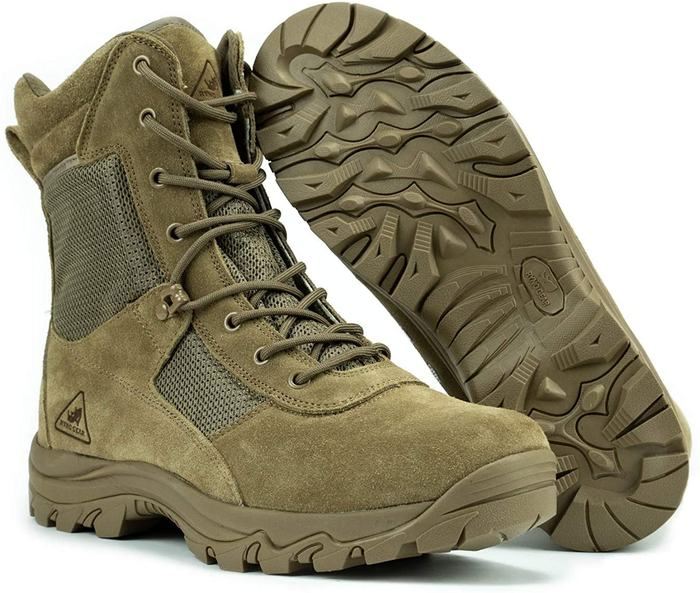 Coyote color
8-inch height
Padded collar
Mesh lining
Shock-absorbing insoles
Ryno Gear 8″ Coolmax Tactical Boots are another great pair of tactical footwear worth mentioning on this list. This Coyote-colored pair of boots resemble the looks and design of a Timberland boot. Just like the TR Mini-Mil, these are also 8-inches high, which is the standard military height.
The clean design and styling are not the only impressive thing about the Ryno Gear 8″ Coolmax tactical boots for running. The boots look amazing like some big brand makes them. The coyote color gives more of a professional tactical vibe and makes the shoes look more military. The boot has a padded collar on top, which nicely and firmly grips on your leg; the side zip greatly enhances the grip. The zip will also allow you to wear the boots quickly. 
The boot body is made out of leather and ballistic nylon, which offers durability and comfort. On top of that, the mesh lining allows the boots breathable since these are meant to work for long periods. All these features will enable the user to stay fresh and cool with these boots on. 
The insoles are shock absorbent, which upgrades the comfortability of these boots and reduces the chances of injury. The traction and suspension make sure that your sole stays safe no matter how uneven the terrain is. 
The Ryno Gear 8″ Coolmax tactical boots for running are completely affordable than most tactical boots; they only cost around $60. The shoes are pretty light, which makes them suitable for long journeys. If you're fabulous with heightened boots, then there's no reason not to try these. 
Not being water-resistant or waterproof is a bit of a let-off, and if you're hiking or trekking or your job takes place in a wet area, then these might not suit you. Although they can handle a bit of water, they're not entirely resistant to it. 
Pros:
Reasonable price
Good looking boots
Follows military standard height
Comfortable to wear
Firm grip
Cons:
6) Tactical Research Men's Mini-Mil TR105 Army Boots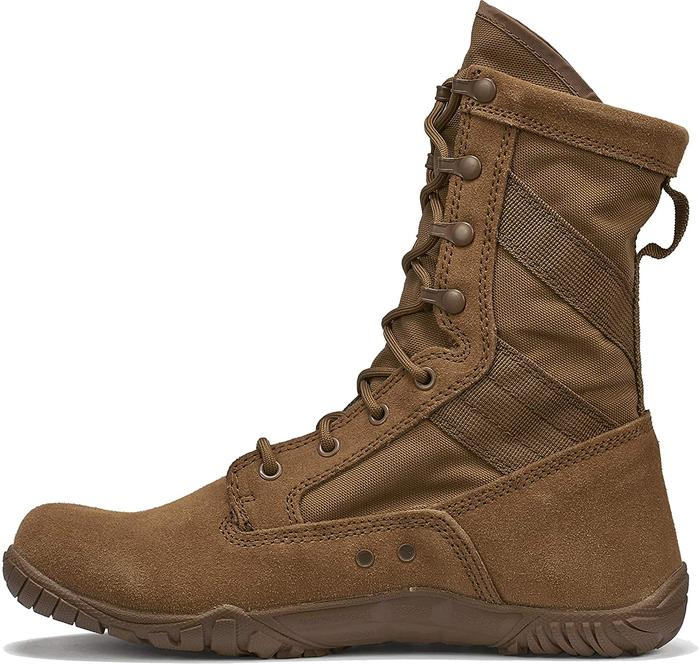 Lightweight boots
Coyote brown color
Cattle hide leather
100% rubber outsole
High top boots
Moving on in our list of the best tactical boots, we have the Tactical Research Men's Mini-Mil TR105. These boots are fully designed to cater to the needs of a long tiring day, no matter what the terrain is. These boots are also used among some security forces in some countries. The boot has a high top and comes in a coyote brown color.
The body is made out of cattle hide leather and abrasion-free nylon fabric. With the help of the lining, the boot stays cool and breathable even during hot summer days. The boot follows the standard military boot height size of 8-inches, and it also complies with various other standards in line with the U.S. army. 
The Tactical Research Men's Mini-Mil TR105 has a 2mm drop between the forefoot and the heel. This was made due to the warrior athletic training footwear standards. The boot weighs less than 2 pounds a pair which is relatively lightweight considering the size of these boots.
T.R. claims that they used a design known as the "barefoot shoes" since they do not use any thick layer of the outsole. This may seem uncomfortable, but the 100% pure rubber outsole layer, which is relatively thin, does the job tremendously well. 
Even if you run, jump, and do various athletic activities, your feet won't get tired or hot. They nicely simulate the experience of walking and running in different terrains barefoot, which is quite remarkable, but the sensation can become a little irritating at times. The primary reasoning behind this is that it would enhance the calf muscles and reduce the risks of injuries in the future. 
Suppose you're a casual trekker and adventurer. In that case, these might not be it for you, but people who like to train themselves in various ways and are highly enthusiastic about the outdoor could go well with the Tactical Research Men's Mini-Mil TR105. These are great army and air force boots if you're planning to go for that purchase. The Mini-Mil TR105 is one of the best army boots.
Pros:
Enhances calf muscles
In line with military standards
Lightweight
Good durability
Cons:
It might not suit casual wearers
7) Rocky ROC Men BRN Lightweight Military Boots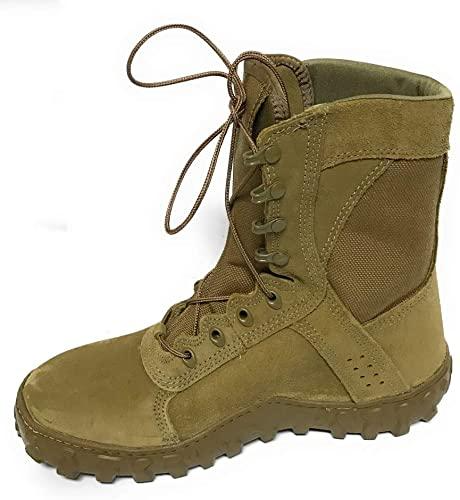 8-inches height
Water-resistant
Flame resistant
S2V sieve technology
Dri-Lex lining
Rocky boots are a stable brand when it comes to boots. They create different kinds of boots for different customer lines. However, we will be focusing on their tactical boot line, specifically their Rocky ROC Men BRN Military boots. These boots may not stand out in appearance, but they are excellent in all the other aspects.
The Rocky ROC Men BRN Military boots are comfortable even under the most challenging and most uncomfortable situations. The coyote color boots go well with professional outdoor outfits. The body is made out of flash and water-resistant leather paired with the 1000D Cordura nylon, making the boots breathable with a good airflow release. These tactical boots are also covered with PTFE-coating, which makes them resistant to fire. 
The Rocky ROC Men BRN has a solid build and holds up well against wear and tear. As you can tell by their features, these boots are meant for real-time action scenarios and suit people in this line of works. The boot also uses S2V sieve technology which allows the boot to drain out the water by circulating air in, so the more you walk, the quicker your boots will dry up. 
The insole helps in keeping the foot flat and safe from any pressures or turns. You can even remove the insole to make the boots even more lightweight. There are no side zips on these boots, so the grip is a bit questionable, but they hold themselves pretty well. 
The only grip options are the laces on the boots. Luckily, many eyelets on the Rocky ROC military boots from where you can pass the laces through to strengthen the grip. 
The standout feature of this tactical boot is its breathability. But, other than that, there are many other better options on this list of the best tactical boots. 
Pros:
Good airflow and breathability
Comfortable to wear
Good for casual use
Cons:
8) Smith & Wesson Men's Breach 2.0 Good Combat Boots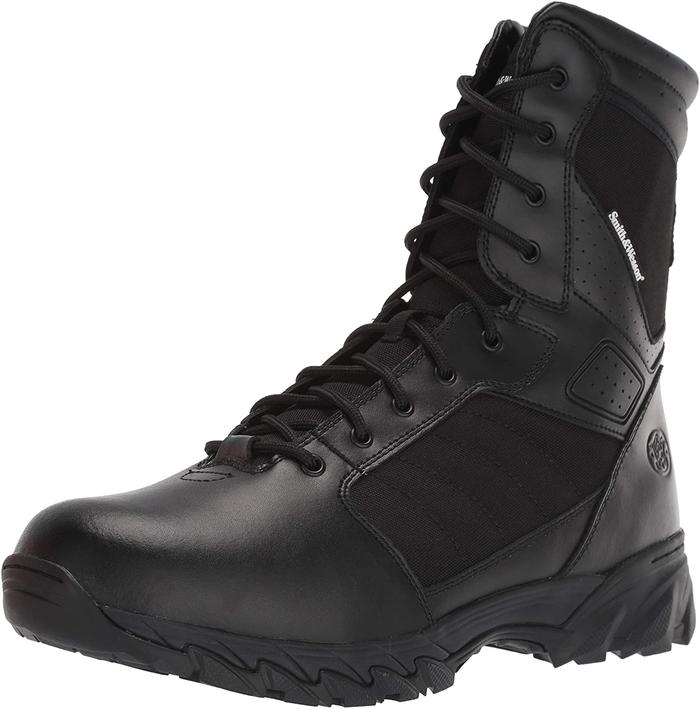 Side zip
Synthetic sole
EVA midsole
Slip-resistant
Affordable
Hydro Guard waterproof
Smith and Wesson are famous for their firearms. But, surprisingly, over the years, they've come out with some good combat boots. Just like their firearms line is designed and made for special enforcement forces, the Smith and Wesson Men's Breach 2.0 has the same background and idea behind its production. A lot of security forces and police use tactical boots that Smith and Wesson make.
There are no barriers to purchasing this tactical boot; you don't need to be in law enforcement squads to get these. In addition, they are pretty affordable too, so you can grab these for a small amount of money and use them in your adventures. The Smith and Wesson Men's Breach 2.0 are longer in height than the Under Armour Valsetz.
Unlike the Under Armour Valsetz, the Smith and Wesson Men's Breach 2.0 is fully hydro-guided waterproof. This means that your feet will stay dry even with prolonged contact with water for a reasonable amount of time. In addition, the side zip on the Breach 2.0 allows the user to quickly wear the boots and maintain a firm grip around the foot. The build of this boot is quite fantastic, and the details put into every part of this boot ensure comfort. 
No matter what track you are planning to go on, your feet will feel comfortable and cozy inside the Smith and Wesson Men's Breach 2.0 good combat boots. Since these are made explicitly for law enforcers, the toughness of these boots is almost unmatched; they are highly durable and can last through various harsh conditions. 
Its EVA midsole smoothly lets your footrest inside the show and gives solid support during walks and runs. You will feel no foot fatigue after a long trekking day with the Smith and Wesson Men's Breach 2.0 on. 
At a tremendously reasonable price and with some outstanding sturdy features, these are worth checking out; they are one of the best waterproof tactical boots. You will not be disappointed with the performance and durability of these Smith and Wesson best tactical boots.
Pros:
Waterproof
Breathable and comfortable
Good EVA midsole
Professional boots
Affordable price
Cons:
Not the best in terms of looks
9) Thorogood Men's Work Comfortable Boots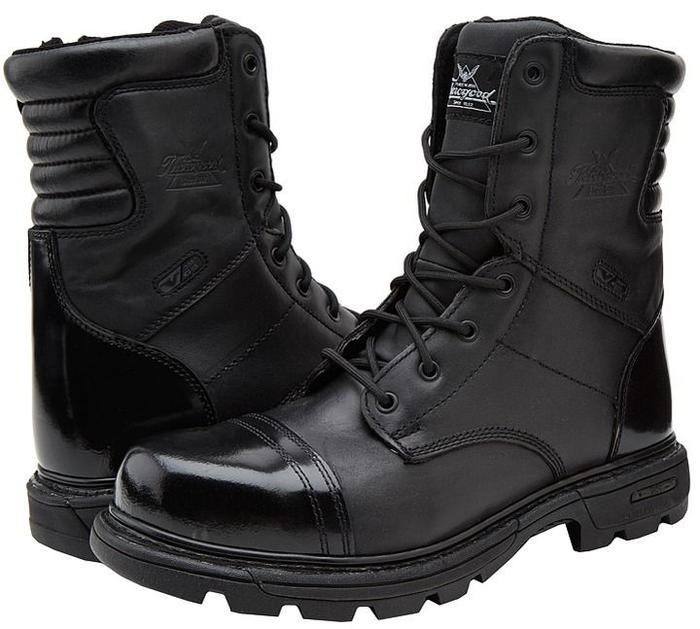 Leather boots
Rubber sole
Ankle-high work boot
EVA cushion flex
Mesh lining
EVA midsole
Black colored
The Thorogood Men's work comfortable boot is a bit of a wildcard on this article because they're not your basic tactical boots; instead, these are work boots. Tactical boots are more suited in the wilds and different terrains, whereas work boots are meant for basic jobs, with the basic idea of the boot is to protect the feet.
The Thorogood Men's boot has an all-leather body outside, which gives the boots a clean and glossy look. The shoes, in all fairness, look classy and professional. They are 8-inch high, just like some of the other tactical boots we reviewed. However, these boots are not made to withstand rough conditions. Thus it's better not to wear them while heavy trekking or if you're on a professional duty mission. 
The sole is rubber which is the usual preference as rubber is the only suitable material that enhances the look of the boot and offers traction and suspension. Which ultimately keeps the feet safe and comfortable throughout the day. The EVA cushion flex is excellent for support on the heel and the midsole; it works great and keeps the foot in wonderland. 
The looks of these boots may make it seem like they are hot to wear, but Thorogood has done a great job in keeping the intelligent mesh lining intact which helps a good airflow through the boots. The boots have excellent fabric padding along the shaft, which makes the wearing experience much better. 
These boots are excellent for casual, classy wear as well. They may seem a bit out of place in this article, but they can hold their own outdoors as well. But they are not meant for heavy-duty action or wilderness trekking. You can still, however, use these in outdoor activities. 
A casual police officer would do well with these boots regularly, but an army officer running through the jungles can go for a lot better options. Either way, the Thorogood Men's work boot is undoubtedly the best-looking tactical boots on this list. 
Pros:
Classy looking
Great grip and comfortability
Breathable
Cons:
10) 5.11 Men's ATAC Waterproof Tactical Boots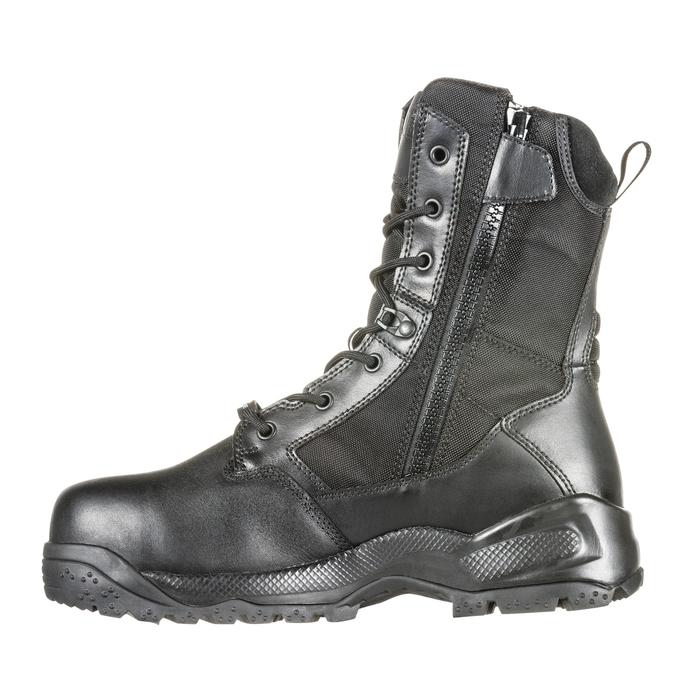 Leather and fabric
Manmade sole
YKK zipper
Anti-bacterial lining
Coyote brown and Black color
The 5.11 Men's ATAC Boots are by far one of our favorites from this list of tactical boots for men. These clean-looking tactical boots are available in coyote brown and black colors. 5.11 Men's ATAC waterproof tactical boots also use the standard 8 inches height. They are designed to carry out demanding missions and are engineered for enforcement members.
The 5.11 Men's ATAC are one of the best boots; they look highly professional and can be worn by outdoor enthusiasts. The boot has an outer body of grain leather and rugged nylon, which enhances the durability of these boots and increases the airflow. 
The sleek-looking design also has YKK side zipper which by now we know how pivotal that can be. It helps to quickly put the shoe on and solidifies the foot grip and ease of mobility. The shaft is also covered with good padding, which offers comfortability. Another intelligent and secretive feature is the covert side tactical pocket on the boot, generally to carry a knife. 
The shoe base is acutely designed and manufactured so that the boot is oil and slip-resistant, which can be a common problem in an enforcer's professional work. The molded phylon midsole is excellent for the user's feet as it helps absorbing impacts while keeping the foot comfortable and safe. 
The anti-bacterial lining helps significantly with the airflow and allows the feet to stay cool during intense heat and usage. The lining is anti-bacterial, which helps preserve the quality of materials for a prolonged time. Plus, the durability itself on the 5.11 Men's ATAC Boots is quite impressive. 
Overall, we love the 5.11 Men's ATAC tactical boots. They hit the marks perfectly in a way in which these boots are suitable for professionals and hikers, and trekkers. The black variant of these boots looks outstanding, in our opinion. 
Pros:
Good looking boots
Convenient pocket
YKK side zip
Very professional profile
Cons:
Not very suitable in really cold weathers
Most Comfortable Tactical Boots Buying Guide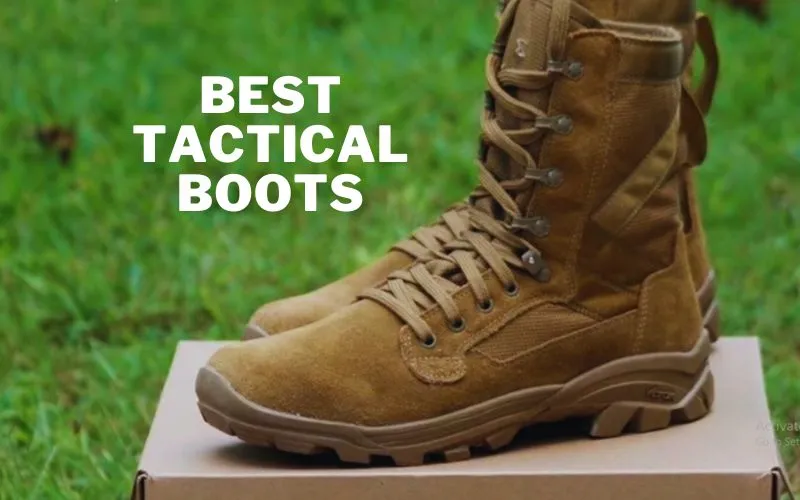 Before you make your final decision on which pair of best tactical boots are suitable for your professional work or your outdoor adventures, there are some crucial factors that you should be aware of. Without this basic knowledge, you could end up buying something that doesn't entirely suit you. 
Traction:
Good traction will allow you to maneuver around the wet or slippery floor safely. If you're work or trekking consists of running, jumping, or jogging. It is vital to have a tactical boot with some severe traction abilities because you wouldn't want to slip and lose balance now and then during your hikes. 
Water resistance:
Water resistance allows the boots to withstand water contacts and splashes, whereas waterproof means that even prolonged contact would not affect the shoes. Either way, you should assess whether your boots will have to go through areas with regular contact with water. If yes, then it's better to buy a pair of waterproof tactical boots.
Laces/Zippers:
A common thing among the tactical boots was the presence of laces and zippers. Every tactical boot has laces but not every boot has zippers on them. Zippers allow quick access to the boots and help to grip your foot even firmly. Whereas laces can be time-consuming, but the grip is still pretty good. 
Price:
Lastly, your budget will make the final call. Many branded tactical boots cost more than $100, but considering their durability and reliability, the price is understandable. However, if that seems too much for you, you can go for cheaper local brands which offer good quality tactical boots but won't last as long. 
Conclusion and Top Picks:
Our overall top pick has to be the Bates Men's Ultralite Comfortable Tactical Boot due to their highly professional profile, fantastic design, and intelligent features. These boots have everything that a professional or outdoor enthusiast would need in their lives. From durability and reliability, you also get comfort and convenient features like pockets. 

Our second pick is the Maelstrom Men's Tac Force Military boots. In our opinion, these boots offer the best value as compared to all the other best tactical boots. The Maelstrom Men's Tac Force Military work boots are suitable in almost all kinds of terrains and have an impressive anti-fatigue technology that keeps your feet comfortable and fresh at all times. 

If you're a professional, owning a good pair of tactical boots could drastically improve your performance. On the other hand, if you love to hike and travel, tactical boots are the best option, no matter how challenging the situation is. We hope that we fulfilled the information and reviews that you needed before buying the best tactical boots so that your feet are under great comfort even in the harshest conditions. 

Best Recommended Product
Are tactical boots good for everyday use?
Yes, the recent surge of significant advancements in tactical boots makes them wearable daily. As a result, tactical boots are now typical in a lot of jobs too.
Are tactical boots comfortable?
As uncomfortable as they may seem, tactical boots are one of the most comfortable boots available right now. The use of mesh lining and breathable materials make it very comfortable.
Why get tactical boots?
Suppose your profession requires active and demanding physical work, then tactical boots are meant for you. Also, if you go on hikes and treks, then the tactical boots would significantly enhance your hiking experience.
Can civilians wear tactical boots?
The U.S. law does not allow civilians to wear military outfits. However, the tactical boots are considered a non-distinctive part of their outfit. Therefore there are no restrictions on wearing tactical boots.