The paintball age limit and how old do you have to be to play Paintball vary according to which country or state do you live in. However, the standard paintball age minimum is the same in the USA.
Some countries and paintball venues require players to be adults, or their minimum age should be 18. Unfortunately, the rest of the countries may have no similar rules regarding paintball age requirements.
What is Paintballs, How old do you have to be to play Paintball in the USA, Does Paintball hurt for a 12 year old. This game is outdoor; it is active and encourages critical thinking, teamwork and problem-solving.
Like every other game, it has an element of risk, but the rate of accidents is low. However, when you play the games like rugby, football and even bowling, there are high chances of getting hurt and hospitalized.
But when you learn how old to go paintballing, you also get to know there are extremely low chances that you get seriously hurt like those games. So if you want to learn how old you need to be to play Paintball, you need to read this guide very cautiously.
How Old Should You to be to Play Paintball?
If you want to know how old should you be playing paintball, ask your nearest field or venue, and they will gladly explain the rules and regulations.
The answer of how old do you have to be to play Paintball vary from state to state and country to country. That's why reaching out to your nearest paintball facility and asking the management would be the best action.
How old do you have to be to go paintballing in the USA is still the central question among parents and guardians? In the USA, most of the playing fields allow paintballing for 10 year olds.
Most of the children at the age of 10 can understand and follow the safety rules while still enjoying the game. These children know the risks of the game and do not overreact after getting mildly hit by paintballs.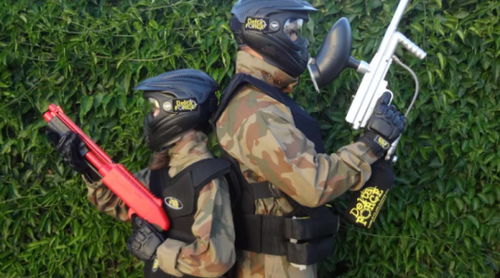 On top of all this, parental discretion is required by the paintball establishments for children under 18 years old. There is no upper age restriction in how old to play Paintball; adults or even 60 plus age can play Paintball without any issue.
Comparatively, how old do you have to be to play Paintball in Australia? The minimum age limit in Australia is 12-year-old for playing paintball. This age is more than the age allowed in the USA, and kids get more mature at this age.
In Australia, most of the parents still inquire does Paintball hurt a 12 year old. The quick answer is, if the kid is wearing the protective gear, then Paintball would not hurt the child.
How old do you have to be to play Paintball in California, How old do you have to be to play Paintball in Texas? These queries of the parents bombarded the internet after their kids got started understanding Paintball.
Like the rest of the USA, the paintball fields of California, Georgia and Texas allow young adults to play Paintball starting from the age of 10.
Comparison of Paintballing Age in Other States
As we know, some states allow paintballing after the age of ten; there are some other states which allow kids of lower age to play Paintball. When we researched other states, we found the following queries of some individuals.
How old do you have to be to play Paintball in NJ, How old do you have to be to play Paintball in Illinois, and how old do you have to be to play Paintball in Pennsylvania?
The paintball fields of the following States allow paintballing for 8 year olds in their establishments. They believe that Paintball is the safest outdoor game which children can play in fields.
| States | Age |
| --- | --- |
| California | 10 Years |
| Texas | 10 Years |
| New Jersey – NJ | 8 Years |
| Illinois | 8 Years |
| Pennsylvania | 6 Years |
| Georgia | 10 Years |
Paintball Age Limit for Birthday Parties
Several paintball facilities host birthday parties in their establishments. At these birthday party children are allowed to play Paintball in the fields of the facility. How old do you have to be to play Paintball in Georgia, What is the age limit in different regions and areas for playing football.
The only restriction is paintballing for ten year olds not less than this age limit. These paintball facilities also offer rental safety gears that provide you with ultimate safety. If there are at least 20 kids, they get a separate field to play Paintball.
Otherwise, they get mixed with the adults, who could be a little bit messy. But thanks to the referees and marshals which are responsible for every player's safety. They are always on the field, so everyone follows the rules, and no one gets hurt.
Beginners Must Wear Safety Gears
When it comes to Paintball, safety is an essential thing that should be taken seriously. Therefore, aside from the protective mask mentioned above, you also must wear more protective gear for ultimate security.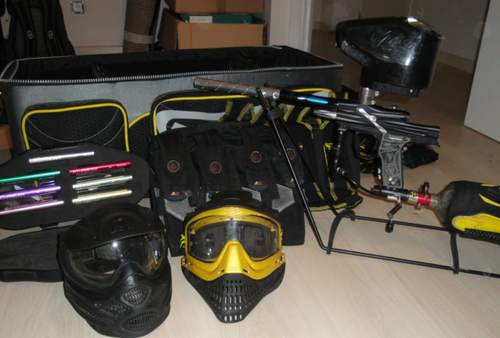 If you are not 18 years old, you will not be considered an adult; that is why you must take care of yourself. You must wear the protective gears you can buy or available at the paintball field for rental. If you are a novice, you must wear some additional safety gear to get safe. Those safety gears are as follows:
Full Face Mask or Helmet: You must wear a complete helmet for ultimate safety, so your head gets complete protection.
Goggles: If your helmet is not protecting your eyes, use other goggles. It will protect your eyes from paint.
Chest Protector: The main target of the opponents is always your back and chest. That's why you need some extra protection on these parts of the body.
Neck Protector: The direct impact of the Paintball on your neck can hurt it and leave nasty stings and bruises. That is why you need a padded neck protector, so your neck does not get hurt.
Gloves: The impact of high-velocity paintballs can also hurt your hands. To protect them, you need to wear gloves for ultimate protection. Fingerless gloves would be a better choice for easy trigger pull.
Long Sleeves: For the safety of your arms, you need to wear long sleeves sweatshirt. Layered clothing would be even better and lower down the direct impact of paintballs.
Long Pant: You must not wear shorts on the battlefield, or your legs get hurt. Wear long pants for the paintball game.
Tips for Kids to Play Paintball
It is good to be fearless of the pain of Paintball because it hurts a lot less than most people expect. Indeed, it leaves a sting or small bruise, but it's a part of the game similar to football and rugby.
After a few games, you get over your fear, and these minor bruises become exciting. It is essential to play on the front line to decrease your fear of the battlefield. It would be better if you were using full safety gears.
One of the most critical things on the field is that you must not take your mask off in any situation. It would put you in much danger, and your fun can take a dramatic turn in no time.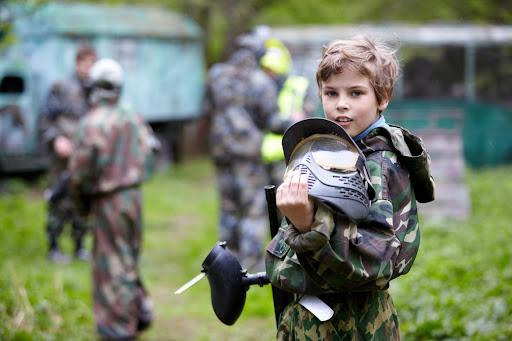 You can get seriously injured, and the management can kick you out immediately if you don't follow this crucial rule. But, more importantly, they can ban you from the establishment on the breach of this basic rule.
Pull the fire when you are sure about the target and confident otherwise, you will let the opponent know about your whereabouts. In addition, be aware of the Paintball coming on your way to save yourself from getting eliminated.
Safety Stats of Paintball
Still, some of the parents may not be satisfied by how old do you have to be to play Paintball. That is why we have gathered some statistics that will help you understand paintball safety in a better way.
The Paintball accident stats are as follows:
There are only 0.2 injuries per thousand players in Paintball a year. While in football it is 2.2 players per year.
The majority of accidents in the Paintball are caused by slips and trips, not because of paintballs.
The eye injury in a paintball game is infrequent. And it is caused when someone does not wear a facemask. That is why now it is mandatory in every paintball establishment to wear a face mask.
On the paintball field, there is one in 135,000 chance of getting any serious injury.